Indiana's state tree
The Tulip Tree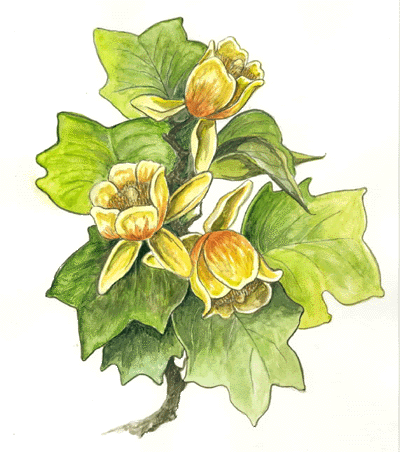 The tulip tree (Liriodendron Tulipifera), known also as yellow poplar, was adopted by the 1931 General Assembly (Indiana Code 1-2-7). It attains great height and can be found throughout the state. The leaf is distinctive (it appears in the border of the state seal), and the lovely bell-shaped greenish-yellow flowers appear in May or June. The soft white wood has many uses.
Poets linked Indiana with the blossom of the tulip tree, or yellow poplar,as early as 1870. The tulip tree's blossom even served as Indiana's state flower from 1923 to 1931.
But, when Indianans lost the tulip tree as their state flower, they simply designated it their state tree on March 3, 1931. The tulip tree was much more common when forests covered most of Indiana.
The destruction of Indiana's forests seems to be represented on Indiana's state seal, which depicts a woodman felling a tree.
It also depicts a tulip tree leaf.
Indiana State Tree and Flower Indiana Code: IC 1-2-7
Chapter 7. State Flower and Tree

IC 1-2-7-1
Sec. 1. The tulip tree (liriodendron tulipifera) is hereby adopted and designated as the official state tree, and the flower of the peony (Paeonie) is hereby adopted and designated as the official state flower of the state of Indiana.
(Formerly: Acts 1931, c.48, s.1; Acts 1957, c.283, s.1.)
| | | |
| --- | --- | --- |
| Copyright © 1994, 1995, 1996, 1997, 1998, 1999, 2000, 2001, 2002, 2003, 2004, 2005, 2006, 2007, 2008 | | Jon's Images, Inc. All rights reserved |
This website is an unofficial source of news and information.
This website is the composition of many hours of research. Information contained within this site has come from numerous sources such as websites, newspapers, books, and magazines.
This site is maintained for research purposes only.
Contact us
Please direct website comments
or questions to webmaster