This Is Indiana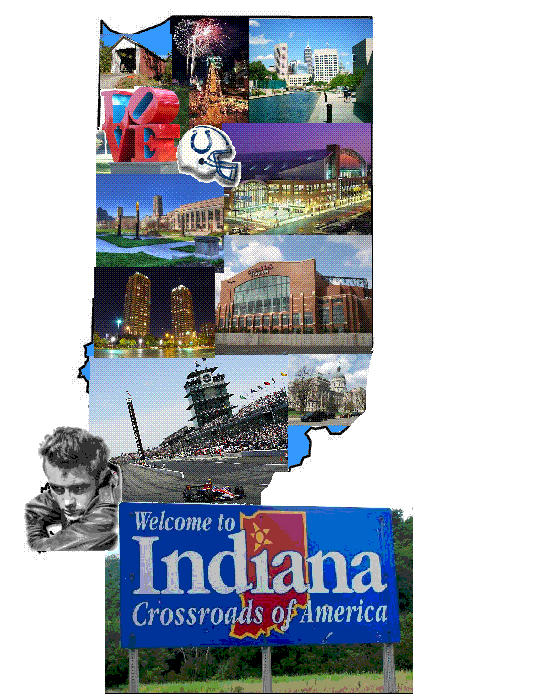 This site was made in August of 2009
Updated:
is on Eastern Time

In 2006 as a result of a review by the Department of Transportation, eight counties were moved from the Eastern Time Zone to the Central Time Zone, effective April 2, 2006. These were Starke and Pulaski Counties in the northwest; and Daviess, Dubois, Knox, Martin, Perry and Pike Counties in the southwest.

On October 30, 2005, at 02:00 DST, all areas currently operating on Daylight Saving Time adjusted clocks to 01:00. In Indiana, 77 counties were already operating at 01:00 EST and made no adjustment. However, five Indiana counties near Cincinnati, OH, and Louisville, KY, adjust from EDT to EST and five near Chicago, IL, and five surrounding Evansville, IN, adjust from CDT to CST.
If the April 28, 2005, Indiana state legislation stands up, on April 2, 2006, Indiana will no longer be counted as one of three states which do not Spring ahead from "standard" to "daylight saving" time or Fall back from daylight to standard six months later. The Indiana Legislature voted to approve Daylight Saving Time for Indiana and to petition the US Department of Transporation to hold hearings to determine the location of the dividing line between the Eastern and Central time zones, relative to Indiana.
Indiana State Song
written in 1899 by Paul Dresser
adapted as the official state song in 1913
"ON THE BANKS OF THE WABASH"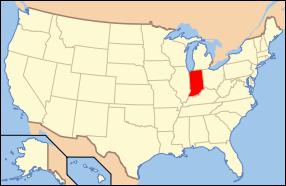 Nickname: The Hoosier State
What is a Hoosier?
Motto: The Crossroads of America
Population: 6,195,643 (2003 estimate)
Geographic Area

36,291 square miles (38th in size among United States)
the smallest state in the continental US west of the Appalachian Mountains.
Total Land Area: 35,870 square miles
Total Water Area: 550 square miles
Length: 270 miles
Width: 140 miles
Highest Point: 1,257 feet (Franklin Township)
Lowest Point: 320 feet (Ohio River)
Mean Elevation: 700 feet

Altitude: average 700 feet, ranging from 320 feet (in Posey County) to 1257 feet (in Wayne County)
Ten Largest Cities by Population:
1. Indianapolis 791,926
2. Fort Wayne 05,727
3. Evansville 121,582
4. South Bend 107,789
5. Gary 102,746

6. Hammond 83,048
7. Bloomington 69,291
8. Muncie 67,430
9. Anderson 59,734
10. Terre Haute 59,614
Climate

four distinct seasons
average annual rainfall: 40 inches
average summer temperature: 70 to 80 degrees fahrenheit
average winter temperature: 25 to 35 degrees fahrenheit
Highest Temp was 116 degrees on July 14, 1936 at Collegeville
Lowest Temp was -36 degrees on January 19, 1994 at New Whiteland
Brief History
The first people to live in what is now Indiana were the Paleo-Indians.

Indiana was the 19th state in the USA; it became a state on December 11, 1816.
On Dec. 11, 1816, President James Madison signed a congressional resolution admitting Indiana to the Union as the nineteenth state. The young state established its capital at Corydon, where it remained until 1825 when Indianapolis took over that distinction. Jonathan Jennings had become the state's first governor by defeating Thomas Posey in elections held in August 1816.
Indiana's 41-mile Lake Michigan waterfront-one of the world's great industrial centers-turns out iron, steel, and oil products. Products include automobile parts and accessories, mobile homes and recreational vehicles, truck and bus bodies, aircraft engines, farm machinery, and fabricated structural steel. Wood office furniture and pharmaceuticals are also manufactured.
The state is a leader in agriculture with corn the principal crop. Hogs, soybeans, wheat, oats, rye, tomatoes, onions, and poultry also contribute heavily to Indiana's agricultural output.
Much of the building limestone used in the U.S. is quarried in Indiana, which is also a large producer of coal. Other mineral commodities include crushed stone, cement, and sand and gravel.
Wyandotte Cave, one of the largest in the U.S., is located in Crawford County in southern Indiana, and West Baden and French Lick are well known for their mineral springs. Other attractions include Indiana Dunes National Lakeshore, Indianapolis Motor Speedway, Lincoln Boyhood National Memorial, and the George Rogers Clark National Historical Park.
Government
Indiana's form of government is closely modeled on the federal government with three branches: executive, legislative and judicial. The Governor, elected for a four-year term, heads the executive branch. The General Assembly, the legislative branch, consists of the Senate and the House of Representatives. Indiana's fifty State Senators are elected for four-year terms and one hundred State Representatives for two-year terms. In odd-numbered years, the General Assembly meets in a sixty-one day session. In even-numbered years, the Assembly meets for thirty session days. The judicial branch consists of the Indiana Supreme Court, Court of Appeals and local circuit courts. On the national level, Indiana is represented in Congress by two Senators and ten Representatives.
In General
Indiana is a diverse state with a few large urban areas, a number of smaller industrial cities, and many small towns. It is known nationally for its sports teams and athletic events: the NFL's Indianapolis Colts, the NBA's Indiana Pacers, the Indianapolis 500 motorsports race, the largest single-day sporting event in the world, and for a strong basketball tradition, often called Hoosier Hysteria.
Although many stories are told, the origin of the term, "Hoosier" is unknown. The state's name means "Land of the Indians", or simply "Indian Land". The name dates back to at least the 1768 Indiana Land Company, and was first used by Congress when Indiana Territory was created, at which time the territory was unceded Indian land. Angel Mounds State Historic Site, one of the best preserved prehistoric Native American sites in the United States, can be found in Southwestern Indiana near Evansville.
Recreation and Sports
Over 1.1 million acres of land are available for outdoor recreation in Indiana. The Department of Natural Resources operates parks, forests, nature preserves, fish and wildlife areas, museums and memorials across the state. Brown County State Park and the Indiana State Museum at Indianapolis are two of the more popular facilities.
Indianapolis has become a major center for sporting events. Besides being home of the Indiana Pacers professional basketball team and the Indianapolis Colts in pro football, Indianapolis is also host to the "Indy 500" in May and the "Brickyard 400" in August, run at the Indianapolis Motor Speedway, and the RCA Championship tennis matches each summer.
Indiana Sports Teams
College

League

Dubois County Dragons (FPB) - Huntingburg
Evansville Otters (FPB) - Evansville
Evansville Blue Cats (NIFL) (FPB) - Evansville
Fort Wayne Komets (UHL) - Fort Wayne
Fort Wayne Wizards (MLPBC) - Fort Wayne

Indiana Blast (USL) - Indianapolis
Indianapolis Indians (IL) - Indianapolis
IIndiana Legends (ABA) - Indianapolis
Richmond Roosters (FPB) - Richmond
South Bend Silverhawks (MLPBC) - South Bend
Professional
Indianapolis Colts (NFL) - Indianapolis
Official Colts Website
Indiana Fever (WNBA) - Indianapolis
Indiana Pacers (NBA) - Indianapolis
Indiana Firebirds (AFL) - Indianapolis
The Indiana Firebirds were a team in the Arena Football League.The team was based in Indianapolis, Indiana. Home games were played at the Conseco Fieldhouse, also the home of the Indiana Pacers of the National Basketball Association and Indiana Fever of the Women's National Basketball Association.
On September 20, 2004, the date of the announced sales deadline, the Arena Football League announced the termination of the Firebirds franchise.
Stadiums
Arena - Conseco Fieldhouse - Indianapolis
Lucas Oil Stadium - Indianapolis
Roberts Stadium - Evansville

Old and Gone Stadiums
Market Square Arena
Use to reside at 300 East Market - Is now a Parking Lot
Built in 1974
Ownership: (Management) City of Indianapolis/Marion County
(Pacers Basketball Corp.)
Cost of Construction: $23 million
Arena Financing: City bonds and private financing.
General Contractors / Construction Managers: Huber, Hunt & Nichols
Former Tenants:
Indianapolis Ice (IHL)
Indianapolis Twisters (CISL)
Indiana Pacers (NBA) 1974-1999
Now Play at Conseco Fieldhouse
Indianapolis Racers (WHA) 1974-1979
Indianapolis Checkers (CHL) 1979-1981
Indianapolis Checkers (IHL) 1985-1988
Population Base: 1,500,000
Retired Numbers:

#30 George McGinnis
#34 Mel Daniels
#35 Roger Brown
RCA Dome
Formely - Hoosier Dome
| | | |
| --- | --- | --- |
| Copyright © 1994, 1995, 1996, 1997, 1998, 1999, 2000, 2001, 2002, 2003, 2004, 2005, 2006, 2007, 2008 | | Jon's Images, Inc. All rights reserved |
This website is an unofficial source of news and information.
This website is the composition of many hours of research. Information contained within this site has come from numerous sources such as websites, newspapers, books, and magazines.
This site is maintained for research purposes only.
Contact us
Please direct website comments
or questions to webmaster