Indiana State Flower
Peony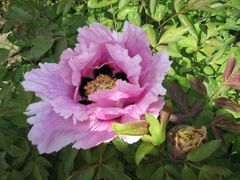 The peony (Paeonia) was adopted as the state flower by the 1957 General Assembly (Indiana Code 1-2-7). From 1931 to 1957 the zinnia was the state flower. The peony blooms the last of May and early June in various shades of red and pink and also in white; it occurs in single and double forms. No particular variety or color was designated by the General Assembly. It is cultivated widely throughout the state and is extremely popular for decorating gravesites for Memorial Day.
Adoption of the Indiana State Flower
Indiana has had a long, tumultuous history regarding state flowers, beginning with the adoption of the carnation by Concurrent Resolution in 1913. Amid protests that the carnation was a not native to Indiana, the blossom of the tulip tree was substituted as the state floral emblem by an act of the General Assembly in 1923. The interesting, but decidedly subdued tulip tree blossom gave way to the multi-talented zinnia eight years later in 1931. It was rumored that a certain grower of zinnia seeds in the state was responsible for the 1931 legislation and in 1957, the Indiana General Assembly took up the issue of an official state flower again.
In March, the peony was adopted as the "official state flower of the state of Indiana." This legislation was not without controversy either. A commercial peony grower, also a state representative, is said to have been behind the House move that substituted the peony for the dogwood that had been proposed by a Senate committee.
Adopted on March 15, 1957, Indiana's state flower has also been subject to criticism because it is not native to the state. The peony however, in reds, pinks and white has managed to maintain its position as the official state flower for almost 50 years.
The following information is excerpted from the Indiana Code, Title 1, Article 2, Chapter 7, Section 1-2-7.
TITLE 1. GENERAL PROVISIONS.
ARTICLE 2. STATE EMBLEMS.
CHAPTER 7. STATE FLOWER AND TREE.
IC 1-2-7
Chapter 7. State Flower and Tree
IC 1-2-7-1
Tulip tree; peony Sec. 1. The tulip tree (liriodendron tulipifera) is hereby adopted and designated as the official state tree, and the flower of the peony (Paeonia) is hereby adopted and designated as the official state flower of the state of Indiana.
(Formerly: Acts 1931, c.48, s.1; Acts 1957, c.283, s.1.)
| | | |
| --- | --- | --- |
| Copyright © 1994, 1995, 1996, 1997, 1998, 1999, 2000, 2001, 2002, 2003, 2004, 2005, 2006, 2007, 2008 | | Jon's Images, Inc. All rights reserved |
This website is an unofficial source of news and information.
This website is the composition of many hours of research. Information contained within this site has come from numerous sources such as websites, newspapers, books, and magazines.
This site is maintained for research purposes only.
Contact us
Please direct website comments
or questions to webmaster