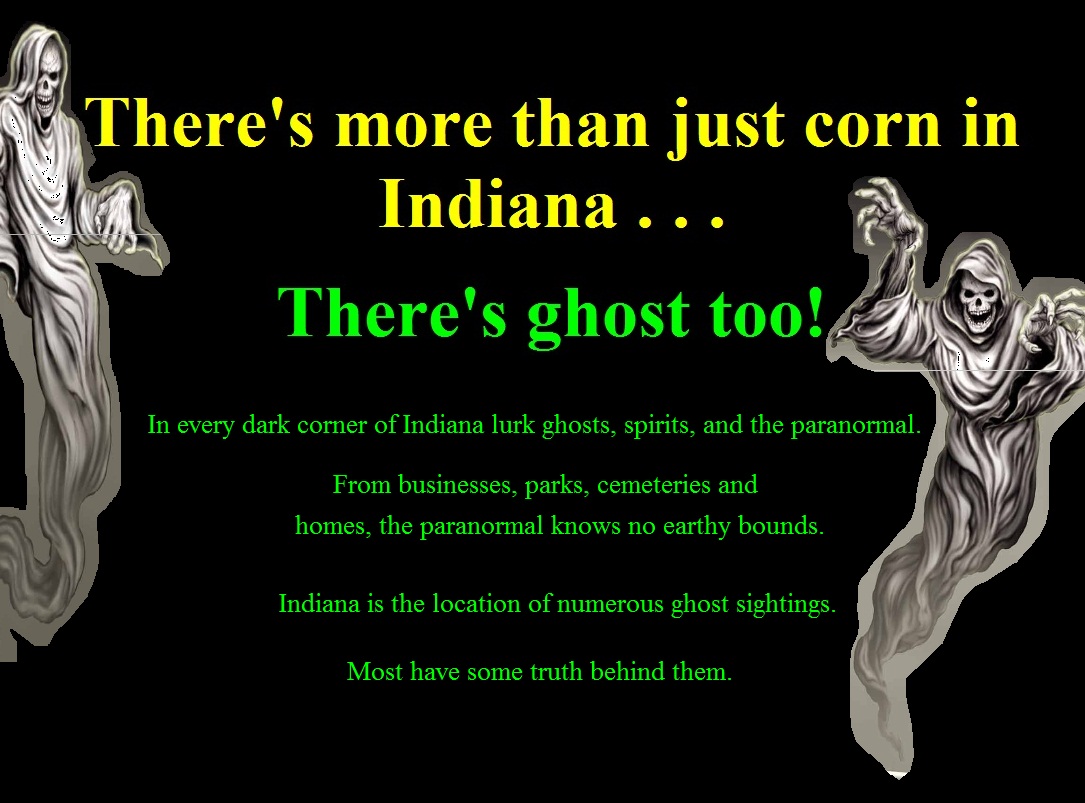 There are a numerous of haunted places in Indiana. Trying to decipher which ones are really haunted is not easy. Most of the stories you hear about seem to be legends and local folklore. Stories passed down from one generation to the next. The stories are intriguing and sometimes rather scary, but you must remember that they may just be stories. Let us take a tour around Indiana and look at some of the haunted places.
This Site has been Updated on 2013 10 16
There are many sites out there that have listings of Haunted places within Indiana. I am currently investigating the facts and in doing so; I have discovered many discrepancies in the stories on these sites.
The prime site for errors is a site called "List of Haunted Places of Indiana"
Please help me!
If you should know of a haunting listed on this site to be truly false.
Please contact me!
I would also appreciate if anybody can give addresses and directions to some of these places.
Please contact me!
The places listed on this site are all PRIVATE PROPERTY.
Please make sure you have permission from the owners BEFORE you ghost hunt at any of these locations.
If not, you may be arrested or fined for trespassing.
So many of these "hauntings" appear to be a story of the same thing that occurs in other locations throughout Indiana and throughout America.

Crybaby Bridge is a nickname commonly given to some bridges.

The legend of the Crybaby Bridge is a popular one in the Midwest. Many of the stories seem to be centered on or around Indiana and Ohio. The stories usually have a few differences, but generally they remain the same.

The name often reflects an urban legend that the sound of a baby can be, or has been, heard from the bridge. Many are also accompanied by an urban legend of a baby or young child/children being killed nearby, or thrown from the bridge into the river or creek below.

My internet research show about 15 alone in the state of Indiana and I am beginning to believe that probably every county in Indiana has such a bridge
BRIDGES

There's no disregarding what people claim to see, feel, and experience at these locations

but considering the sheer amount of stories, you have to pause for a moment and think. Is there any way that all of these stories could be true? Maybe the story passed from town to town as people heard the ones in other areas and adapted them to their own town. It seems like we may never know.
Adams County Cheese Factory
This old abandoned cheese factory has been known for its many unexplained phenomena. It is said to be guarded by spirits. Many people claim not to be able to spend much time in this area. It is located in the woods just east of the Kuklehan Mansion. Also it is known for its occult activity.
This old abandoned cheese factory has since been torn down and it is rumored that there is still much cult activity there.
Kukelhan Mansion
Just north of Decatur, east of US 27, not far from North Pointe Sub-Division, stands an old mansion that was owned by a very wealthy banker. It is said, that the banker went crazy because he always thought someone was after his money and slaughtered his whole family and hung himself. Many people have tried, including people with psychic ability, but have been unsuccessful in being on the property.

Albany
located in Delaware County
Shoe Tree
The story is that one night; an elderly man was walking through some woods, when he ran into a unique oak tree. The man looked up and saw something in the branches, as soon as he looked down . . .
the creature had slit his throat and killed him.
It is said that if you touch the shoe tree that a demon will snatch your shoes off of your feet and tie them onto the tree, on top of killing you.
UPDATE 6/1/2012 A Mike Cook informs me that he is from this area and the legend is that this is the doings of The KKK .
Haunted House
Sugar Creek
Alfordsville, IN 47553
47553 Zip Code
City: Loogootee, IN
Martin County, IN
Alfordsville is a small town of approximately 112 people.
Outside of town on Sugar creek there is a house that is supposedly possessed by violent spirits. Its rooms rain, one room is always 50 degrees even if its 100 degrees outside.
Be careful IF you find it. It is said; a man killed his whole family, and then was found strangled to death 2 days later. It is said; by the looks of it, it was by his dead family.
There is also said to be a haunted school in which kids can be heard playing in the gym all night.
Webmaster: Can't seem to find anything more about this haunting
Can somebody please give me an exact location of this area? contact me
Fort Wayne New Haven Leo Leo-Cedarville Woodburn

Anderson
located Madison County

Gruenwald Historic House
626 Main Street
Anderson IN, 46016
E-mail: ghh1873@sbcglobal.net
Phone: (765) 648-6875
Where people claim to see and hear strange things, but only during a full moon.
This three story Second Empire style house was built in 1860. The house was the home of Martin Gruenewald, a local businessman. The home is decorated with turn of the century furnishings.
In 1821 Delaware Indians were removed and most of them resettled in Oklahoma. Burial grounds are located in the area immediately south of the house, Main to Central and north of 8th Street.
Mrs. Gruenewald died at the age of 49 and Martin continued to live here until his death at the age of 94 in 1933.
The Houses Board of Commissioners passed a ruling that two people must be present in the house when it is open.
It is said that only tour guide Barb Lumbis is willing to stay alone in the house, who has felt a presence of something herself. The Houses Board of Commissioners had brought in a medium who claim to have felt 2 spirits in the house. The medium claims that one of the spirits is that of the last owner, Martin Grunewald. The other is said to be that of Grunewalds granddaughter, Wilhelmina. Tour guide, Barb Lumbis said that it is not unusual for a volunteer to enter the house and find the electric typewriter typing by itself.
Apparitions appear mainly on the second floor or a reflection in the mirrors.
Read this short clip about Cry Baby Bridge throughout Indiana
location of the bridge and graveyard. N 675 E & E 950 Wilkinson, IN 46186
wilkinsin is the area where it's located, just south of anderson and markleville.
The picturesque landscape of Indiana can't mask the sinister tales of murder and chaos that lie beneath the rocky roads and little-traveled bridges.
Located in the small town of Anderson, Indiana, not far from Indianapolis, this bridge is known for harboring the spirit of a baby who met an untimely end when the car he occupied crashed through the bridge's guardrail.
Police on the scene found the parents, but never found the baby's body. Supposedly, as you drive over the bridge to this day you can hear an infant's anguished wail.
Lindberg Rd.
Directions:
(1)Merge onto I-69
(2)Take the IN-32 exit- exit number 34- toward MUNCIE/ANDERSON.
(3)Turn SLIGHT RIGHT onto IN-32/W MAIN ST. Continue to follow IN-32.
(4)Turn RIGHT onto RANGELINE RD.
(5)Turn RIGHT onto LINDBERG RD/E 100 N. Continue to follow LINDBERG RD.
(6)You will see a white boarded up house on your right, immediately after a cement garage. END here.
On Lindberg rd. down towards Alex Pike. There is a supposed haunted house. It has a partially caved in roof. Neighbors say they have heard strange hiss-like sounds coming from the house.
Supposedly the house was caught on fire close to 20 years ago with the family still in it. All of them escaped except for the middle son, whom supposedly haunts the house. The floor caves in, in many areas of the house and there are ashes all over the place. Supposedly no body was ever found of the boy. Few eye witnesses have supposedly seen a ghost like chandelier hanging even when part of the ceiling is missing. Typical paranormal activity happens such as moving old lamps and such. The biggest spook is that when the wind blows, it will draw pictures in the ashes of a family and house. All the people you can see but the middle son's picture has a hand print over it instead of being drawn.
Be careful because the house isn't too safe. It is difficult to move around inside the house, due to the collapsed roof and pieces of wood being everywhere. The floor isn't too sturdy and may be unsafe in some areas, floors have caved in.
PLEASE BE AWARE:
The storm cellar, which has no door on it, leads to the entry upstairs is nailed shut
Main Street Graveyard
The Main Street Graveyard, located CR 675 E. Is formally known as the Hays Cemetary, but the locals call it Main Street Graveyard
The graveyard sits alone in some woods and it is said the graveyard is very haunted. A man hung his wife in a tree back in the graveyard many years ago. He shot her in the head with an arrow and it is said her spirit haunts the graveyard.

Highland High School
2108 E. 200 N, Anderson, Indiana 46012
This public school is still the main high school for Anderson students today. But students who take their first steps inside during their freshman year will learn much more than the typical history lesson. The school's cavernous old gymnasium, now the auditorium, has been haunted for years by the spirit of a boy who dropped dead in gym class
Years ago, a young boy suffered a fatal asthma attack in the old gym.
The boy's gym instructor demanded that the boy continue running laps even though the boy had collapsed once before. Not wanting a confrontation from his domineering instructor the boy continued running. Minutes later he collapsed. The coach demanded that he get up and continue running, but a student that rushed over to the boy confirmed his death.
Today, the gym is now the schools auditorium. It is said that the boy haunts the auditorium and the back stage areas. Some have seen haunting activity on the catwalk above the auditorium.
The most reported ghostly activity is the sound of the boy continuing to run through the auditorium. Often, the sounds are accompanied by a gust of wind as someone rushing by. Others say they have seen the boy's ghost.
They have described him as being of small stature and looking terribly sad. Many have said that the ghost responds to conversation, that he enjoys being seen. Some students have reported befriending the ghost.
Webmaster: This is the same name of a school in Highland, Indiana with the near exact same haunting.
Can somebody please verify which is the correct listing, Anderson, IN or Highland, IN?
Here is a video about the haunting on youtube

Mounds State Park
4306 Mounds Rd.
Anderson, IN 46017
Anderson's other eerie claim to fame and one of the most haunted places in Indiana is known as Mounds State Park. This peaceful stretch of grass and sand used to be the home of the vibrant Delaware Indian tribe, until their land was violently taken from them by the American settlers.
According to Delaware Indian legend, the dense forests of Mounds State Park refuge up to this day the Puk-wud-ies. Pukwudgies are small glowing, grey-skinned trolls around 2 feet in height. They have exaggerated noses, ears and fingers.
These blue-robed figures roam the grounds at night, and it's been reported that spooked animals won't enter the forests.
The park has also had modern-day sightings of the creature of Native American legend.
The pukwudgies have the ability to turn into animals and to control the spirits of those they have killed. They use these controlled spirits to then lure more victims in.
Some of the dwarfs stick to the river that runs along the edge of the park, and there have been numerous reports from terrified campers of the blue-robed figures slipping in and out of the trees and water. The tortured souls will never leave the hills and valleys of Mounds State Park.
Here is a web page discussing the Native American legend of the pukwudgies. Click here

Arbys
Reports of a ghost of a large man sitting in the lobby and one of the tables, and also the mens bathroom doors swings open at random times in the night, and you can feel his presents there.
Webmaster: Does anybody know the exact location? Is it the 2001 E 53rd St or 2820 N Broadway St location? Contact me

Angola
located in Steuben County
Town Circle
An old theatre sits on the town circle, and some residents claim that at midnight a man with a long red beard appears on the roof of the building pacing back and forth and cries aloud "Marie please come back to me, please." Movie goers also say that sometimes during movies you can hear a man sobbing in the back of the theatre, but when you look, no one is there.
He is known as the movie man.

Circle Hill Cemetery

DIRECTIONS: From I-69 take exsit 148 (route 20) and head east. Go 2.5 miles til you come to a round-about (aka Town circle). Go thru the town circle and continue east. On the right, count 5 streets and take a right on the 6th street. This is Circle Hill Cemetery Road and it may not be marked. Go all the way to the end. The cemetery should be on the left.
Many of people have said to have seen very tall black hooded figures here in Circle Hill Cemetery and the majority of these people say they are too scared to go back.
Sigma Phi Epsilon House
Located at Tri-State University, is haunted by a young girl, a former sorority member who died in the building during the 1980s or 1990s
The Sigma Phi Epsilon House in Angola is that of a fraternity for men. This does not coincide with the story of that of a young girl, a former sorority member to have died here.
Your help on this one would be appreciative. Contact me
Wing Haven Nature Preserve
or
Wing Haven Witches
400N
Angola, IN 46748
East of Pokagon State Park in Steuben County. From Fort Wayne, take I-69 north to exit 154 (SR 127/Pokagon). After exiting the interstate, turn right (south) onto SR 127. Then turn left (east) onto 400N. Signs on the right will direct you to parking. The first sign will direct you to a roadside parking lot and the "Wing Haven Studio" sign will point to a lane that goes back to an inner parking lot when the preserve is open for special activities. Driving distance from I-69/I-469 to the preserve is 39 miles.
It is local folklore in Angola that this nature preserve is haunted.
For the last 25-30 years there have been rumors that a coven of witches conducted a ritual there, and accidentally released a spirit or demon. The spirit or demon is contained in the stream, but if you get too close to the stream it attempts to make contact with you. Some people have claimed to have had unexplained flat tires, or electrical problems with their cars if they park their cars past the public parking lot. Some people have claimed that they have had suicidal or violent urges while standing near the stream or looking into the stream."
There are also those who claim to feel eyes watching them while hiking in the woods at dusk.
PLEASE NOTE!!!
This preserve closes at dusk,
PLEASE DO NOT VISIT THIS AT NIGHT!

Attica
located in Fountain County


Haunted Hotel
126 N Perry St
Attica, IN 47918-1348
(765) 762-3088
It is said that you can hear music and see lights and people in the woods.
Others claim ghosts scratch your back and they push you down the stairs. If you stop at the bridge and turn off your light you can see a person walking by. If you just stand by the hotel you can hear things and a baby and car running.
Another tale is that a woman named Vida Foxworthy worked in the hotel a long time ago.
Vida was an employee and had fling with a clock salesman who lived in one of the rooms. Nobody knows for sure but for some reason maybe she decided she didn't want to see him anymore or maybe it was a lover's quarrel or maybe he just snapped. The salesman killed her in room 21 and attempted to take his own life before the police arrived.
He was tried and convicted for murder and it is said Vida's ghost is still there. Guest and employees of the Hotel have reported strange things going on, mostly noises sometimes a touch from an unseen hand. Sometimes she calls peoples names.
It is said to make sure not to do anything to scare the ghost off, as the ghost was a protective spirit. The ghost never seems to do anything to the people who are scared of her and the ghost has never harmed anyone. Except on one occasion when the ghost ran off a shady character that had been hired to do construction work.
On one occasion, a much nicer carpenter was staying at the hotel and found an extra heart shaped pillow in the morning. None of the staff had left the pillow there.
If you ask the people that work there or the owners they will be glad to verify that weird stuff goes on there and will tell you their stories.

Austin
located in Scott County

Austin High School
401 S Highway 31
Austin, In 47102
It is said that there is a ghost of a former Spanish teacher roaming the school. She died in a car accident possibly around in the 1980's. There have been sightings of her by the teachers working there late at night. This Spanish teacher was driving to school when she was in a wreck and killed. She is said to walk around the school; some janitors have quit because of when they were opening a door, the handle began shake and became freezing cold.
Some have claimed that by playing Beatles music you might increase your chance of seeing her.

Avon
located in Hendricks County

Haunted Bridge
The Haunted Bridge of Avon, Indiana
It is situated about a half mile south of U.S. Highway 36, on Avon's County Road 625, just a few minute's drive from Indianapolis.
From Indianapolis take I-465 to Rockville Road (US Highway 36) west of Highway 267 3/4 of a mile to S625E and go south 1/2 mile.
The Haunted Bridge of Avon, Indiana has a story behind it, as all haunted bridges do.
As the bridge is not fully visible in any one spot, the best view is from underneath within the Avon-Washington Township Park.
The Big Four Railroad, lifeblood of the connecting arteries in Central Indiana and beyond, required a bridge spanning Country Road 625 and White Lick Creek, so the bridge was built in 1906-1907 and double-tracked in 1908. It is about 300 feet long and 70 feet high, an imposing structure whose image graces the Avon town seal today.
The legend of Avon's Haunted Bridge has been around for generations. Different rumors abound, but in general, the people of Avon have agreed that if you go near the old bridge at night, you will hear a moaning, discontented ghost, or maybe two or three of them. And if you cross the bridge on a hot summer day, you may see the ghost's tears on it.
There are various explanations for the hauntings. No one, of course, knows whether they are being carried out by a single ghost or many. Over the years, some theories have come to be popular regarding who the ghosts might be. A few of the most widely accepted versions are summarized below.
Henry Johnson, an alcoholic construction worker, slipped one night during the building of the bridge and fell into some wet cement, dying there in the lonely night. The following morning he was found, face frozen in the cement that killed him.
There is a similar report that an Irish or black construction worker fell to his death during the making of the bridge. He landed inside the framework of one of the bridge's supports. The railroad decided that, since the unfortunate laborer was already dead, they would simply inter his body in the bridge when they sealed the support with cement. Some say that the poor man's arm hung out, and they cut it off.
Another theory has it that a passenger train jumped the track on the newly constructed bridge. The train crashed into the creek, but none of the passengers were harmed. Only the engineer was killed, and it is he who haunts the bridge.
Perhaps, as some Avon residents aver, the ghosts on the Haunted Bridge belong to a young woman and her baby. The story goes that she was walking to the doctor's house late one night with her sick baby when she had the bad luck to get her foot caught among the railroad ties on the bridge. Then, disaster struck in the form of a huge locomotive barreling down on them. She struggled mightily, finally getting free of the railroad ties, but had no time to run across the bridge to escape the train. So, clutching her sick child, she jumped off the bridge. She survived, but the baby, falling from her arms, did not. Within a few weeks, the mother died of grief and a broken heart. The story concludes that if you drive under the bridge at night, you might very well hear her screaming for her baby.
A similar story says that the girl was cast out by her family because she had a baby and wasn't married. She decided to follow the train tracks to see where they would take her. When she jumped off the bridge, both she and her baby were killed.
While any or all of these stories could have some basis in fact, none of them have been verified.
Some records indicate that the haunted bridge in Avon is still a functional railroad crossing, servicing the CSX Railroad, and regularly visited by residents and guests to get spine-tingling adrenaline rush.
While other reports claim the entrance is boarded up now, but there's a pathway in the center that runs from one end to the other.

Bargersville
located in Johnson County

Podunk Bridge
Podunk, near Bargersville isn't necessarily a cry baby bridge, but it does have some similarities. Locals report seeing a baby crawling across the road or hearing a baby crying and laughing near the bridge. Oddly enough no one seems to have a story as to where the baby came from.
The story is:
Podunk is an old town right by Bargersville. There's a bridge that if you drive on to, stop your car, turn off your headlights and radio, and stay completely quiet, then you can see a baby crawl across the road. Sometimes, you can also hear it crying or laughing.
Webmaster: First I would like to point out that there is no so place, nor ever been such a place as Podunk Indiana.
Secondly that we would be due to the fact that the word "Podunk" means:
any small and insignificant or inaccessible town or village
1. n.
an imaginary rural town where everything and everyone is backward, old-fashioned, and inferior. : This is the big city, not Podunk.
2. mod.
rural and backward. (Usually podunk.) : I want out of this podunk town.
Some information found on the internet in a Forum:
Podunk is a place of great mystery in Indiana. There are many misconceptions on where exactly it is located, and what exactly one might find there. Many teenagers go to the wrong place, a rural area southwest of Bargersville. Although very secluded in the woods, the place they go isn't really THE Podunk, this is just land owned by people who are very aggravated when children come out to Brian's Cemetery, or an old run down abandoned house. The real Podunk lies roughly 20 miles south of this place.
Real Podunk is a very dark secluded place. There are twisting dirt roads that wind around hills, and heavy forestations all around. There is a bridge that marks the entrance to the haunted part. Parking on this bridge they say you can hear a baby or child crying out from the woods surrounding you. Continuing on, things get more and more strange. You often see decapitated deer, dogs, cats, or other animals, and other such scary stuff. If you know the area well you will eventually find a road that is blocked off with a gate and a No Trespassing sign. Going past it, there is a relatively large open field leading uphill to a large Victorian style house. This house is run down, and appears awkwardly located: in the middle of the forest. The trees have grown all around the house now, and some times even through it.
DIRECTIONS: "True" Podunk is very hard to find . . . however "False Podunk" where you can hear some weird things, but nothing really special isn't that tricky to find. Go south on State Road 135, past Bargersville. Turn west on Divison Road (you'll see a sign that says UNION ELEMNATRY SCHOOL before it). Now just follow Division straight as long as you can. It eventually degrades from a paved road to a twisting narrow road. Stay on it without turning off at all. When it comes to a "T" take the left path. Just keep going straight, at this point you've pretty much left civilization behind you. You'll eventually come to the place where "Podock road" and Dillman meet. This is the Fake Podunk. A lot of kids have been arrested for snooping around there. From this point just explore. The Real Podunk is about 20 miles south of where you'll end up...it is VERY VERY hard to find, and I'm afraid this is all the help I can give.
Another claims:
What is the mystery of Podunk? A common legend is that there are five "places of power" in Indiana, if looked at on a map these 5 locations make an inverted 5 point star. At the dead center of this star is Podunk.
Satanist Cults sometimes frequent the area, and are very hostile to strangers stumbling upon their dark rituals.
Another writes:
There are a couple houses down there now right after you hit the gravel. There is a rotted out old 1 room church on the right side of the road from the 1930s (dont check it out, it had a basement!, and once you fall thru you'd better have a couple people to help you out).
Columbus Commiskey Elizabethtown Petersville

Bartonia
located in Randolph County

Headless Man
In Bartonia, you can see a headless man walking along the bridge that crosses Greenville Pike. The man is often seen riding a horse.
On Greenville Pike, turn right at the stop sign. Then at the first gravel road turn left, and go past the bridge turn around and go back over the bridge. When you get over the bridge wait a few seconds and then turn around. Don't drive too fast or too slow. You will be able to see a man on a horse without a head. The farther you get from the bridge the closer it gets to you. It soon disappears.



Battle Field Memorial
If you are anywhere close to the creek right after dark, you hear battle cries and see human forms running through to woods. You also can never fall asleep out there no matter how tired you are.

Bass Lake
located in Starke County


Bass Lake Cemetery
at Logansport Bypass
Continue straight to stay on Logansport Bypass 0.4 mi
Continue straight onto US-24/N US-35
Continue to follow N US-35 35.6 mi
Turn right at County Rd-500 E/S State Rd 10
Continue to follow County Rd-500 E 0.4 mi
Sharp right at County Rd-210/IN-10
Destination will be on the left 62 ft
The Bass Lake Cemetery in Bass Lake has one particular tombstone that people fear. Stories claim that the grass near the tombstone turns the color of blood at night. The headstone also has the man's picture on it and when a flame is held near the picture, it changes. The face starts laughing, it grows horns, and a beard appears resembling that of the devil. When you hold up a flashlight the picture doesn't change like it did for the lighter and it doesn't work during the day.
Some people also claim that there's a wild creature in the area, a beast that resembles a Werewolf that charges at cars.


Old Haunted Hospital
In Bass Lake, Indiana there are the remains of an old haunted hospital. It is located a little ways into the woods, next to a Romanian hotel. Today there's nothing left except for the basement and some of the foundation, but that hasn't stopped the stories. Supposedly people have heard odd noises coming from the basement area and seen dark shadows. Rumors say that one of the former janitors died at the hospital and now haunts it and has been seen near the furnace, which is still standing.

Batesville
located in Ripley County

St. Louis Catholic Cemetery
At the end of Schultz Street is St. Louis Cemetery
In Batesville visit the St. Louis Cemetery. Locals supposedly buried a Native American woman alive when they thought she was a witch. Her grave is still there today , The headstone has a stone door on top of it with iron bars all around it. and she now haunts the cemetery.

Bellmore
located in Parke County
Old Bellmore schoolhouse ruins

Legend has it that a boy was killed in the boiler room and the killer hid his body in the boiler. Sometimes you can hear him playing or screaming. When people go down there rocks and bricks fly at you out of the dark. In the ground of the ruins of the school house there is an extreme change in temperature where one feels cold spots or the air grow colder all around them
The only thing left of the school is the sidewalks, out houses and a part of the sign that tells the date of the school. There is now a mobile home on the property.
No Hauntings reported

Blocher
located in Scott County
Blocher, Indiana has its own haunted railroad tracks. Legend claims that a young woman was on the tracks one night when she got stuck in the tracks and was hit by the oncoming train. Stories claim that if you go there at night you can hear the woman screaming and hear the train coming

Bloomington
located in Monroe County
Paris Dunning House
Located at 608 West Third Street
The Paris Dunning House in Bloomington has a playful ghost that likes to move things. Many believe the ghost or ghosts relate to those who stayed there when it was part of the Underground Railroad.
At the Paris Dunning House in Bloomington you can find a house haunted by former slaves. The house once served as part of the Underground Railroad and some believe there are a few slaves who never left. People hear someone moving papers, see the doors open, and see things move.
This notable home was built around 1850 and was owned by Paris Dunning, who served as a state representative and governor of Indiana.
Congress was debating the extension of slavery in the western territories during his term which led to bitter hostilities between northern and southern leaders. Dunning delivered a speech to the General Assembly in which he condemned the expansion of slavery, and calling for its gradual elimination. He was the first outspoken anti-slavery governor since William Hendricks.
Binford Elementary
2300 East Second St.
Bloomington, IN 47401
(812)-330-7741
Electrical problems plague this school. It might be the work of the cloaked man in black that is seen wandering in the dark auditorium. The man is said to be that of the schools former janitor. When the Elementary school was a Middle school, it is claimed that he was killed by three middle students in the janitor's closet and still haunts the Elementary school today.
A different man covered in black is sometimes seen in the auditorium.

Hoosier National Forrest - Stepp Cemetery

Not to be confused with 100 Step Cemetery

Webmaster: There appears to be 2 stories in 2 different locations, 43.9 miles from each other, in regards to Stepp Cemetery.
This one (Hoosier National Forrest - Stepp Cemetery) where some websites claim to be in Bloomington, is actually South of Bloomington and another (Mogran-Monroe State Forest - Stepp Cemetery). which is located in Martinsville and is North of Bloomington.
Here is the story listed for Hoosier National Forrest - Stepp Cemetery:
Which Hoosier National Forest is actually located in Bedford Indiana
Hoosier National Forest Supervisors Office
and Brownstown Ranger District
811 Constitution Avenue
Bedford, IN 47421
(812) 275-5987
Toll Free: 1-866-302-4173
In the Hoosier National Forrest you'll find the Stepp Family Cemetery. According to the legend, two brothers fought violently about who would take over their father's land and the argument turned deadly when they killed each other. When the land was handed over to create preserved forests it became part of the Hoosier National Forrest. Now people claim to see the two men arguing in the area and have their cars die suddenly.
This cemetery also has a tree stump where some people hear a woman crying, or see the woman sitting on the stump. Supposedly the woman had a son who died during infancy. Grief stricken, she'd sit on the stump and keep singing to her child. Now she seems unable to move on.

The other Bloomington listing is:
Morgan Monroe state forestry - Stepp Cemetery
north of Bloomington
Elements of folklore and the supernatural also pervade the story of one of the most famous haunted cemeteries in the state of Indiana. Located off of Old State Highway 37 in the Morgan-Monroe State Forest is a small, abandoned cemetery around which a number of eerie legends have appeared.
It is called Stepp Cemetery and it is a desolate and lonely place that can be found at the end of a narrow, dirt trail that winds back into a veritable wilderness. Such a place would have long been forgotten if it wasn't for the weird tales that are still told about it. Only two dozen of so grave markers remain here and all of them are old and crumbling, as no one has been buried in this tiny graveyard in decades. Along the southern edge of the grounds is a row of tombstones and nearby is a worn tree stump that looks to be vaguely in the shape of a chair.
Depending on which version of the Stepp Cemetery legend that you hear, one of these graves seems to be the focus of the paranormal activity in the cemetery. Does the grave marker belong to that of a child? A road worker who was killed before his time? Or a teenager who met a tragic end? The stories vary, but one part of them all stays the same... each of them tells of a ghostly woman who watches over the gravesite, and the cemetery, in the darkest hours of the night. Over the years, scores of people have claimed that she is seen in the darkness, seated on the old tree stump that is found nearby. There, she waits silently, watching over and protecting the grave of her loved one.
The history of this cemetery is nearly as mysterious as the ghost who is found here. No one really seems to know when the burial ground was started, or by who. Forest rangers will tell visitors that some area families founded it, but local rumors state that a now defunct religious cult called the %93Crabbites%94 may have had some connection to it. Apparently, this peculiar sect conducted services that included snake handling, speaking in tongues and sex orgies. Local lore has it that a deputy from the area once stated that he had been called to the cemetery late one night to break up a particularly bizarre Crabbite ritual. The story says that he had to use a bullwhip to settle things down!
The legend of the spectral woman is just as strange. In his book Haunted Indiana, author Mark Marimen tells of a young woman who came to the region from the east. Her husband went to work in one of the local quarries and they settled down and had a daughter. One afternoon, her husband was killed in a dynamite explosion at the quarry and was buried in Stepp Cemetery. After that, her daughter became her entire life and she watched over her constantly as she got older, attended school and later met a young man of her own. But unfortunately, her happiness was not to be. One rainy night, when coming home from a date, the young couple was killed in auto accident. In a repetition of the earlier tragedy, the daughter too was buried in Steep Cemetery. Her mother would never recover from the girl`s death.
Soon, she began to make nightly treks to the cemetery, where she would sit for hours, talking to her dead husband and daughter as if they were still alive. An old tree stump that was near to the graves made a comfortable, makeshift chair for her visits. It was here where locals who passed by the cemetery began to see a woman in black sitting and weeping as the sun fell from the sky. It was said that if anyone approached her, she would run away and hide in the woods and would not return until they had gone. Soon, local residents began to avoid the graveyard, as it was believed the woman was crazy.
Eventually, she too died and, according to the legend, was also buried in Stepp Cemetery. Her spirit is still said to be restless today though, lingering in the graveyard and watching over the remains of her family. Many people believe that her ghost can still be seen at Stepp on nights of the full moon, when the woman in black returns to the stump and is visible to those of us still among the living. Those who doubt the legend to be true should take into account the many strange sightings that have taken place over the years. The most chilling encounters take place when visitors leave the cemetery shaken after having seen a black figure rise from the old tree stump and turn toward them in the darkness. The descriptions they give of the woman in black are strikingly similar as well. She is said to have long, white hair, although she is not old, but rather the color was bleached from her hair by shock.
Those who do not see the mournful apparition still often have their own tales to tell. It has been said that strange sounds sometimes emanate from the cemetery grounds. Law enforcement officials and park rangers are said to have received reports of a woman sobbing in the cemetery at night. When they go to check and see if anyone is injured or ill, they find that no one is there.
Descriptions of the ghostly woman and her heartbreaking cries have not changed much over the years, but the origins of the phantom often vary with each teller of the tale. There are a variety of different stories that supposedly explain the mysterious appearance of the spirit and here are a few of them:
In the 1950`s, a young girl was murdered in the vicinity and her body was dumped at Stepp Cemetery. The girl`s mother never gave up the search for her daughter`s killer, even after death. Her ghost now returns to the graveyard and watches over the girl`s grave, waiting to revenge herself on the murderer.

When they were building the Morgan-Monroe County Forestry many years ago, a man was killed working construction. He was buried in Stepp Cemetery and his wife came there to watch over his grave. Her ghost still returns to the spot today.

A young child was killed in an auto accident in the 1920`s and blaming herself, the little girl`s mother would come to the cemetery to mourn at her grave. Distraught, she disinterred her daughter`s body so that she could hold it one last time. She was found the next day, having committed suicide. Her ghost still haunts the cemetery today.
In more recent times, the story of the woman in black has taken on some of the elements of the classic "surban legend" tales. In one version, she appears as the mythical "Hook" (which was discussed in an earlier chapter). The story goes that a woman and her son were involved in a horrible auto accident. The little boy was killed and buried in Stepp Cemetery and his mother`s hand was severed at the wrist and was replaced with a metal hook. The boy had always been afraid of the dark and his heartbroken mother came to his grave and watched over him every night. She continued to do so even after death and her ghost now warns away strangers, waving her hook at those who come to close to the grave.
Another story also serves as a warning to teenagers who park in cars. In this tale, a young couple goes for a drive in the state forest at night. While they are driving, the girl tells her boyfriend that she no longer loves him and doesn`t want to see him anymore. Angry, the boy forces her to get out of the car and he drives away, leaving her alone in the dark woods. The girl vanishes without a trace and her mother begins endlessly searching the forest for the girl until she too vanishes. Today, her ghost appears in the vicinity of the cemetery and prowls about in the darkness. The ghost of the girl`s mother allegedly frightens teenagers who come there to go parking. It is said that her face suddenly appears outside, peering into the windows . . . looking to see if her daughter might be in the car!
While the stories have changed many times over the years, it does seem possible that the story of the woman in black may have been based on a real event that occurred many years ago. True or not though, Stepp Cemetery has become a landmark in the Morgan-Monroe State Forest and is a popular stop for ghost hunters, curiosity-seekers and those with an interest in eerie folklore.
Many of those who come here wonder if the story of the ghostly woman can be true? Perhaps the story is just a compelling piece of Hoosier folklore, or perhaps not. Those who are convinced that the tale is merely the creation of someone`s imagination often confess to a feeling of doubt when they see the twisted tree stump that looks remarkably like a chair on the far side of the cemetery. If the old stump truly exists, they ponder, can they woman in black exist as well?
Stepp Cemetery is located north of Bloomington, Indiana on Highway 37. There is a stone wall alongside the road in the Morgan-Monroe State Forest and a dirt path there leads back to the cemetery.

The Porticos
The Porticos is a former restaurant that was supposedly haunted by the ghosts of young children. When this place was a restaurant, people claimed to see a little girl's face in the bathroom mirror. Customers also complained of hearing children laughing and playing upstairs while in the dining room below.
First-hand experiences from a former employee:
I worked at Porticos for Dr. Lewellan who at that time owned the restaurant. I had heard of all the stories and even tried to get them to let me go into the tunnel in the basement, which runs across downtown to what is now a bank, I believe. But the door to the tunnel has been locked tight, as they say a lot of the tunnel has caved in. The house was very interesting, with all the hidden entries etc.
Our boss at the time, Steve, had his office in what we call the attic. This attic was huge and I was told that at one time it was a room full of beds for sick boys or slaves awaiting transfer. The door to this attic had a lock on the outside (a very old deadbolt) instead of on the inside, and you have to use a key once inside to get outside.
There is a basement, which is like a dungeon and also has the door to the tunnel. The first floor contsisted of the kitchen in the back, dining areas, and foyer, with a solid wood door that has a huge bar running across it to lock. From the foyer you could go to the third floor, which was known to have been the master bedroom, and had an old safe behind a picture. There was a smaller room on the third floor, that gave everyone the creeps, and the public restrooms were located on this floor, as well as a long corridor which ended at a staircase that led back down to the kitchen. The fourth floor was the attic. Our public restrooms were located right next to the attic door.
On IU graduation weekend, staff was short so I decided to go in and help with general cleaning. I was in the women's restroom, with headphones on, when I felt something strange. Granted, at that time I was the biggest chicken, and scared of the dark etc. I thought one of the guys had come in and was messing with me, so I continued working. Again, I felt this presence, took my headphones off and swung open the door in hopes of hitting whoever was messing with me. No one was there. I stood there for a moment, smoked a cigarette, and waited to see if they would come back to try and scare me again. It was so quiet. I thought maybe our boss was messing with me, so I grabbed the door knob to the attic where his office was and it was locked! As I turned around, I hadn't even taken a step yet, (I was going to go down the corridor into the kitchen) I heard thump, thump, thump. I froze for a minute, listened, and I didn't hear anything, so I turned back around and then heard it again, but this time I heard kids laughing very faintly. Again, I thought my boss was up in his office and had his kid or whoever up there with him. So I waited a minute, and heard the ball again, but it was still faint like it was being bounced at the top of the stairs that lead to the attic. So I put my ear to the door, and heard the ball again, but this time it sounded closer. It seemed to be coming down the stairs, getting louder the whole time, and then I heard the laughing again. I realized in my moment of franticness that Steve was not up there with any kids and I was actually hearing the children that everyone had been talking about. Needless to say, I about my peed my pants, and took off running down the corridor, down the backstairs, and into the kitchen. The two guys that were in the kitchen Rick and Eric, who were college students, thought I had tripped. I told them what I had heard so they went up to investigate and said that our boss hadn't made it there yet.
Later that night, one of the waitresses came down the front stairs into the foyer panicked and white as a ghost, literally crying that she would not go back up the stairs, so someone would have to trade her sections. She said as she was walking into the hallway from our upper dining area (the master bedroom), she saw the two children standing in the hallway.
Shortly after that, Fox 59 news came down and did a story on the house. Before that, someone from the radio station B97 here in Bloomington stayed the night there and I was told he didn't stay the whole night, he got scared and left.
Of course working there, you hear all kinds of stories, rumors etc., but the most fascinating one was when a medium came in for lunch one Sunday and the waitress tried to escort her up the stairs to the upper dining area she said, "I can't go up the stairs," when asked why she said, "because there are two children sitting on the stairs forbidding me to pass."
Another story I heard is about the tunnel. It was supposedly used to hide/transport slaves. (This tunnel goes from Porticos across town to what use to be a train depot, and then continues on to what is now a bank; I don't know what was there before.) The tunnel was said to be full of slaves waiting to move when the house burned down, and many of the slaves died from smoke inhalation.
We use to get older folks that would come in to the restaurant and tell the stories they knew. It was quite interesting.
Dr. Lewellan and his wife, Anita ended up selling the place and I believe they moved out of state.
Bloomington, Indiana, is best known as having the main campus of Indiana University. There are the many stories told about Indiana University in Bloomington along with stories of haunting's on the campus.
The Indiana Memorial Union:
900 East 7th Street
Located just north of Maxwell Hall and Owen Hall, just south of Ernie Pile Hall and west of a giant parking area.
The Indiana Memorial Union is the University's 500,000-square-foot college union, making it one of the world's largest college unions. This campus centerpiece has been a place where students go to study, relax, eat, bowl, watch a movie, and even to shop. It has also been the favorite place in the past for students to kill themselves, before mental health services were available. There are high places to jump off of.
Several entities haunt the building as they found that committing suicide didn't help their problems.
A dog also haunts the place.
The Career Development Center
625 North Jordan Avenue
Bloomington, Indiana 47405
Phone: (812) 855-5234
The Career Development Center is located in a building on the west side of N. Jordan Ave., almost directly across from the current Health Center.
Perhaps this building was the original health services building. It is said that a doctor performed abortions for frightened pregnant coeds before abortion was legalized in the 1970's.
Entities of aborted babies / children who were aborted long ago are said to haunt the building. There are also tales that cries of a woman can be heard.
Reed Residence Hall
210 North Seventh Street
Indiana University groups its resident dorms into sections known as Neighborhoods. It can be found in the Southeast Neighborhood, housing for undergraduate & graduate students. This area is on southeast corner of campus near the Schools of Music and Education, the Musical Arts Center, the IU Auditorium and the Neal Marshall Black Culture Center. This neighborhood houses undergraduate and graduate students.
Reed Residence Hall is one of three dorms; (Forest & Willkie being the other two in this Southeast Neighborhood.) It is a coed, undergraduate 6 floor residence hall of four buildings (wings) connected by a central hub.
A former student was killed there by her boyfriend before he dumped her body in the basement. A number of people have seen this girl in the hallways and in her old dorm room, still wearing the blood soaked nightgown she wore when her body was found.
In one of the third floor rooms, late night drama between a fighting young couple went over the top when a medical student stabbed his girlfriend in the throat in a fit of rage /frustration, causing the girl to quickly bleed to death. He hid her body in one of the deserted tunnels underneath the hall, but confessed later to police.
The entity of a young woman described as having long black hair, wearing a blood-tinged yellow nightgown haunts the 3rd floor room where she was killed so quickly. Same entity also haunts the hallways and in other parts of the building as well.
Detailed Information:
It's believed that during a time in the 1960's a volatile couple, a male medical student and his dark haired girlfriend, argued in one of the men's dorms. The medical student had succumbed to the pressure of university life, and had gone mad.
As the argument became more vicious, the medical student grabbed a scalpel that lay near. With a quick flick of his hand the dark haired coed's throat was cut. Overcome by bloodlust, the medical student continued to use the scalpel to remove her face.
Overconfident, the medical student believed that he could hide his gory murder. He carried his lovers limp body to the cellar of Read Hall and carefully hid her in an abandoned tunnel.
Over the next few days, the medical student went about his normal routine. His girlfriend, a popular figure on campus, quickly became missed. The medical student was strangely silent about his girlfriend's disappearance, so the police were called.
The police escorted the young man to his dorm room where he was questioned. The man was nervous, and was doing his best to subvert the officers. One officer noticed a red liquid dripping from the man's dresser drawer. The officer opened the drawer and was horrified to find the face of the young woman, eyeless, staring back at him.
The medical student finally led the officers to the young woman's body in the cellar. Soon, he was committed to an insane asylum where he spent the rest of his life. It's rumored that he still lives, at one time escaping, and on his way back to Read Hall. He was captured and now is shuffled between prisons and state programs.
Today, students have witnessed the ghost of the murdered woman haunting Read Hall. Students have described the ghost as wearing a white nightgown covered in blood. Her long black hair, tangled and mottled, hangs in front of her face. Brave students have stated that when they have approached the ghost she suddenly lifts her head to reveal her gruesome face, devoid of flesh. After giving the student a fright she vanishes.
In addition to seeing the ghost of the young woman, many have felt a phantom hand grab their shoulder, or take a hold of their hand. Others have experienced a strange phenomena where their television and stereo will turn on suddenly and the volume will continue to rise until it becomes deafening.
Read Dorm

According to legend, when Reed Hall was a women's dorm, a former Resident, an R.A. known as Paula, who lived on the 6th floor, buckled under the stress of school life, committing suicide by throwing herself down the stairs.
On December 12th, the anniversary of her death, students report hearing a woman screaming loudly.
Lilly Library
1200 East 7th Street
Bloomington, Indiana, 47405-5500
Tel. 812-855-2452
(Southeast of Woodburn Hall and south of the Showalter Fountain)
The Lilly Library is the principal rare books, manuscripts, and special collections repository of Indiana University, serving as a resource for scholars throughout the world as well as a center of cultural enrichment. The Library is open to anyone interested in its collections.
The Lily Library is said to be haunted.
The library contains many collections held dear by people who have passed on. Many items in the displays are very old relics used by people of long ago. It is said that the library is visited by an entity or two checking up on their prized collections. It is also said that some items may be haunted by a past owner.

Bluffton
located in Wells County

Children's Playground
It is said that at the turn of the century an old man ran a playground for children on the apostolic church grounds he was hated by the adults but loved by the children. One day he was found brutally murdered and his body was thrown in the Wabash River and was found under the red bridge. It is said that if you go there in the middle of the night and lie down on the bridge you will hear the sounds of children laughter and sometimes you will hear something pounding on the bottom of the bridge.
The bridge is not the location of the playground, but it is apparently the location of the activity.

The Rittenhouse
218 South Main Street
Bluffton, Indiana 46714
(219) 824-8112
Bluffton has many fast food restaurants but there are very few 'sit down' restaurants. In the middle of Main Street is the Rittenhouse, a fancy Victorian-house-turned-restaurant that serves decent food at exorbitant prices.
As this is now a restaurant; long ago it was a morgue and a funeral home. It is said that you can still smell the dead and mysterious things happen when you are there. Sometimes you can also see ghosts of the spirits that were never fully put to rest. So the next time you eat at this high class restaurant keep your eye out for the dead. However, people have stated that they have been to ceremonies here and have never smelled anything or had anything weird happen.

Bobtown
located in Jackson County
There are 2 stories in regards to The Coffin or The Coffins
in Bobtown . . .
The first:
The Coffin
The trees on the old gravel road covers the road so good at anytime of the night even if the moon is shining bright you and not see anything other than what your headlights shine. The is a myth behind it saying in the 60's a cop busted a party in Bobtown and the teens killed him and put him in a hollow tree trunk and it grew around him. Sometimes at nights you can see his eyes in the trees in the coffin.
The Second:
The Coffins
The legends of the Coffins goes back to the late 1800's when insane asylums and poor folks homes found a better, cheaper way to bury their dead. No more having to pay $15.00 for a pauper's burial, and no more having to account for their number of dead at these institutions. They started bringing their dead to a scarcely populated area of Indiana known only as the Bottoms or Flats, later known as the Coffins, now known as Bobtown, Indiana.
Many times they dug shallow, unmarked graves barely covering the cheap pine coffins. Legend has it that because of unholy experiments performed on these poor souls, and, yes, because of cruelties, abuse or punishment, many were said to be buried alive.
In past years, when the spring floods would come, legend has it that old-timers would see cheap, decaying pine coffins flooding down White Creek. Many have claimed to see ghosts or spiritual orbs, like the old woman with her hand outreached, crying, or the little boy that likes to appear in the back seat of your car and then disappear when you slam on the brakes.


BOONE COUNTY


Bourbon
located in Marshall County
Haunted House
Located on 8th Road
Legend claims a robber or group of robbers broke into the house and raped the mother and daughter there before killing them. They then hung the father and son in the barn. People claim at night the ropes can still be seen in the barn, but they disappear during the day. Adding to the creepy factor is the fact that the house remains exactly the same as it did the day of the murder, with all the furniture and personal possessions still there.

100 Step Cemetery / Carpenter's Cemetery
Not to be confused with Stepp Cemetery
Just off 675 W north of Brazil, IN
There appears to be several directions to this place. If anyone should know the exact location, please contact me!
one claims:
One-Hundred Steps Cemetery is located on County Road 675, west of the 340 jog on US Highway 40, to the west of Brazil, Indiana
Outside Brazil Indiana is Carpenter's Cemetery, which the locals have renamed "The 100 Steps Cemetery".
The One-Hundred Steps Cemetery dates back to the 1860's. It is a secluded graveyard that sits in a clearing high above the road; high on a grassy hill, thus all the steps leading up to it.
The stone steps that gave this cemetery its nickname take you to the top, where most of the graves are located.
If you ever wondered your fate of death, local legend claims the manner of your death can be revealed to you by the suffering soul of a tormented undertaker here at The One-Hundred Steps Cemetery.
In order to do so you will first need to go the cemetery at midnight. Upon entering the cemetery and heading towards the gravesites, you will come to a set of steps on the grassy side of the cemetery. You are then supposed to walk up these steps and count the steps as you climb up them, recalling how many steps you counted on the way up.
However, this isn't as easy as it sounds, seeing how many of the steps are cracked, broken, or missing. So it's next to impossible to get an exact count of just how many steps there are.
Once you have managed to make your way to the top; you are to turn and look over the tombstones facing the open field by the cemetery.
By doing this, the ghost of the man whom many claim is the original caretaker of the cemetery will appear out of the misty moonlight and magically reveal a vision to you. It is a vision of your own death. The specter then vanishes right before your eyes.
Nevertheless, your mission is not completed; for as soon as the vision fades, one MUST now proceed back down the steps counting the stairs as you make your way back down to the bottom.
If you should get the same number as when you climbed up; your okay. But if you come up with a different count as you did going up, the prophecy of your death the caretaker showed you will come true . . .
Possibly even that very night!
Legend would also warn you; if after seeing a vision of your death, DO NOT TRY TO CHEAT! As if you attempt to forgo the process of counting the stairs and decide to climb up or down the HILL without using the STEPS, the undertaker is said to appear behind you and give you a shove, sending you tumbling down the hill.
This in turn will leave a red imprint on the persons back for several days so those who see it can see the mark of the Devil.
Haunted Church
the church is kind of old and if you look at the church you see a light in the church. You can see figures of body's looking out the broken vents and windows. At the top of the church where the steeple is you can see the the cross is broken and it looks like someone is hanging on the broken cross. You see lights fly past you and across the church its not a big light is a little light kind of looks like the spook light from "Spook Light Hill". It can be a real calm day and the wind will start to blow. This church is on 300 w. the other way from "Spook Light Hill".

There appears to be several stories and places in regards to Hell's Gate:
Hell's Gate in Terre Haute
if you were to ask one of the locals about "hell's gate's" it's about 2 miles from the county line and twice as scary it's 1 of 13 rail bridges. There are some far more intriguing things going on there.
And this one in Brazil, Indiana
Even in Brazil Indiana there are several locations:
One is the one that is on the county line road down 59 with the creepy tree on the right side of the ride if you point your car towards 59. Another is a little bit past that and you turn right after you pass an Amish sign and there is a house with a light pole.
Go through Brazil going north on the main road. You will go over a bridge or overpass then you turn left on 1500 road. Go down that street until you get to an old train tunnel. Stop the car and flash your lights three times. Then go through and turn around. Go through again, but stop in the middle this time. Turn your car off and sit there for 10 minutes. Then the graffiti will start to glow and blood will run down the walls. If you see your name on the wall, banging on the windows and the roof of the car will start. After it stops, start car again and go through. There is a tree and you will see (if you see your name on the wall) two kids hanging from the tree, but don't stay to look around go fast cause after you see your name your supposed to die. There are seven different bridges in that area and you are supposed to drive through all of these bridges starting by going down Coal Bluff Rd. and at the end of driving through all 7, you look back and you will see Hell's Gates closing behind you.

Old Indian Burial Ground
Off of Highway 59, North of Brazil.
Take Highway 59, it's about 4 miles from Brazil, until you see the Bridgeton town sign. You'll also see a sign that says camping. Turn East and go down that road about 3 miles. Once you pass the Fallen Rock Parke Restaurant start looking to the left. You will make a turn and then there will be an opening. Up on the hill in that opening will be the cemetery.
There is nowhere to park so if you are going you'll probably need someone to sit in the car in case another car comes down the road. To get up to the cemetery you have to go through a bunch of weeds that are about knee high, and then hop over a fence. After hopping the fence get ready to climb a hill that's pretty steep and about 50 feet tall.
The Old Indian Burial Ground is down the road from Fallen Rock Parke Restaurant located on top of a hill; nothing big, there are only 12 gravestones or so.
Legend has it that an Indian buried himself alive up there. It is said that if you climb up there at midnight and stand there for a second you can hear the sounds of drums and howling. Some have claimed they even seen the shadow of the lonely Indian.


Spook Light Hill
If you travel north on highway 59, out of Brazil, Indiana, in about 4 or 5 miles you will come to a gravel road that turns to the right. The road takes the lonely traveler to the tiny town of Carbon, but before you get there, you pass over 3 hills.
If you are brave enough, you can stop at the top of the last hill and look back down toward the 2nd one. If you are lucky, most nights a lone lantern light can be seen swinging through the woods, letting us know why this hill is known as 'Spook Light Hill'.
The story is that a light can be seen coming down the road and "scanning" the area.
It's said that a father lost a murdered daughter and now roams that area looking for her head.
The story is that years ago, an Amish man, Old man Lawry was waiting up for his daughter, his only child, to return home, as a fierce looking storm way off to the west, was moving their way.
When the horse and buggy finally showed up to the house Old man Lawry realized his daughter was not in it. Fearing that his daughter is in some kind of trouble he leaps into the buggy and whips the tired horse back into action. Down the lane, toward the church he flies. At the top of the first of the three hills, a bright flash of lightning illuminates the road ahead of him. There! At the bottom of the hill, Old man Lawry recognizes the dress on the figure lying in a heap in the mud. She must have been hurrying to get home before the storm and fell out on the rough downhill. Turning her over, Old man Lawry's eyes fall on a most horrid sight. Her head! Where is her head?!! Apparently it had been severed by the buggy wheel or as some would say, she was murdered.
Old man Lawry's daughter was buried in the family cemetery near where her body was found. Her head never turned up. It is assumed that some animal dragged it off.
Old man Lawry never spoke much after that night. He would be seen in town occasionally. But all night, every night after the death of his daughter, he would go out with a lantern searching the area for his daughter's head. Even after his death a number of lonely years later, even today, more that 100 years since that fateful night, the light from Old man Lawry's lantern can be seen searching the woods of Spook Light Hill.
Shadow Beasts
Not far from 100 Step Cemetery just off 675 W just North of Brazil, Indiana.
Directions: Coming from Terre Haute, IN, just off of US-40 make a right turn on 675 W. Follow that road to the end where you'll make a left turn. Down that road nearly half way or a little further just stare off to your right.
You'll see what seems to be a couple of bushes, and one obviously is, but the other seems to be fainter in shadow and doesn't pass as the car passes, it appears to run along with you. People have observed this during a midnight drive. They call them "Shadow Beasts." They also said that they witnessed more than one, and that they were much more interactive. But the strangest thing is that this figure absorbs light...when you attempted to disprove this "thing" by thinking its just-another-bush theory, shine your headlights in the direction of the known bush, and the unknown shadow. The bush was immediately illuminated and confirmed of its nature, the shadow, and seemed to disappear completely. Then as you drive away, it will be there again, running right along with you.
Stop Sign Mary
a.k.a. The Bloody "T", a.k.a. "Bloody Mary
Also claimed to be in Diamond, Indiana located in Parke County just north of Brazil
Just beyond "Hell's Gates" is another local legend.
At a "T" intersection, it is rumored that if one turns left and stops at the stop sign, turns off their lights, honks their horn, and looks back at the "T" sign, you will see the "T" bleeding when lit up by the car's brake lights.
Just past Hell's Gates, in Brazil, Indiana, go through to the other side. You will see a T that one road goes to the left no right turn, and a stop sign that you just passed while turning. Go to that road. As soon as you turn on that road fully, stop, and turn off your lights and honk. There is a T sign behind you. Look at it and push on the brakes. People say that the sign will BLEED.
Apparently some time ago a young woman was abducted around the Brazil area by a couple of guys and driven out in the country somewhere east of spooklight or in that area. After these guys had their fun, they allegedly stabbed this poor girl repeatedly and dumped her in the ditch at the first stop sign they came to. A while later another car came along and when they stopped at the intersection the young woman reached up and scratched at the side of the car in a pleading attempt at getting help. The occupants of the car, frightened sped away and left the girl to die alone. A short time later her body was discovered and laid to rest with the guilty never found. Supposedly since then this young woman is said to have haunted this particular intersection ever since.

Bremen
located in Marshall County

Troll Bridge
This bridge is right down the road from Little Egypt Cemetery
There is a Troll Bridge in Bremen that is right down the road from the Little Egypt Cemetery.
The Troll Bridge in Bremen is one of the more popular haunted stories in Indiana. Visitors report seeing a tall dark shadow figure standing on the bridge. If you park your car just off the bridge and get out you will see this thing about 7 or 8 feet tall.
Some claim the figure chased them, while others claim it threw things at their car.
It is warned;
WARNING: Do NOT go out here, stay off this bridge, this thing is not good and you will be terrified. I strongly suggest the unstable mind stay out of here too, unless you are up for psychological damage.
The local residents do not appreciate investigators
Have also been encounters with an angry resident that drives a red jeep and chases you down, and threatening he would kill you if you came back. Please for your own safety do not go here. This guy is a real lunatic.

Little Egypt
Little Egypt is located on 5A Road and Hawthorn in Marshall County. 5A road goes around the cemetery in a square style.
There are several stories that go with this location:
Many claims have been made of apparitions appearing at night at this cemetery. There have also been claims of while driving around the cemetery; hand prints would appear on your windshield. Supposedly if you go there you will get chased down by a phantom farmer that died in one of the fields around the graveyard.
Down the street there are some woods. There are rumors that on certain nights there are sounds of what appears to be a girl screaming in the woods. Rumored Story: "A 17 year old girls body was found there. She had been raped and killed."
Also, depending on how far back in the woods you go, upon your way out, you will see a set of headlights following you out of the cemetery. It appears that they have just come out of the woods. They will follow you until you are completely out, and a ways down the road.
One story says that if you throw a nickel on a baby's tombstone, that you will hear it cry.
The abandoned house down the road is creepy as well.
Warning: The local residents do not appreciate investigators.

Bridgeport
located in Harrison County
Captain Frank's Tomb

An elaborate tomb was built on a bluff commanding a view of the Ohio River. His reason for choosing this lonely spot for a tomb was that he could shout curses at the passing steamboat captains. It is said that many on the river have seen a ghost light or mist that settles over the tomb.
High on a hill in Harrison County, Indiana, overlooking the Ohio River is the original burial place of Frank McHarry, Captain McHarry, as he was known. The tomb measures 40 feet in length and is 20 feet high. It was built by McHarry prior to his death. McHarry was a man of many talents, he was a fine stonemason. He built his sepulcher eight miles below Portland, Kentucky on a high bluff overlooking the river. He had a porthole placed over the entrance. It is claimed that McHarry requested that his body be placed erect in the tomb, where he might look out the porthole and curse at passing riverboats and crews. Before he died in 1857 he vowed that he would forever haunt the rivermen who passed beneath his final resting place.
It is not recommended that you attempt to visit this tomb in Harrison County, Indiana. The path is arduous and dangerous. A person would be trespassing on private property.

Bristol
located in Elkhart County
Bristol Opera House
210 Vistula St
Bristol, In 46507
(574) 848-5853
The Bristol Opera House is located 8 miles East of Elkhart, Indiana. This Historic Opera House was built in 1897, now owned and operated by the Elkhart Civic Theater. It has been restored to its original splendor and current performances are enjoyed by everyone.
The theatre in Bristol, Indiana, produces a six-show season, usually consisting of four non-musicals and two musicals. There is also a summer musical, a Christmas season musicale and other special events.
The Bristol Opera House is also home to a ghost named "Percy"
Percy is known to haunt the costume room and stage. It is said that he hides in the curtains and brushes up against the actors. He does not like musicals and has apparently moved things on stage during a production. He likes to scare the ladies in particular. A lady that makes the costumes and was there late at night when she felt strange things around her and tapping on her shoulder. No one is sure why he is there or where he came from. He might have been one of the deceased actors or people that worked there.
State Road 15 North
If you go north on State Road 15 past where the toll road on ramp is, you will see an old house on the left, right before the state line. If you stop and watch the house long enough, you will see the spirit of the former owner part the curtains and wave at you.

Brushy Prairie
located in LaGrange County

US HWY 20

If you are driving on US Hwy 20 between midnight and 5 AM as you near the Brushy Prairie Cemetery you might get a glimpse of the "Lady in White." She wonders down the highway towards the cemetery in a beautiful white wedding dress. Many people have tried to pick her up, but when they pull up to her she just disappears.
She is most active around holidays.


Bunkerhill
located in Miami County
Peaceful Acres
Located just off US 31 between Bunker Hill and Peru. If you drive north on 31 from SR218 East approximately 1.5 miles on the right is CR 560S. Turn in and immediately follow the y to the left up the hill. The sign is on the hill closest to 31. It is yellow with green letters (in serious need of repainting). Follow the road up until you come to a line of trailers on your left. Lot #3 is white with red and blue trim that they are adding a new roof to.
It is said there is a ghost in the woods wearing a bandana and is known by many as the toothless wonder. You can see him floating behind lot 3 over a chicken coop looking down hungrily.


Burlington
located in Carroll County


Old Sycamore Haunted Bridge
If you are driving south down US 31 you will come to a stop light at Sycamore road. There is a shell gas station, red bar gas station, car lot, and Aldi's grocery store on each corner. Turn right in-between Red barn and Shell. Take Sycamore all the way through town. As you pass Dixon road you will have to drive a little ways out past Malfalfa (sp) it is a stoplight. After you pass Malfalfa rd the road will curve to the right, and another road will be on the left. Take the left road. (GO slow it's easy to miss) It is the first road after the stoplight. Take the road around the curve. This is old sycamore road.
Burlington's Old Sycamore Bridge is haunted by a strange white car. Supposedly a teen caught his girlfriend in the car in the arms of another man. In a jealous rage he shot and killed the both of them.
When you drive over the bridge at a speed over 20 miles an hour, it is said that a white car will chase you to your supposed death. in addition, you can still see the bullet marks on the sign on the bridge where the jealous boyfriend caught his girlfriend and another guy making out.

Butler
located in DeKalb County

Land of Moses
Located just outside of Butler off of ST RT 6 there is a road that goes to the right and over the railroad tracks. There is a cemetery there that is allegedly haunted and they say at night if you park in the cemetery by the old crematorium you can hear cries of the departed. This begins the stretch of the road called the land of Moses that leads to Gypsy hill. This area is extremely dark at night and there is an area that Gypsies congregated at near the Indiana/Ohio line. This area is covered by a dense dark forest. Rumor has it that the gypsies kidnapped and raped a farmer's daughter in the early 1900's. The farmers then banded together and killed the gypsies. Over the next 10 years the farmers all were killed by an axe. One report said that a gypsy returned from the dead and haunted the woods, which is where the farmers' bodies were found. Till this day, very few people will dare to go to those woods, park their car and get out and explore them. There is an old foundation of a log house there and some other remnants of the gypsies.
Today people claim that those ghosts still inhabit the small patch of land on the road.


Cambridge
Located in Wayne County

The Old Railroad Tracks
When President Abraham Lincoln was killed, the government had to ship his body across a few states for it to be buried properly. One of the places that the funeral train passed through was Cambridge, Indiana.
On April 21, Lincoln's body was taken to the railroad station and boarded on a train that conveyed it to Springfield, Illinois, his home before becoming president.
Abraham Lincoln's funeral train left Washington on April 21, 1865. It would essentially retrace the 1,654 mile route Mr. Lincoln had traveled as president-elect in 1861 (with the deletion of Pittsburgh and Cincinnati and the addition of Chicago).
On Sunday, April 30, 1865. in Indiana, the train went through Richmond (while the church bells rang tumultuously), Centreville, Germantown, Cambridge, Knightstown, Charlotteville, and others. It arrived in Indianapolis at 7:00 A.M. The coffin was carried to the Indiana State House in a hearse topped by a silver-gilt eagle.
The train went through Cambridge City at 4:15 am.
On the anniversary of the funeral train passing through, at around 4 in the morning, it is claimed that you can see a train come through where the tracks used to be, which are covered by skeleton soldiers still protecting Lincoln's body on that train. The tracks aren't there anymore, but a few remnants of them are still around.

Carmel
located in Hamilton County

The Screaming Bridge in Carmel, Indiana is where you can hear a woman screaming. Legend claims that the city closed the bridge due to the number of attacks in the area.
There is a lot of confusion draped around this bridge. Where it is, what it is . . .
there were even conflicting stories about whether or not this place even existed.
Supposedly the story of "Screaming Bridge" takes place in the early 1920's. As it's told, there was a woman who gave birth to a child out of wedlock. Her father was threatening to disown her and possibly worse and left her with an ultimatum: Take the child into the woods and leave him to die, or be kicked out of the house and deal with the taboo of being a single mother.
The young woman set off into the woods that night, but instead of leaving the child to die, she committed suicide by hanging herself off a bridge (today known as "Screaming Bridge"). The legend is that late at night a woman's scream can be heard, accompanying a child's cry. Screaming Bridge earned itself a name.
Another story tells of a woman involved in a fatal car wreck, passing over the bridge's side never to be seen or heard from again . . .
except for on nights when the moon is full and the roads are wet. The desperate screams of her ghost have been reported to be heard on nights just at the stroke of midnight.
Different reports state that the bridge had been torn down and was no longer even there, others saying it was nothing more than a pile of wood and metal. One particular account claimed that the bridge had never even existed.
Upon using satellite imagery, the bridge is still there, though not in original form. The wrought iron bridge of legend has long since been torn down due to safety violations. In its place is a more modern bridge, utilizing the original supports and sub structure.
Also, it's not located at the end of a long dirt road you can only get to it from another dead-end road, as most people telling of the bridge would have you believe. It's been incorporated into a residential neighborhood, smack in the middle of new housing edition and families. The stigma of the bridge's past has been left behind, all but forgotten except by those old enough to recall the tales.

Cass
located in Sullivan County

Antioch Cemetery
Claims have been made that Antioch Cemetery is in a town called Dugger while Google claims Antioch Cemetery is located in Hoagland, IN 46745
There are reports of seeing a man dressed in a dark colored suit with flowers in his hands looking down at the grave on foggy nights around 1:30a.m. Witnesses also see shadows of people flashing past and over their vehicle accompanied by scratching and tapings heard.

Free Springs Bridge
There appear to be several stories in regards to Free Springs Bridge, which lies out in the country in the small town of Sullivan, Indiana. There have been claims of sightings of a "headless man" walking around looking for his head.
* Free Springs Bridge is a bridge for trains crossing a stream in Sullivan County. According to legend, there was a body found under the Free Springs Bridge sometime in the past. The body was found decapitated, leaving the person unidentifiable. It was generally supposed that it was the body of a tramp that had met foul play and been dumped from a train passing through this area. No great effort was ever made to identify the body, as it was buried. Since then, there have been various reports of strange noises and sightings of a headless being around the Free Springs Bridge.
* Another story is that years ago there was a dreadful car accident. A boyfriend and girlfriend were coming home from a date when they had their wreck and the car burst into flames. As the girl's body was found, no one ever did find the boy. It is said that every year on the anniversary of the accident, one can hear the boy calling the girl's name.
* And then there's the story of a man who always rode in the caboose of a train. One night he fell off the train and landed with his head on the tracks, as the train ran over his neck and cut off his head. It is said that if you go out to the bridge and park on it, you can see the man walking down the track swinging a lantern looking for his head.

Cedar Lake
located in Lake County
Macarthur woods
Kids have said that they have heard voices saying to kill them; once a hand grabbed a girl. They have also seen a gun pointing at them and when they got home, their house door was open and nobody was in the house. When they got inside, nothing was in the place were they left it and then they ran outside, but when they looked at their house, there was a glowing light next to it. Some children have seen a strange man with ripped clothes and distorted face, suddenly disappearing into thin air.
This is a private residence; the police will be called for trespassing.
Selysion's Private School
At the Selysions Private School, that has since been torn down, many reported to have heard the sounds of cries, screams and whispers throughout the building. Several people claimed to have seen orbs that seemed to follow them and some even reported seeing full-bodied apparitions of former students sitting at the desks. Supposedly all of the boys at the school were said to have been hung, shot, or drowned by the pastor who took care of them. People have reported all the doors closing at once and hearing whispers when walking inside the school. Occasionally, you can see the boys sitting at their desks writing in blood. There have been unexplained footsteps and people hearing footsteps and the whispers and laughter of children.
Other reports say that no one was ever killed at the school. It was forced to shut down because the school was out of money.
The school has been torn down and a new building has been erected, but the haunting apparently is still going on.
Rock Quarry
Suppoedly there is a Rock Quarry in Cedar Lake, Indiana that has been there since the late 1900's, but not many people know it exists. It is said to be haunted. The story goes that the two houses next door to it used to be homes for homeless children. The owner of the two houses was supposedly a closeted homosexual, mentally unwell man in his late 50's and would only allow boys into the houses. When his wife came home on the night of November 14 and saw him drag a boy into the bedroom. She screamed and he hit her over the head and dragged her to the quarry, where he beat her to death and buried her amongst the rocks. He went crazy that night and murdered all of the twenty-five boys under his care in the homes. It is said that he buried all the bodies in that quarry. Now if you go there you will hear the little boys laughing on some nights, but on November 14, you will hear nothing but the sound of screaming and then the old man grunting and the rocks moving as the night he buried the bodies of his wife and the little boys.

Centerton
located in Morgan County
There are several stories surrounding this cemetery.
Located deep in the heart of the Morgan-Monroe State Forest, south of Martinsville, Indiana lays Stepp Cemetery.
Morgan-Monroe State Forest
6220 Forest Road
Martinsville, IN 46151
The cemetery is located about two miles inside the Morgan-Monroe State Forest via Old Highway 37.
The entrance is flanked by stone walls and an iron gate, and the cemetery is a few hundred feet via the dirt path inside the gate.
Stepp Cemetery is a local legend that tells a tale of a restless spirit wandering among the headstones. Stories about who or what is haunting this cemetery vary,
but virtually all consist of a woman in black grieving over a loved one buried in the cemetery.
The small graveyard is home to only a few dozen graves. It was originally a pioneer cemetery that opened in the early 1800s.
It is in a dense wooded area with no houses within miles of it. The road there is narrow & curvy.
The woods block most of the moonlight that may try to reach anyone brave enough to be there after dark.
There is an old tree stump that looks somewhat like a chair where the woman is most often seen,
Legend has it that Stepp Cemetery is home to a mysterious woman who can sometimes be seen sitting on a tree stump near the back of the graveyard. It has been claimed that she is often seen gently rocking a baby in her arms.
Following his death, he was buried in the cemetery, by a tree at the north end of the cemetery. A flat stone reads, "Baby Lester." There is no date to confirm the birth or the death of this child. It was said that the mother of Baby Lester would travel to the cemetery every night and sit on a tree stump while she mourned the loss of her child. Some have even said that she would dig up the lifeless body and rock it back and forth while sitting on the stump. Then she would place it back into the ground until her next visit."
After she passed away, the hauntings began to happen as early as the 1950's.
Some versions of the story claim the woman chases visitors. Some accounts also state that their dog's ghost also guards the baby's grave. Some claim that is a black ghost dog watching over the grave of the kid's grave almost as if it's protecting him. Black phantom dogs are common in sites of hauntings because there are believed to be the guardians of spirits.
There is another legend recorded by Mark Marimen in the book, Haunted Indiana. This story also involved a grieving mother, one who lost both her husband and daughter to tragic accidents. She, like Mrs. Lester, traveled to the cemetery nightly. Some people claim to have seen her walking among the graves wearing a black dress. No one knows her real name, but they call her "Anna." The legend says there is no record of Anna's death and she still haunts the cemetery.
Legend says that if you sit on the old stump, you will die or suffer other misfortune within a year.
Another story is that of an old woman accused of being a witch is said to roam the wooded area around the cemetery. It is believed that a group of fraternity boys in an initiation took her German Shepard
and hung it upside down from a tree branch and gutted it.
When the old woman stumbled across her dog, she is said to have cursed the boys and the cemetery. (There was a German Shepherd dog found hanging in the cemetery but there is no record of an old woman.)
Another story claims there is a tree stump at the front of the cemetery where an old caretaker used to sit to rest his weary bones after caring the graves. One day a semi truck carrying tree logs took a wrong turn and drove into the cemetery. The caretaker was taken by surprise and crushed by logs rolling off the semi-trailer crushing him on the stump. There is blood on the stump today. (A logging truck did indeed take a wrong trail and did crush a tree and destroyed several tombstones.)
Additionally, other versions of this story include dead teenager and roadworkers who will chase visitors. Paranormal investigators have captured orbs and EVPs in the cemetery.
Rangers have reported the sound of crying from the woods but after looking around they find no one.
Photographs have included a strange red glow at times, and unexplained noises are also known to happen while visiting the location.
Many anxious feet have crossed the grounds that Stepp Cemetery rests upon. Most are interested in the legends. However, some have unlocked the door to Monroe County's past, while others have linked the spiritual world to the scientific. No matter what the interest is, Stepp has been used as a tool to educate people. This historical site is a part of Bloomington's heritage and deserves to be respected. It has served as a sanctuary for the deceased and a classroom for the living. But for everyone, it is a place to cherish those whose lives have shaped the present.
The cemetery is heavily patrolled by state police and rangers - hours are varied dependent upon the season.

Centerville
located in Wayne County
Blue Clay Falls
On this street, people have seen a large group of people huddled together on the road, walking along the road with a lantern.
When you pass them and look back, they have vanished.

Chapel RD Cemetery/church
It is said that if you go at night and back into the Church Driveway as well as putting the vehicle into park and turning off the lights, ignition etc. sit for a while;
you will start to hear noises that sound like a distressed dog yelping/whining
and it will get very cold inside the vehicle even during the summer. According to legend, the area around the church is plagued by cold spots that manifest even inside locked cars with the heater running.
There are also stories about ghostly figures walking around the area and strange noises heard. There have been claims of handprints on the window and entities outside the vehicle.
WARNING -- NO TRESPASSING!

Charlestown
located in Clark County

10 penny bridge
Tunnel Mill Rd
Charlestown, In 47111

Hwy 62 to Salem Church road, Follow to Tunnel Mill Road and at T-intersection of Salem Church Road and Tunnel Mill turn Left.
Second Bridge will be it.
On tunnel mill road the bridge is claimed to be haunted by a bum that was killed here.
Legend is that if you place 10 pennies across the bridge in a row, turn your car and headlights off, when you try and start your car it acts like it don't want to start
and your pennies will be scattered or missing.
WARNING -- NO TRESPASSING!
here is an email I have recieved that I believe one should take notice . . .
Hello,
My name is Nathanael Logsdon and I am the landowner at 3705 Tunnel Mill Road in Charlestown, Indiana. I am writing in reference to your listing for Charlestown, Indiana titled "10-Penny Bridge". My property is about 100 yards from what most people believe to be "10 Penny Bridge". (It's actually called MacDonald Bridge and there's another bridge near my property that crosses 9-Penny Branch. There is no bridge called "10 Penny Bridge", so I don't know why this even got started, but that's beside the point.) My business is located in the building at 3705 Tunnel Mill Road, which happens to be a 200-year-old structure that is on the National Register of Historic Places. Many people come to the bridge because of numerous internet listings, then when the bridge idea doesn't work, they come up to my building and try to break in or otherwise trespass on the property. We have security guards on the property because of this problem. We average 2-4 groups per week and most of them are caught by our guards and turned over to local police authorities. In the past, trespassers have been given a written warning for trespassing, however, due to the fact that this has been going on for months now, we have met with all of the local authorities and agreed that future trespassers will be arrested without warning. This activity HAS to stop. We would sincerely appreciate it if you would post a warning on your website to amateur ghost hunters who wish to pursue the 10-penny bridge that they will be arrested if they go to the house. This is the only warning they will get besides the "NO TRESPASSING" signs on the property. I think it's only fair that we try to get the word out so they can make an informed decision as to whether or not they want to spend a night in jail and a day in court. Three juveniles were arrested Saturday night, so for the sake of the ghost hunting hobby, this warning is only fair.
Here is a sample of the warning that we have been posting on sites all over the internet:
The house at 3705 Tunnel Mill Road is undergoing restoration and is strictly OFF LIMITS! There are NO TRESPASSING signs all over the property. Obey them! The property has an alarm and security cameras as well as security guards on duty every night. If you trespass on that property, the only thing you'll see is the back seat of a police car. The trespassing, vandalism and attempted break-ins HAS TO STOP, therefore we have informed Clark County police to press all charges and prosecute to the fullest extent of the law! Trespassing is a Class A Misdemeanor in the State of Indiana and breaking and entering is a Class D Felony. You can and will go to jail for these offenses! You do not have to even get out of your vehicle to be considered illegal trespassing.
For the record, there is NOTHING in the entire 200-year history of the house that would even possibly indicate a reason for a "haunting". Stories of murder, crime and intrigue at that house are simply not true. The only people who have owned that property are the BSA and before that, simple country farmers, knowledgeable craftsmen, and hard-working businessmen. No murders or anything else EVER happened there. It is NOT haunted. Like I said, all you'll see there is the backseat of a police car.
Nathanael Logsdon, CEO
Taylor Rose Historical Outfitters
Charlestown High School
In the new auditorium, there was a girl that was pushed off the cat walk as a joke, and was killed from the fall.
It is now claimed that she roams the auditorium,
and when there are performances she will turn the light off and on or she will stomp around on the cat walk and make a lot of noise
but it is only when boys are on the stage!
Some, however, say that no one has ever fallen and the story is false.

Chesterfield
in Madison County
Chesterfield Christian Church
The lights in this church have been known to mysteriously turn on at night in the bathroom, which is connected to the boiler room. In the 1940's a man was found dead in the basement below the boiler room.
The cause of his death is unknown. Witnesses have reported hearing the pipes constantly banging, doors opening and closing, water turning on and off, and hand prints all over the bathroom mirrors every morning. Police have searched boiler room and found no sign of vagrants

Chesterton
located in Porter County
Diana Of The Dunes
Around 1915, the area that is now the Dunes State Park in northern Indiana was mostly uninhabited wilderness. The stories spread around the vicinity of Chesterton, Indiana that fishermen who were along the beach at certain times of the day had been lucky enough to catch a glimpse of a naked woman swimming in the lake. The story spread that a beautiful woman was living as a hermit along the beach and her notoriety grew to a point that many compared her to the ancient Greek goddess Diana, hence the name of this legendary creature. In truth, her name was Alice Marble Gray and she was the daughter of an influential couple from Chicago. Alice had traveled extensively and was cultured and educated. She had worked in the city as an editorial secretary for a popular magazine, so what had made her take up the lonely life of a recluse. Some have claimed that Alice came to the dunes because of a broken love affair but actually she left the city life because her deteriorating eyesight had made her work impossible. She had sought refuge in the rough land that she had enjoyed as a child. Alice moved into an abandoned fisherman's cottage on the beach and lived a life of peace, borrowing books from the library, walking in the woods and of course, swimming naked in the chilly waters of Lake Michigan. In 1920, Alice met a drifter named Paul Wilson and he moved into the cabin with her. He was an unemployed boat builder with a shaky past but he seemed to make Alice happy and the two of them stayed together until 1922, when tragedy struck. The badly burned and beaten body of a man was found on the beach and police suspected that Wilson had a hand in the murder. He was questioned but eventually let go. He and Alice moved to nearby Michigan City, Indiana, where they made a small living selling handmade furniture. Alice bore her husband two daughters but he treated her terribly, often beating her severely. In 1925, Alice died in her home, shortly after the birth of her second daughter. The official cause of death was said to be uremia poisoning, complicated by repeated blows to her back and stomach. Wilson disappeared and later turned up in a California prison, serving time for auto theft. The fate of Alice's daughters is unknown. Legends of the dunes say that Alice still returns to the beach and the wilderness that she loved so much. Over the years, many have claimed that they have seen the ghostly figure of a nude woman running along the sand or disappearing into the water.
Ghost Road
1050N and Meridian Rd. in Chesterton, Indiana
Directions: From Highway 49 turn west on 1100 N, at the third stop sign you will see meridian, turn south on meridian and go .5 a mile and that road will be 1050N.
Many years ago, a woman left her young son with a baby-sitter and when she returned, her home was ablaze. Frantically, she ran inside to try to find her son, but only found the baby-sitter. The woman searched the woods around her house for her baby. So overcome with grief was she, that the woman died of a heart attack.
Today it is said that the mother still searches the woods looking for her son.
If one drives to Ghost Road and parks, he may see the woman-a whitish-blue light hiding behind trees. She may also be seen rocking in a chair in a field across the road.

Route 6 Bridge
About 2 miles East of Hwy. 49 in Chesterton, Indiana.
Directions: It's any easy spot to find, but a hard one to find somewhere to park. If you go down Hwy. 49 get off at the Rt. 6 exit and go East. Go about 2 miles and you will go up and over a bridge. That's the bridge you're looking for. There isn't really anywhere to park on the side of Route 6, so we found a side road called Mander Rd. After you come up to the tracks going down Mander Rd. there really isn't anywhere to park there either, but at least it's not as busy as Route 6. Just park on the side of the road and take the 3 minute walk down to the bridge.
One night back in the early 1900's two men were standing on the back of a train on the caboose. As the train went by this underpass one of the men was distracted for a second and when he looked back the other man was gone. No one knows what happened to that man. Some stories say he was pushed, others say he fell, and there are others that say he jumped. People say they have seen his ghost around the bridge still looking for the train that left him behind so many years ago.
Charlestown Clarksville Henryville Jeffersonville Sellersburg Utica

Clarksville
located in Clark County

The Sunset Grill Restaurant
The Sunset Grill Restaurant in Clarksville is supposedly haunted. This was once a private home before becoming the McCollough Steak House and then the Sunset Grill. There are stories of patrons hearing strange noises inside the building. Employees have also arrived in the morning to find light bulbs unscrewed and carefully placed on the tables in the dining room.
The Colgate-Palmolive factory is a building that used to be a prison; the basement is especially said to be haunted. This building was originally the Indiana State Prison South. Unusual sights and sounds typical of hauntings are noted here. When the building was a prison many prisoners were mistreated here; illness raged at times, and some female inmates were forced into prostitution. If you are on the riverfront in downtown Louisville, Kentucky just look for the huge clock on the other side of the river, and that is the factory.

Cloverdale
located in Putnam County

Cloverdale Cemetery
So it was that there were two girls who were driving in the cemetery around midnight looking for one of the girls' grandparents, and as the girl driving turned on the high beams on the tombstone, they noticed there was a casket with a tarp over it waiting to be put in the ground. It scared the girls, so they turned the lights off so they wouldn't see the casket sitting on the ground. Then the driver saw what looked like a kerosene lantern and an old man standing over the grave wearing a black cloak. He looked at the girls and the girls drove away since they were frightened, but the other girl told the driver to drive back around and when they did he wasn't there.

Columbia City
located in Whitley County
Former funeral home
A Ft Wayne based hospital bought an old funeral home to house its home health care agency. Lots of problems transpired with electrical system, things moving about on their own like chairs, etc. Staff is reluctant to be in the building alone, especially at night when the activity increases. One of the employee's young children began asking her mother about various people she saw moving about the building. The mother didn't know how to respond because she couldn't see them.

Haunted Cemetery
Near Dewart Lake on 300 E there is a church that sits off a side road.
There is a cemetery next to the church where people have heard of unusual activity happening.
The Haunted Jail
611 East Market Street, Columbia City, Indiana.
The old Whitley County Sheriff's House and Jail building, now the home to The Haunted Jail attraction, opened every October, can be found on East Market Street, about 1/2 block past North Madison Street, near the corner of Washington Street.
There are many eye witness reports, and evidence gathered from paranormal investigations done by such groups as Indiana Ghost Trackers, which points to a building with entities unable to rest, and let go of this world.
At least one spirit calls this old building home. Other entities may also hang around the jailhouse as well. Entities that have suffered an agonizing execution, or experienced a violent death in prison have been known to haunt the area where they died.
The Entity of Charles Butler seems to be the strongest spirit here. This ghost of a murderer is said to haunt the site of the retired jail of the 1875 Whitley County Sheriff's House and Jail. It is now used as a haunted house throughout the Halloween season, and members who work there in the off-season report a lot of paranormal activity. Noises such as footsteps and scraping along walls are also reported the only thing that runs is the electricity; there is nothing as far as a heating system to be mistaken for the noises. There is a door that always must remain open if it is shut when you walk away and come back it is always open. There are many things indicating activity. Some workers have seen some blurry object touch there hand, and feel something touch their shoulders. Then there is the 3rd floor, there isn't much in there, and some say it's the most haunted part of the jail. There is supposed to be a woman's ashy foot prints on the wall, but there is nothing that could cause ash to be up there. One night one of the workers had set his keys down stairs and took his girlfriend up to the 3rd floor, he had told her not to say Abigail (Abbie, The wife of Charles Butler's, that he murdered) three times, though she did. When they went back down stairs, every light was off and his keys were lying on the floor.

Columbus
located in Bartholomew County



The Haunted Railroad Bridge
The Railroad Bridge in Columbus is also haunted. According to the legend, back in the 1920's, a young woman became pregnant by a man in town, who refused to marry her. Rather than giving up the baby and risk her secret getting out, she waited until the baby was born and threw both herself and the baby off the bridge. They found the woman's body, but not the body of the baby.
Now there are stories about the baby cries in the middle of the night and that the ghost of the mother can be seen. There are also stories that a large creature with glowing eyes protects the bridge.
It is said that if you are by the bridge at night you can sometimes hear the baby cry. On a full moon you can sometimes see and hear the ghost of the woman on the bridge looking and calling for her baby.
Another story claims a large black creature with glowing yellow eyes also stands near the bridge blocking the path to the old forgotten railroad bridge preventing anyone from distressing the bridge or the area.
North High School
The auditorium is haunted by a ghost named "Mikey ". Over a hundred years ago before there was a school, there was a dirt road that ran through the school, but more precise through the auditorium. A kid named Mikey was walking on the street when a man driving a horse and buggy ran him down. The exact spot where Mikey was killed is where the auditorium is today. If you are in the auditorium you can sometimes see Mikey out of the corner of your eye run past the stage. You can also hear and see Mikey in the sound booth or up on the catwalk. Mikey has also been known to turn off the lights. Many people have witnessed Mikey or something that Mikey has done.

Subway Restaurant on 46 west
Workers have seen a shadow figure walk across the back of the store and often heard noises in the back when they where the only ones there.
There are listings for 2 Subway restaurants located on 46 West:
* 2475 W JONATHAN MOORE PIKE
IN-46 E/W IN-46/W JONATHON MOORE PIKE
and
* 2601 STATE ST. located in the Citgo C-Store
IN-46/IN-7/STATE ST.
Webmaster: Does anybody know which one is the haunted Subway Restaurant? Email me!
Quality Machine and Tool
1201 Michigan Ave
Columbus, In 47201
This is a Factory where an employee once hung himself over romantic problems. Shadowy shapes seen there at night and things vanish for no apparent reason.
The Crump Theatre
425 Third St., Columbus, IN - (317) 696-5279
In 1872, Francis J. Crump contracted for a "new" Opera Hall to be built. The building was located on the northeast corner of Washington and Walnut Street.
Francis J. Crump's Opera Hall burned at some point during the latter part of the 1800's, destroying the 2nd and 3rd floors.
The Crump Theater built in 1872 and was originally a vaudeville/opera house. Over the years it has been home to all kinds of entertainment as well as serving as a movie theatre for many years. As far as supernatural events that have happened at the Crump, it is somewhat limited. There have been eyewitness accounts of music being heard from the top of a stairway, some strange happenings concerning concession money, apparitions of a gentleman and child, strange sounds and smells, fire inspection certificates, and one contractor being scared in the basement area.
No trespassing is allowed, however, arrangements can be made for investigations.

Commiskey
located in Bartholomew County



The old Nealy Land
A lot of history on the land now owned by a new family, sittings of grayish mists, many cold spots, items missing and replaced else where, grayish figures roam inside the home, a man and lady have been seen, hearing your name spoke when no one is around are some of the many unexplained things happening in this area.


Commiskey Bridge
When driving on the Commiskey Bridge shut your car off, and take a picture. A girl that hung herself there, may be in it when it is dark out. In the day time your phone will mess up and the picture will turn black and white with red/yellow/blue/orange dots.

Corydon
located in Harrison County

Blue River
There is said to be a young women who was paddling in her canoe one day down what is currently known as the Blue River. Someone had tied fishing line from a tree on one side of the river to another tree on the other side. When she came by the fishing line at very fast rate, the line cut off her head. People say she is looking for her head almost every night.

Crawfordsville
located in Montgomery County
New Market Trestle
There are reports of hearing train whistles and grinding metal, then a loud splash. Some have also reported that they have seen eerie blue-lighted figures skim across the top of the water.



Rumor is that long time ago the old bridge was a covered bridge. The old bridge is not there nevertheless a newer one is built there.
Several stories are in regards to this bridge:
Supposedly, a black man was hung from the ceiling.
The story is that the black man was hung on the old steel bridge. The black man was having an affair with a married white woman. The husband found out and hung black man where the two lovers first met. The woman came to try and stop her husband as she was running down the creek with they're dogs on his scent, When she came across the bridge with her dead lover hanging from the rafters, she couldn't bear going on in life with out him and a week later she hangs her self in the same spot.
Now on a full moon you are supposed to be able to go there, shut off your car, flash your lights three times and honk once and the black man would drop from the rafters and you would hear the woman coming down the creek with the hounding dogs.
Furthermore if you stuck around, you would hear the dogs come up to the car and when you got home you would have mysterious scratches all over your car.
Another story is that a woman died on the bridge.
The most told story is that one night a guy and a girl were out driving around and the guy thought it would be funny to scare her by taking her to the old bridge. So, he made up a story about the place to set the scene. When they arrived, he stopped the car on the bridge and turned off the headlights. When the engine stopped running, he pretended to be scared and told his date that the car had just died. Not long after they had been parked, they heard a strange noise outside. The guy assured his date that it was nothing and he confessed to trying to scare her. She wasn't satisfied and he decided to prove it to her by getting out of the car and looking around to be sure they were alone. The girl waited for her date to return, but he never did. After awhile she heard a noise again, this time it seemed to be coming from the roof of the car. It became a very unmistakable scratching noise. The girl then decided to see if she could find her date and find out what the noise was. When she got out of the car and looked up she was horrified to see her date hanging by his feet from a beam on the bridge. He was bloody and blowing in the wind, causing his nails to scrape on the roof of the car.
So now it said that if you shine your lights under the bridge and flash your lights three times you can see the man hanging.
It also said that cars have died with the lights flashing inside with no explainable reason.
There is also a rock near by that has a story that is however unknown what it is about, but they say if you sit on it you will die within seven years.
Webmaster: This last comment appears to be in regards to the Haunted Cemetery in Crawfordsville
It's a hard bridge to find, but if you ask around to the locals everyone knows about the bridge.
Ben Hur Nursing Home
1375 S Grant Ave
Crawfordsville, IN 47933-3327
(765) 362-0905
The residents who are getting ready to pass away always complain of a little girl and a little boy playing or bugging them. And usually when this starts to happen it's not much longer before the person passes away. There is also a ghost of a nurse in white that is believed to have worked there long ago.

Haunted Cemetery
A woman had a chair carved out of an old stump that was in the cemetery when her young child was buried there. She was so overcome with grief that she would sit in that chair nightly and sing and read stories to the dead child. Legend says that one morning she was found sitting in the chair holding her dead baby, which she apparently had dug up. The woman had been rocking her baby all night and come morning had taken her own life and was dead by the time she was found. They say if you sit on it you will die within seven years.
Webmaster: I believe people have really altered the stories of these hauntings and have either misinterpreted details or purposely made up their own stories based on other haunting's throughout Indiana as this one is related to Hoosier National Forrest - Stepp Cemetery
Haunted House
If you go back to 450 West toward Davis Bridge there is a house that sits on top of a hill, it's a ranch style home. Many people have been said to have died in this area. Supposedly there is a lot of energy in the area.
Offield Monument
The monument is not too far from the Spooky Hallow bridge and it sits on the edge of the road. It marks a date when the area was founded. Legend says that on Halloween, if one reads the monument by candle-light on midnight, the date will change.

Crown Point
Located in Lake County
Crown Point High School
1500 S Main St, Crown Point, IN
(219) 663-4885
Reports have been made that at night the lights go on and off in the gym, and the basketball cart moves out from the office, and the balls bounce on the floor, making a tremendous noise, since it has a wood floor, when someone comes, it disappears. The high school auditorium's catwalks are supposedly haunted by a spirit. Students have reported hearing strange noises and seeing images of people walking along them.
Crown Point High School was torn down in 2004.
Old Lake County Jail
226 South Main Street, Crown Point, Indiana 47710
An old jail in the town square where John Dillenger carved a gun from a wooden washboard, staining it with black shoe polish and threatened his guards with the fake gun to make his escape.
Though this jail was closed since the 1970's, an entity or two is stuck.
There are claims that:
a) Cell doors have the habit of opening and closing by themselves.
b) Some unseen entity seems to be trying the bars of cells, looking for a loose one because the living has heard the bars rattling in cells with no living person in sight.
c) As is the case in other haunted places, the unseen entity is fascinated with electricity and likes to turn the lights on and off.
d) Voices and footsteps have been heard in here, when no one living is anywhere near the jail area.
Others have heard a dog barking.
gypsyscemetery gypsy cenetery
Gypsies Cemetery
155th and South Grove Rd. in Crown Point, Indiana.
Directions: Take 65 to US 231(exit 247). Turn east on US 231 and follow it for almost a 1.5 miles. You will see flashing yellow lights, turn right and you will be on Iowa St. Go down Iowa St. for almost 3 miles until you come to a stop sign. You want to go straight (it's not really straight it's at an angle, but it's the one in the middle). You will be on South Grove Rd., follow it for about 1 mile and you will see the cemetery on your' left.
The story is that a group of Gypsies were moving though the town of Crown Point 150 years ago, when they decided to stop for a couple of weeks. As the story goes they were kicked out of town after only a couple of days. The farmers believed that the Gypsies were stealing their livestock and the townspeople just didn't like having the Gypsies around. So the townspeople came to the Gypsies and told them that they must leave by the next day. The Gypsies told the townspeople that they couldn't leave because they were sick and dying, but the townspeople didn't care. So as the Gypsies were leaving they buried the other Gypsies that had died and cast a spell on the area. Supposedly today you can find blood on the bottom of your' pants, balls of light that chase you, and many orbs can be seen.
Cataract Bridge
Cataract Falls (Indiana)
Cataract Falls is located on the southern end of Cagles Mill Lake, near Cunot and Cataract, Indiana, just off Indiana State Road 42 and close to Indiana State Road 243 in the west central part of the state. Located in northern Owen County, Indiana at Leiber State Recreation Area, it is the state's largest natural waterfall.
Legend says that a man who lived in Poland, Indiana lost his farm in the late 30s to the Great Depression. In Cunot, there is a bridge over the Cataract Lake and they say that he hung himself because if this bad time. They also say that on lonely nights you can see him walking on this bridge with the noose still around his neck and sometimes he jumps in front of the cars and trucks.

Danville
located in Hendricks County

Danville Bridge
or
White Lick Creek Bridge white lick bridge
At the north end of Ellis Park, on the east side of town. From the US 36 (Main Street) entrance, follow the main road back to the Playscape playground; there are parking spaces next to it. The bridge remains are behind the playground along the creek. There is a footbridge across the creek a little ways to the north.
Although the bridge is rarely visible in the Summer, Spring and Fall it is a place of local legend and even graces our town seal. The bridge is best accessed and viewed from below in the Avon - Washington Township Park. You can see a small section of it from CR 625E but the best view is from the park. The CSX rail line still utilizes this bridge and it sadly has become a hangout for adventurous teenagers who like to climb the tall structure.
The Indianapolis & Western completed the line to Danville in 1906; the Terre Haute, Indianapolis & Eastern took over the line soon after. The tracks followed what is now US 36. When the highway was made 4 lanes, it was widened on top of the grade from Avon east. A power substation, possibly also the Avon depot, was once located on the northwest corner of SR 267 and US 36. Along Old 36 (East Main St), the track paralleled the road on the north side. They separated where the road turned southwest, and the tracks northwest to go over the bridge and embankment into the north end of town. The route was abandoned by 1930 and never made part of the Indiana Railroad. The embankment was leveled sometime between 1946 and 1958. Playscape was finished in late 1998.
According to local legends, the Danville Bridge in Danville, Indiana, is the most haunted place in town. As with most hauntings centralized in small towns, there are several legends associated with the Danville Bridge, and each varies based on who is telling the story.
The railroad bridge over White Lick Creek near Danville, in Hendricks County, is today only a memory. But when Indiana was new, with confident pioneer businessmen, the bridge was one of the first built by Irish laborers during the railroad boom.
* One legend has it that White Lick Creek Bridge in Danville, Indiana, just west of Indianapolis on Highway 36, is haunted by the ghost of an Irishman. "Dad" Jones was one of many Irish immigrants hired in the 1850s to build a bridge across White Lick Creek. He died tragically in the process, and his spirit is said to linger there to this day.
As the story goes, the workers were building wooden frames to support the bridge and pouring concrete inside. One afternoon, Dad Jones happened to be standing on a wooden platform above the frame when it collapsed, plunging Jones into the wet cement below. His fellow workers were at a loss to help him as he slowly sank. The doomed worker could reportedly be heard hammering his fists against the wooden sides of the vat until he ultimately suffocated.
The man was surely dead, but was his fate to remain encased in the vat of cement forever? The company in charge supposedly debated for several hours, ultimately refusing to retrieve the man's body and ordering that work be continued, in spite of objections by some of the workers.
The Bridge Is Destroyed, but the Spirit Isn't
For years thereafter, local residents reported that the sound of the man's final screams as he was pitched into the concrete that slowly swallowed him up could be heard in the night. They also claimed to hear the sounds of hammering coming from inside the concrete pylon. Eventually, the bridge was torn down and replaced (the concrete foundations of the original trestle can be found a short distance away from the new bridge), but people continue to report seeing an apparition of the man walking through the nearby woods, especially when the moon is full.
* The other legend is similar to La Llorna, or the weeping woman legend as well as having connections to the crybaby bridge legend.
The woman was standing on the Danville Bridge when a train approached. In shock and surprise, she jumped or possibly fell, into the White Lick Creek. Some say the woman was there with her baby, and accidentally dropped the baby when the train approached. Others say that she was poor, and could no longer care for her child. She went to the Danville Bridge, and threw her child into the Creek, thinking death was a better option for her baby. The train then approached, and she died alongside her child.
People now claim to hear the woman crying late at night, while others claim to have seen a woman dressed entirely in white, walking across the bridge and standing at the base near the Creek.
* Another legend surrounding the Danville Bridge involves a family traveling through the area on Halloween night. A deer darted in front of their car, and the father swerved to avoid hitting the animal. He missed the deer, but hit the concrete bridge head on, killing everyone inside. Now on Halloween night, some report hearing a woman screaming, and a baby crying, reenacting their last moments together.
Another theory has it that a passenger train jumped the track on the newly constructed bridge. The train crashed into the creek, but none of the passengers were harmed. Only the engineer was killed, and it is he who haunts the bridge.
* Another story is that sometimes at night a muddy creature will dart from the creek and run across the path of your car.
Sadly enough, several people did actually lose their life at the Danville Bridge. A 14 year old girl fell from the bridge in 2004, and lost her life.
The Indiana Star reports that on 3/28/04: "Laura Elizabeth Rudie, of Danville, died of massive head and neck injuries after she fell from the concrete skeleton of an old interurban bridge just east of the Ellis Park playground beside White Lick Creek.
Since the incident, the city has worked to close down the Bridge completely, and have discussed tearing it down. Previous accidents led to a fence placed around the area, as well as warning and danger signs, but the signs and fence were removed by visitors to the playground.
There is little left of the Danville Bridge in Indiana, and soon there may be even less.
4/5/04: Danville is discussing demolishing the abutment.
Webmaster: See Also The Haunted Bridge of Avon, Indiana with same bridge included in article
West Boggs Park
West Boggs Park, located in Martin and Daviess counties,
Some nights after 10 p.m. you can see a ghostly figure of a woman running through the woods. They say it is the mother of a child who drowned in the lake. You can hear her screams as she looks for her son, and some say that if you go to the lake at midnight you can see the boy swimming in the lake.

Crane Cemetery
Crane Cemetery down the road from the abandoned Crane school - In the cemetery there is a headstone that glows only on certain nights. As soon as you enter the cemetery, turn off your headlights and drive straight. Look straight ahead and you will see a headstone start to glow then stop glowing as you get closer. Also when you leave the cemetery, look back and it will start to glow again.
Webmaster: Unsure about this story as Crane Cemetery Is located in Seymour, IN 47274 which in turn is located in Jackson County

Daleville
located in Delaware County
Witches Circle
The Witches Circle is located in Daleville Indiana at 950 N 500 E
The story told is that a woman was practicing witchery here on a night of a full moon. She was killed and is now said to haunt the place. Some say you can see a white outline of the woman..
It has also been noted that it's not the graveyard that the Witches Circle resides; however it is located down a path near the back of the graveyard where there is a stream. It is said that once you cross the stream you have arrived to The Witches Circle.
There is also a myth that the red splatter on the road is where someone was murdered but people say it's just a paint splatter. See Blood Road LINK JON
It has also been said that an old man that used to live close to the "Witches Circle " died still haunts the place today.
It is also said that witches still go there to this day to perform witchcraft.
Spirits, Scandals & Sins!
In 1854, Colonel Dan Conklin started a whiskey distillery, racetrack and a whorehouse on the outskirts of Decatur and the city earned the first of its unflattering nicknames as "Hell's Half Acre". It would go on to earn others, including the "Second Most Corrupt City in Illinois" in the 1920s, and would gain infamy as a place where murder, bootlegging, prostitution, kidnapping, gambling, corruption in city government and, of course, ghosts were commonplace. But Decatur's dark origins can be traced back to the earliest days of the city, when the original settlers built over the top of Native American burial grounds that were scattered throughout the downtown area of what would become Decatur. The destruction of these burial mounds cast a mysterious pall over the city -- a darkness that continues to linger today.
Decatur Central High School
which is actually located in Indianapolis, but we'll list it here as it is a Decatur township school located at:
5251 Kentucky Ave
Indianapolis, In 46221
October of 1979, a girl named Angie and her friends were recklessly riding around the school parking lot. They crashed and Angie was thrown from the car and decapitated. Strangely enough, the school's electricity would not work for several weeks afterward and the entire school smelled like burnt rubber. Every year, around the time of Angie's death, the electricity still goes out and burnt rubber is smelt. Some people have even reported seeing a young female ghost walking up and down the stairs crying.

US 27 Covered Bridge
It is said that many years ago, a group of young teenagers were at the bridge performing a séance of some kind, when suddenly a man or apparition, fell from the ceiling to the floor, leaving a gigantic blood stain near the pentagram they drew on the floor. This apparently had opened some kind of door, and now even today, strange and unusual things happen inside the bridge. Even during the day, while walking through or just visiting the bridge, there is a feeling of oddness.
Albany Daleville Muncie Oakville

Diamond
located in Parke County

Hells Gate
just north of Brazil
This train trestle is host to several strange phenomenons. Legend states that the sounds echo a past tragedy that involved a train derailment, killing many people. On some nights, if you stop your car, you can hear the sound of people laughing and screaming, laced with a crashing noise, as if the train is derailing over and over again, stuck in time.
Another story is that supposedly, if one were to park in the tunnel and turn off their car, after several minutes you would see blood seeping from the walls and hear loud banging around your car. Then, if you would see your name on the walls, it meant your impending doom.
The tunnel is full of graffiti, and it is not out of the realm of possibility that one would see their name on the wall (as almost every name imaginable has been spray-painted onto the wall is some form or another).
Webmaster: After conducting research, there is no record of any train derailment at this location. However, it remains a local legend in the area, as well as a popular hang-out.
The Bloody "T", a.k.a. "Bloody Mary"
Just beyond "Hell's Gates" is another local legend. At a "T" intersection, it is rumored that if one turns left and stops at the stop sign, turns off their lights, honks their horn, and looks back at the "T" sign, you will see the "T" bleeding when lit up by the car's brake lights.

Disko
located in Wabash County
Gravel Pits
In the local gravel pits near the town of Disko, a woman clad in purple rags is said to roam the local gravel pits. She has been reported on numerous occasions by local citizens.

Donaldson
located in Marshall County
Ancilla College and Convent
Many people have claimed to see Catholic nuns walking in the basement tunnels underneath the college and the convent. When followed, the nuns disappear in to thin air or go into the wall. People have reported being pushed or touched in the tunnels when walking by themselves. Doors slam and things will bang or fall in the motherhouse kitchen. Students have seen classroom doors and windows open and close by themselves.

Dublin
located in Wayne County

Crying Woman's Bridge
The bridge is located on Heacock Road: Heacock Road runs parallel of Highway 40 outside of town. Past the "pick your own Strawberry" patch. It can't be seen from the road. Right before the closed gated home on the right hand side of the road. South of US 40. the Bridge is blocked off on both ends. There is a big livestock looking gate ate one end, at the other end, there is a huge dumpster. The road has been taken over with weeds and brush.
Other reports the Bridge no longer exists, but its ghostly legend lingers.
Although The Bridge itself was torn down years ago, the spot where the young woman and her child lost their lives, is still visible. Heacock Road runs directly parallel to US-40, and is easily reached by car or foot.
Private Property
WARNING: This is a privately owned location. DO NOT TRESPASS.
The legend of the Crybaby Bridge is found in dozens, if not hundreds, of cities and states across the country. At times it almost seems as if every city, and small town has their own version of a Crybaby Bridge. Most stories are basically the same, with only a few minor variations. The small town of Dublin, Indiana, is no exception.
Dublin also has a similar haunted bridge as that of the legendary Crybaby Bridge, though this one is known as the Crying Woman's Bridge. The female ghost here roams around calling out for the child she killed and crying over the loss.
There are several stories that go with this location.
* Legend has it that The young woman who gave her name to the bridge was a stranger to the county, unfamiliar with the numerous twisting county roads. Late one rainy night, while returning home with he infant son, the woman approached the bridge far too quickly, lost control of her car at the sharp curve just before the bridge entrance, and plunged into the rain-swollen creek below. The woman's body was later found by searchers. However, there was no sign of her baby. Only a little pink blanket and a baby's pacifier were recovered. The woman's relatives could not be located, and she was buried in a pauper's grave next to a coffin which held the infant's blanket and pacifier. Following the incident, the ghost of a woman was said to be seen prowling the bridge, particularly on foggy, rainy nights. And the specter's infrequent appearances are accented by pitiful moans and sobs and a choking cry that seemingly pleads "Where is my baby?" A young couple parked near the bridge one evening a few years ago. A short while later, they heard scratching sounds coming from the roof and trunk of their car. They were aware of the bridge's "ghostly" reputation and decided to leave. But their car wouldn't start! Suddenly, the scratching became louder and louder, accompanied now by heart-stopping wails. A voice drifted toward them crying, "Baby, where have you gone? Baby, where have you gone?" The young couple finally got the car started. They examined it later and found scratches all over the hood, scratches that might have been caused by a woman's long fingernails!
*Another story was a woman driving an old pick up truck with her infant daughter on the seat bundled up against the cold rain. She was driving back into town to pick up her husband. He had just arrived in town after WWI. In her excitement to reach him, she drove too fast over the bridge with wooden guard rails. Her tires hit a patch of water and the truck became uncontrollable. She skidded off the bridge and landed in the water. Reaching for her baby, she could not find her. She could hear the child crying as it was being carried off in the current of the raging creek. For years afterward, the woman was seen roaming the bridge and creek area searching and yelling for her baby. When no next of kin was discovered, the woman, Elizabeth, was buried in a pauper's grave in the local cemetery with a note on her tomb about her deep mourning and the baby things placed beside her.
*Another legend states that two cars crashed together on the bridge, and a young mother died. With her last breath, she made sure her child was safe, and then quickly passed away. According to that legend, the woman not only walks around the area surrounding the bridge, but also kills children, hoping they will bring her happiness.
It is true that several children have drowned in the area, which only makes the story more scary.
It has been a common location for teenagers to park and make-out. Many have reported hearing a woman crying; and it is believed that if you drive slowly over the span during the rain, a woman soaked to the bone will appear and beg for help in searching for her daughter.
One teenager in the 90's reported taking a Ouija Board to the location and attempted to speak with Elizabeth. The Ouija board flew from the hood of the car into the water. The car refused to start and the two girls fled the area.
Webmaster: I found this on the internet and found it very intriguing
Reasons and Timeline for Conclusions about the Dublin - Centerville, Indiana Haunted Area
A. The children's drownings, the murder of the Stanley sisters in 2007, and the appearance of the Cry Woman entity and the ghost lights, indicate this demented, disembodied woman's spirit is indeed present in the area. I have had earthbound deceased entities haunt a person or a house but this one haunts an entire community. My Sylvia case in southwest Fayette County in Indiana is very similar.
B. It is a true verified fact that all the child drownings are concentrated in a very small area in the Dublin-East Germantown axis. This is a startling rarity not seen anywhere else and it is indicative that something is amiss and taking place.
C. It is a true verified fact that all the drownings with the exception of little 6 year old Jana Hunter took place when the children were alone and no adult was present to save them .This suggests something predatory was present and chose this time to act.
With Jana, her family was present and her mother saw her daughter look up, smile and go under the water and drown. Three of the family had fallen off a limestone cliff in Simmons Creek and only the mother looked up to see Jana go under. Now with the two drownings casually mentioned by the Dublin Funeral Director, I am assuming they too were alone when they drowned.
D. It is a verified fact the Cry Woman entity has long shown an addiction to children , and also an attraction to teens , seemingly girls, because we have her appearing as the crying robed ghost to the 4 teens on SR 44 and as a ghost light to 6 teens near the iron bridge. Also she was caught on film next to the Hagerstown teen.
E. Now in the tragedy of sisters Erin and Kelly Stanley, the cement minded authorities who have just ignored me when I have told them what is going on, are bent on sending poor unlucky innocent James McFarland to many years in the state prison.
James was asleep beside Erin, his girlfriend, and the woman he planned to marry and the mother of his baby. Meanwhile, the whole countryside thinks he decided in the middle of the night to choke her to death. Really now, he would have to be crazy to do such a foolish thing like this. We have been in contact and James says he is bewildered by it all. Really, where is his motive?
Then let's consider the death of Erin's sister, normal healthy Kelly, 6 days later also in the wee hours of the morning in a locked house with her parents. They couldn't blame James because he was in the next town. So they dreamed up that she choked just like Erin who was distraught and had a seizure. Really what a flimsy excuse for a death.
The horrible truth is the same unseeable killer who has taken the 11 children into her realm with her also decided she wanted Erin then returned to take sister Kelly. The Cry Woman entity has taken more than one life before at a time.
How does she kill so swiftly and silently? I don't know of a case in which a more malevolent entity can use physical force to kill. However they can somehow affect a human mind by overriding their subconscious mental processes and cause them to do a fatal act or cease a vital body function.
With the children it was an induced fatal act. With the Stanley sisters, it was the disruption of a vital body function. This had to happen to the throats of Erin and Kelly causing the pathologists trouble in saying just what happened that caused their deaths.
Timeline of Events in the Cry Woman Mystery
* Summer of 1937 car crash at crossroads south of Dublin.
* Death of Cry Woman. Baby not hurt.
* Summer 1963 Jana Hunters death due to induced drowning.
* Fall 1970 I start investigation and learn of Jana Hunters dreams and strange drowning. Also learn of at least two drownings that occurred sometime after 1937 and before 1963.
* 1967 Ghost light paces 6 teens in auto near iron bridge.
* Feb 1968 Gliding human form in white robe seen by 4 teens at cement bridge on SR 40. Pitiful crying heard.
* 1972 four Tuft children drown.
* 1976 Mills baby drowns.
* 1983 Rose Child drowns.
* 1998 Two Campbell children drown.
* Jan 2004 In Hagerstown park, the Cry Woman is caught on film in her ghost light form as she moves next to a teen age girl. Here we have visual proof that she is still around, still interested in female teens, and can move at least 10 miles north from her usual locality around Dublin.
2008 January The toll of this demented, disembodied woman is at least 13 young people to date. It all started 72 years ago and since Cry Woman is an immortal spirit this killing can go on forever if it is not somehow stopped.
Blood Road
It is County Road 700 just off the Eaton Pike outside of Dunkirk, Indiana, a small town north of Muncie.
The story is that a farmer and his young son used to ride up to the fields and the woods to do work, and the young boy would always jump out of the back of the truck when it was going down the road. So one day the farmer got tired of it and put a chain around the boy's waist and hooked it to the truck to keep him from jumping out. While on their way home from the fields the farmer hit a large bump in the road, a bump that is still there to this day, and the boy fell out. The unknowing farmer kept on driving and drug his son all the way back to their house, which is over 2 miles away, behind the truck. If you drive down the road heading west you can not see anything, but if you turn around at the next crossroad and head back east, after you go over the bump, you will see a trail of blood on the road from where the boy was drug behind the truck. Also the house where they lived is reported to be very haunted, because the story says that the farmer was so disturbed by what he had done that he buried the boy's remains in the basement of the house.
To concur with this story, state worker's claim that it was a die used in the original mixture that made it appear to be bloody. The road has since been paved over. You can no longer witness the blood colored road.
Kahler School
600 Joliet St
Dyer, IN 46311-1717
(219) 865-3535
Kahler School is said to be haunted by Agnes Kahler, a former teacher at the school.
Agnes was buried in a cemetery close to the school. They say Agnes walks the schools halls because she loved teaching. It is said that books fly off of shelves, clocks fly off walls, toilets flush by themselves, lockers swing open and shut as well as doors open and close by themselves. It is also said that Ms. Whitcomb's room is the most haunted. In Ms. Whitcomb's room books and clocks and bulletin boards would constantly fall down from hard to reach places. Kahler is still haunted to this day. Mr.O'keif, the oldest janitor, has seen creepy things that happened there when he opens in the morning and when he locks up at night. There is also a little boy that is said to haunt the school, although it's not known why as he just wanders about aimlessly. A construction worker was hit in the head by a crane when the school was being rebuilt from Dyer Central High school to be Kahler Middle School. There is a stone marker in the Kahler Courtyard in honor of him. The picture of Agnes by the gym has eyes that follow you. It's pretty creepy when you look up and see those lifeless eyes looking at you.
Update - the haunted part is not longer there, although they say the new part is built on an Indian burial ground.

Edinburgh
Located in Johnson County
Atterbury Job Corps Center
1025A Hospital Road Edinburgh, IN 46124
located just off Hwy 31 in Edinburgh, IN.
312-353-0957
Strange sounds and footsteps have been heard in the different areas of the campus. People have seen yellow glowing eyes in the woods. In the Simon Bolivar dorm there are strange voices in the middle of the night that can be heard. If you look outside at night to Martin Luther King there is a woman walking around with her head in her hand. Also by the Field House to the left of it in the woods there is a man there that is scared because of burn marks and he is holding a bag of blood next to him.

Elizabeth Town
located in Bartholomew County

Elizabeth Town is another haunted Indiana town. Here people see dark shadows, hear people whispering and sometimes see a woman in a black dress.
This is an abandoned ghost town where strange things have occurred. When you go by the Elizabeth Town sign, you can see a woman dressed in solid black staring at you. At the cemetery, called Olive Branch, you can hear strange noises and see ghostly shadows.

Elizaville
located in Boone County
Tall, dark, and handsome
If you drive down Elizaville Rd. early in the morning (1:00am-3:30am), you are likely to see to see a man beast about 7 feet tall that looks like a towering shadow. It's not certain why he wanders the fields, churches, and cemeteries (Browns Wonder). All that is known is he is in search of someone or something very important to him. If you get out of your car and scream bloody murder into the night sky he will track you down and drag your body into his domain where you will be eaten bones and all. Many missing people have been linked to the mysterious small town of Elizaville. Maybe a murderer is responsible, but this figure has been reported wandering these parts since 1924!
Bristol Goshen Middlebury New Paris
Haunted Farm
located on CR. 28, just off of CR. 15. If you turn off of CR.15 going south, you come to a 4-way, and you turn right, Third house on the left. 23128 CR. 28
It all started when the family moved in. Lights started turning on and off. Radios starting turning on by themselves, and TV channels would change without anyone's hand on the remote. Faces appeared in mirrors, blankets would be pulled off of the bed while people laying there, voices, and a figure was seen standing at the brick entranceway faintly waving. This house is truly haunted and still unsolved today!

Ellettsville
located in Monroe County
Matthews Mansion
People have heard voices when the building's empty. There are also claims of strange sightings, smells and things being thrown. Supposedly there are people in between the walls.

Elnora
located in Daviess County

Elnora Cemetery
The cemetery in Elnora has yet another tombstone that glows, but only on specific nights.
Webmaster: Does anybody know which specific nights? Contact me

Evansville
located in Vanderburgh County
Off of #6 school road by St. Joe mini mart
There have been reports that within an abandoned 140 year old house, witnesses have alleged that in the top right bedroom you can at times see a man like apparition in the window.
Willard Library
21 First Avenue, Evansville, IN 47710
812-425-4309
Web-Site: Willard.lib.in.us/tour/index.html
The Willard Library opened in 1885, described as the oldest working library in Indiana; the Willard Library is a two story brick building. Mr. Willard Carpenter, who was a successful businessman in Evansville, donated the land for the library, and financed its construction, had great, artistic taste! Outside, the library is trimmed in stone, showcases Italian Gothic architecture, and has a standard Victorian corner tower. Inside, the library's ceilings are high. The windows are large because before electricity was invented by Edison, they used to hang kerosene lamps in them, to provide light for the library's patrons.
Willard had a daughter by the name of Louise Carpenter. When Willard died, instead of leaving his fortune to Louise, he left it to the Library. Louise held so much bitterness towards the library, it is said she is trapped there. Louise is also known as the Grey Lady.
Employees and patrons have reported seeing this apparition since the early 1930's, each giving an eerily similar description.
She is described as a lady who is dressed in gray, early 1800's style clothing: A long gray dress, high-topped shoes, a gray hat and veil, or just a shawl. While seen by Psychic, Mrs. Warren, the lady was wearing a shawl. Also, Mrs. Warren got a good look at the ghost's hair style; parted down the middle & braided down the back, which was confirmed by Librarian Margaret Maier, who had many sightings of this ghost. Many have smelled the aroma of her overpowering perfume, and have experienced the turning on & off of faucets, lights, and the gentle opening & closing of doors, when no one of this world was near who possibly could have been responsible.
Reported Manifestations of the Gray Lady:
1) The Lady in Gray was first seen, in 1930, in the basement children\'s library by a janitor, who had come late at night to stoke the furnace, in order to heat the library for the next day. He soon quit, because he was afraid.
2) The second janitor, hired to replace the former one, had direct contact with the Gray Lady, as he suddenly bumped into her, once again in the basement; she promptly disappeared. After many sightings of the Gray Lady in the basement, he too quit. They had nothing to fear, as the Gray Lady is shy, confused, harmless, and sometimes friendly.
3) Before the remodeling, Joan, the Special Collections Librarian, was alone in the bathroom stall downstairs, in a bathroom that was locked. She heard the bathroom faucet turn on, all by itself, and which was still running when she came out of the stall.
4) A 3 year old, rambunctious boy at a children's party in the basement, was ignoring his mother, and wandering all around the library. Suddenly, he became very upset. With huge, frightened eyes & many tears flowing, he ran back to his mom's lap, and refused to budge, after claiming to have seen the Lady in Gray.
5-A) The Gray Lady took a liking to two, long-time, experienced librarians of fifty years, Margaret Maier, and Helen Kam; (who are both deceased now in 2000, but were originally alive, when this story was reported in the 1980's). When they first started to see the Gray Lady, in the children's library in the basement, the apparition appeared as a \"blurry gray mass". But during the major reconstruction effort in the children's library, the Gray Lady decided to go home with Margaret, as Margaret thought kindly of this Gray Lady. This unexpected guest began to appear clearly in front of Margaret & her family, after carefully testing their reactions, with some incidents, that let them know that she was there.
5-B) Margaret & her sister Ruth knew they had an unseen guest with them, when they suddenly caught the aroma of the Gray Lady's unmistakable, really strong perfume. Their second clue, which confirmed the unseen presence, was that their clothes dryer suddenly turned on by itself, while the sisters were watching TV in the other room.
5-C) The Gray Lady made a partial appearance in front of Margaret's nephew. As the young man was sitting at the dining room table, he saw a fuzzy, gray form, going up the stairs, wearing clearly seen high button shoes that thumped up the stairs.
5-D) After the above incidents, Margaret saw her first clear sighting of the Lady in Gray, after coming into the house from her back yard. The Lady was dressed in a long flowing grey dress, and high button shoes, and was floating down the hallway where she vanished. This gentle Lady in Gray stayed for 4 months, as a guest of Margaret and Ruth, until the construction was finished in the basement of the library, when the ghost returned to haunt the library. The sisters didn't mind at all.
Other Reported Sightings: After the construction was finished, the Lady in Gray started to appear, and give signs of her presence, on the other floors as well.
6) On the top floor of the library, the door opened and shut, all by itself, during a women\'s meeting being held there. After feeling uneasy about this incident, the women decided to meet somewhere else.
7) While women from a local church were using the microfilm resources on the third floor, they came down and were worried about the aroma of a very strong perfume that had engulfed them, and wondered if something was leaking.
8) For a book sale, the plastics company across the street gave some space for the Library to use for this event. Several sightings of the Gray Lady, hovering around the books, were reported by employees.
9) Frank Chandler reported that the Gray Lady turned on all the lights in the library one night, when no one was there.
10) Another head librarian, while alone in the closed library, heard the upstairs water faucets turn on, and then off, all by themselves.
11) Special Collections Librarian, Joan, had a second experience with the Lady in Gray, which happened after the remodeling. Joan was reading a book, while walking from the upstairs staff room, where she had just had lunch, and was on her way back down to the basement. While going by some book stacks, she instinctively felt that she was about to run into someone. When she stopped quickly and looked up from her book, she was surprised to see the Gray Lady, standing clearly in front of her, like a real person. Joan shut her eyes, and looked away for a second. When she looked up again, the Gray Lady had vanished. This incident didn't scare her, for this seen presence hadn't felt threatening."
There are two reasons why this theory of Louise Carpenter being The Grey Lady probably isn't true.
A) If Louise was really there, she would have the opposite personality of the Gray Lady. Instead of being shy, gentle, harmless & confused, Louise would've been very angry, and vindictive toward the living, and probably would require an exorcism/ séance, so the library could be used.
B) A Research Librarian, Don, had identified the time period of the Gray Lady's clothes, as being from a much earlier era, than the 1890's.
If not Louise Carpenter, than Who is She?
Psychic Research reveals:
In 1985, a well-known parapsychologist, Mrs. Lucille Warren, paid a visit to the library, to see if she could find out more about the Lady in Gray. Mrs. Warren saw the ghost in the children's library, and gave an in depth description of her, including her specific hair style, her attire, and that her clothing was from the early 19th century. While the Lady in Gray was too shy to speak with Mrs. Warren, Mrs. Warren sensed and saw that the Lady in Gray wasn't haunting the library at all, but the field on which the library was built. She saw that the Lady in Gray was staring into a pool of water. From this information, Mrs. Warren had the psychic feeling that the Lady in Gray had drowned in the water canal, that is still located near the library; a possible suicide. Mrs. Warren also felt the Lady in Gray, didn't quite understand that a building was built around the spot she was haunting, and that's why she seems to be confused.
Most interesting in the case is the fact that the Lady was once captured by a security camera that was set up near the restrooms. There is no doubt that she still lingers in the library.
The video cams placed in the Research Room, The Children's Room and the Basement, have picked up the image of the Lady in Gray going about her business, enjoying the books on the shelf, even trying to read to a child. Her favorite place to be is the Margaret M. Maier Children's Room.
The library has a 24 hour ghost cam that people can look at. http://www.libraryghost.com/
They offer three cams for your ghost hunting pleasure.
All 3 refresh every 20 seconds.
According to reports from visitors, some of the most frequent encounters with the legendary Lady in Grey have occurred in the The Children's Room in the basement of Willard Library.
Evansville Life Center (Southside)
This place used to be a Catholic Church and burial hundreds of years ago until one morning on June 8, 1985 some construction people came to remodel the church and take all the dead bodies out of the basement of the church. When they were done around 12:00 P.M, a really bad storm came at 12:30 P.M that same day. On June 8, 1995 (10 years later) a bad storm came at 12:30 P.M and lasted all day and night. People say the storm came because the construction workers woke the dead nuns from their sleep.
There are said to be weird squeaky noises when no one is around. The place is now a church, a center for the poor, and there are people who also live there.
Eastland Mall
At night when the store is closed, the owner walks through the mall from store to store. The owner was killed there by an unknown force while checking the stores to make sure they were all locked up and he was found the next day. If you look in there late at night, you can see him slowly walking from store to store but if you look away he disappears.
Haunted School House
The old school out past Dogtown is said to be haunted. You go like you are going to Dogtown and drive about 35 to 45 minutes until you come to the gravel road where an old school house sets off to the right with graffiti on it. It is said that a man raped and murdered two girls in the basement and that man killed a class of students back in the 1930's. Supposedly if you stand next to the hole that leads to the basement you can feel cold air.
TB Hospital
Also known as the Boehne Camp Hospital.
This is an old abandoned tuberculosis hospital. Several people have reported sightings of the ghosts of patients who were held there against their will as to not contaminate others. The property is now privately owned, but students from the nearby university often are caught trespassing on the property. - Trespassers will be reported to the police.
- June 2008 Update: the hospital was torn down only right across from it is the other building that was connected by the tunnel it is being renovated to apartments and there is still a utility shed with access to the tunnel which is not smart it is usually flooded and cluttered with old desks lots of bats and creatures of the night.

Fairmount
located in Grant County
James Dean's Grave
If you go there, there is a spat where there are four trees perfectly trimmed and equal distant from each other. If you time it just right and if you are there around midnight, you just might have the sense, or you might feel that someone is touching you.
No hauntings listed

Fishers
located in Hamilton County
Heady Hollow
There is a dip in Allisonville Road at 126TH street. It is called Heady Hollow. How the story goes, there was a schoolhouse the burned down with all of the children inside. Late at night when it is foggy you can see the children standing in the road. When you see them it is too late to stop. You drive right through them. When you get out of your car no one is there.

Flora
located in Carroll County

Old school of Flora
(heading west) - take 18 into flora, turn right onto S Division St. turn right on E Main.
(heading east)- left onto S Division, right on E Main
The school has been rotting for over 20 years in the middle of a small town named Flora. Also about a quarter mile behind the school (north) lays an old cemetery full of broken down tombs from the early 20th century. Story goes that the building is home for those buried in the graveyard. If you can ever enter the old school which is locked up, you can hear talking and things are moved to different places. Flashes are some times seen when walking by.

Fort Wayne
located in Allen County
Fort Wayne is practically crawling with lost souls doomed to wander in a strange sort of half-life that's neither this world, nor the next. And there are lots of great ghost stories associated with the area, too.
There are some who believe the entire town of Fort Wayne is haunted or cursed because rumor has it the town was built on an old Indian burial ground. Some people claim a large portion of the town was built on the sacred ground, while others think it was just parts of the downtown that were built there. People often feel chills or think someone is watching them when no one is there.
Old Fort Wayne, Indiana
Many claims of the paranormal have been made in this replica of the original fort that saw action during the War of 1812. The original fort stood across the river. The current fort is located on the land where the Native Americans would kill the prisoners of war, taking out their still beating hearts, and consuming them. It is thought that the fort is haunted by Lt. Philip Ostander, who was in charge of the fort after William Henry Harrison assigned him to protect it. Many stories and speculation surround Lt. Ostrander. He was detained by court martial, and later died mysteriously. No record exists on how he died or why. Research has been done, only to find that pages are torn out of the orderly book concerning his death. It is said that he may have accosted a soldier, or had an affair with a soldier's wife. Many reenactments are performed at Old Fort Wayne, and almost everyone involved has experienced something out of the ordinary. The re-enactors have accepted that the lieutenant is still walking the grounds. They ask his permission before entering his quarters, and even leave a ration of alcohol for him every night that they stay at the fort.
Claims have been made of
Footsteps being heard upstairs when no one is up there. There is a strong smell of body odor and cigar smoke. Doors opening and closing on their own. When a re-enactor didn't ask for permission to enter the Lt. Ostrander's quarters, his hat was flipped off his head by an unseen force. There have claims of shadow figures walking the grounds, knocking on the walls. A re-enactor claims to have seen a full body apparition of Lt. Ostrander picking up a flag on the table and then disappearing, as well as a bottle being lifted off a table, examined, and replaced, by unseen forces. People have claimed to see faces appearing in the windows, orbs of light seen by the naked eye moving around the fort.

Downtown Main Street Bridge
The Carole Lombard Memorial Bridge
The Bridge is just west of Van Buren St
Three-span arch bridge over St. Marys River was built 1921
lpcated on Main Street in Fort Wayne
A woman in white is often seen walking across the bridge but disappears when approached. She has been seen many times by many people and her existence has been reported by local newspapers.
In the 1880s, people on downtown Main Street saw a woman wearing long, flowing white garments walking west, seemingly oblivious to her surroundings. She walked to the middle of the Main Street Bridge, and then vanished. People thought she had jumped. The police were called, but they couldn't find anyone. A week or so later, she was spotted again, with witnesses reporting the same thing. "There was an article in the newspaper. The story really caught people's eye.
If that caught people's eye, what happened next really set the community going: the Lady popped up on a carriage, with horses. According to the newspaper article, it seems like she was out of control. The horses were just flying. Once again, she got to the middle of the main street bridge and disappeared.
The next time, the police were ready for her. An officer approached the woman, and she took off running through West Central. They threw a blanket over her in an alley off College Street. And, as the newspaper report says, the blanket fell to the ground, empty.
The Cement House or Whites Mansion
The Cement House or Whites Mansion is an old house on the south side of Fort Wayne. It sits on an old lot full of thick trees off of South Lafayette, or South Hanna. A man was building the house for his handicapped wife and was to be made of total cement. It was to be white, with large black and white tiles in the foyer, or entry way. The man worked night and day on this house, but his wife died before it was finished and he never completed it. Legend has it that he was so heartbroken, that he simply left the house sitting unfinished to this day. Now, the ghost of this woman supposedly walks the house at night. People supposedly have seen her walking around the house at night, holding a candle in one hand.

Devil's Hollow
(1)Merge onto I-69
(2)Merge onto IN-3 N via exit number 111B toward KENDALLVILLE.
(3)Turn RIGHT onto W CEDAR CANYONS RD.
(4)Follow CEDAR CANYONS RD. until you come to AUBURN RD.
(5) Turn around and stop your vehicle on the small bridge over the creek
(6) END at Devil's Hollow.
This infamous slice of land has become one of the most recognized-and most feared-haunted places in Indiana.
There have been police reports and arrests made from cults going up there and sacrificing goats and pigs and various other satanic ceremonies occurring.
There is a bridge near the hollow. There have been many stories like a headless horseman; boyfriend and girlfriend died when a motorcycle goes over the bridge, hangings; however there are two tales that stand out describing the legend of Devil's Hollow
One is that a woman lived in a house up on a hill by herself. This old woman would speak to a friend about how there was kids that would break stuff on her property, sneak up to the windows and look in, and overall harass her. They would tell people she was a witch. One night in early 80's these teens set her house on fire and wouldn't let her out of it. The building stood for a while but now all that stands is the chimney. Now if one is to go there at midnight you're supposed to be able to have a sense that she is still there and haunting. This is stronger if you go there during a full moon. Some have claimed to see an old woman running after them late at night.

If you go to the back of the woods just behind Devils Hollow and follow the creek, you will come to a cemetery. If you stand in the middle of this cemetery and hear the area go deadly quiet, supposedly you will then suddenly die there.
The second story is that this desolate stretch of land harbors the dark legend of a 1900s family. The mother's, father's, and son's lives were forever altered by the chaos and devastation of World War II.
When World War II burst into the lives of every American, the son answered a higher calling and took up the fight for his family, bravely joining the armed forces.
His mother's dismay did nothing to sway his opinion, and after she watched her only son march off to battle, she set a lantern in the window overlooking the splintered bridge. She kept the lantern burning all night, every night, to guide her son's safe return back to her. Though she prayed devoutly, it wasn't long before her worst fears were confirmed: her son had lost his life defending his family and country during a bloody battle in Europe.
His grief-stricken mother refused to acknowledge her only child's death and continued burning the lantern for him, all night, every night. The war's ending marked her final descent into madness as she realized her son would truly never return to his homeland. Eventually she died of malnutrition and poor health, and left behind her still-grieving husband.
The father kept the faithful lantern burning each night in honor of his dead wife and son as he built a fence across the edge of his whole property. The sturdy structure ran along the creek with sticks and branches intricately woven into the pattern. The rest of the village assumed the laborer of Devil's Hollow was just making his fence more appealing to the eye, but little did they know, the sticks and branches served an entirely different purpose.
On a still, silent evening thick with fog, the father made his way to the old bridge and slipped a noose around his neck. He tied the rope to the bridge and stepped off the edge, saying his final good-byes to the cruel world that had taken away his will to live.
Upon going through the house after his death, villagers found a note that read simply "read the fence." Try as they might, no one could read the hidden code of anguish the farmer had carved in painstaking detail into the fence.
On foggy nights unlit by the glow of the moon, even though the house has remained empty since the death of the doomed family, you can still see the lantern burning in the window. And if you listen closely, you can hear the desolate cries of a grief-stricken man echoing through the night from under the bridge that claimed his life.

Lindenwood Cemetery
Lindenwood Cemetery; host of the burial spot of Homer Van Meter, John Dillinger's right hand man, whose gravestone has been swiped a dozen times.

Greenlawn Cemetery
Located on Covington Road, it is said at night if you go there you will be able to see orbs.

Crossroads cemetery
located on east side of Bethal Rd. on the corner of Bethal and Carroll Rd.
Crossroads Cemetery has stories of people feeling someone watching them, hearing people whispering, and seeing strange lights. One gets a very strange feeling of being watched while in the cemetery around the stone in the tree.
Along with all the cemetery hauntings found in Fort Wayne, it would appear that Carroll Road is one haunted road, As Crossroads Cemetery noted above is located on Carroll Road, here are some more hauntings you can find along Carroll Road.
Old Byron Health Care Center
(1)Merge onto I-69
(2)Merge onto LIMA RD/IN-3 N via exit number 111B toward KENDALLVILLE.
(3)Turn LEFT onto Carroll RD. (You'll see the facility on your right, on the corner of LIMA/CAROLL)(4)End at 12101 Lima Rd Fort Wayne IN (Byron Health Care Facility)
The old health care center was shut down and a new one was built next to it. You can still walk around in the old building, and you can feel a very ominous sense all around you. Keep walking around until you come to a staircase leading to the Basement. The word "Basement" has been covered and people have put up the phrase "The Stairway to Hell" in place. Shine your flashlight down the staircase and you can see the end, but when you start walking down, turn it out. It has to remain out. As you walk down the stairs, it gets colder and colder, and more unsettling, but you can NEVER reach the end. You can keep walking for a long time and never reach the basement at all. But no matter how long it takes you to walk as far as you dare, when you turn around to go back upstairs, it only takes a fraction of the time to get back to the staircase. One witness reports, "We walked downstairs for 20 minutes once, and it only took us 3 minutes to get back to the top again. When we got back to the top, we shined our flashlights down the stairs, and once again, we could see the end. It is very, very scary, and it makes no sense whatsoever."
Carroll High School
3701 Carroll Rd
Fort Wayne, IN 46818-9559
(260) 637-3161
It is believed that Carroll High School is cursed and haunted. Every year a junior student dies surprisingly, and eventually the student comes back to haunt and be known. One example, not mentioning the name, a girl who died, came back to be remembered. A day after her death, in class, a boy took her original seat and fell off. To everyone's surprise, they asked him if he was alright. He then replied, in a shocked look, "No, not really." The teacher asked why. He replied back "I didn't fall, I was pushed."
Jail house flats
haunted by Sam McDonald, the last man hanged in Allen County.
In the old jailhouse, legend tells of a deceased murderer who haunts the halls. Today, the jail is used as a Halloween scare attraction. Employees who work in the building during the off season have reported hearing phantom footsteps and the sounds of scraping along the walls.
The old Lutheran Hospital on Fairfield
In 1957 the fourth floor of the West Wing of the old Lutheran Hospital was remodeled to house the pediatrics unit. It is now said that the 4th floor of the hospital is haunted by a male ghost that passed away years ago. It is said that you will see him walk down the hall looking for someone going from room to room. Doctors and nurses, as well as others have claimed to have seen the old man.
The old Lutheran Hospital is now closed down. One small building and a large, empty park-like area remain, although angel statues that were originally in front of the hospital entrance still remain. Before they closed the old Lutheran Hospital they closed down the south unit on the 4th floor.
Mason Long House located on Columbia Street Is the subject of more recent hauntings.
There have been several newspaper articles over the past 40 years where the owners report things that go bump in the night." The alleged haunter, Mason Long, was a legendary gambler and scoundrel in the 19th century, notorious throughout the Midwest.

Bostick Bridge
Bostick Road Bridge
Through truss bridge over St. Marys River on Bostick Road in Fort Wayne
Closed to traffic
Built 1894 - closed April 2004
Heading South on U.S 27 right after the 469 overpass there will be a little road on the right. Go down this road and it will be the big steel bridge.
Supposedly haunted and there have been reports of satanic activity. One visitor went there to discover a pile of about 10 dead squirrels all cut up.
The Bridge is scheduled to be rehabbed in place for pedestrian use, with new bridge being built nearby.
Bruick Rd - If you go over a bridge & park your car, you can see a white light that sometimes gets bigger, moves, & changes colors. The farther you follow it, the farther it seems to move backwards, away until all at once it vanishes.
The University of Saint Francis library
located on Bright Street (apprx 2000) off of Taylor Street
Fort Wayne, in 46802
Phone: (260) 434-7455
A student hung himself here long ago and has been spotted by students. Many have reported unexplainable "cold spots" in the library, reports of people actually seeing her hanging, and other strange happenings.
North Side High School
475 E State Blvd
Fort Wayne, IN 46805-3399
(260) 467-2800
It is said that many spirits reside at the North Side High School in Fort Wayne.
First is the spirit of a Chief of the Miami tribe that tried to prevent the city from building on the tribe's burial site. The school mascot is called Chief Mac in his honor.
The second is that of a teenage girl seen in the gym and the indoor running track. She is often seen in the morning before school starts.
A third spirit is that of a janitor that haunts the basement where it is said that he died of a heart attack. Many janitors have reported seeing him.
Finally, is a ghost of a construction worker which haunts the stage area of the auditorium. During construction of the school that was completed in the summer of 2004, had partially collapsed, killing him and injuring many others. There were comments from the construction workers claiming they seen a lot of stuff happening which may have been the worker who died warning them of the dangers.
It is a little scary walking the halls alone at night. A magazine covered the stories back in the seventies.
Snider High School
4600 Fairlawn Pass
Fort Wayne, Indiana 46815
Phone 260.467.4600
It was once said that in the basement of the school there was a swimming pool where a girl drowned in the pool after some classmates pushed her in. The pool was drained and filled up with cement. It is said that there are cries of the girl there early in the morning
Swinger's Grave
Jehl Park
The end of Kendawa Dr (apprx 6900)
Fort Wayne, Indiana 46815
There was a girl who was swinging on a swing at Jehl's park by Georgetown, off State Street, and her neck got caught in the chain links and she was killed. They say if you swing on any of the swings past midnight you will "fall off" when relatively it feels like someone is pushing you off.
Chapman Road is a so-called gravity hill. There are two places along the road where you can park your car at the bottom of a hill and feel something push it back up the hill.
Just north of Cedar Canyons Rd. in Fort Wayne there is a road called Chapman rd. If you take it to a road called Griffin and turn right you will come to a valley in the road. If you stop at the very bottom of the valley and put your car in park a mysterious "force" will pull your vehicle back UP the hill! You can also take Chapman rd. all the way down until it tees then turn right. Take that road (Auburn rd.) to Hollopeter rd. and turn right. That road will turn into Griffin and you will be coming down the other side of the valley (the same thing will happen if you put your car in park).
Char's House of Oak
The old Char's House of Oak building is haunted by the ghost of a drifter or some type of transient who used to chase customers out of the store.
This is a retail store on Wells Street . It consists of several old houses filled with oak furniture all in the same area. In the main house there is a stairway leading upstairs. While ascending the stairs while shopping, an apparition of a man with disheveled black hair, heavy 5 o'clock shadow, dirty white undershirt and green work pants appeared at the top of the stairs in an uncontrolled rage. He whipped off his belt and ran down the stairs with his belt raised over his head ready to swing it. As he was running down the stairs he passed right through a shopper leaving an icy chill throughout their body and an extremely unsettled feeling.
It has gone out of business and is currently being remodeled. The 3 houses used to be connected and are now separated.
Wal-Mart
5311 Coldwater Rd
Fort Wayne, IN 46825
(260) 484-4198
Around 3am-4am in the morning, shoppers and workers hear bagpipes playing a Scottish tune. Shortly when song ends, a man in a green plaid kilt makes his appearance by pacing the floors. When he walks by you, you will get a cold eerie feeling. This ghost is known to be friendly.



Embassy Theater
125 W Jefferson Blvd
Fort Wayne, IN 46802-3012
(260) 424-5665
Several stories and sighting of a maintenance man that use to work there seems to linger around. There have been newspaper articles in the Journal Gazette.
Lakeside Park Neighborhood
Lakeside Park was once an amusement park with locks, canals and a dance hall. The area is rich with history before and after the city was settled.
The lakeside neighborhood is rumored to once been Indian grounds used for less than pleasant occasions. Many different residents have reported strange sounds and sights in and around their homes.


Fowler
located in Benton County
Haunted Church
The haunted church in Fowler, Indiana was famous enough that a local news station did a report on it one year. Supposedly a young girl haunts the building and her voice has even been captured on audio recordings
The news show had recorded a girl's voice saying "mommy" in the attic.

Francesville
located in Pulaski County

Moody Lane or "The Light"
100 S and 300 W in Rensselear or Francesville Indiana.
Take Highway 49 South until it ends (about 25 miles from Valparaiso). Turn West onto Highway 14 and go for a mile until you see 100 W. Turn South on 100 W and go a mile until you see Division Road. Turn West on Division Road and go for 2 miles until you come across 300 W. Turn South on 300 W and go for 1 mile and the cemetery will be right there.
The story is back in the horse and buggy days where two brothers were out for a ride. One brother fell off and the wheel decapitated him. If you go when the corn is down, you will see a light come towards you. If the corn is up (the best time to go) you see the orange/red glow from the lantern at the end of a row. It will move through the row of corn and you can see the light above the corn. It's slowly moves to the end of the row and back to the start of the row. Then it will move up one more rows. You can watch the light come closer and closer one row at a time. What you are supposed to do is drive down the lane, turn around and drive back down it, turn your car around, park it and flash your lights three times and then shut them off. Then you will see the light cross the road.
The light is the lantern of the other brother looking for the head. The brother is with his lantern passing one row at a time in the corn.

Smith Graveyard
A graveyard near Moody Lane is where a man and a woman were killed on opposite sides of the road. And at midnight you supposedly can see the woman crossing the road to see her man.
Frankfort
Located in Clinton County
Farmers Gravel Rd.
People believe that back in the 1920's a school bus of children some how went off the road killing the driver and the children. So now, if you go out to Farmers Gravel Road and put your vehicle in neutral along with turning your lights out, it is alleged that the dead children of this fatal accident will push you up the hill and purportedly into the river below to meet the same fate as theirs. It is also said that if you cover your car in flour, you can see hand prints of little children. Some have also claimed that they have witnessed spirits of children looking in through the windows of their cars.
Webmaster: Farmers Gravel Rd could be one in the same as Sleepy Hollow, aka Haunted Railroad

Sleepy Hollow
also known as
Haunted Railroad
The Sleepy Hollow around Frankfort, Indiana is a bridge as well as an over pass that goes over a train crossing. It is legend that if you pour baby powder on your hood, stop right near the train crossing, turn your engine off and then start it back up again, then continue to drive across the tracks, you'll come to find children's hand prints all over your hood!
Another version claims that your car will turn itself back on. There are also stories of a mysterious glowing white cross appearing in the area.
Some claim a young boy was killed on the tracks.
In 1947 a young lady was on the bridge contempt on committing suicide. She had come home to find her husband cheating on her by catching him in bed with his mistress. After leaving the house and roaming around with emotions of sorrow, anguish and pain, she came to the train trestle where she waited for a train and then ran out in front of it. On foggy nights you can hear her screaming, and see her walking across the bridge.
Webmaster: Other websites have this exact same name and story listed in both Frankfort and Frankton, Indiana. The name and story belongs to Frankfort, Indiana only.
No Hauntings Reported

Franklin
Located in Johnson County

Greenlawn Cemetery
locals refer to the Cemetery as the Main Cemetery
This is the main cemetery just off of South Street and S. Morton Street (US-31).
Witnesses report a very unsettling feeling when they go there. There are several suicides that are buried there.
Old Main at Franklin College
In 1978 or 1979 a story appeared in the college newspaper about the reported ghost of a former professor that had allegedly hung himself from one of the rafters. A picture of the rope was shown still in place. The hanging allegedly took place in the 1920's. But, a picture of the classroom he supposedly taught in was untouched. All the desks and the blackboard were in black and white. It was also a storage place for stage props when the theatre department was in operation until 1975 and only within the last 15 years or so was it restarted. The door to the fourth floor was found open on occasion but was supposed to be locked. Occasional power outages occurred as well.
Another story involving the Old Main at Franklin College is that early one morning in the 1980's, a fire destroyed a residence hall and gutted the attic of Old Main, a grand building used for administration offices and classrooms. A student was hiding in the attic to avoid the fire and was burned to death. Students have reported smelling burning flesh and hearing screams when in the attic during the morning. The smell has even been so bad that classes have been cancelled more than once to avoid it.

The Willard Haunted Hotel
99 N Main St
Franklin, IN 46131-2335
(317) 738-9668
The Willard Restaurant in Franklin was once a hotel, but not before it was a house. A house rumored to have been haunted since one fateful October day in the early 1900s.
It is also said that the basement was part of the Underground Railroad back in the 1800's.
It all began in 1922, when renovations began on the soon-to-become Willard Hotel.
The venerable old brick two-story house that would be the site of the hotel was called the "Old McCaslin House" back then. Eliza, Sarah and Will Judah finally opened the very best hotel in Indianapolis Southside in 1924.
They flourished along with the lovely new hotel, and soon tall, handsome Mr. Robert Black began a dignified courtship with Eliza that endured for an extended period. Then Rose came to town.
Rose was Eliza's sister, a bad girl who showed up at the Franklin Train Station with a gambling debt and a chip on her shoulders. Soon Robert began to change and Eliza began to suspect he was going off with her ne'er-do-well sister. One fateful day in the cool of October, Eliza heard a crash in the kitchen, walked in and discovered Robert and Rose together on the kitchen table, "in full coital compromise," the unmistakable aroma of tequila filling the air.
The rest of the story is as insubstantial as the fog that surrounded the hotel on that fateful day. Some say Rose bade her time until she could exact her deepest revenge. Others say she simply ran everyone out of the hotel and lived her life out as an empty husk of the vibrant person who, for so many years in her youth, had looked forward to so much.
Of the many ghost stories and tales of haunted hotels and houses in Indianapolis, this is, without a doubt, the raciest.
As Eliza was a prohibitionist, some think this is the reason she haunts the structure as she frowns on the hotel now being a restaurant and bar.

Frankton
located in Madison County
Old Train Trestle
Webmaster: Other websites have this exact same name and story listed in both Frankfort and Frankton, Indiana. The name and story belongs to Frankfort, Indiana only.
See Old Train Trestle in Frankfort

Fremont
located in Steuben County

Ray Road
The McNaughton Family Cemetery


It is insinuated that along Ray Road in Fremont, Indiana there is a cemetery by the name of The McNaughton Family Cemetery. It is also claimed that there have been reports that when you walk between the tomb stones in this graveyard you'll levitate off the ground. (You're still moving forward in an upright position, but your feet aren't touching the ground.) There are cold pockets, and visitors have reported having the feeling of people brushing past them.
Webmaster: Do I believe in ghosts? That's one story. Do I believe that one will levitate off the ground while walking through this cemetery? NO! Another detail that makes me disbelieve this haunting is that there is no listing of a McNaughton Family Cemetery on Ray Road or anywhere in Fremont for that matter.
update: 10/26/2011 According to a Caitlynn Smith:
I have relatives who live near there and I'm fairly certain that the cemetery in question is not actually on Ray Road but on a sub-road that turns off of Ray Road. There is a large cemetery dedicated to the McNaughton family and many of their old buildings are now on location (having been moved from Ray).

French Lick
located in Orange County
Horse Field
In the late 1800's a bad storm hit this field like no other storm has ever hit this small town. In this field, approximately 5 acres across, were two beautiful black horses with a black baby colt. The only shelter in this field was a giant oak tree in the middle of this field, where the horses ran to immediately when the lighting flashed through the air. Some have claimed to have witnessed 3 lighting bolts come down from the sky and striking each one of the horses one at a time, killing them. Now if you go visit this field when a night storm is brewing, you can hear 3 horses running across the field to where the old oak tree still stands. And on some nights when the lighting lights up the sky you can see three beautiful black horses standing by the tree.
Black Oak
Along an interstate stood an old 2-story house that was once a speakeasy (bar saloon) and a home for ladies of the night. It is claimed that at times, you can hear a car pull in and hear men entering the basement where they shot the owner of the saloon. It is also alleged that one can see a woman dressed in red upstairs, often crying and reaching out to touch you. There are also claims of a man leaving the basement and walk upstairs, often pushing witnesses down. Last but not least, it is said that one can hear the screams of women and children losing their lives.
This house has since been destroyed, nevertheless to this day you can see the woman dressed in red, crying and reaching out for you.
Ridge Road
On the road as you enter into Gary, On Halloween, you can see the ghost of a girl who died after running into the Calumet River with her wedding gown on. The weight of her gown held her down and drowned her. Her ghost can now be seen.
It is also that the ghost of a girl who got in an accident can be seen there.

The story of La Llorona, or the weeping woman
The legend of La Llorona is quite popular in Mexican popular culture. The story of La Llorona, or the weeping woman, is often told in southwestern states, in particular Texas. The story usually involves a poor, working-class, young woman who becomes involved with a wealthy, married man. When the man discovers she's pregnant, he leaves in a fit of rage, leaving her to suffer alone. As abortion is a sin in her culture, she carries the baby to term only to discover that she cannot handle the life of a mother. In disgrace, she murders her child and spends eternity trying to make amends for her decision. www.ghostsofamerica.com/4/Indiana_Gary_ghost_sightings.html

The La Llorona legend sometimes involves a young married couple. The couple struggle through life, fighting with each other and their children. Eventually the husband finds comfort in the arms of another, and the woman murders their children as a payback. Some weeping woman stories place the woman and wife in the role as a cheater. The young woman cheats on her husband, and then kills her children in a depressed state. In all cases, she roams the earth in her ghostly form, trying to make amends, and find the children she murdered.
While the La Llorona legend is highly popular in the southwest, the story occasionally appears in the Midwest as well. The town of Gary, Indiana has its own version of the La Llorona story.
The La Llorona in Gary, Indiana is often spotted near the area known as Cudahee. Cudahee was once a highly popular neighborhood for recent Mexican immigrants. The neighborhood was close to Chicago, where the workers could find jobs in the steel mills, and had an inviting feel that made most feel right at home. It was there in Cudahee where a young Mexican girl became the legend of La Llorona.
The young woman arrived in Cudahee with her husband, full of hope for the future. Not long after they arrived, the husband went to work in the steel industry, and she set about making their home a pleasant one. The two lived together for a number of years, and began raising a small family. After her husband perished in a mill accident, she tried her best to feed her family.
Not long after her husband passed, the young woman found herself involved in a tumultuous relationship with a wealthy white man. The man knew that her social standing was not on par with his, but continued to string her along with promises of a marriage and future. Rather than tell her when he planned to marry another, the man lied and told the young widow that he could never marry a woman with children. Grief stricken, the woman went directly home and smothered her children. She quickly returned to her lover with the news that they could now marry. Disgusted and afraid, the man made her leave and promise never to return to his home again. The woman couldn't return to her house as she was too afraid to face her children, and wandered the streets crying. A few hours later, her body was discovered.
There are some that claim the story of a weeping woman in Gary is simply an already existing ghost story that the Mexican immigrants adopted as their own. A young widow was in a car accident during the 1930s just outside the area known as Cudahee. The woman survived, but her children all perished. Out of despair, she kept returning to the spot where they died, crying and weeping for her children. Even in death, she is unable to move on.
For those hoping to see La Llorona for themselves, she is often spotted near the corner of Fifth and Cline Avenue in the Cudahee neighborhood of Gary, Indiana.

Gas City
located in Grant County
Old East Elementary
Directions:
(1)Merge onto I-69
(2)Take the US-35 N/IN-22 exit- exit number 59- toward GAS CITY/UPLAND.
(3)Turn LEFT onto US-35/IN-22.
(4)Turn LEFT onto N 4TH ST.
(5)Look to your left (3 story old building, sign says Old East Elementary)
(6) END Old East Elementary
There used to be a playground behind the elementary school. A few people have seen the merry-go-round spinning by itself with nobody near it. Some people have even heard the sound of children laughing there.
The school has a scary look to it, like it was suddenly abandoned and a riot later took place. It is beaten down, and the Merry-go-round which was said to have been mysteriously moving at times by ghostly children has been removed. There is nothing in the school yard except for cement.

10th Street Bridge
Directions:
(1)Merge onto I-69
(2)Take the US-35 N/IN-22 exit- exit number 59- toward GAS CITY/UPLAND.
(3)Turn LEFT onto US-35/IN-22.
(4)Turn RIGHT onto 10th Street
(5)End on 10th Street Bridge (1st bridge you pass) It is close to town
When the bridge was first built, a worker fell off the bridge and died. The river then carried his body away. Many people have reported seeing an old man hanging on to the side of the bridge screaming for help when they pass over the bridge.

Georgetown
located in Floyd County
Devil's Dip
This is a large hill, as it dips down. At the very bottom of the hill there is a house. It is said that there was a little girl that once lived there and was playing outside late one night, when she was hit by a car driving too fast. Around midnight if you go really fast down the hill you can see the little girl dressed all in white playing next to the telephone pole. It's directly across from the house.

Geneva
located in Adams County
South Adams Middle School
105 W Line St,
Geneva, IN
(260) 368-7256
The cooks and janitors have reported seeing a ghostly figure in the rafters when they arrive to the school in the morning.

Goshen
located in Elkhart County

Oakridge Cemetery
located along County Road 21/ N. Indiana Ave
There is a statue of an angel over the grave of Michael Bashor that is said to cry tears of blood.
Fairmount Gas City Jonesboro Marion Sweetser Upland

GREEN COUNTY
No Hauntings Reported

Greencastle
located in Putnam County

Cemetery in Greencastle
Webmaster: All the Websites out there have this cemetery listed as Boone Hutch Cemetery, when actually it's called Boone Hutcheson Cemetery
Located along South Country Road / 450 West
Directions: Take US 40 and turn North on 445W. Follow it for about 2 miles. Then turn left onto 550S. Follow it for about 3/4 of a mile then turn right on 525.
It is said that a ghostly police officer from the 1950's sits inside the graveyard along with a blue light.
It is also claimed that there is a cave under the cemetery with a grave near the entrance. People have reported seeing a strange figure standing in the cave when going in. Some witnesses have even reported that bodies will fall out of their caskets into the cave. One other occurrence involves sinister looking dogs with red glowing eyes that chase people to their cars, and then disappear.
DePauw University
2 or 3 different night custodians quit their jobs at the old east college, built in 1837, because they swore it was haunted.
Edgelea
It is alleged that if you go and sit by the train tracks in Edgelea at night, you could see the ghosts of hobos jumping off the train. One lady already has seen a ghost of a hobo in her backyard. This lady has even heard them banging on her back door.
Webmaster: I have my doubts about this haunting, as there is no such location of Edgelea, Indiana. There is an Edgelea Drive found in Greencastle; however there are no train tracks located near this road.

Edna Collings Bridge
GPS N39 43.65 W86 58.58
The Edna Collins Covered Bridge crosses Little Walnut Creek on County Road 450 North in Putnam County.
It is said that sometime in the early 1920's a little girl used to swim in Little Walnut Creek, which the bridge crosses. At the end of the day her parent would drive into the covered bridge, turn off the motor, and honk three times signaling their return letting the little girl know it was time to leave. One day, something had happened to the little girl causing her to drown. They say that if at night you drive into the bridge, turn off the motor, and honk three times that the little girl will come and get in the car with you.
While this tragic tale is the main story connected with the historical bridge, there are whispers of another, more controversial story that explains the presence of the bridge's ghost. In the mid-1800s, in the tiny town of Portland Falls, there lived a young doctor and his even younger lover that he strived to keep a secret.
The girl eventually got pregnant, and the doctor, panicked, performed an unsuccessful abortion that led to her untimely death. Anguished, the doctor told no one of his dark secrets and to this day, some remain convinced that the young figure that drifts along the banks of the creek near Edna Collins Bridge is the young man's doomed lover.
Whitcomb's library
located at DePauw University
Former Indiana Governor James Whitcomb donated his vast library to Ashubry University-now DePauw University-in his will after his death in 1852. Whitcomb was an avid reader had amassed a large collection of books in his lifetime, and kept most every book he had ever read. During the years his library was in public use there were numerous sighting of Whitcomb's ghost trying to protect his books.
In one notable incident, a boy was reading The Poems of Ossian in the Library when he became so engrossed reading it that when the library closed he snuck the book out of the library and took it to his room. It was after midnight when he finished reading and turned out the lights. Later, he woke with a sense of not being alone. When his eyes became adjusted to the darkness he saw a spectral finger pointing accusingly. Then he heard a voice speaking, "Who stole Ossian?" A bony hand reached toward the boy, who swore he felt a finger touch his cheek. The boy returned the book first thing in the morning, telling the librarian he'd been visited by the ghost of Governor Whitcomb and promising he'd never take another restricted book out of the library.
The collection of now rare books is now protected, but there are still occasional sightings of Whitcomb's ghost.

Greenfield
located in Hancock County
Weston Village
314 Roosevelt Dr
Greenfield, IN 46140-1869
(317) 468-0435
This area of town called "Weston Village " is a housing edition and apartments in the same and is about a span of five miles. One witness reports seeing what is described as a Cyclops at the foot of her bed, as well as other sightings.

Greensburg
located in Decatur County
Greensburg Courthouse
There are reports of ghostly sightings. The employees feel the presence of a man who fell down the stairs. They say they have heard footsteps going up the stairs. He will sometimes pass them in the hallways (you can feel a breeze, like when someone walks past you). There are also reports of people feeling a gentle touch or tap, yet there is nobody around. Some say felt hair on their arms and on the back of their neck stand up.

Greenwood
Located in Johnson County
No Haunting reported

Griffith
located in Lake County
Griffith High School
600 N Wiggs St
Griffith, IN 46319-2095
(219) 924-4281
It is alleged that a young lady hung herself in the girl's bathroom next to the auditorium and she still wanders in the bathroom. They say if you are alone in there you can see her spirit behind you in the mirror.
In addition to the Griffith High School hauntings. It is said that a male student was sitting in the library for study hall and out of the blue he stood up, grabbed his chest and started gasping for air, then keeled over and died. Sometimes during evening meetings in the library you'll see a chair pushed on the ground, just like he had pushed it down when he stood up.
Reder Road
It is said that if you walk for about an hour and a half down the path at the end of Reder Road, you will find a small white chapel church from the early 1900's. Supposedly a mentally insane pastor murdered the whole congregation years ago. It is said that one can hear the screams of the congregation that was killed by this insane pastor.
It is also said that if you are walking back from this Chapel along Reder Road late at night you will pass railroad tracks. If you stop and look to your right you will see a man in all black walking very slowly toward you down the middle track.

Ross Cemetery
Right by Elm Street and Whitcomb Street in Griffith, Indiana.
Directions: Take I-94 and get off on Cline Avenue South (exit #5). Take Cline Avenue for almost a mile and a half. Turn left onto US-6 also known as Ridge Road. Go two miles down Ridge road and turn right on Whitcomb Street. Follow Whitcomb Street for about half a mile and cemetery will be on the left side of the road.
Another incident along Reder Road is a story of a girl named Elizabeth Wilson who drowned in a swamp after the car she was riding in went off the road and into this swamp. People say that if you drive down the road at night you can see Elizabeth on the side of the road waiting for a ride back to her house down the road. People who claimed to have given her ride back to her house got only as far as Ross cemetery before she disappears; the same cemetery that she was buried in 1955.
More history to this road is during heavy mafia activity in Chicago around the 1930's they would dump bodies off this road because it was, at the time, out of the way and seldom traveled. Most of the bodies were not discovered until the mid sixties when the area started to be developed.
Through the late 1980's until the mid 1990's the woods around this road became a popular place to commit suicide. Most people that have killed themselves there were area high school students.
There are a few houses still on the road, near the main development. Many reports of various apparitions (figures in the woods, ghostly lights, voices, being chased by cars/ creatures). What's more, mostly due to the fact that it is surrounded by woods, various animal parts are frequently found along the road. These are odd in the fact that they seem to almost always be placed in the exact center of the road. Never an entire animal like road kill, but parts; a head, a leg, a torso. Usually rabbits or raccoons but household pets have also been reported. One person witnessed the head of a large dog, a German shepherd or similar large breed, positioned in the center of the road. There was no blood and the eyes were open staring down the line of the road.
Another story that has been told is it was a cool fall night and a guy and his girlfriend were parked on the side of the road for a little late night make out session. They were all cozy there, when they started hearing a scraping sound on the roof of the car. The boyfriend would tell his girlfriend that it's fine, it's just the wind. A little more time passes and the scraping starts getting louder and faster. The girl obviously a little uneasy asks that her boyfriend take a look. So he gives in and says ill just be right back. It's now been a bit, and the scrapping hasn't stopped and the boyfriend hasn't returned. The girl, who is now getting worried about her boyfriend, gets out of the car to have a look. When she gets out of the car, she finds her boyfriend hanging by his belt from the tree. It's said that on some cool fall nights, especially near Halloween, that you can go there and park your car and here scrapping on the roof.
Webmaster: The last story is the exact same story as Spooky Hallow in Crawfordsville.

Hadley
located in Hendricks County
Webmaster: A lot of websites have a listing for Hedley, IN with the story of:
Hedley Cemetery - Reports of unexplained sounds and feelings of self destruction.
There is no Hedley, INDIANA. There is however a Hadley, INDIANA
There is also a Hadley Friends Cemetery located along W Country Road 200 S and S Country Road W in Hadley, IN
If this is the cemetery they speak of, I am not sure.
Any help here would be appreciated!
Contact me

Hammond
located in Lake County
Ridge Road
or
River Ghost
Webmaster: This story is also listed under Gary, Indiana Hauntings as they are on the same path
On the road as you enter into Gary especially on Halloween, you can see the ghost of a girl who died after running into the Calumet River with her wedding gown on,
the weight held her down and drowned her. Her ghost can now be seen.
Also the ghost of a girl who got in an accident can be seen there.
Old Botanical Gardens / Reaper's Realm
626 177th St, Hammond, IN - (219) 931-2480
The Indiana Botanic Gardens is the largest and oldest retailer of herbs in the United States, reaching its 100th anniversary in 2010. A mansion located along the north side of the Little Calumet River in Hammond, Indiana houses the Indiana Botanic Gardens. This mansion housed the Indiana Botanic Gardens until 1990 when the company moved to a newer facility in 10, Indiana. The mansion still stands today and is used by Hluska Enterprises Inc. During the summer, it is a retail fireworks outlet and in the fall it is the site of Reaper's Realm Haunted House.
The old Indiana Botanic Gardens building is still standing in Hammond, IN off of I-80/94. For those individuals that are familiar with the area, Reaper's Realm Haunted Mansion is housed in the building Joseph Meyer built in 1926.
People say there are 2 women owners who died there and they haunt the place. You can hear people walking around upstairs if no one is there. There have also been sightings seen in the forest behind the mansion. People have seen 2 unknown women working in the background. This usually happens when they are setting up for Reaper's Realm.

Robertsdale - Circus Train
As it is true that on June 22, 1918, the Hammond circus train wreck occurred about 5 1/2 miles east of the city, killing 86 and injuring 127 persons.
From this tragic incident comes the story that all the animals aboard the train burned to death and the animals' remains were buried in a nearby cemetery. It is said that if you go by you can still hear all the animals cry.
Haunted House
A haunted house in Hammond can be found at 36 Detroit St. between the Illinois state line and Hohman Ave. Legend claims that the spirits here are violent and like to throw things or move things around.
But not only is the house haunted, the whole block has strange things happening. Things such as cold spots, things touching you, objects being moved or even thrown at you, voices, footsteps, sightings of a doppelganger, and when you're in the house you get the feeling that someone is watching even though no one else is around.
Jayme House
Hammond also has the haunted Jayme House. A number of people have spotted the ghost of a little girl inside the house and heard her playing late at night.
There are two bedrooms upstairs. The bedroom to the left; if you shut the cubby hole door at night and when you wake up the door will be found open. If you put something in front of the door it is still open in the morning. The bedroom to the right; one can see glowing eyes, hear noises, and sense over powering smells, all coming from within the cubby hole.
There have been reports that doors open on their own, odd smells have been detected, strange and unexplainable noises have been heard and the sounds of phantom children have been heard running, laughing and playing
The stairwell leading to the upstairs bedrooms is also haunted. It is said this is where a little 8 year old girl likes to play. There are sightings all over the house. There are a large number of happenings throughout the rest of the house, items are moved to odd places by some unseen force, chairs are moved and placed in odd arrangements and people have claimed to be touched by hands that they could not see.
There have also been reports of people being lifted off the ground.
Bishop Noll Institute
1519 Hoffman St, Hammond, IN - (219) 932-9058
It is said that there are 3 known deaths in the school.
It is said that on the second floor, in the A-wing of The Bishop Noll Institute where a janitor hung himself, you can hear footsteps and people talking with the whole floor being empty. In the lab rooms, chairs would fall off desks without being pushed.
It is also claimed that the auditorium of Bishop Noll Institute is haunted by a young girl who was auditioning for the lead part in a play and was denied the part and then she started crying. She then walked on the lights above the stage and hung herself. Ever since then, anyone who auditions and gets the lead part or a part with many lines has gotten hurt. They lose their voice, develop illnesses, break their leg, almost choke, fall off the stage, and much more during the play.
In the library, there is a cold spot that is said to remain there at all times, despite the warmer air throughout the rest of the room.
In the pool area, a freshman drowned in the pool, which is no longer used and closed off. Laughter has been heard but it seems to come from nowhere specific.
Saint Casimir School
4329 Cameron Ave
Hammond, IN 46327-1358
(219) 932-2686
There is said to be a ghost of a girl and a janitor that died in the school during the 1953 fire of the school. Many girls of the school see the girl in the girl's bathroom and at times you can see the janitor in the old building at the end of the hall staring at you.
Near Columbia School
Columbia School is located at 1238 Michigan St, Hammond, IN - (219) 933-2461
There was a man who was having a very hard time. He and his wife had recently got a divorce, and he could no longer see his children. He was also fired from his job. The man was really, really upset and decided his life was no longer worth living. He committed suicide by hanging himself. Years later the residents living there can hear the man talking to them during the night, he also interferes with their lives by, for example, throwing tools all over the garage. Also, on the anniversary of his death a quick white light can be seen from his window to remind the neighborhood of the tragic event.
Gavit High School
1670 175th St, Hammond, IN - (219) 989-7328
Every night at about midnight, it is said you can see people walking around the roof and if you shut the windows the night before some of the windows will be open. If you are inside you can hear metal clinking together and muffled screams, along with orbs and figures walking.
A number of former students claim these stories are complete fiction.
Greenfield Reedville

Wilkinson McCreary Cemetery
Webmaster: I can not find a listing for Wilkinson McCreary Cemetery in HANCOCK COUNTY
Wherever it is, it is said to be haunted.
Anybody with any information on an address and hauntings please contact me

Thomas Rd Cemetery
Webmaster: can not find a listing for Thomas Rd Cemetery in HANCOCK COUNTY
Wherever it is, it is said this graveyard has had numerous occurrences including reports of blood on graves which all date back too mid 1800`s.
The ground is always soft no matter the weather and noises from the woods than seem too get closer the longer you stay.
Two gigantic rocks which set in front of the path that leads you in are moved in a different spot every time you visit
Webmaster: Anybody with any information on an address and hauntings please contact me

Hanna
located in LaPorte County
Old Haunted House
Not to be confused with The Hannah House located in Indianapolis, IN
There is said to be an old haunted house in Hanna, almost gone now, but is said to be located on the only hill in Hanna and on the side with woods and no other houses. Supposedly a former owner supposedly killed his twin daughters and wife before killing himself. Some say he hung his two daughters from the trees. Next to the house you can sometimes see the ghost of the man's body swinging from a tree or you may see him fighting with his family and carrying off his kids. Others claim that if you go there at night you are supposed to see the guy hanging the ropes from the trees and if you walk the trails in the woods at night you can see him fighting off his wife and dragging his two girls down the hill to the ropes.

Hanover
located in Jefferson County
Hanover Nursing Center
Omens happen before one dies, there is green mist in photos, a balloon bounces into a room, and the piano plays with the keys being seen moving.
Hanover Beach
located along the Ohio River on South Beach DR.
A preacher drowned while swimming to shore to find help the victims of a sinking riverboat. Usually appears around 2 am when it is very foggy.

Hanover Cemetery
located on Lowry Lane off 1st street and Pine Ridge Road
One witness reports, "My children and I went to Hanover Cemetery soon after we moved here. We had split up for the purpose of looking for a family member's grave; we then turned around to meet up with each other. As we got closer to each other, we suddenly felt nauseated and we felt chilled. We looked at each other and realized we were all experiencing the same sensations. We looked down at the grave in front of us, and it had the name, Benjamin Bennett on it. The next day we went to the library to see if we could find anything out about this person. We found that he had been a student at Hanover College and had drowned in the Ohio River and that his body was never found."
Hanover College
Numerous events have been recorded
Parker Auditorium at Hanover College
Parker Auditorium has been haunted by the ghost of Dr. A.G. Parker, past president of the college. Numerous events have happened over the past 25 years, including sightings, voices, sounds, and missing items.
Donner Residence Hall at Hanover College
The east wing of Donner Residence Hall is said to haunted. Moved objects attributed to a former student who committed suicide in one of the rooms.

Hebron
located in Porter County
Hebron High School
509 S Main St
Hebron, IN 46341-8914
(219) 996-4771
During the 1930's a female student killed herself in the bathroom after being stood up on prom night. It is said that the girl went into the janitor's closet and found some rope. Then the girl went into the bathroom that was right out of the gym doors and hung herself right at the stroke of midnight. Some claim that her spirit can still be seen swinging from a rope late at night
Many people claim it happened on Halloween night, when the school doesn't host their proms. In relation to it happening on Halloween night, it is said that if you go into the bathroom on Halloween night and turn off the lights at the stroke of midnight, look into the mirror, you will see her hanging on the stall door.
Some teachers claim to hear voices coming from that bathroom when they stay late after school hours.
Hebron Train Depot
Around the early 1800's there was a train station where everyone in Hebron worked. A man about 23 just had a fight with his wife and went to work at the Hebron Train Depot angry and upset. So on his way to work he was so upset that he wasn't paying and was hit by a train. The train station didn't last much longer. McDonalds moved in there. Every night his ghost would haunt the place by throwing things and breaking things. There has never been a thriving business there since.
The new Walgreen's' store sits where the railroad depot used to call home.
The railroad depot was moved in 1994 to its present location behind the Stagecoach Inn. It has been fully restored by the Hebron Historical Society and is used as a railroad museum.
Old railroad tracks
Some visitors may still be able to see evidence of a railroad that passed through the heart of Hebron.
Sometimes if you go there you will see ghost of people walking around after the deadly train crash.
Moody's Road
If you go to Moody's road at night, flash your brights 3 times a light will appear and if you shut off your car it will not restart.
Hedley
Webmaster: A lot of websites have a listing for Hedley, IN with the story of:
Hedley Cemetery - Reports of unexplained sounds and feelings of self destruction.
There is no Hedley, INDIANA. There is however a Hadley, INDIANA
There is also a Hadley Friends Cemetery located along W Country Road 200 S and S Country Road W in Hadley, IN
If this is the cemetery they speak of, I am not sure.
Any help here would be appreciated!
Contact me

Heltonville
located in Lawrence County
McCarthur House
Murder is the reason behind the haunted McCarthur House in Heltonville. Four people were killed there around 1974 and people report seeing the ghost of the killer fleeing the house.
It is claimed that when you approach the house there is a white figure that can be seen as sort of running away from the house.
Knightstown Lewisville New Castle

Henryville
located in Clark County

Dan's Run - Cemetery Hill
Dan Guthrie was just one victim in a string of murders in the Henryville area. They said he was not only buried once, but was also dug up again by his murderer and then burnt in a brush fire.
Guthrie's first burial was near the creek bed somewhere on the south side of the aircraft hanger that sits on the southwest corner of Pixley Knob and Mountain Grove Road (Cemetery Hill) as he was placed in a shallow grave.
Guthrie's second grave was near the creek bed on the opposite side of the street, due north of the aircraft hanger (northwest corner, west of bridge).
Guthrie's body remained undetected for one year before being found, unearthed and reburied in nearby Mt. Zion Cemetery. The hole he was buried in near the corner of Pixley Knob Road and Mountain Grove Road is still open (about 4-feet deep) near the edge of the woods. Homes in the nearby area have experienced sightings of a young man with a large, handlebar bushy mustache, doors open and close by themselves, footsteps walking up and down hallways at night, footprints found outside bedroom windows, objects moving by themselves, and ghostly whispers. Also, a tape recorder left on Guthrie's gravestone in Mt. Zion later revealed a faint, haunting man's voice crying, "Help me, God help me, please help me..."

The Green Lady - Mt. Zion Cemetery
Mt. Zion cemetery located along Henryville blue lick road and between I-65
In the early 1900's a young woman was killed on Henryville blue lick road after a terrible car accident and buried in Mt. Zion cemetery on the same road. It is said that she roams the cemetery, with a green glow to her. She will jump on your car if it's parked in the cemetery at night (said to be looking for a ride home) and the green goo will still be on your car until you wash it off.

Highland
located in Lake County

Highland High School
9135 Erie St, Highland, IN - (219) 922-5610
It is said that Highland High School has been haunted for several years. The gym is where the sightings usually take place. People have reported that they have seen a little boy roaming around the gym and sometimes doing laps around the basketball court. They have also heard basketball being bounced. They say that the sounds and the little boy running laps are a kid known by the name of Bob Haymaker. Bob died one day in gym class when they were playing basketball. The teacher said that he was fine and next time the teacher looked at him, he was lying there dead. Ever since then, little Bobby Haymaker has haunted the gym of Highland High school.
Webmaster: This is the same name of a school in Anderson, Indiana with the near exact same haunting.
Can somebody please verify which is the correct listing, Anderson, IN or Highland, IN?
Webmaster: Websites out there have a listing for:
Hitysville
There is NO Hitysville, IN, however there is a Hitsville, Indiana. Although there is no listing for a Public Library in Hitsville.
If anybody has a clue as to where this haunting is supposed to take place, please contact me!
Here is the story:
Hitysville Public Library- It is reported that on Oct. 28, 1943, the librarian that worked non-stop there was involved in a freak accident involving a book shelf collapse. The book shelf oddly enough was full of supernatural books. The ghost is said to have remained inside the library which has since been shut down. On that anniversary night accounts of loud crashing bookshelves have been reported, but no bookshelves remain in the old library. Also accounts of moaning and screams for help, along with unidentified scratching and banging.
Abandoned Haunted House
It is said that an old abandoned house found on 501 Indiana St. near Liberty school is where a very rich family used to live. The oldest child, Spencer, was a high school dropout and a drug addict. It is said that one day Spencer killed his baby sister, Mary. Spencer went to jail and then he committed suicide a year later. They say if you go around there at night you can hear a little girl running around the house. Others have claimed seeing the little girl's ghost playing in the house.

River Forest Junior-Senior High School
3300 Indiana St, Hobart, IN - (219) 962-7551
The River Forest Junior and Senior High Schools are connected. Outside of the school there are tennis courts, before they were tennis courts there used to be a pool that was used for gym class. The reason that the tennis courts were built is because a boy drowned in the pool during gym class one day. He is sometimes seen and heard in the High School gym, Junior High multi-purpose Room, High School Cafeteria, and throughout the High School halls. He is usually not seen during school hours. Most of the people who see him have seen him while staying late for after-school activities or games. One lunch lady has actually claimed to having conversations with the boy. When asked about it she replied: "The first time I saw him it frightened me, but now I am not scared, and I know he means no harm. He is just a lost soul stuck on Earth. I was walking out to my car, which was parked near the tennis courts and I saw him standing inside the gate of the tennis court. He was staring at me so I asked him what he was doing there. He told me that he had drowned. I asked him his name and he disappeared. Now, whenever I talk with him he disappears if I ask his name, which I find very odd."
Webmaster: This is the same basis of story along with the name of the same school found in Hobart - River Forest Junior and Senior High Schools
According to resources :The reason we are getting the same haunting for River Forest in both Lake Station and Hobart, is that River forest Jr high and senior high has a Hobart mailing address, but techinally is in Lake Station. Yes, it's the same place and the same haunting.

Baby's cry
Webmaster: All the websites out there have this story listed under Hobart, Indiana when it is actually located in New Chicago, IN
Some people say that if you go to Hobart cemetery and go right by the woods, at midnight you can hear a baby cry. The baby is clearly not alive and is a ghost. Also, if you take pictures you can see orbs all over the place.
Forks of the Wabash
Historic Forks of the Wabash is a historic museum park near Huntington, Indiana. The park is located along the Wabash River.
The original house belonging to Miami tribe Chief Jean Baptiste de Richardville has been remodeled by adding a door between the Chief's bedroom and the servant's quarters to facilitate tours of the house. In the room described as the servant's quarters there was a pillar of icy air that everyone who walked passed through shivered and said, "ooooh. . . . cold spot" The cold spot was WAY colder than the temperature in the rest of the house including being several degrees lower than the outside temperature. There also was a strong sense of being watched.
Horace Mann School
Webmaster: It is said that Horace Mann School is now apartments, However the school is listed being located in Huntington, Indiana and it serves grades PK-5 in the Huntington County.
2485 Waterworks Rd
Huntington, IN 46750
Huntington County
It is alleged that Horace Mann School has had many reports of paranormal activity. There have been sounds and sightings of children and adult ghosts, which are of unknown origin.
Huntington College
2303 College Ave, Huntington, IN - (260) 359-4000
A women spirit has been seen floating in the hallways of the Physical Education Recreation Center, wearing a long white dress. She is only seen by men. Toilets have been known to flush and showers turn on with no one in the restrooms or locker rooms.
Polk road
It is said that a woman died on the train track and if you go over the tracks that your car will die and she will come and push you off and then she will go down the center of the car and go into somebody and show then how she died and what she went through. And when you leave, there will be blood all over your car.
Webmaster: There is no listing for a Polk Road in Huntington, Indiana, however there is a Polk Street listed in Huntington, Indiana. Nevertheless, Polk Street does not cross any train tracks. It does end several hundred feet before it crosses tracks.

Warwick Hotel
515 N Jefferson St
Huntington, IN 46750
(888) 932-1827
Haunted Hotel 13th Floor:
Hungtington, Indiana is home to one of the most horrifying haunted houses you'll find in the Midwest.
The Haunted Hotel 13th Floor is located on the grounds of the historic Warwick Hotel. The story begins with the windy, dark night of October 13, 1904. On that fateful evening, more than 300 souls crashed to their untimely deaths when the hotel was devoured by a raging fire. No man, woman, or child was spared; twenty of those killed were members of a traveling circus. The victims spanned every walk of life and each left behind a legacy.
To this day, there are whispers that the tortured spirits of those who lost their lives in the wild blaze haunt the grounds still. Some say these grieving spirits are trapped in a slippery slope between life and death known as The 13th Floor.
Ever since that tragic night, stories have circulated about the event that claimed so many lives and the grounds that housed the infamous hotel. There are tales of strange, ghostly figures and disturbing noises. Individuals have even disappeared from the area the Warwick used to call home, only to turn up across town in a desolate area known as the Devil's Backbone. These terrified souls were rushed to mental hospitals as they tried incoherently to tell others of the dark journey they had experienced.

Huron
located in Lawrence County
Chain grave
A slave owner from the 1800's beat one of his slaves to death with a logging chain. The wife of the slave had a local shaman put a curse on the slave owner. The curse was that he would bear the reminder of his murder for eternity. After he was buried, a chain appeared on his tombstone, and every year another link is added.
Webmaster: This is the EXACT same story listed in Orangeville, Located in Orange County

Hymera
located in Sullivan County

Bethel Cemetery
There are rumors that if you go to the Bethel Cemetery in Hymera at night and go up to the Nathan Hinkle grave and monument (a local soldier of the Revolutionary War that died in the war) and walk around the monument 3 time and say "Nathan Hinkle", "Nathan Hinkle", "Nathan Hinkle", he will answer you.
Webmaster: Upon investigation, there is no listing for a Bethel Cemetery in Hymera, Indiana, nor is there a listing in all of Sullivan County.
I have also discovered a Nathan HINKLE, a soldier of the Revolutionary War, that was born on 31 Mar 1759 in Philadelphia, Pennsylvania,
died on 25 Dec 1848 in Pleasantville, Sullivan County, Indiana at age 89, and was buried in Hymera, Hymera Cemetery, Hymera-Shelburn, Indiana.
There is a monument in Nathan Hinkle's honor. The monument is fifteen feet high, representing a Revolutionary soldier at parade rest.

Indianapolis
located in Marion County
Indianapolis is the largest city in Indiana and it has more than a few haunted houses.
Back in the 1830s, the bustling hub of downtown Indianapolis harbored a dark secret. The story of haunted houses in Indiana begins with the tale of the cavernous, once beautiful very first Governor's Mansion that sat atop Monument Circle. Many credit the doomed structure with the title of the first haunted house in Indianapolis.
Ironically, no governor ever lived there. The governors' wives never wanted to hang their clothes out to dry in the middle of the city for all to see. They felt the celebrated Circle left them no room for privacy from the curious stares of the public.
So the beautiful mansion became the home of Supreme Court offices, then slowly lost its promising glow and began to house transient drifters and ladies of the night. Finally, its condition deteriorated and it sat empty and desolate for 30 long years
The town soon became convinced that a dark, menacing figure had taken up residence in the abandoned and crumbling mansion. It was a ghost, they assumed, and some swore they saw its long black cape billowing behind a bulky black shape with no head. They could hear thumping and unearthly sounds from inside the mansion, but no one dared to go inside and experience the horrors they knew awaited them. In fact, citizens stopped visiting the Circle at all after dark for fear of the unknown.
One moonless, windy November evening, a group of local boys decided they would be the ones to break the spell of the mad ghost that flitted past the grimy windows and slipped through the decaying walls of the old Governor's Mansion. Their goal was to capture the spirit, and filled with the confidence of the young, they stood on the steps of the Circle that fateful night and dared each other to take the first step inside.
Finally one of the boys, named Aaron Ohr, boldly declared that he wasn't afraid of ghosts. Though he wished he could call the words back as soon as they left his lips, the others taunted him and he knew he had sealed his fate. He checked his pocket and felt reassured when he found his trusty sling shot and a solid handful of rocks.
Aaron stepped into the house, and his friends watched in awed silence. In seconds they began to hear wild screams and a terrible thumping noise, and were terrified. The boys turned to run, leaving their friend to his ugly fate, when Aaron emerged from the swinging doors of the Governor's Mansion.
The boys, stunned, turned to see their friend alive and well and clutching a giant, wild turkey in his hands. The turkey was spitting mad and could barely be contained, but Aaron managed. Proudly he held up his wriggling prize for his friends to see.
And with that, young Aaron became a hero of the city and the story of the first haunted house in Indianapolis was officially on record. Before the evil spirit was revealed to be one very displeased turkey, the entire town was convinced the mansion held untold horrors and secrets of the dead. It was recorded in the town newspaper that it was the oldest turkey ever caught in the Circle City. So the story goes that Aaron's family cooked that turkey for Thanksgiving, and the whole town was invited to celebrate the unhaunting of the old Governor's Mansion.

Mount Jackson Cemetery
The individuals buried in this cemetery are the lost souls from the numerous deaths that occurred at Central State throughout its existence. The possibility of this place being haunted is very real. These people were left without care and forgotten about. In a way they were discarded by a society that had no use for them.

Central State Hospital
Old Central State Hospital/Asylum
UPDATED: August 17, 2013
While the majority of buildings at the Central State Hospital in Indianapolis, Indiana, have been demolished, the ghosts that once dwelled within refuse to die.
Central State Hospital began as the Indiana Hospital for the Insane.
In November of 1848, The Indiana Hospital for the Insane opened its doors for patients, who suffered from a variety of mental illnesses, ranging from depression to various forms of psychosis, admitting 5 people. The mentally handicapped, called "Simple" also wound up being committed here. The criminally insane also were housed here. The Hospital at this point consisted of one brick building sitting on over 100 acres of land. After 1926, the hospital was renamed Central State Hospital.
The Hospital grew in leaps and bounds to eventually house and care for 3,000 patients by 1928.
Many of the drugs used today to help patients control their symptoms weren't invented yet. So it isn't surprising that the use of restraint was heavily relied on for patients prone to violence. Unfortunately treatment in those times was experimental and rudimentary at best. Women were often subjected to horrific treatments for something as simple as depression, treatments included submersion in ice cold water baths, and lobotomies were common place. Given the horrific things people once faced there, it shouldn't be surprising that Central State Hospital has its share of ghosts. However, the conditions where the most difficult patients, like the violent, criminally insane, were held in basements of buildings or dark rooms off the vast tunnels which connect various buildings with chains and shackles on the walls. The patients were in dark, inhuman conditions, and "retraining practices" were deemed to be barbaric. The worst inmates who never stopped screaming and /or attacked staff or other patients were warehoused there in the early years of the Hospital. Sadly enough, it was common during the early years of psychiatry to use restraints to treat even common diseases such as schizophrenia. Former Hospital workers confirmed that some unruly patients were kept in these restraints.
Some of the older buildings are gone, but some remaining.
This was a major mental hospital located on the North side of West Washington Street for more than a hundred years until it was closed in the last decade. There are numerous reports of hauntings at this facility many from former staff members. Although the facility if not open to the public, there is a medical history museum on the site that can be toured.
People say that the empty lot where the main buildings once sat is the darkest place in the world, and that no matter how many lights are used, the area remains dark and heavy. Some believe it is the result of hundreds of deaths there, combined with th pain and suffering of former patients. Those who walk passed the empty lot are also said to hear the sound of wailing moans or the cries of former patients, and see strange shadows moving across the grass. There is also a tree where screams and moans are heard; in the 1940s, two patients fought, and one killed the other by beating him to death with a large rock. Some claim the patients themselves can also be seen, running through the field.
Several reports from night watchmen of noises, screams of "patients", and mysterious "people" seen and then disappeared. Medical Museum on site also reported haunted as it once was the hospital's morgue. Entrance is on Warman Ave. right off of West Washington Street.
Some of the hauntings include:
A screaming of a woman was heard coming from a corner of the basement.
Shadows of entities were seen moving from cement post to post.
An employee on a break took a nap in a room in the basement, near the pumping station. He awoke as he was being choked by unseen hands by a menacing presence. He broke the grasp and ran to the light switch and no one was there. There were deep red marks around his neck where he was choked.
The coal conveyor belt which brought coal to the Boiler, turned itself on and off.
Noises coming from the basement have been heard by the living when no one was there.
Administration Building - Some entity is going about his or her business in running the hospital.
Foot steps were heard coming across the lobby to the window in front of the main desk and went back again.
Another story told about Central State Hospital is the story of Alvin. Alvin was a patient at the hospital, who suddenly and abruptly vanished one day; he was there in the afternoon, but by bed check was gone. Despite a long and thorough search, he was never found. A few years later a female patient named Agnus started walking away during the day, and was always found sitting in the same place, near the basement where the severe cases were kept. Agnus eventually told a staff nurse that her friend Alvin was there, and she liked to go there to talk to him.
Thinking that the former patient may still be in the hospital, the staff leapt into action, ordering a full scale search of the basement. The search revealed nothing, until someone found an open crawl space; inside was the body of Alvin. Oddly enough, the same story is told about a former Ohio mental institution, only the missing patient was a female, who was only found after renovations of the hospital. Imagine the surprise of a nurse when she figured out that a female patient was going down the steps to the tunnel to talk to an entity named Al, whose body was found soon after realizing what had happened.
Another hospital worker heard moans coming from a dirt-floor room off a tunnel, which had chains and hand restraints in the walls.
Maintenance workers have heard the cries and screams coming from the dorms, similar to what was heard here when patients stayed here. Mental illness is painful and scary to the people living with it.
On the second floor of a woman's dorm an entity dressed in a bathrobe has been seen running down the hall, from the outside and the inside.
Under a grove of trees, a violent patient killed another patient. The living can hear the cries and groans of this victim coming from this area.
Entities dressed in robes have been seen running across the grass in their bid to escape.
If you travel pass the former Central State Hospital today, be wary of any sounds you may hear, or strange shadows moving in the distance.

Rock Bottom Restaurant and Brewery
10 West Washington Street
Rock Bottom is located on the same block as the infamous Bowen Merrill Fire broke out in 1890. A terrific fire claimed the lives of 13 Indianapolis Firefighters. The interior of the building was too hot for firefighters to enter so they cut a hole in the roof to get water directly to the core of the fire. AS dozens of firefighters stood atop the building, the roof gave a thunderous shudder and then collapsed inwards, taking with it many of the firefighters.
Customers to this day claim they smelled a sudden smell of charred wood and soot surrounding them. In the Ladies Room, the faucets turn on by themselves. One long time Waitress said sometimes after closing time staff members would sit around the bar and hear and see things. On one occasion, a loud crash was heard downstairs. When they rushed down to see what had happened and no one was there. Staff members have heard their names called when no one is around, glasses behind the bar are constantly breaking, patrons have felt an icy hand on their shoulders and cold spots develop all over the restaurant.
Rivoli Theatre
3155 East 10th Street, Indianapolis, Indiana 47710
It is currently closed to the public.
The Rivoli Theatre can be found on the East side of Indianapolis, in the old downtown section, a neighborhood which was once a thriving commercial district in the earlier part of the 20th century and is now in the process of getting a much needed face lift through the restoration and renovation process, thanks to several organizations efforts. The city recognizes the value of these fine old buildings as being an important part of their history, and will restore them to their original beauty.
Though the theatre is now closed, it seems that The Rivoli Theatre was the home of entities from the time it opened, and has attracted a few others throughout its long history.
1) The land where The Rivoli Theatre and its building was built upon, had been a farm. A farm house and family burial plot had exited right on this spot. But before this time period, this same plot of land had been an Indian burial plot.
a) Through some investigation, it was discovered that the people who lived in the farm house experienced paranormal activity in their house and on the property.
2) Past Hauntings in the Auditorium -
a) Past owners have opened the theatre for business, and much to their surprise they found people already sitting in the auditorium. Rushing down the isles to confront them, imagine their shock when these nonpaying customers melt away before their eyes.
b) One apparition of a man dressed in his evening finery has been seen frantically running up and down the isles, through the seat rows and then disappearing into the wall!
3) Recent Haunting Reports with the current owner
When the present owner bought this grand old theater in 1976, he scoffed at the stories that the theater was haunted, saying that overactive imaginations had created these supposed haunting incidents. After some personal encounters, this owner has changed his mind, but is willing to live with the reality that his theatre was host to some nonpaying entities, who love this old theatre as much as he does.
a) Incidents in Auditorium under management of the new owner - Imagine his surprise when who he thought were the first people in for the showing of a film, returned to report to him that he was mistaken: There was already a couple seated. The man was dressed in an old fashioned tux and the woman was wearing a lovely white dress. In disbelief, the owner ran to the auditorium and discovered no one else living was seated. It wasn't possible for anyone to quickly leave that fast, unless they were life-like apparitions of the theatres' entities. This became a common occurrence.
b) Ladie's Powder & Rest Room - Women patrons reported incidences of being alone in the bathroom, hearing the toilet flush, seeing the door to the stall open and close, watch the ivory faucets turn on and off, without any help! Sometimes this entity, a woman appears in solid form in this bathroom, fooling the living in thinking that she is a real person. Then, she suddenly disappears for chuckles as the living become unnerved.
c) A lady apparition has been seen standing on the stairs which lead up to the projection room.
It seems that the entities have been rather rude and difficult with the theatre's employees, making a high turnover rate a reality.
a) Employees have been pushed by an unseen presence. Employees have learned not to clean the auditorium alone.
b) People in charge of cleanup have had the unsettling experience of watching buckets and cleaning supplies move by themselves. Either an unseen presence is trying to be helpful or is doing it for chuckles!
c) After cleaning the lobby, the cleaning crew went into the auditorium to continue. When they came back into the lobby, they found a smoking cigarette in the ash tray urn found in the lobby. No one who smoked was in the theatre or was involved with the clean up crew.
2) Personal Experiences of the Current Owner - Doing repairs before or after hours of business.
a) Basement - Boiler Room - While down in the basement, working on the boiler, the owner received a hug of appreciation around his waist from behind by an unseen presence, feeling the cold arms and hands from an appreciative entity; probably a woman - which inspired the current owner to make a quick beeline lickity split canter up the stairs to the main floor, through the auditorium to the lights.
b) While in the projection booth, the owner was making repairs and saw out of the corner of his eye a female presence standing there watching him. Thinking it was one of the female staff, he asked her to pick up a tool he needed which was out of his reach. When nothing happened, he looked and saw nothing. He then remembered that his staff weren't due there until later.
c) While inspecting the roof of the theatre, the new owner fell through part of the roof which opened up when he stepped on it. Presence(s) physically stopped his certain death, by moving his feet so he landed on a supporting truss, instead of free-falling 85 feet to the theatre floor below.
d) Items in the theatre apartment have been moved around and some have gone missing.
When the theatre was still open, a movie camera was set up in the auditorium and left on one night. On the film one sees a bright light form and grow until a figure is seen which then moves out of camera range.
Cathedral High School
(Fomer sight of Ladywood High School )
5225 E 56th St, Indianapolis, IN - (317) 542-1481
When the Cathedral High School campus was the campus of Ladywood, a private boarding school in Indianapolis. Ladywood was entirely run by the Sisters of Providence, a group of nuns devoted to a Catholic education. There is a building on campus, Loretto Hall, the former main building of Ladywood, classes were held on the first floor, physical education in the basement, with student dorms on the second floor, and nun dorms in the attic. It has been reported many times that at night, after what would be "lights out" for the girls that you can hear and sometimes see a sister walking down the halls in the second floor and candles burning in the attic.
Decatur Central High School
actually located in Indianapolis, but it is a Decatur township school located at:
5251 Kentucky Ave
Indianapolis, In 46221
October of 1979, a girl named Angie and her friends were recklessly riding around the school parking lot. They crashed and Angie was thrown from the car and decapitated. Strangely enough, the school's electricity would not work for several weeks afterward and the entire school smelled like burnt rubber. Every year, around the time of Angie's death, the electricity still goes out and burnt rubber is smelt. Some people have even reported seeing a young female ghost walking up and down the stairs crying, but she disappears when people approach.
There is also the story that all five female students were killed in 1979 when a drunk driver drove into the auditorium.
Indianapolis Public School - I.P.S. #18
Located on the south side of Indianapolis on Ringgold St. and Palmer St.
The number 18 witnessed a tragedy when the old gym collapsed and a number of kids and a teacher were all killed. People claim to hear kids playing in the old room and see the ghosts of the students. The school itself is now closed.
It is claimed that I.P.S. #18 was built on top of an old Indian burial ground. One person claims, "In my personal experience, if you go up to the old gym the doors were locked and with the windows covered but, if you do happen to stubble into the old gym you can see the entire gym class standing in front of the stage. Also near the end of the school day you can hear balls bouncing anywhere in that wing of the school."
Indianapolis Public School - I.P.S. School #50
School #50 sits behind present day Indianola Park, about a half mile EAST of the intersections of Washington St. and Belmont Ave., on the City's west side
As for location, School #50 sits behind present day Indianola Park, about a half mile EAST of the intersections of Washington St. and Belmont Ave. On the City's west side.
December 2006 update/correction: School 50 is at Hawthorne Park, which is at Belleview and Washington Street - west of Belmont Street. Indianola Park is east of Belmont and Washington Streets, which is next to School #30. That intersection is Miley Avenue and Washington Street.
Cold spots felt, strange loud banging heard. The building is still there.
House of Blue Lights
Here in Indianapolis lie the remains of one of the most notorious haunted places in Indiana, the legendary House of Blue Lights. While the house itself that earned this ominous title fell victim to decay and neglect, the desolate stretch of land remains.
Some claim this mansion is located on Meridian Street in Indianapolis and is haunted by the young wife of the first owner. When you go by the house at night you can see blue lights flickering on and off on the grounds and in the tower window. According to legend the man couldn't stand the thought of burying his lovely young wife so he had a special glass coffin built and placed in the tower. He would go visit his wife every night. The tower was lit by soft blue lights, her favorite color.
Truth be told, the tale of the House of Blue Lights begins with a millionaire named Skiles Test. The brilliant but eccentric Test constructed his house out of glass block and white tile, and the whispers that followed him alluded to madness. The masterpiece of the millionaire's strange house was the giant glass swimming pool, which was lit from underneath with rows and rows of bright lights. One could see it glowing at night through the windows, always burning brightly.
Test was, so the story goes, deeply devoted to his lovely wife. Tragically, she met an untimely end under mysterious circumstances and Test fell into a deep depression. He refused to let the body of his beloved leave the house they had shared and could not bear to face life without her. So he had a glass coffin built and placed it in the living room. He dressed her in a formal blue gown, as blue was her favorite color, and placed her in the glass coffin, her final resting place. He left the coffin in the living room, which had three wide picture windows so his wife could look out at the peaceful surrounding woods.
But Test didn't end his tribute to his mate there. He places blue lights throughout the living room to forever light up her presence, and decorated the outside of the house and the thick fringe of trees on his property in bold blue lights as well. He replaced the pool lights and all of the flood lights outside with blue bulbs. As the house was made up largely of glass, it glowed late into the night and drew whispers and curiosity from Test's neighbors.
Residents of the sleepy town would drive by the mansion at night just to get a glimpse of what they had dubbed the "House of Blue Lights." Some claim they watched at night as Test placed a chair beside the body of his wife and ate his dinner and shared his day with her. The stories began to spiral out of control when tongues began wagging about being shot at by the crazed millionaire.
Test and his dead wife soon began to attract more visitors and spies than just the neighbors. People would drive from all over the Hoosier state just to catch a glimpse for themselves. Some reported hearing the low, mournful hum of quiet music, and some swore they barely escaped with their lives after being chased away by a vicious pack of dogs.
Test finally succumbed to old age and heartbreak in the 1970s. Everything he owned was put into an auction, and his land became known as Skiles Test Park. The large crowd that the auction drew demanded to see the glass coffin, and were told that there was no such coffin in the house-or anywhere on the surrounding grounds.
Disappointed visitors left the auction without the view of the millionaire's doomed wife and her makeshift casket they had come for. But many who were brave enough to glimpse Test's house while he was alive still claim that he was real, his wife was real, and her coffin was real. To this day, some of the park's visitors insist that an unearthly blue glow radiates from the very grounds where Test and his wife built their long life together.
Dubarry Park
3698 Dubarry Rd, Indianapolis, IN - (317) 327-7461
It is said that a little Mexican girl had drowned in the lake within Dubarry Park and was not discovered until days later. Since then there have been reports of a small Latina girl being seen in the vicinity walking around to only disappear when she is approached. It has also been claimed that she has been seen in the playground of the nearby school behind the park.

Webmaster: Some websites, which to include http://www.strangeusa.com, has listed this sighting as:
Fire Station
Old Oaklandon, In 46236
Webmaster: This Fire Station is located in Marion County. I know, I lived down the street from this firehouse for 15 years. As it does look rather spooky sitting there abandoned, all alone, I have never heard of any such tales.
Fire Station
This is in regards to Fire station 12, located at 339 N. Sherman Drive, was built in 1915 for the Indianapolis Fire Department (IFD). It originally housed a horse drawn steam engine and horse drawn hose wagon.
Four firefighters have made the ultimate sacrifice, costing their lives, while stationed at this firehouse.
At unpredicted times of the day and night, strange and mysterious things occur at this station. Shadows have been seen and bay doors have been known to open on their own.
There have been firefighters claiming that they have experienced unusual happenings here. One firefighter said he was choked in the bedroom. Some firefighters have seen visions. Some have heard noises that were unexplained.
On March 12th 1996, IFD took Rescue 12 out of service and closed the station. Old Station 12 is now in use everyday, from 11 AM to 11 PM, by Wishard Hospital's Medic 27. The staff from the Paramedic Ambulance utilize old Station 12 as a place to relax between runs.

Indiana State Fair
There is an abandoned bridge across the street from the Indiana State Fairgrounds, on the east side of Fall Creek Pkwy that takes you to Millersville rd. it has been said that you can hear splashing and gurgling noises below the bridge where a young boy was pushed off and drowned. Supposedly his older brother pushed him off and watched him drown.
Webmaster: That is the freakiest thing. I grew up around that area as my friends and I have rode bikes through there many a times. I can remember us being scared at times from hearing things and seeing things, and to now have read this story . . .
Whoa!!!!!
Indiana Repertory Theatre
140 W Washington St
Indianapolis, IN 46204
(317) 635-5252
In life, the first artistic director of the theatre used to jog around the upstairs mezzanine area when the weather was cold or rainy. He reached his untimely death when his nephew accidentally hit him with a car while jogging outside on a foggy day. To this day, when it rains outside, you can hear floor boards in the upper mezzanine creaking and groaning just as they would if someone were running.
Webmaster: My oldest son works for a Catering Company and works at the Repertory Theatre a lot. When I told him of this story, he had a freaked out look on his face and responded, "That makes sense!" He proceeded to tell me he has on many occasions during rainy weather that he has heard what can only be described as somebody running around up there and has always blew it off to something logical is making that noise.

Indianapolis Athletic Club
350 N Meridian St
Indianapolis, IN 46204
(317) 634-4331
The spirit of a young fireman has been reported. He tries to wake up guests in the middle of the night. There was a fatal fire at the hotel in the early 90s, in which a young firefighter died.
Webmaster: My Wife and some of her friends used to work at The Indianapolis Athletic Club. They have heard stories of the place being haunted from staff members, yet my wife or her friends have never experienced any hauntings.
Indianapolis City County Building
200 E. Washington St.
Indianapolis, IN 46204
317-327-4MAC (4622)
During the first years of construction on this building, a special elevator was erected to move court witnesses to different floors of the building. In the 1960's there was a witness in a mafia trial being escorted to the courtroom, when a hit-man dressed as a policeman shot and killed the witness in the elevator. After this, the elevator's power turned off and it was no longer used. People have reported hearing the elevator moving through the floors, a gun shot, followed by screams. There have also been a few reports of people seeing the ghost of the witness or the shooting victim wandering the halls of the building.
St. Joseph 's Old Abandoned Catholic Church
1375 S. Mickley Avenue
Indianapolis, In 46241
St. Joseph's Catholic Church is said to be haunted, though the building itself is now abandoned. There have been reports of hearing people walking around inside the church and hearing things moving when the building is empty. There are also stories of people seeing blood appear on their hands.
Edgewood River
Sounds reported of a drowning boy slashing and screaming for help.
Webmaster: There is no listing of a Edgewood River in Indianapolis, let alone in Indiana for that matter.

Magic Moments Restaurant
1 N Pennsylvania St # 1300
Indianapolis, Marion County, IN 46204-3112
Phone: 317-822-3400
The top floor of the 1 Pennsylvania street, where MagicMoments now stands is said to be haunted by several firemen that died in a fire here, and some or all of them are said to haunt this restaurant.
Patrons and employees have seen odd things like table settings move by themselves during the night glasses are taken from tables and set on the floor right side up. Cold spots are everywhere. The office side seems to give a bad vibe.
The building itself was the site of boxing matches or at least that's what the legend says. As these matches were unlicensed and illegal, it was common for boxers to die in the ring and some say their ghosts still haunt the building.
Marian College
Stokely Mansion
3200 Cold Spring Rd
Indianapolis, IN 46222-1997
(317) 955-6110
It has been claimed that an apparition of a man walking a dog has been seen within Stokely Mansion, along with an apparition of a brunette woman running out the side porch door and jumping into an awaiting carriage. People have been gently pushed off the dog walk, chills forbidding feelings also noted. There have been sightings of Gondolas running without water under them and people having tea in the Japanese Tea House in the middle of the night.
A former employee of Marian claims that Allison Mansion, Stokley Mansion, Clare Hall and Fischer Hall are all haunted and that there have been deaths in all those locations.
Stokley: The former employee claims to have seen a full body apparition (no head) in the room left of the foyer, heard doorbells ring that have been disconnected from electricity, knows of a police dog that would not go up the stairs to the third floor. Original owner Frank Wheeler committed suicide there in the main bedroom's bath with a shotgun to the head.
Allison: The former employee claims a nun used to collect keys. Although deceased, she still playfully hides them.
The former employee claims they know who haunts the bedroom; Mrs. Allison, and the old billiards room; James Allison. See James A. Allison Mansion
James A. Allison Mansion
The Allison Mansion is located on the near-northwest side of Indianapolis at 3200 Cold Spring Rd on the grounds of Marian College.
on Cold Spring Road between 30th and 38th street. Take the northernmost entrance into Marian College
The grounds are open to the public daily dawn to dusk.
317-955-6120.
A part of Marian College campus, the Allison Mansion is an old glorious mansion. Built between 1909-1911, it was James & Sarah Allison's summer house.
James Allison was one of the most important automobile entrepreneurs of the early 20th century. He was the co-founder of the Prest-O-Lite Company, which produced the first efficient headlight for early automobiles and helped develop the suburb of Speedway.
The mansion is said to be haunted by James' first wife who died there. Things have been known to regularly disappear from the mansion.
After Marian College acquired it from the Allison estates it was put to good use as a college building. The attic was the sisters dorm, the students lived in the old garage and classes took place in the rest of the building or the greenhouses. From the time the mansion was used as a school to the present (as a conference building) strange occurrences have taken place. Keys missing, objects moved, the library room completely rearranged - furniture not just books. Strangest thing - the basement has an indoor pool in it. The pool is where a baby crying has been heard. A Legend is that the Allison's had a child and the baby drowned in the pool. (The baby was not the Allison's but could have been that of a servants.)

Milano Inn
231 South College Avenue
The Milano Inn has reports of seeing an apparition and noises are heard.
The Milano Inn opened in 1934 by Joe and Mary Modaffari. The couple passed away in the mid 70's passing it on to family members who let it decline.
Leo LaGrotte took over the building and made renovations. The renovations did more than upsize the restaurant; it unleashed something that had been lurking unnoticed in the space.
Staff members claim they are afraid to be alone upstairs as they feel they are never alone and being watched by someone or something. Some staff mentioned of flickering objects that appear and disappear in full view. Some claim to have seen dark shadows that move in the hallways behind the bar. Whistling, glass crashing and footsteps have all been heard in the empty upstairs rooms.
A psychic once visited the establishment and said they felt that Mary Modaffari was still looking over her beloved restaurant and that she is the one watching over workers, moving things around and showing her disapproval if she believes anyone is slacking off.
Another explanation is said that many years before the building was a restaurant it used to be an apartment complex and a young lady named Mary lived in one of the apartments upstairs. One night a fire broke out and engulfed the upper floor of the building. Many had tried to escape by the landing door but it was warped from the heat of the fire. The lady banged on many doors and called for help to no avail. Mary panicked and threw herself against the landing door which would not open; when flames caught her long nightclothes on fire. People outside could see Mary with her gown in flames and running from room to room looking and crying for help. She then disappeared not to be seen of again.
A local Ghost Group performed an investigation at the Milano Inn to discover evidence that poor Mary is still wandering the premises. The group got several EVP's (Electronic voice phenomena (EVP) which are sounds found on electronic recordings which resemble speech) with whispers and sounds of chocking, the name Mary and a faint voice saying, "It hurts." One of the Ghost Group members tells of an incident she had with feeling her throat closing up, smelling smoke and feeling faint in the smaller back banquet room.

Paul Ruster Park Cemetery
11300 E Prospect St
Indianapolis, IN 46239
317-327-0143
Rumor has it that, long ago, a small boy was run over and killed while playing on some nearby train tracks. They say you can still hear his ghost playing his beloved harmonica in the woods.
Post Road
Supposedly in the vicinity of Post Road, German Church Road, 30th street and / or of the 4000 block, a group of kids were speeding when they hit a bump sending them off the road and into a tree; killing them all. Now it is claimed that when you turn on the street your car will cut off and won't start back.
Webmaster: Does anybody know this exact location? Contact me!
The Slippery Noodle Inn
372 S Meridian St
Indianapolis, IN 46225
(317) 631-6968
The Slippery Noodle Inn, Indiana's oldest bar and home of the Blues in Indiana.
The Noodle has a rich history including a link to Union Station by many secret underground tunnels helping to form the Underground Railroad. The Brady & Dillinger gang hung around at the tavern. The back music room used to be the livery stable.
The back inside wall was used for target practice and you can still see the bullets imbedded in the brick wall. The upstairs of the front building was originally built as a luxurious road house for railway passengers. Later years saw it used as a whore house with 23 small rooms The Noodle is the oldest commercial building left standing in Indianapolis and the Tremont House sign painted on the north side of the building dates back to the 1850's
It was once part of the Underground Railroad via a narrow passageway through the basement and many sightings have been seen of a large black male in overalls in the basement storage area. Also, as the top floor was once a brothel in the 1800's a woman who worked there was shot and killed in that portion of the building. She also has been seen and heard roaming the hallway. It has also been claimed that a fire broke out in the basement killing some slaves, who were then buried in the basement. There are also claims of s child that was a stillborn in second floor bedroom.
Some say they have heard noises from the basement, choking sensation, along with strange smells from second floor bedroom.
Tuckaway House
George and Nellie Meier haunt this house that was once their home.
Located just southwest of Watson-McCord, the Historic Meridian Park neighborhood has its own ghost at The Tuckaway House, located at 3128 North Pennsylvania Street, set back from the street behind a tangle of bushes. The home is said to be haunted by its former owners, George and Nellie Meier.
George Phillip Meier was a fashion designer of some reputation in Indianapolis and on the continent.
Nellie Simons Meier made her international reputation reading palms.
At night, the current owner says that downstairs area can sometimes fill with a ghostly mist and that you can hear cocktail laughter and tinkling on the piano.
Tuckaway sits within the Historic Meridian Park Neighborhood just a few miles north of bustling downtown Indianapolis. The home is still nestled away in the trees much like when Nellie fell in love with its quiet charm.
Waterbury Neighborhood
Waterbury is a highly desirable 59 dwelling condominium community in Indianapolis, Indiana, located just south of 96th Street on the city's northwest side.
Property Manager: Keith Graber
Waterbury Co-Owners Association, Inc.
2901 W. 96th Street, Indianapolis, IN 46268
Phone 317-228-9570
There is a condominium in which an elderly lady died. One of the current residents, the son of the family, reports voices, objects moving, screams, bumps, knocks, footsteps, growls, bodiless shadows, electronics not working, candles going out, hot and cold spots, strange feelings, animals sensing something not there, strange dreams, the bed shaking, doors opening and closing, an orb once caught on digital photo, strange lights, and the strong smell of lilac. These have been reported around the house, but an overwhelming amount of the experiences have taken place in the son's former room. This room, strangely enough, is not the room the elderly lady died in. She still haunts him in the house from time to time. No one else has reported any disturbance, but they believe that they happen.

Hanna House
3801 Madison Avenue
Indianapolis, IN 46225
It is privately owned, so the privacy of the owners must be respected.
The Hanna House was built by Alexander Moore Hanna in 1958 by Alexander Hannah, a highly reputable member of the Indianapolis community.
Hannah House is described as a "stately red brick mansion," perfectly suited for the Indiana State Legislator, Alexander Hannah, who built this 24 room mansion that has two floors, an attic and a basement. This mansion was built in 1858, making it a pre-civil war era.
Hannah had a strong moral belief against slavery and thus put his home on the Underground Railroad to aid in the escape of slaves. His basement served as a rest stop for slaves making their move to safer areas. Tragically, one night when a large number of slaves were resting in his basement a lantern tipped over trapping everyone in the basement. While the fire was put out quickly it proved not to be quick enough for those in the basement as they perished, becoming the final resting place of the slaves.
While the fire was being put out, the source of the blaze had to be kept hidden and the fact that the house was an Underground Railroad station had to be covered up. The dead slaves were buried in simple coffins in the basement. Many believe that this is the reason that no one knew the source of the haunting for so long.
The apparitions of slaves in the basement hiding, a woman who stands near a window on the 2nd floor, and a black frocked bearded man have been seen within the walls of the home. In addition to chandeliers and picture frames that move on their own and a piano that has reportedly played a few notes only to discover that the piano was "locked down" has been witnessed by many.
The sickening smell of rotting flesh on the 2nd floor has been attributed to the still born death of their child. Doctors induced the early birth of their child because the baby had died inside the mother and was beginning to decay creating a health risk for her. Some reports claims of blood on the ceiling and feelings of dizziness.
In the basement, where the ghosts of the slaves are presumed to be, there is a rat's maze for Halloween time. Some of the people who have set foot in the doorway of the maze turned right around and went out.
A visit to the Crown Hill Cemetery to where Elizabeth & Alexander Hannah are buried, one will find a small, unmarked, infant-sized gravestone in the family plot, with only a single date etched in the stone.
In 1962, David Elder took the responsibility of care-taking the place, but didn't live there. From 1968-1978, Mr. & Mrs. O'Brien moved into the mansion.
David Elder was the first one to suspect that the place was occupied with unseen residents.
1) While working about the mansion, doing various upkeep chores, he suddenly heard a terrific crash of breaking glass, like jars breaking into a million pieces, resounding from the basement. He rushed down to the basement, and found nothing amiss at all. He then noticed the fruit jars that were being stored in the area where the slaves that were killed in the fire were buried so many years ago.
The second floor bedroom, where Mrs. Hannah gave birth to a still-born baby was normally locked up and used for storage. However, it seems to be a center of supernatural activity.
2) Occasionally, the horrid smell of rotting flesh emanates from this room, strong enough to gag the living, and make them run for the outside.
3) From the same room, the strong, sweet aroma of roses permeates the air.
4) The door to this odor emitting room freely swung open at will, even when the room had been securely locked.
5) When the door did open up, other unexplainable manifestations happened. The living heard strange noises, footsteps of the unseen, mumbling voices, felt cold drafts in places where there were no sources for them, and saw other doors and windows open and close without help from the living. A painter who was hired to spruce up the place had the unnerving experience of having doors swing open and pictures slid from their moorings as he walked by. The painter had had enough and fled after a spoon that Mrs. O'Brien had put on a tray flew across the room.
The O'Brien family were treated to the full treatment of occurring manifestations, as well as seeing an apparition several times as well. Activity increased greatly after the O'Brien family moved in.
6) Early one evening, while the antique shop on the first floor was still open for business, Mrs. O'Brien looked up toward the second floor, and was startled to catch a glimpse of a man in a black suit who was walking across the upstairs hallway. Thinking it might be a customer, who had wandered onto the second floor by mistake, she went up the stairs toward him to guide him back down to the shop. When she reached the top of the stairs, the man had vanished into thin air.
7) Because the original house painter fled, Mrs. O'Brien's son volunteered to finish the job. On his first night, he felt that he was being closely watched by an unseen presence, which was a very uncomfortable feeling. So, on the second night he brought his wife and two little daughters to keep him company, as well as help with the painting. While three of them worked in one room, the youngest little girl played on the stairs. They heard the little girl talking with someone, and came out to investigate. She showed no fear, and was talking to a grandfatherly type man, which she could see, and her family couldn't see. The rest of her family watched her carry on a conversation, mesmerized. Then, the little girl said that "Dad" was climbing back up the steps. Totally spooked, the family left promptly.
8) Mr. O'Brien also saw a transparent, apparition who was standing in an archway on the stairs. He was wearing an old fashioned, black suit, and had mutton-chop whiskers. He melted away before Mr. O'Brien could reach him.
9) Despite the fact that the staircase leading to the second floor was carpeted, the sound of footsteps of varying loudness, along with rustling clothing could be clearly heard.
10) Mr. O'Brien also witnessed the door to the attic open by itself, after the handle deliberately turned by itself.
11) Loud groans from somewhere down the second floor hallway were heard by Mr. O'Brien one night as he was watching TV in one of the upstairs bedrooms. Annoyed, Mr. O'Brien yelled down the hall, scolding the ghost to stop it's "bellyaching" and leave them in peace. By 1972, the ghostly activity had stopped completely. For the time being, they had accepted the living in their house.
From 1980-'82, Hannah House was used as the annual haunted house project of the Indianapolis Jaycees. They would take kids on a tour of the spooky old mansion, with special scary effects added for entertainment.
12) While taking a break from the project, the coordinator and fellow workers were sitting in the summer kitchen, which was located right next to the staircase used by the servants to go up to the second floor, many years ago. Suddenly, loud scratching sounds were heard coming from inside the staircase landing wall. Despite quickly moving to investigate, the source of the noise was never located.
13) One evening, while listening to the spooky sounds coming from an installed stereo unit, the coordinator and a friend, who were the only ones in the mansion, were puzzled when the sounds suddenly stopped. Investigating the trouble, they found that the on/off switch to the unit had been deliberately pushed to the off position. Awhile after restarting the unit again, the off switch was again activated. The only explanation is that some annoyed entity took matters into his/her own hands and stopped the sounds.
14) October 1981 - A TV crew went to Hannah House to film a segment on the Jaycee's Halloween House. A cameraman stood in the dining room doorway, planning to get a shot of the room from that point. After he commented about that wouldn't it be unnerving if the room's chandelier would start to swing, the chandelier started to swing in a six-inch arc. After investigating, the swinging chandelier had no reasonable cause to make it do so.
15) A psychic, Allene Cunningham, was brought by the crew into the mansion on the same day. She felt cold spots and presences in the house.
16) At the end of the filming of last shot, the cameraman stood in the dining room doorway, to film the host of this Halloween segment who was standing in front of a propped up coffin. Suddenly, a picture hanging on the wall above the coffin fell down with a crash. After seeing that the nail was still in it's upward position, and the string in back of the picture wasn't broken, it was deducted that something had to deliberately lift the picture off the nail. Some unseen entity was up to the old tricks, to try to scare the living, and let them know that ghosts were there as other strange activities, such as moving chandeliers and picture frames, and unaccountable sounds, have been witnessed by television crews investigating the grand but spooky house.
Still Haunted?
Yes.
1) The apparition of Alexander Hannah and that of an unidentified woman have both been spotted on the second floor.
2) Various apparitions of slaves have been seen still hiding in the basement.
3) The moving of objects and unaccountable sounds still occur in front of the living.

Inwood
located in Marshall County
The Granary
It is said that if you go to the granary in mid day there will be an old farmer dressed in white overalls and is very pale in the face. He will tell you to get out. He is supposedly protecting the granary from kids vandalizing it.
Webmaster: Does anybody know of this exact location?
Contact Me!

Irvington
located in Marion County
Irvington Historic District Located five miles east of downtown and founded in 1870, the Irvington Historic District has had several occurrences.
Some have claimed that if you spend the night in Irvington you may experience several things. Some people, when they are sleeping, have reported waking up and feeling that someone else is in the room. Sometimes you will even see a young man. Also strange smells and sounds have been heard and feelings that you are not alone when in fact you are.
The Thomas Carr House, currently the Irvington United Methodist Church, which resides on a circle surrounded by several smaller homes. The Thomas Carr House was the prior residence of slave owner, whose slaves and maids lived around him in the smaller structures. When walking by the church/house, located at 30 North Audubon Road, people have often seen the former slave owner either on the roof or somewhere on the grounds at sunset.
The Pitezel House, located at 5811 Julian Avenue, is the site where serial killer HH Holmes murdered a little boy by the name of Howard Pitezel in 1894. The current owners of the home have experienced a number of strange events, including muffled voices, frigid temperatures, and physical appearance of several spirits. It is believed that two benevolent female spirits reside in the home. One of them keeps little Howard's spirit upstairs. An "evil spirit" haunts the east side of the property near the cottage that HH once rented solely to kill the 10-year-old boy. A benevolent spirit keeps him at bay.
JASPER COUNTY
Devils Road
A long time ago on these train tracks a bus load of kids got hit by a train, leaving all of them dead but the driver of the bus, so he went crazy and shot himself while standing on the tracks, some say that if you go and park your car on the tracks, put your car in neutral, the kids will push you off the tracks, some have even seen the glowing headless man walking towards their car from the tracks, and then disappear.
Shiloh Church
Webmaster: these are the 2 listings for a Shiloh Church in Jasper Indiana
off W Shiloh Road (4048) Located 112 feet off of an unknown named road
Shiloh United Methodist Church
1971 W. State Road 56
Jasper, IN 47546
Legend claims that an entire congregation was once trapped inside the church during a fire and died. The ghosts of those worshippers now haunt the building.
Dunkirk New Corydon New Mount Pleasant Portland Redkey

Jeffersonville
located in Clark County
Census Bureau - Warehouses
Late night security have reports of radios turning on, while not plugged in. Boxes of paper have fallen within feet of security staff from as high as 10' (pushed off of a shelf). Supposed holding camp for Germans during WW II, occasionally one can hear German speaking in the warehouses.
Jeffersonville High School
In the Auditorium, there is said to be a woman who lurks, even when more than 10 people are in the room. Things get moved, and people have gotten hurt. Also, when the building was being built, a construction worker was killed by falling off of a ladder. Sightings of him have also been reported.
Jeffersonville - Clarksville border - Colgate Palmolive factory -
See Colgate Palmolive factory here

Jerome
located in Howard County

Jerome cemetery
Co. Road 150S & 1010E
Jerome, IN
This medium sized cemetery is surrounded by trees & is well-hidden. It is on the east bank of the Wildcat Creek and just west of Jerome.
If you drive along the graves through the old fence, stop and turn your car of on the bridge and then get out of the car you will see a flashing light blinking from inside your car. If you walk down to the creek you can here things which included the sounds of a drum beat. It is said that you can see things like an old metal swing. Also strange noises and a man in a black cape accompanied by two large black dogs can be seen.
Note: Perhaps this last haunting of a dog is from the fact that at one time the cemetery was guarded by a man and his dogs, and for some odd reason haunts the grounds to this day as it is very rare that animal hauntings exists and when they do they are usually accompanied by a human ghost.
On the dreadful side,
The dog could be a manifestation of a non-human demonic entity.
Furthermore graveyards are known to attract paranormal activity, and it appears that malignant entities relish in the presence of grief, sorrow and decaying bodies.
Aggressively behaving entities can bring harm to a living person, especially if it's an entity of demonic origin.
There are claims of Occult/Witchcraft related activity within the woods outside of Jerome, which might support one posters theory of this dog being summoned.
Not only is the cemetery haunted, but so is the bridge.
There use to be a Satanists church in Jerome where they would perform human sacrifices underneath this bridge. It is said that they were sought out by a group of Christians and killed, along with burning down the Satanists church.
Bargersville Edinburgh Franklin Greenwood

Jonesboro
located in Grant County
J.C. Knight School

There is an old school located on 12th and main st. There are many stories about what happened at this school. One is that a janitor hung himself in the old gym and the other is that a cheerleader was murdered here. Whatever the truth, people know that this school is haunted. When you go to the school you need to enter the circle drive and stop at the old building. Above the doorway it says KNIGHT SCHOOL. When you shine your headlights in the windows you can see a white light. You then need to wait and the light will turn red. You can also get out of the car and look directly in the windows. It varies what you will see.

Kendallville
located in Noble County
Websites out there have a listing of:
Church on the corner of Michelle and Riley St.
Upon investigation there is no Michelle Street, road, etc. in Kendallville, Indiana. However there is a church located at the corner of Mitchell and Riley St.
I believe this is the church they speak of:
Restoration Lutheran Church
500 E Mitchell St, Kendallville, IN - (260) 343-0908
Church on the corner of Mitchell and Riley St.
It is said that while inside the church, you can hear footsteps going up and down stairs, people's faces in mirrors, cold and warm spots, and things that touch you. People have said that while inside the church, you can hear scratching on the walls, and then see marks left behind. There are tall, dark figures that move chairs, and sometimes throw them at you. More serious stories claim that people have actually been hurt by an unseen person inside the building and being chased outside. Strange cuts that appear on the arms and legs, and bruises left on the stomach. If you stay in the kitchen downstairs by yourself, you should see a dark shadow start getting closer to you, and then chase you up the stairs. By the time you get up the stairs, it's gone.
UPDATE: June 20, 2012
Sent in by Lori Fuelling
NEIPIS Founder
Visit them at www.neipis.com
I stumbled upon your site and wanted to let you know that the Church on Mitchell and Riley is not haunted. My group investigated the church to assist them in the removal of their facility from such lists. We did 80 hours of investigating and found no activity, and were able to find rational causes for all the claims. Also every time a their listing was removed from a site, within a week it was re posted, due to the person who began this story was a person of their church that was asked to leave. It is her way of getting back at them.
All they want is to have services and a growing following without people interrupting the services with paranormal equipment. Too long this church has dealt with this pain and they really just want to grow in the community.
The Strand Movie Theater
221 S Main St, Kendallville, IN - (260) 347-3558
The Strand is said to be haunted by one of it's previous owners. There have been multiple sightings of the man. First there was a woman cleaning the theater one day with her 3 and 5 year old children running around. As she was cleaning one of the theaters she heard her children screaming. She went to see what was going on and they both told her that there was a man at the top of the stairs (the stairs that led to the balcony). The woman called one of the workers in and he asked the kids what the man looked like. They gave him a very elaborate description. A few days later that same worker was closing up after the shows and was making sure the emergency exits were closed. As he walked out of the hallway to the one exit he looked up to the projection room and saw a man duck his head really quickly. The man fit the same description the 3 and 5 year old children gave just days before. He ran immediately upstairs; the only way to get to the projection room and there was no one to be found. About a week later a man came along and bought The Strand and the worker noticed this man looked very familiar. He talked to the man and found out that the man's father used to own The Strand as well and killed himself in the projection room years before. I heard this story from one of the workers at the theater now; the same man who saw the ghost when he was a teen working at the theater. The ghost has since been spotted watching people through the projection room window, but ducks immediately upon being spotted.
East Noble High School
901 Garden St
Kendallville, IN 46755-2299
(260) 347-2032
If you are in the boy's gym you may see a man walking beside you or watching you from the bleachers. Also there was a girl that died in a science room. Janitors turn the tv off and come back and it is on MTV they turn it off again come back and it is on MTV again.
UPDATE: June 20, 2012
Sent in by Lori Fuelling
NEIPIS Founder
Visit them at www.neipis.com
. . . this location is very active. The girl that died in the Science lab was Wendy Rhodes, she was the daughter of the ENHS Principal Gene Rhodes. Cause of death was carbon monoxide poisoning. She was 16 years old, it happened on a Sunday afternoon, March 11th 1979. Wendy went in to check on a lab experiment they found her a few hours later when she failed to return home. I have spoke not only to students but current faculty that tell of TV's turning on in the middle of class to the music channel, it was one of her favorite things to watch. She has been seen at various events, especially any type of school dance activity. She is buried in Lakeview Cemetery, section MP, lot 136.

Kewanna
located in Fulton County

Kewanna & Fulton Cemetery
Webmaster: The only cemetery that borders Kewanna and Fulton is Fulton Cemetery Along Main Street / 25 and County Road 700 S
It is said that there is a cemetery in between Fulton and Kewanna. There have been many reports of stabbings shootings and strange things happening in this area. It is said that a few years ago, a mans grave was vandalized by teenagers and the man who was buried there is said to now guard the cemetery. He and his wife were buried together as they died in a fatal car accident over 40 years ago.

Kingsbury
located in LaPorte County
Haunted House
An old farm house that no one has lived in for many years is haunted by a man with an axe walking around. Many strange noises are heard from this area.
Webmaster: Does anybody know this exact location?
contact me

Kingsford Heights
located in LaPorte County
Old Military Base
KOP which is located off of highway 35 going towards Kingsford heights is an old military base. Supposedly it's haunted by soldiers. There's a tree you can see a man hanging reaching out to you.
If you go there be careful as people say there's still old bunkers back there and live mines. So if you lose an arm or leg, or worse, please don't sue us. You have been warned.
Webmaster: The Kingsbury Ordinance Plant (KOP) is located in what is now known as Kingsbury, Indiana. It started producing shells, cartridges and mortar rounds in 1941 for use in the European and Pacific theaters of World War II. More than 13,000 acres were set aside for the facility. By May 1942, there were more than 20,000 employees working at the site. The small towns of Kingsbury and Kingsford Heights were created to house KOP workers. After the war ended in August 1945, the plant began closing, but it was briefly reopened in 1951 due to the Korean War.
The town never reached the planned potential and became a ghost town after WWII when KOP closed and workers moved on. The remaining families literally bought the town.

Knightstown
Located in Henry County
Morgan House (aka "the Pest House")
7014 W.County Line Road
Pest House at Knightstown is where they housed all of the smallpox patients of 1902. It has also been claimed that it was used as an insane asylum as well as a treatment facility for small pox. It is rumored to have many unmarked graves on the site too.
In the summer of 1902, Knightstown, IN had an outbreak of smallpox. It was considered severe enough by the board of health, and the county commissioners, that the entire town and vicinity was quarantined. No one was allowed to enter or the leave the town for any reason.
This house was a quarantined place to put people during this outbreak of small pox. The death rate there was extremely high, and many ghosts are said to still live there. A local historian reported visiting the house once and being greeted at the front door by a "strange-looking" woman. She told him, without being asked, that no one was home and closed the door. He knocked for several more minutes and was about to leave when the owners pulled in. Upon relating the story to the owner, they all checked the house thoroughly and never found her. Several other incidents have also occurred there.
Webmaster: More misinterpreted information from www.strangeusa.com (http://www.strangeusa.com/ViewLocation.aspx?locationid=3291)
They claim that there is blood sprayed all over the walls. Names of who have death coming to them, and a bathtub surrounded which looks of blood.
This story is one of it's own as it is listed below . . .
The White House
Blood sprayed all over the walls. Names of who have death coming to them, and a bathtub surrounded which looks of blood.
Webmaster: Does anybody know this exact location?
contact me

Kokomo
located in Howard County

Adams mill
Adams Mill is located between Lafayette and Kokomo Indiana.
Adams Mill is:
South of State Road 18 and North of State Road 26.
1/2 mile East of Cutler to County road 50 East.
North on 50 East 1/2 mile.
It is said that if you go past the mill and go to the bridge and go across it and stop your car get out you can see people walking down the river.
Seiberling Mansion
1200 W Sycamore St, Kokomo, IN - (765) 452-4314
This has long been a place known for ghost sightings. They offer tours of the mansion and many people have stated that they have seen ghosts in many of the rooms. One sighting was of a woman sitting in a rocking chair in one of the upstairs rooms.
Carter Road
Carter Rd. & 400 North
There is an old house sitting on the north - east corner, where once known an old man and his mother lived. Later she died, and he left the house because of the spirit of her. Reports of something knocking on cars, apparitions and orbs seen around the house and in the windows.
Webmaster: Could not find a listing for a Carter Road in all of Howard County. Did find a Carter Street in Kokomo, which is the same as Country Road E 50 N
Directions from www.angelfire.com/scary/theforce/kokomo.htm
(1)Merge onto I-69
(2)Take the US-35 N/IN-22 exit- exit number 59- toward GAS CITY/UPLAND.
(3)Follow US-35 until you are about 5-7 miles outside of Kokomo
(4)Look for 400 East
(5)Turn RIGHT on 400 East
(6)At the stop sign 050/Carter Road (Carter Street)look to the right corner
(7)End at Carter Road/Haunted House
Old Jacob's Funeral Home
Located in the 1300 Block of South Main Street on the west side of the street. It's an old gray house and it is said that years ago people used the place for a make shift funeral home. At night you can see what seems to be a tiny orb light drifting through the house and if you get close enough an odor comes out of the house that smells like decaying flesh. Black shadows and noise in the old basement.

Satan Church
Several directions indicating the route to Satan Church
To get to Satan Church take 31 (south if coming from north of Kokomo) to 26 W. Follow 26 W to County Road 1100 W turn left onto 1100W. Follow this road to 650N. Turn left on 650N. There is no place to park other than on the side of the road.
Directions from www.angelfire.com/scary/theforce/kokomo.htm
(1)Merge onto I-69
(2)Take the US-35 N/IN-22 exit- exit number 59- toward GAS CITY/UPLAND.
(3)Follow US-35 until you are about 5-7 miles outside of Kokomo
(4)Look for 400 East
(5)Turn LEFT on 400 East
(6)You'll come to the intersection of 200 South
(7)Continue up the road about 1/2 mile
(8)Look to your right, you'll see a small cemetery
(9)END at Satan Church
There is an old boarded up church out in the country close to Russiaville that is been known to be haunted. Surrounding the boarded up church is a graveyard. This graveyard is said to have been used by cults to perform rituals. People have reported seeing glowing red eyes in the church and among the tombstones. People have also reported seeing glowing orbs, and a heavy mist. There have also been several reports of disembodied voices, whispers, and growling noises. The activity takes place in the church, as well as the graveyard.
Gateway Gardens
Webmaster: This is actually Garden Square apartment complex and not Gateway Gardens
Directions from www.angelfire.com/scary/theforce/kokomo.htm
(1)Merge onto I-69
(2)Take the US-35 N/IN-22 exit- exit number 59- toward GAS CITY/UPLAND.
(3)Turn LEFT onto US-35/IN-22. Continue to follow IN-22.
(4)Turn LEFT onto US-31 S/S REED RD.
(5)Turn RIGHT onto E HOFFER ST.
(6)End at 800 E HOFFER ST KOKOMO IN (Gated Apartment Complex on Right)
This apartment complex located on 800 East Hoffer St. is very haunted. It was built on an old graveyard and the bodies were supposedly removed, but with all the weird things that happen around there some aren't so sure. When you are around the apartments there is a strong feeling that you are being watched. Once inside you can see legs walking around, teardrops fall from the ceiling, and strange noises.
This is said to be a high crime rate area. Police classify it as "high risk"

Kouts
located in Porter County
Baums Bridge Inn
1092 Baums Bridge Rd, Kouts, IN - (219) 766-0515
There is an old inn where there is a window that is not boarded that you can look in. If you go there around midnight there is a man in the distance with a very dim light around him. If you look long enough he will get mad and get right in front of you and it will only take a split second for him to get in front of you. It will scare the crap out you.
Webmaster: Under new ownership as of late 2006. It has been remodeled.

Kramer
located in Warren County

Old Mudlavia Hotel
Hotel Mudlavia (commonly referred to simply as Mudlavia, and originally named the Indiana Springs Company) was a hotel and spa built on the site of a natural spring near the town of Kramer in Warren County, Indiana. Harry L. Kramer opened the hotel on December 25, 1890.
The building was destroyed by fire on February 29, 1920.
A smaller building was constructed in the 1960s and was operated as a rest home called "Pleasant Valley Lodge". It burned in 1968.
It was supposedly an old hang out for gangsters like Capone, Dillinger etc. The hotel was built on a lot filled with geothermal activity. This means it had incredible baths and spas and saunas and what not. Supposedly John Dillinger came there with his some of his friends to take a little break from a heist he had just pulled. When he was there he was set up and almost killed, but instead he escaped. All of Dillinger's friends died that night and to this day you can hear parties coming from the hotel from blocks away, even though people go back there and search the house and do not find a single person at the house. Other Stories we have also heard are: It was never a hotel, it was actually an asylum for the criminally insane, when it was built it burned down shortly after it opened killing all the patients in the fire, it was rebuilt, but shortly after being rebuilt it burned down a second time again killing all the people inside. It was never rebuilt after that. We have also heard that the building used to be five stories (three of which where basement sub levels) which all contained mud baths and sauna's, but when the hotel closed down the up most basement level was filled with rocks and dirt, but the other two floors are still open (but with no way to get to them.) The last rumor was given from some kids that had recently visited the hotel. The told us they where on the upper most floor and saw that they could jump from the window over to the roof of the boiler room. They took turns jumping from the window to the roof, when the last guy was still in the building getting ready to jump he got a feeling that he shouldn't, but as he was climbing from the window back to the floor he felt a hard shove in the back and was thrown from the building to the roof (but he was the only one left in the building.)
It is now said that on some nights you can here the spirits having parties' blocks away from the hotel and at all times there is some creepy stuff that goes on, such as voices. When it was in use, people reported unexplainable scratches on their bodies.
Sometimes you can see them walk from one room to the other. However, some people believe that the owners like to play pranks on people and that the hotel is not haunted at all.
Authorities speculate it is the site of witchcraft ceremonies and pagan rituals as it is riddled with satanic graffiti.

LaCrosse
located in LaPorte County
Phegley Highway
Some say they seen a light moving slowly on the railroad tracks with two men behind it they've never harmed anyone they just pass by at a certain time at night.
Webmaster: There is no listing for a Phegley Highway in LaCrosse, Indiana, or anywhere in the United States for that matter.

Lafayette
located in Tippecanoe County

Harrison Cemetery
Listed again in West Lafayette
Harrison Cemetery, also known as St. Joseph Cemetery or Lafayette Catholic Cemetery. This site has been notorious for ghostly experiences. Some visitors say they feel like they're being followed or watched whenever they go to pay their respects. Gravestones have also been said to move around the cemetery, appearing in different spots from time to time. Shadows can be seen stalking through the site and distant voices are occasionally heard. Most disturbing at Harrison Cemetery is the personal and strangely violent nature of the residing ghosts. Visitors have had things thrown at them while in the cemetery, and some have even felt the touch of hands. The cemetery is located directly behind William Henry Harrison High School at 5701 North 50 West in West Lafayette.
Pythian Home
1501 S. Eighteenth Street, Lafayette, Indiana
Update 08/08/2013 NO LONGER EXISTS
In November, 2004, the superintendent of the Lafayette School Corporation announced his opinion that the building should be demolished, despite the fact that it is in very good structural condition. It had been inspected after some individuals suffered from health problems after being exposed to debris in the neglected interior. The health problems relate to bird droppings, resulting from birds getting into the building because of its neglected state. This provides the excuse that LSC has been looking for; a reason to demolish the building so the site is vacant real estate. Letters to the Editor of the Journal and Courier have expressed much disapproval of the proposed demolition. However, if the community is not vocal about the importance of Pythian Home, a great asset of our city will be lost to short sighted management.
Jul 26, 2011 A Lafayette landmark is one step closer to being torn down.
Oct 25, 2011 The Pythian Home was demolished and crumbled to the ground Tuesday afternoon.
Old Pythian Home, an old orphanage/nursing home transformed into a Haunted House by students from Jefferson High School.
Amid the elaborate decorations and talented actors, there is something that makes the Haunted House at Lafayette's Old Pythian Home even more frightening; rumor says the house is actually haunted.
For the past several years, members of Jefferson High School's elite choir, First Edition, have transformed the old orphanage/nursing home into a spectacular haunted house. However, as many of the high school students and staff will report, they only add the decorations, the ghosts are already there.
The building's mysterious history and physical presence have fueled rumors for years about unexplained deaths and looming spirits.
The center of the large structure served as a nursing home, and the two wings at the east and west ends served as the boys' and girls' orphanage when it was built in 1928.
Apparently, the home was packed with residents during the Depression and later became only a nursing home. However, the home mysteriously closed down years ago, and the Lafayette School Corporation bought it.
One of the staff claims there is a door at safety station 13 that leads to the attic that is supposed to be closed off to the tour; however, it seems there is a spirit that does not want that door shut.
"We've tried everything to keep that door shut, but every time that door to the attic always opens."
In the hallways of the mansion is a huge old safe that weighs more than 600 pounds. It would be almost impossible for even a few men to move the safe any distance. However, many people have seen the safe move.
There are many things that happen in there from lights turning on unexpectedly, to hearing footsteps, and even feeling something brush up against you. One of the stories is, there was a murder in one of the bathrooms while other reports are that a resident of the nursing home had hemorrhaged to death in her bathroom one night. When the body was taken out, three women went in and cleaned it up. One of the women knew the girl that was murdered and she went back to pay her respects. When she walked into the room, she found it exactly as it was before they started cleaning. Now around the time of the anniversary of the girl's murder, all the gore returns. There still is no use cleaning it up. It still comes back.
Baby Alice
Baby Alice, the doomed "lady of the night" who died a mysterious death back when the brothel she worked for was thriving. To this day, the story of Baby Alice continues to earn Lafayette the reputation as one of the most haunted places in Indiana.
Back in 1875, Baby Alice died due to "congestion of the lungs, produced by debauchery and exposure," (a direct quote from the newspaper article on her death). The paper then ran a story on sightings of a mysterious, dull blue light appearing late at night in the darkened brothel's windows. Occasionally, the light would escape the brothel to roam free in the surrounding yard.
Speculation grew among the townspeople that the strange light was, indeed, the ghost of Baby Alice. But why would her spirit haunt the brothel? Stories began circulating widely, and soon it was believed that the tragic figure blamed the nature of her work for her death, and the pulsing blue light in her hands was actually her heart and lungs.
Those neighbors in the surrounding houses that weren't excited by the idea of living next to a real live ghost were desperate to get rid of her. They tried everything, from magic potions to actually shooting at the vague figure that floated over the grounds. The other women who worked at the brothel became scared for their lives and eventually fled the scene, vowing never to return. The brothel's owner put the house up for sale and claimed it would never again be used for such sinful purposes.
If you make the short trip from Indianapolis to Lafayette now, it's said that the building that housed the brothel no longer exists, and you'll have to look for Baby Alice's spirit there on the street corner. The story goes that when the other ladies packed up and left town, Baby Alice went right along with them. Of course, you'll never know for sure until you stand on the street corner after darkness falls and find out for yourself.

The White Wolf
This powerful tale recounts the life and death of a Native American who never found peace. Head to Lafayette, Indiana to see if he still wanders the grounds where his mortal body lies.
In 1872, one event in particular put Lafayette on the map of the most haunted places in Indiana. The story of the White Wolf is still told around Halloween each year all over the town.
In the 1800s, one of the most influential newspapers in the area was called the Evening Courier. Early in the summer of 1872, the paper published a widely read article titled "Among the Spirits." This story recounted an alleged dark, supernatural experience that occurred in the lives of William Lingle and his friends.
Lingle lived on a spectacular house overlooking the Wabash Valley, and had invited the town judge, a professor from London, and two reporters from other newspapers over for an evening visit. During this lively gathering, the men began to talk of ghosts and other unexplainable phenomena, as all were very interested in the topic.
Lingle's tale of a haunted house that graced the site of an old abandoned yard of bricks garnered the most interest, so the men decided to go check it out themselves to see if they could spot any unearthly spirits or spooks. They arrived at the house after dark had fallen and inspected it carefully for any hidden passages. They found none; there weren't any closets in the crumbling structure.
The men sat amongst the rubble and talked amongst themselves about the ghostly ghouls and goblins they hoped would come out of hiding. Finally, their patience was rewarded-after a couple of hours, a bright bluish light burst into the room. As the men watched in stunned silence, the light abruptly took on the form of a stunning, blindingly white wolf.
The wolf seemed unconcerned with the presence of his visitors, and lifted his head for a long, mournful howl. Then, before his audiences' transfixed eyes, he transformed again, this time into a strange-looking creature that resembled a giant frog. While the men could do no more than gape open-mouthed, the creature took one final shape, that of a tomahawk-wielding Native American, then vanished before their very eyes.
The stunned group made the quick trek back to Lingle's residence to retrieve a metal wand that one of the men had brought along. They then returned to the site that had transfixed them earlier. The professor, who quietly dabbled in the dark arts, drew a large circle in the dirt with the wand and sketched a series of mysterious images inside.
Once again, as the men observed in silent awe, the Native American, fiercely adorned in war attire, rose from center of the circle in a puff of smoke. The professor, to the shock of his companions, began a dialogue with the spirit in a language not known to any of the others.
After several unnerving minutes, the professor turned to his friends and translated that their ghost, in life, had been referred to as "White Wolf." On his right arm was the clear mark of the frog-shaped creature the Native American had become earlier in the night. According to Native American legend, the animal came from western rivers.
The spirit, anguished, told the men of his peaceful burial in a reservation cemetery just outside of Lafayette. Before his spirit could be fully settled, development began on the city and his soul was brutally disturbed by the metal shovels digging into the dirt where he lay.
As two of the men that heard the Native American's story that fateful night were reporters, it became headline news the next day, not just in Lafayette but all over Indianapolis and the Hoosier state. The frightening tale was published in the Evening Courier as well as other newspapers.
The Courier soon received an ominous letter from another resident of Lafayette, who had an employee of Native American heritage. The employee claimed to have conversed many times with the White Wolf, who told him his spirit would never achieve peace until there was a fence built around the cemetery that housed his grave.
The only way to find out for sure if these respected men of the community truly encountered the supernatural is to find out for yourself if the White Wolf exists. Head just outside of Lafayette city limits, on the northeast side of town, and pay a visit to the grounds of Sunnyside Junior High at the end of N 25th street off Cason Street. The school now occupies the space that was once home to the tortured soul of the White Wolf-and might very well still be today.

West Lafayette
located in Tippecanoe County
Cumberland School
The school is located at 600 Cumberland Avenue in West Lafayette
As reported by "The Exponent" on October 24, 2006, Several sightings of a male figure have been reported, seen through the windows of the school. This ghostly man is said to have appeared from window to window very rapidly, a physical impossibility due to separating walls. Nothing more is known about the ghostly man or his reasons for traveling through each room.
Harrison Cemetery / St. Joseph Cemetery / Lafayette Catholic Cemetery
The cemetery is located behind William Henry Harrison High School at 5701 North 70 West in West Lafayette.
As reported by "The Exponent" on October 24, 2006, this site has been notorious for ghostly experiences. Some visitors say they feel like they are being followed or watched whenever they go to pay their respects. Gravestone have also been said to move around the cemetery, appearing in different spots from time to time. Shadows can be seen stalking though the site and distant voices are occasionally heard. Most disturbing is the personal and strangely violent nature of the residing ghosts. Visitors have had things thrown at them while in the cemetery, and some have even felt the touch of hands.
Cumberland School
600 Cumberland Ave
West Lafayette, IN 47906-1522
(765) 464-3212
Several sightings of a male figure have been reported, seen through the windows of the school. This ghostly man has been said to have appeared from window to window very rapidly, a physical impossibilty due to separating walls. Nothing more is known about the ghostly man or his reasons for traveling through each room.

LaFontaine
located in Wabash County
Mississinewa Reservoir forest - Hobbitland
Legend says it is inhabited by evil little hobbits (or demons) who guard the devil worshipers. It is said if you drive back to where it is and turn off your car and get out you can see the hobbits coming after you. They carry lights or it's their eyes, that you can see coming after you.
Webmaster: Sounds like the Pukwudgies legend found at Mounds State Park.
No Hauntings Reported
Cedar Lake Crown Point Dyer Gary Griffith Hammond Highland Hobart Lake Station Lowell Munster New Chicago Schereville Shelby Whiting

Lake Station
Located in Lake County

River Forest Junior High Gym
3300 Indiana St
Hobart, IN 46342-1095
(219) 962-7551
A little boy drowned in the pool where the tennis courts are now and you can hear him in the heaters above the gym and also in the elementary gym which is the building in front of the tennis courts. It is said that the little boy drowned because he was getting his frog.
Webmaster: This is the same basis of story along with the name of the same school found in Hobart - River Forest Junior and Senior High Schools
According to resources :The reason we are getting the same haunting for River Forest in both Lake Station and Hobart, is that River forest Jr high and senior high has a Hobart mailing address, but techinally is in Lake Station. Yes, it's the same place and the same haunting.

Lake Village
located in Newton County
Old Gas Station House
You can hear pounding on the walls while walking in the kitchen and up the stairs you can hear talking. You can see images of people walking, hear loud buzzing noises (only in the living room), and can see bright flashes of light.
Webmaster: Does anybody know this exact location?
contact me

Lakeville
located in St. Joseph County
Haunted House
It is right off of Hwy 31 after leaving the Plymouth exit before you get to the McDonalds. It is on 6C road, passed the trailer park, and around the curve on the left side. The place is now torn down. The story goes that an old woman used to live in the home alone. She was one who kept to herself and led a very lonely life. She was so stricken with grief about her loneliness and the way her life unraveled that she hung her self from the chandelier in her dining room. Located next to the house is a rundown barn where you will find different sorts of tools that may have been used for farming. The place was all boarded up before being torn down and very easy to get into. At the back of the house were double doors leading to stairs that took you into the basement. There were all kinds of trash and old antique items there. You can often hear walking or moaning noises. At the top of the stairs to the entrance of the rest of the house you may hear a door slamming or see a foot of someone or something entering back into the entrance of the rest of the home from the basement, but when you investigate there is no one their. The house was very spooky and gave you chills just when you looked at the place.
Webmaster: If it's not there anymore, why post it? Are the grounds still haunted? Does anybody have any input on this haunting?
Hanna Kingsbury Kingsford Heights LaCrosse Michigan City
Rolling Prairie Union Mills Westville

Posey Chapel and Cemetery
East of Fail Rd. on 1000 N. in Laporte, Indiana
Directions: From Hwy 20 turn North onto Fail Rd. (it will be at a stoplight). Go down Fail Rd. for about 4 miles. You will come to a stop sign and see Heston Bar on the Northeast corner. Turn East and go about 2 miles and you will see the cemetery on the North side of the road.
A century and a half ago a church was burnt down and the preacher hung himself from a tree (as you enter the gate). At night you can see the activity under the pavilion; that is where the chapel once stood. Red eyes can be seen and a red light of some sort can be seen moving through the woods. Also many orbs are seen in this area, you may also hear a woman singing and someone playing a guitar in the background.
It has also been reported that you can stand outside the fence and be fine, but enter the property and your heart starts pounding, etc. Some have seen a ghost of a nun crossing the street. And others see a vague white form on top of the hill that is too large to be a grave stone.
Orr Lake Rd / Hangman's road
On this road, a young couple was driving home from a date when all of a sudden, their car broke down. The young man went for help while the girl sat in the car. When the man returned he couldn't find his girlfriend. He figured she had gone to look for help also. A drop of blood dripped on the windshield and he looked up above his car to find the girl hanging from a tree. People have seen ghosts hanging and weird things in the woods, and, since the site is right next to a swamp, they say it is very creepy. It is a popular place for breakdowns and a lot of people have been killed there by car accidents.
Another legend has it sometime in the 1800's a Doctor and his wife and beautiful young teenage daughter lived on this road. A time of sicknesses with little or no cures. One day the doctor's wife got very sick and within 24 hours she died, then his lovely daughter died a day afterwards. The doctor was not only into healing as he was also interested in preserving as he preserved his wife and daughter. Instead of burying his dead he put both his wife and daughter in big pickle barrels. It is now claimed that on a full moon you can see him and his trusted servant wearing a hook on his hand going into the woods with a lantern. They say if you look closely you will see the bodies of the wife and the daughter being dunked up & down up & down, this keeps the bodies from going bad and keeps them forever young.
A story involving the same road tells of a hookman roaming the area.
Hook Mans Road
A small road which is said to be haunted by a old ghost of a pirate, who lived out in the country in some woods. If you go out there at night in the woods by the old huge house you can sometimes see an old guy with one hand and a hook on the other. It is said that many people have died out there.
'I' and 10th Street Clinic / Zimmerman house / "come and go pond"
Clinic on top of a small hill across the street from La Porte High School's Baseball Field on 'I' and 10th Street. La Porte High School itself is said to be haunted. See below
The land is haunted, not the buildings. Native Americans called the site "come and go pond" and occupied the land for fishing and hunting. In 1838, the natives were forced to move to Kansas by the government, a move later known as the March of Death.
The story goes that the natives camped where many of their own died of exhaustion and hunger, including the daughter of a chief. Later a grand home was built on the land, which is when strange happenings began to occur. First, the home was hit by a tornado, but only suffered minor damage. What is extraordinary is that the house was rotated 90 degrees and placed back on the foundation. The walks didn't lead to the doors anymore and had to be redone. The original owners quickly and quietly moved, which was when the Zimmerman family purchased the home. (The home is now known as the Zimmerman house).
From the testimony of the Zimmerman's, many of the strange happenings came to light. The sounds of moaning and clanging happened often, as well as footsteps up and down the stairwells. During a winter storm, the door ringer rang in the middle of the night. It was a pre-electric doorbell that had a crank you manually moved to make a sound. The eldest daughter Laura awoke and went to see who it was. She descended the stairs and the ringing stopped, but she found the front door open with snow drifting in without a footprint or person in sight. When she closed the door and turned to back up the stairs, she saw a young Native American girl descending the stairs toward her. When the girl was three steps from the bottom, she vanished.
Since then, the house has been condemned and teenagers would go there to scare themselves. There are people that swear that they were halfway up the gravel driveway and the door ringer would start ringing on its own. Neighbors would constantly call the police because of lights on the second and third floors. There are many more tales.
It was eventually torn down and a clinic put in its place. Most of the clinic's issues have been with elevators going up and down in the night and secured offices later being found unlocked (not just one door, all the doors on an entire floor at the same time). Also the lower level bathroom is often locked from inside with no windows leading outside, and various objects moving across rooms (chairs mostly).
LaPorte High School
602 F St
La Porte, IN 46350-5565
(219) 362-3102
In the girls' restroom in hallway one, toilets will flush and water will run without there being anyone in there. Outside, by a pillar there are cold spots and odd smells. Odd things like the electricity shutting off and banging on lockers also occurs.
415 Virginia Ave.
A house was built here in 1856 and burnt down in 1885. A little girl was in the house when the fire happened and she died. The house was rebuilt and later became an apartment complex in 1950. People who have lived in the apartments over the years have seen a girl about the age of 15 or so that is all burned up. Things in the apartment will move by themselves along with cabinet doors and front doors opening and closing by themselves.
Belle Gunness House / Blood Farm
In old Indiana, not far from LaPorte,
There once lived a woman, a home lovin' sort.
Belle wanted a husband, she wanted one bad,
She placed in the papers a lonely hearts ad.
Men came to Belle Gunness to share food and bed,
Not knowing that soon they'd be knocked in the head.
But while they were sleeping, she'd lift the door latch.
She'd kill them and plant them in her tater patch.
In the early morning hours of April 28, 1908, a farm house on the outskirts of La Porte, Indiana burned to the ground. The home, located on McClung Rd., belonged to Belle Gunness who had lived in La Porte since 1901. Later that day, while workers sifted through the ruins, four bodies were discovered; one adult female and three young children. It was soon noted, however, that the family's piano, which had been located in the parlor on the first floor of the home, had been discovered on top of the bodies. This would have been impossible had the victims been in bed, on the second floor, at the time of the fire which occurred at approximately 4 a.m. It quickly became evident that the four victims had been killed and their bodies placed in the basement before the fire, which had probably been set to cover up the crime.
Belle Sorenson was one of America's most prolific known female serial killers.
At 5'8" and over 200 lb, she was a physically strong woman. She may have killed both of her husbands and all of her children (on different occasions), but she is known to have killed most of her suitors, boyfriends, and her two daughters, Myrtle and Lucy. Her apparent motives involved collecting life insurance benefits. Reports estimate that she killed more than 50 to 100 people over several decades.
Nowhere else is her presence felt stronger than in La Porte. Residents say that old McClung Road reeks with her aura; one expects her to materialize from behind one of the old houses that still face the same cornfields just outside of town.
Some of the same families still live in La Porte, although the main-players are gone. A newer house, built in the 1950s, stands on the old foundation of the Gunness farmhouse.
You can sometimes hear people screaming. You sometimes will also feel very cold.
Where is the house on old McClung Road? It has been said that a new, single-story house had been constructed on the original foundation of Belle's former farmhouse, and that the house sat atop a steep hill. It is also described that a curve in the road lies directly in front of the property, along with a rolling valley, and a large growth of Ash trees. Others have reported that there is a two-story home built on the property. It is also been said that a large, black and orange "No Trespassing" sign is propped-up inside a window in the front of the house.
Fountainview Terrace Nursing & Rehabilitation
Golden LivingCenter - Fountainview Terrace
1900 Andrew Ave
La Porte, IN 46350-6337
(219) 362-7014
This nursing home is said to be haunted. A woman was found on the floor, she did not fall out of the bed because both bed rails were still up. It is said that the nursing home was built over an ancient Indian burial ground.
Laporte Cinema
608 Colfax Ave
La Porte, IN 46350-4637
(219) 326-7758
The legion at the La Porte Cinema is to be haunted by a young girl from 12-15 years of age. A cleaning crew once said that they saw her face in the floor tile and she has only appeared in a certain room. Three stories follow that reason.
One: there was a pond and she had fallen into the lake and drowned to her death,
second: A tiny carnival was once there and she had fallen off the Ferris wheel and died right after hitting the ground.
Third: there was a house that the girl lived in with her family, and somehow a fire broke out at night and she slept right through it.
Gravity Hill
It is located on county line road between Michigan City, In and Westville, IN. You put your car in neutral and the car will drive by itself. The speed goes from 10 mph to 35 mph depending on what kind of car you have. It was said that at one time a school bus was hit by a train so now when you stop the children of the train push you over the tracks.
Webmaster: Does anybody know this exact location?
contact me
See also Chapman Road

Patton Cemetery
Located at the dead end of McCollums St. in downtown Laporte, Indiana. Bordering Rumely street and Clement Street.
A Gentleman named John Walker, one of the founders of the city of LaPorte, founded Patton Cemetery, which was originally established as Walker Cemetery, in 1841. Ironically, John Walker had once owned the property and built the house in 1846 that would one-day become Belle Gunness 's farm.
Victims of the Belle Gunness murders are buried here, one of the worst murders ever in the state of Indiana. There is also said to be a killer who was executed and buried in the same cemetery. It is said that if you knock over his grave stone he will come and find you.

Lawrenceburg
located in Dearborn County

Greendale Cemetery
886 Nowlin Ave, Greendale, IN - (812) 537-3080
In the cemetery, you sometimes see white or grey people, and they look un-real. If you walk by the Tebb's family graves, you feel like you're being watched, get cold chills, or feel uneasy. Plus, when it's a really hot day, and there's NO wind, you'll feel a light breeze followed by a cold sensation.

Whiskey's Restaurant
334 Front Street
Lawrenceburg, Indiana 47025-1629
812.537.4239
Originally said to be a private home and then to have later become a button factory. There was an old lady that lived in the house and died in a room that is now called the "Malt Room". The building is now a Restaurant, "Whiskey's Restaurant" and there are several reports about the "Lady Ghost". There was one report where the ghost tugged at the waitress's apron and she thought that it was another server but no one was standing behind her, another incident was the manager was sitting in the bar after the restaurant closed and smelled a strong scent of perfume coming from the back of the restaurant and nobody was in there but her.
Heltonville Huron Mitchell Tunnelton Williams

Lebanon
located in Boone County
The old Lebanon High School
The old Lebanon High School is a no longer a high school, instead it is now a building containing offices and apartments. If you go to the third floor you will get locked in until daylight.
Webmaster: . . . and that makes it haunted?
Does anybody have anymore input on this place? contact me

Leesburg
located in Kosciusko County
Sawmill lake
There is said to be an old white house around the point. Several odd vapors and apparitions can be seen. Strange noises are heard constantly. Sometimes you can hear an adult male yelling, like he is very mad. There is rumored to be a local legend ghost named "Whitey." He is a commonly seen ghost around this house. A drunk driver crashed into the house about 30 years ago and died.
Liberty Mills
Located in Wabash County
Liberty Mills Public Access
Several years ago a car load of teenage girls were driving on the road leading past the P.A.P. The driver lost control going around a curve, hitting several trees and ejecting the girls from the car. People said that on that night they could hear the screams of the some of the girls as they died, one even hung in a tree-a branch piercing her midsection. To this day if you go to the P.A.P. you can hear the girls screaming and crying for help. Witnesses report of hearing faint cries.

Leo-Cedarville
located in Allen County

Near the same spot where the old man may be seen walking on an old country road, there is a cemetery on Cedar Canyons near Auburn Road and the Vandolah Nature Preserve. Go to the cemetery and get out of your car. If you look in the back of the cemetery, it has been sworn by many that a pair of eyes and a shadow or two can be seen moving from side to side or even towards you. Several people even claim that if the moon is full and shines right on the middle of the cemetery, you can see a little girl staring back at you.
Coldwater Rd.
Off coldwater road there's a place called Cedar Canyon. If you follow it until it goes past Griffen Rd. and take a left; there is a transparent man in his late sixties wandering the old country road possibly taking a little vacation from the cemetery at the end of the road. Sightings usually occur between the hours of 12:00 to 3:00.
Leo High School
14600 Amstutz Rd
Leo, IN 46765-9643
(260) 446-0180
Leo High School hired a teacher unaware that they were also getting a ghost. This ghost is a former student that he had taught. The story goes that she fell off a catwalk and was killed. Now she follows him around and haunts his stage productions. Things that happen are a door that opens for no reason, a knock on a door, lights that go on or off. He left the school, but no one knows if the ghost went with him.

Lewisville
located in Henry County
Guyer Opera House
110 W Main St
Lewisville, IN 47352
(765) 987-7124
The Guyer Opera House is known by staff to be haunted. Many have been spooked by dressing room lights that turn on one by one, strange banging noises emanating from the back of the auditorium, and sudden changes in temperature. The doors to the auditorium will close by themselves, and more than one of the staff has been driven from the light booth by growling noises and extreme drop in temperature. People have reported seeing the outline of a person in the back stage windows. In addition, a little boy was killed back in the early 1900s during a Wild West gun show. During one of the shows, a bullet ricocheted into the audience, killing the boy. Perhaps his ghost still lingers. In addition, the founder of the Guyer Opera House, O.K. Guyer, died the same year his opera house opened. His funeral was held in the auditorium of the Guyer

Linden
located in Montgomery County
Slab Town
In the early 1900's, there once stood a two room asylum for the insane. Students would volunteer their time at the home helping out. It is said, that one early morning the students came out to the home and were beat and raped by the residents in their home. In the end of this, they set fire to all the cars at the house and then set fire to themselves and the students, killing everyone. To this day the building does not stand, but the foundation of the house and the old smashed, burnt cars are there. It is also said, that if you visit the old land, that you will never forget your experience there and gradually lose your well thinking over a period of time. People have said they would be driving down the road by the place and see a fire, but when they get closer to the place the fire would vanish.

Linton
located in Greene County

The Old Greene Co. Hospital / Wendy's
410 A St NE
Linton, IN 47441-1911
(812) 847-9631
The Old Greene Co. Hospital, The Freeman City Hospital, established in June 1912, was located at Fourth and Northeast A Streets in Linton, Indiana. It is said that it was haunted before it got torn down.
It is now a Wendy's restaurant
The building is Haunted there is some activity that goes on there such as strange sounds voices and crying, things tend to move on their own in the middle of the night.

Logansport
located in Cass County

Mount Hope Cemetery
1800 Grant St
with the main entrance on Pleasant Hill
Logansport, IN 46947-1011
(574) 753-7082
Mount Hope Cemetery, established in 1857, is "reported to be" the third largest cemetery in the state of Indiana with over 81000 burials. As you enter this cemetery it is said that you can hear the sounds of horses even though there aren't any horse farms around for miles. It is also reported that if you whistle, someone will whistle with you.
There are mausoleums that you can walk into and many weirdly inscribed tombs like "knock three times and they shall come"
Shiloh
At midnight you can hear the headless horsemen. Then your suppose to go around the church 3 times and then if you look down at the basement window your suppose to see a girl staring up at you. It is said that a semi will chase you then it will disappear.
Directions:
(1)Merge onto I-69
(2)Take the IN-18 exit- exit number 64- toward MARION/MONTPELIER.
(3)Turn LEFT onto IN-18 W.
(4)Stay straight to go onto IN-19.
(5)Stay straight to go onto N BROADWAY.
(6)Turn LEFT onto US-24 W.
(7)Turn RIGHT onto US-35 N/US-24 W.
(8)Take the US-35 N ramp.
(9)Turn SLIGHT RIGHT onto US-35 N/US-24 W/LOGANSPORT BYPASS RD. Continue to follow US-35 N.
(10)Turn LEFT onto CR-100 N.
(11)Turn SLIGHT RIGHT onto W 100 N.
(12)Turn RIGHT onto N CR-350 W.
(13)On your left you'll see Shiloh church and cemetery.
Webmaster: I am curious as to if this is in reference to:
Shiloh Christian Church
1047 N County Road 1100 E
Logansport, IN 46947-8850
(574) 753-3331
The basement of this church is supposedly haunted by the ghost of a little girl. Many people claim to see her in the basement, looking up through the window.

Loogootee
located in Martin County
JFK Gym
The boys basketball team used to run laps around the upper level of the gym. One day when they were running the star basketball player tripped and fell down the gym floor and he died instantly from impact. They say that when you go in there at night you can here the team running their laps and then a loud thud from where the boy fell. On the night of the anniversary you can see the blood stain on the floor and when you look away and look back the stain disappears.
Webmaster: I can not seem to locate a school or organization in Loogootee, Indiana by that name.
Sent in by Jeff Steimel:
JFK Gym - I am a resident of Loogootee, IN and I wanted to let you know that JFK Gym is still there. Although it is no longer called that, the building still resides there. At the junction of hwy 50 and Hwy 231 N ( recognizable by McDonalds at the Stop light T ) go North on 231. After passing over the railroad tracks you will come upon, what they consider, the square of town. Just after you pass the square, on your left, will be the one story building known as " Town Hall ". The multi-story building behind it is what use to be called JFK Gym. I'ts use now is more for storage than anything.
Loogootee Elementary East
510 Church St
Loogootee, IN 47553-1309
(812) 295-2924
The say when you look at the right side of the school you can see a big red spot towards the top of it. They say it represents the blood of the janitor that killed himself there. They found the body hanging from the doorway to the boy's bathroom. They say if you go in there at night you can see him wondering the halls, sometimes mopping the floors, you can hear his keys jingling as he walks down the halls. They also say that he used to have his dog with him some nights that he works. People have said that they see a dog run down the hall on the second floor. Since they've put cameras up more paranormal activity has been recorded.
West Boggs Park
located in Martin and Daviess counties
16117 US Highway 231st
Loogootee, IN 47553
(812) 295-3421
Some nights after 10 p.m. you can see a ghostly figure of a woman running through the woods. They say it is the mother of a child who drowned in the lake. You can hear her screams as she looks for her son, and some say that if you go to the lake at midnight you can see the boy swimming in the lake.
Grand Kankakee Marsh
21690 Range Line Road - Hebron, Indiana 46341
Exit Interstate 65 at Route 2 (Lowell/Hebron exit) then east to Range Line Road (Clay Street). Travel south for 5 miles to the park.
Hunting, wildlife and bird viewing, biking, hayride tours, canoe workshops and ghosts can be experienced at Grand Kankakee Marsh County Park.
The mansion on the property of Indian Gardens has long since been torn down and a little house was built on the back of the property for the caretaker. The mansion was built on a sacred Indian burial ground. The old lady that owned it didn't know this little fact. If you look into the woods around it, you will sometimes catch a glimpse of several large orbs and some male Indian figures surrounded by a white mist. The one that stands out the most perhaps is the female Indian that wanders along the property or can be seen just sitting in a tree, like she's either waiting or looking for someone to come to her. The lady became so freaked out by these spirits; she sold the magnificent mansion and property to Grand Kankakee Marsh park owners. Sometimes when you drive down there in groups, but mostly if you're a boyfriend and girlfriend pair, the young Indian maiden will appear in front of your vehicle and look at the two of you wistfully. Many people think she was waiting for her lover because of these wistful looks at lovers.

Lake Prairie Cemetery
Webmaster: Websites out there has this haunting indicating:
Lake Prairie Cemetery
Mists, orbs of light, and figures of the deceased locals have been seen here. The southern half of the cemetery has the oldest grave markers, and that is where the most activity is. The cemetery is located on Calumet Avenue, 2 miles west of route 41.
Webmaster: Lake Prairie Cemetery is Located off Highway 41(Indianapolis Blvd) and W 181st Ave
The directions given in the story takes you to West Creek Cemetery.
Does anybody know the exact Cemetery that is said to be haunted? Contact Me!

Indiana Bridge
There is a mansion a little bit further down the road that 3 people were apparently murdered and thrown off the bridge. Take I-65 to the Lowell exit and take a right on Clay Street. Reports of cars rocking and thick fog appears from nowhere.
Intersection 173 Ave and Holtz Road
When you are driving East on 173rd there are two big hills. When you top either hill you can see the intersection at Holtz Road. When you top the first hill, on occasion you will see a bunch of flashing lights and what appears to be a huge wreck. When the road continues, you lose sight of the intersection. When you can see the intersection again, it is clear and there in no sign that anything was ever there. This has been seen by many people.
Lowell Middle School
200 W Oakley Ave
Lowell, IN 46356
Phone: (219) 696-7701
The school is haunted by the ghost of a child that died in the swimming pool. The hauntings take place on the third floor and the janitors are afraid to go up there after 9P.M. Chairs are moved, desks are pushed against the walls and footsteps can be heard even though no one is up there.
Gypsy's Grave Yard
Webmaster: A lot of Websites have this listing under Lowell, Indiana when it is actually located in Crown Point, Indiana
Slaughter House Road
This road is about 2 miles south west of Macy and is on the east side of old U.S. 31. Years ago there was an old Slaughter house on this road. This is a gravel road and has very narrow shoulders. The remains of this building can be found during the day, but when night falls they are nowhere to be found. Sometimes you can see ghosts of old cows in the field. There have also been reports of local farm animals being slaughtered right in their pastures.
Anderson Chesterfield Frankton Markleville Pendleton

Madison
located in Jefferson County
Part of the cause for paranormal attraction to a small town like Madison might be attributed to its usage as an Underground Railroad town. Its location made it ideal for runaway slaves to gain access to several varieties of transportation, and the mansions and large manner houses were perfect for the addition of secret panels and tunnel systems. However, the reasoning behind so much alleged paranormal activity is still unknown.
Lanier Mansion and the surrounding grounds
601 W 1st St, Madisn, IN? - (812) 265-3526
The Lanier family owned the mansion for years and one of the male heirs died there when he drowned in the nearby Ohio River. It is now claimed that sometimes at night you can see him walking from the banks of the Ohio River to the mansion. There are former employees who refuse to go back to the mansion because of strange experience of a phantom cat on the grounds.
American Legion Post 9
707 Jefferson St
Madison, IN 47250-3217
Phone:(812) 265-4417
Those who have spent time in the basement have sometimes claimed to see the ghost of a man and an elderly woman, possibly cursed to suffer the fate of Madison's alleged inclusion in a War Propaganda film. There are also reports of someone knocking on the wall, footsteps in the empty hallways and cold spots.
Clifty Falls State Park
1501 Green Rd
Madison, IN 47250-1974
(812) 273-8885
There are reports of moaning coming from the tree right next to the walkway going down into the falls.
Those who have gone to investigate have found nothing.

Cemetery on Little Doe Run Road
This cemetery is said to be haunted by Flavius Josephus Bellamy, the place is so old no one can remember the name of the cemetery.
Some claim this cemetery is the Mt. Zion Nazarene Church Cemetery.

Mt. Zion Church Cemetery
Location:Brooksburg Indiana, Little Doe Run Road. Take Indiana Hwy. 156 Turn on to Doe Run Road. Little Doe Run Road is off of Doe Run. The Church and Cemetery is easy to find once on Little Doe Run Rd.
There's not a lot known about this ghost except that many people have felt uncomfortable while there. There are stories of glowing red eyes, a strange white mist and odd noises.
Springdale cemetery / Cemetery at the bottom of hanging rock hill
600 W 5th St, Madison, IN - (812) 265-3915
As Crooked Creek, which ran on the north side of the Old Third Street Cemetery, was prone to floods, and during one such flood in the late 1880's had washed away some of the bodies, the cemetery ceased to be used. The surviving stones were later moved to higher ground at the Fairmount Cemetery (on Michigan Road, North Madison) and also to the Springdale Cemetery which is located on the north side of the Crooked Creek.
There was no way of identifying who went where or who was who. So there is a good chance that whoever's name appears on the stone is not at rest there.
Legend is that Springdale cemetery is haunted. One legend states that a a large granite sculpture of an angel near the bottom of Hanging Rock Hill eyes bleeds on Easter morning, Others claim that anyone who kisses the statue's feet will see the angel come to life and chase them away.
To see the statue, stay straight when you enter the cemetery. The statue is on the right against a hill, there is a block ledge surrounding the area on the hillside where she stands.
Hanging Rock Hill
Located off Cragmont Street
According to local legend Hanging Rock Hill has another ghostly spirit. When the Madison State Hospital was still in use, a patient walked off the grounds and tried to escape. A car came down the hill, struck the man head on and he was killed instantly. Today people claim that a strange man has tried to flag them down for a ride, only to disappear before their very eyes.
State Hospital
711 Green Rd
Madison, IN 47250-2199
(812) 265-2611
The infamous Mansfield Reformatory / Eastern State Penitentiary and popularly known as Cragmont, is labeled as one of the top ten most haunted places in America. It is the oldest penitentiary in the country. Inmates and corrections officers have both met violent ends within the walls and, depending on whom you believe, some are still there as it is said to be haunted by former inmates who were housed there.
The Mansfield Reformatory is now vacant but is home to many lingering spirits left behind after torturous deaths.
The Reformatory has also been used as a location for several big-budget Hollywood movies; among the most notable of these were The Shawshank Redemption, Air Force One, and Tango & Cash, all of which featured the Ohio State Reformatory as a backdrop.
Several of the buildings built in the early part of the 1900's have been abandoned. These are the buildings that housed the violently insane for many decades. These patients lived a miserable existence. The cages on the building serve as a reminder of the dangerous conditions. Several orbs have been captured and strange noises are a constant.
Some of the most haunted areas include the chapel, the infirmary, library, basement and administration wing. One of the most interesting spirits is that of Helen, a secretary who worked in the administration wing of the prison. Supposedly she was killed by accident when a box she was moving along a top shelf tipped over, spilling a gun out that discharged, shooting her in the chest. Helen was killed instantly. It is rumored however that the warden at the time was directly responsible for her death. Ten years later the warden died of a heart attack at his desk. Resident spirits have been seen passing as black shadows, appearing as glowing red orbs, or white orbs floating throughout the hallways in and out of cells. Mysterious banging and clanging sounds can be heard on the cell doors and footsteps can even be heard echoing down the hall. The Mansfield Reformatory is a wonderful paranormal investigation hot spot.
Jefferson County Library
420 W. Main St. Madison, IN 47250
(812) 265-2744
There is a ghost of a young man that rides the elevator up and down and rubs and pats women. He is said to have lived there when it was a house and was confined to a wheelchair; he was crippled and was wheelchair bound so they had an elevator put in so he could get from floor to floor.
Frequent visitors to the library have nicknamed this ghost Charlie.
Ohio Theater
105 E Main St
Madison, IN 47250-3410
(812) 273-4880
The Ohio Theatre boasts a rumored screaming balcony. From reported orbital activity to unusual cold spots, the balcony is legendary for its dreadful impact on visitors and employees of the Theater.
People inside the theater have seen and experienced some strange things in the balcony area. According to local stories, lights seem to hang in the area and then disappear and at midnight you can hear someone screaming.
The reason for the haunting is unknown, but some say it stems from the possibility of two ghosts; one a stagehand who befell a tragic accident and the other, a lost chorus girl whose heart was broken, leading her to leap to her death from the balcony.
Ridge
There are reports of hearing small children's voices laughing and playing and a ghostly white dog. The location itself is said to leave mediums with a creepy feeling due to all of the cold spots and strange atmosphere.
Windrift Motel
It is said to be located on Clifty Drive about 1/2 mile before the entrance of Clifty Falls State Park.
Now a private residence was once the Windrift Motel. When it was used as a hotel, people often claimed to see apparitions and dark, shadowy figures.
Owners book "The People In The Attic" give details of owners experiences.
This alleged haunting had a movie made about it. The movie is called, "The Uninvited", and stars Sharon Lawrence. It was a made for TV film, not a theatrical release.
Eggleston Elementary School
419 East St
Madison, IN 47250-3527
(812) 273-8524
One legend claims that a little girl accidentally fell out of an open window and died. The other legend is that it was the principal or a teacher that died this way. Stories claim that the ghost of the person can be seen staring out of one of the windows on the top floor.

Mansfield
located in Parke County
The Town Itself
It's said that late at night there are spectral images of people wandering through this old village. Even the old mill makes noises as if it was operating, and wagons are heard on the streets.

Marengo
located in Crawford County
The Carl Smith House
Said to located just up the road from Green Acres in between Milltown and Marengo. Off 64 / 66 and N Cider Fork Rd
From the moment you see this place you know it's haunted! Lights turn off and on, ghostly sounds can be heard and people say that the house itself is some sort of a portal. Several people have died in this place making it one of Indiana's haunted places.

Marion
located in Grant County
Charles Road
out by Wagner Lake off N Huntington Rd / hwy 9
Supposedly a long time ago, a family headed down that road in their wagon on the way to Church during winter. It was dark out and the family heard screaming in the nearby woods. They went to investigate and the fellow church members became worried when the family did not arrive at Church. A search party was organized to find the family. When the party discovered the abandoned wagon they began to search the nearby woods. They found the whole family headless.
The Hostess House
723 W 4th St, Marion, IN - (765) 664-3755
A publicly-owned mansion, the Hostess House, is used for social functions
An old woman lived in this 4-story mansion but someone broke in her house once and killed her. On foggy nights you can see her shadow on her balcony. She is in a long white flowing gown. They never got the bloody footprints up completely.
Sleeping Rooms
There's also the Sleeping House where another woman was killed. Those living inside have waked to find things moved around and sometimes see her shadow in the hallway.
The house is now sleeping. If things are not right in the house she will let you know so that you will take care of it. It is also said she goes in your room and moves things around. Late at night if you look under your door you can see a shadow of someone walking the hallway.
Indianapolis Irvington Southport

Markleville
located in Madison County
Main Street Graveyard
This graveyard is on County Road 675 just past Crybaby Bridge.
A lot of rumors about ghosts are heard. Two headstones have pentacles on them and a skull is embedded into one tree.

Cry Baby Bridge

location of the bridge and graveyard. N 675 E & E 950 Wilkinson, IN 46186
wilkinsin is the area where it's located, just south of anderson and markleville.
Bourbon Bremen Donaldson Inwood Plymouth

Martinsville
located in Morgan County
Websites out there have Martinsville listed as having the hauntings of Stepp Cememtery, when it is actually located in Centerton. Indiana.
This could be because the cemetery sets on
Morgan-Monroe State Forest
6220 Forest Road
Martinsville, IN 46151

Maumee
located in Jackson County
Maumee Bottoms
If you go out there at anytime you can hear a sound that sounds like a baby crying and a wolf at the same time, also reported, no animals live in the area.
Webmaster: Does anybody know this exact location? Contact me!

Michigan City
located in LaPorte County
Michigan City has an odd haunted house, mainly because the house itself disappears and reappears. Legend claims a man killed his entire family and buried them in the basement. There are stories of people moaning inside and those who claim the house doesn't always exist in the daylight.
50 North
When you go past the white house on 50 north off of U.S.421
sometimes you can hear moans and the house itself disappears and reappears; that the house doesn't always exist in the daylight.
There was a guy who killed his family at this house. His family is said to be buried in the basement and that is the moans you can hear coming from the basement.
Old Apartment Building
On 1800 Elston St. there is an old worn down apartment building. It's been said that during the time it was condemned (several years) many bums had lived and died in both apartments. Voices, footsteps, and ghost figures can sometimes be seen.

Devils Bridge
It is said that in the early 1920s the mob used this area to bury bodies that have never been found. Currently it is a known devil worshiping spot. Orbs, images, and disappearing men have been seen here. It is located off county line rd, on Porter County side.

Middlebury
located in Elkhart County
CR.18
Years ago, an Amish man got hit by a car. Some people have said they see him some nights roaming the streets.


Mishawaka
located in St. Joseph County
St. Joseph Hospital
215 W 4th St, Mishawaka Indiana 46544
219-259-2431
St. Joseph Community Hospital in Mishawaka dates back to 1878 when three Sisters from the Order of the Poor Handmaids of Jesus Christ came to northern Indiana to care for the sick. The order, which had started in 1851, specialized in bringing nursing care to unsettled areas and especially in treating the poor and indigent. The sisters established the St. Agnes Convent in the area and began their ministry.
The Sister mostly served as home health care workers until Mishawaka began to grow and a real hospital was needed. Ground was broken in June 1909 for the St. Joseph Community Hospital and less than tem months later was opened with forty beds and five nuns serving as nurses.
As author Mark Marimen once stated "The spirits of the nuns who gave their lives to the ministry of the hospital lives on there"... and in one case, such a statement can be taken quite literally!
Throughout the existence of the hospital, it has remained under the ownership and care of the Poor Handmaids of Jesus Christ. While today, the active role of the Sisters is in administrative positions, in years past, they served as nurses and chaplains and some actually lived on the wards just in case a patient needed them. The women gave their lives to the sick and to the families who depended on them and for years, stories have persisted that one of these nuns has continued her work from the other side!
Mark Marimen interviewed a man named Kevin Geisel who had been admitted to the hospital for abdominal surgery in 1993. During his recovery, he suffered greatly from boredom, not being used to being copped up with nothing to do. One night, he looked into the doorway of his room and saw an older nun in old-fashioned clothing looking in on him. He thought little of it and the woman left.
A short time later, a nurse came into his room and asked if he needed anything. He didn't but he did ask who the nun had been who had come in to check on him. Geisel said that the nurse got a funny look on her face and then sat down to tell him about a nun who had lived in the hospital many years before. She had attended to surgical patients for decades and ever since her death, both patients and staff members had reported seeing her walking about the fifth floor surgical wing, checking on the patients.
While Geisel did not see the nun again during his stay, others reported her presence for years and many patients, including one man who nearly didn't survive his emergency surgery, often fondly recall late night visitations from the silent but kind Sister.
But the story would not last forever. Eventually, the fifth floor of the hospital was changed from a surgical floor to the offices for the hospital's administration. No further reports of the phantom nun have been passed on and most believe that she no longer walks here... as time has finally erased the need for her caring assistance. Maybe, just maybe, as Mark Marimen wrote, "after all of those years, maybe she has gone off duty."

Hacienda Mexican Restaurant
5836 Grape Road
Mishawaka, Indiana 46545
PHONE: (574) 277-1318
UPDATE I recieved an e-mail on June 1, 2012 from a Devin DeMeulenaereI indicating - "You have the haunted hacienda mansion located on grape road when in fact it is on Lincolnway and Center Street. It's called 100 center Hacienda."
Can anybody verify these facts?
This place used to be a mansion; the owner had an affair with one of the care-takers. When she discovered she was with child and he rejected her, she hung herself in the attic. It has also been said that the owner of the house shot himself in the basement of the house. Employees have reported seeing her throughout the restaurant. Workers claim to hear whispers and see apparitions throughout the old house. The office to the restaurant used to be in the upstairs part of the house right by the attic. The manager said that when she used to close up the restaurant, she would turn off the lights to the office and turn on the alarm. She would walk away and then look back and the light would be back on, so she unscrewed the light bulb and put it in the middle of the floor. When she looked back, the light was back on. That room is now closed off. Other sayings are that if you are the only person in the bathroom, the lights will go off and on and the water will come on by its self.

Haunted Hotel
Located on U.S. 933 or as may people who live around this area know it as Lincoln Way. There is a Hotel that is half abandoned and half not. Strange things happen there such as things appearing and then disappearing the next time you go back. If you visit please shut the doors when leaving.
Kelly Road
THERE IS NO HAUNTING - LEAVE THESE PEOPLE ALONE!
I recieved an email from a lady in Mishawaka, Indiana that completely blew my mind! I am posting the email along with my reply. I know it may be harsh but these old folks just want to be left alone.
She writes:
Not much is known about Kelly road in Mishawaka. I was supposed to contact an interview with the man that owns the property. It is said (and there is proof) that when you drive down a certain house on Kelly road an old man has bags of feces and throws them at your car while passing by. I suppose it can be a haunting because not much is known about it. But it is an entertaining thing to do when you're bored on a Friday nice and being reckless with your friends.
I replied:
Hello Marissa,
You are correct, there is not much known about Kelly Road, nothing at all for that matter. The fact that you find bags of feces being thrown at you as a haunting boggles my mind and the fact that you find it as an entertaining thing to do on a Friday Night and that it is reckless completely blows me away. Damn you live a boring life!
Now here is the TRUE STORY, you young ass punks are harassing an elderly couple who want nothing but peace and quite, yet you kids continue to harass his property. Hell I think the old man is having a blast throwing shit at you guys and you thinks it's a haunting. LEAVE THEM ALONE! There is no haunting there!!!
Here is a story on the harassment from the elderly couple: http://www.abc57.com/home/top-stories/Haunted-junkyard-a-hit-for-teens-upsetting-elderly-owner--132507688.html

Mississinewa
located in Randolph County
Battle Grounds
The battle of the Mississinewa was a part of the War of 1812.
It was the last battle fought in what is now Indiana.
The battle site was on the right bank of the Mississinewa about a mile east of the present village of Jalapa and seven miles northwest of Marion.
The whole town is said to be haunted by many ghosts and there are at least four or so haunted caves there also. Furthermore at the battle grounds if you notice carefully the fort will move.
Mississinewa Battle Grounds/Graveyard-
There is a graveyard around that area for the 12 soldiers that died in 1812. There is a gravel parking area off the road that leads to a big sign telling about the battle. If you walk past the sign, about 20 feet, you will come to a small valley. On the other side of the valley, is the grave stones.
When you are approaching the graveyard an abandoned church is visible behind a picket fence. Farther back from the church is a graveyard with about 25 headstones placed haphazardly within the grave yard. Sounds such as groaning, movement of leaves, and other sounds can be heard from the graveyard and nearby woods. Many visitors have also reported physical ghosts that touch and press against you.


Mitchell
located in Lawrence County
Spring mill state park
Highway 60 East
Spring Mill State Park, PO Box 68, Mitchell, IN 47446
(812) 849-4081
There is an old village there that is haunted. There are many old log houses and a mill that are said to be haunted. After dark, if you go out there you can see lights and figures in the mill as well as in many other buildings. There is also and old cemetery there that is haunted. If you go there
at night there is a blank grave of a man who gambled and lost. He was found murdered and nobody knew who did it. At night you can see a figure walk from the blank grave and stand in front of the grave of the man who killed him.

Montezuma
located in Parke County

The Sim Smith Bridge
The Sim Smith Covered Bridge is east of Montezuma, Indiana. Located along County Road 510W just south of County Road 40 N. The single span Burr Truss covered bridge structure was built by Joseph A. Britton in 1883. The bridge is 101 feet long, 16 feet wide, and 14 feet high.
The bridge is said to haunted by the ghost of an Indian girl run down by a horse and carriage. On nights, you can see the girl and hear the phantom carriage.

MONTGOMERY COUNTY
Crawfordsville Linden Waynetown

Mooresville
located in Morgan County
Gravity Hill / Keller Hill Road
Just off of I-70 and Hwy 39
When you put your car in neutral and turn it off at the bottom of this hill, and something will pull your car up the hill. It has worked for many people. The story behind it is that a woman and a young boy were driving on Keller Hill Road a long time ago. They got a flat tire on the driver's side
and pulled over on the right side of the road to change it. They were at the bottom of the hill and oncoming traffic couldn't see them as they sped over the top of the hill. The woman and boy were hit by a passing truck. Now the ghosts of the boy and the woman wait at the bottom of the hill
to make sure everyone gets to the top safely.
Centerton Martinsville Moorseville

Morristown
located in Shelby County

Copper Kettle Inn
135 W. Main St
Morristown, IN 46161
(765) 763-6767
This historic, local area eatery known for its family style chicken is alleged to have several active spirits haunting the facility.


Mount Vernon
located in Posey County

Robin Hill
On the top of a hill stands an old white house which has been abandoned for many years. The house was once a stop on the Underground Railroad. The house is now being remodeled, according to rumor, into a bed and breakfast. It sits on the corner of Mill and 9th. Local lore says that the house is very haunted, but no one really knows by who/what or why.

Mulberry
located in Clinton County

Hamilton road
This is a very haunted road that few people know about. Take state road 38 all the way to Mulberry and look for a road called 900 West. If you are coming from Lafayette, go right on it. You will come to a stop sign. Go thru the sign. That is Hamilton road. There are 3 one-lane bridges on this road, when you get to the third bridge, stop and flash your lights 4 times. As you then cross the bridge, you will see a short man in your rearview mirror chasing you. If you drive up the road about 50 feet you will come to an old church graveyard. Go to the graveyard and park as close to the back as you can get. Walk along the fence and you will see what looks like flames coming from the woods. This is where the church once stood. It is said that when it caught fire in the 1800s that everyone was killed. Also there are old haunted tracks right after the graveyard. Go about midnight and stop in the middle of the tracks. Put baby powder on your rear bumper. You will hear a train whistle and see the lights come at you. Then they will disappear. Get out and look at the back of your car and you will see baby fingerprints. A little boy named Danny was killed here in the early 1900s right after the tracks were built.
WARNING: THIS ROAD IS VERY DANGEROUS TO DRIVE ON IN THE WINTER. IF IT IS RAINING OR SNOWING DO NOT ATTEMPT TO DRIVE ON THIS ROAD!


Muncie
located in Delaware County
Apartment on West 6th
A family moved into the possible haunted home on West 6th Street in Muncie after the landlord lowered the rent. He explained to the family that previous tenants didn't want to stay longer than 2 months. After the family had lived there for a while, the children were scared of the upstairs playroom because of the old lady that lived there. The old lady that the kids were seeing was a ghost. Later unexplained happenings occurred, there were pacing sounds in the playroom, kids tucked into bed, and items in the kitchen, such as mayonnaise being moved. A boy had died in the bedroom and his mother died there years afterwards.
There have also been claims of weird occurrences like past tenants waking up and having some sort of oil dumped on them. The new tenant of the home believes it's haunted also.

Madison's
Located on Madison Street, Madison's is a restaurant that used to be known as the SkyLine. The former owner of the place use to live in the upstairs apartment. He has since died and now it is said he haunts the place. He likes to turn the lights on and off. Also footsteps can be heard at night.

Cry Baby Bridge
Way on back in the 1800's a young women was running away from slave hunters. She had her young baby with her. The baby kept crying and she drowned the baby in a creek so he wouldn't give her away. Today if you go back into the woods at night you can hear and sometimes see the little baby crying and looking for his mother.
This is not in Muncie, more torward NDERSON/PENDLETON . . . your supposed to be able to hear this baby crying when you go over this METAL BRIDGE (OLD) but there is a graveyard back there, and a church right before you get to that bridge.
It is on 950 and Thomas Road and just north of 236. A little South East of Pendleton, south of Anderson. If you Mapquest Nashville, it is the one in Hancock County, between that and Milners Corner.
If you know your way around the place you will find an old farm on the other side of the bridge that has been there for years. This farm has a bird called a peacock! The noises you hear are not from a baby they are from a bird!!!!!

Munster
located in Lake County
The Bieker House and Kaske house could possibly be one in the same as they are found on the same grounds and have same history.
The Bieker House is very well known in Munster. A woman dressed in white can be seen during the day or night. The house is vacant and has been for years. The house is also known for its huge red barn, which was struck by lightning and burned to the ground. The house is now owned by the city. At one time, the city offered the huge house and property "rent-free" and utility-free" to anyone willing to live in the house for the purpose of preventing vandalism to the house and grounds. No offers were ever met. The house is now considered a historical landmark.
Munster's Park and Recreation Department chose to restore the Beiker House not too long ago and there were reports of a Indian man, a woman in white, and the old woman who was the last owner seen on the property by the construction workers.
Creepy Kaske house
The Bieker House and Kaske house could possibly be one in the same as they are found on the same grounds and have same history.
Spooky stories long have been told of this home, which was built in 1910. The year before, a tavern that stood here, dating back to the early 1800s, had burned down on Halloween night.
"The gal who was our past president was driving up to the house one day with her son to meet with some other society members," says Schmueser.
"She saw someone stick their head out of the old barn; it was a woman with white hair.
"But when she called to her, no one answered. So she walked up to the house and asked the others, who had been out in the barn. But no one had been. Later, she found a photo in the house of Wilhelmina Kaske, who was the original owner, and that's who she had seen."
Then there was the time that a painter, alone in the house, had paint splashed on him by an unseen force.
"He ran out of the house and said, 'I'm never coming back,' and he didn't," Schmueser says.
"They had to get someone else to paint the house. We always laughed about that one and said, guess Wilhelmina didn't like the color."
But the ghost stories don't stop there.
According to Schmueser, the park superintendent found a doll wrapped in a curtain, but when he returned to the empty room, it was gone. Workers outside sometimes see a woman looking out a second story window.
And the nurse for Helen Bieker, Wilhelmina's daughter, who donated the house to the historical society, remembered a little girl coming into her room one morning, telling her to get up. And so she did, throwing on clothes, running down the stairs and waiting outside until her replacement showed up.
"I don't know if it's haunted or not," Schmueser says.
"I just make it a point not to be there alone."
Several of the Indiana Ghost Trackers, including Len and Michele Walavich, are also members Munster's historical society.
According to Len, he and his wife have heard noises coming from the second floor of the house when no one has been there and have picked up voices when doing Electronic Voice Phenomena research. They also have ghostly photos, taken in the house, where faces appear in the picture that weren't in the room.
Len was eager to send all this information to my e-mail address. My first thought was, will it haunt my computer?
"If you ever don't want a ghost around, just tell it to go away," he says and then adds that though there's more than the usual ghostly activity around the Kaske House, it's all very friendly.
"I never found anything mean or dangerous."
Ball State University - Elliot Hall
A male student came to school after having fought in WWII. He was burned during the war and his face was disfigured. Supposedly, he became severely depressed and went to the fourth floor and hung himself from the cross members of the ceiling. At night you can hear a table being dragged across the floor to the point where the man was found hanging.


Nashville
located in Brown County
Story Inn
6404 South State Road 135
Nashville, IN 47448
(800) 881-1183
The Story Inn is located in Brown County. It is one of the most documented haunted locations in Indiana. The inn is located in a small town formally known as Storyville. It is a romantic getaway without the normal everyday conveniences. There are no TVs, cable or telephones in the rooms.
Many stories include kitchen workers seeing apparitions and objects moving. The most famous room of the inn is called the "Blue Lady Room". Apparently when the blue light is turned on it summons the blue lady to appear. Starting in the mid 1900's, guest books were left for guest to make comments on their visits. Many of the entries referred the blue lady ghost and several of the accounts were very similar in nature and provide for a good read..
The establishment has its own website along with its tales: http://storyinn.com/page/is_story_haunted

New Albany
located in Floyd County
Culbertson Mansion
914 E. Main St.
New Albany, IN
812-944-9600
This tourist attraction contains the ghost of a woman on the 3rd floor. She is heard walking about and some have seen her. She is believed to be the first wife of the former owner and may have remained behind due to the mistreatment of her surviving children by the husband's new wife.
This dark and lonely mansion also harbors the twisted secrets of a deranged doctor from the 18th century-as well as the souls of his doomed patients.
This historic house has come a long way from its humble beginnings as a place for the Cullbertson family's servants and horse and buggy to reside. It's now one of the most-visited haunted houses in Indiana.

In 1985, the house was deemed ghostly enough to be designated as a stop on the Jaycee Spook Run due to its dark and mysterious past. One dark autumn evening in 1888, it was struck by lightning and a raging fire took the lives of everyone inside. The Culbertson Mansion then
remained empty for fear of the spirits of those who lost their lives there.

In 1933, a man by the name of Webb tossed aside the speculation and whispers and claimed possession of the house. The well-established doctor took it upon himself to make the neglected space into a home. But soon his children began to talk of a dark man entering their rooms at
night through the walls and clanging noises echoing through the house from the basement.

Dr. Webb became agitated and angry and soon began to lose patients, both literally and figuratively. Some of those who had been under his care and chose to discontinue the relationship due to his demeanor began slowly disappearing. At last one of Dr. Webb's few patients who hadn't
vanished appeared at his door to make a horrible discovery: the entire family had been murdered. Dr. Webb's evil practices came to light as the bones of his victims were discovered throughout the house.

In 1946, the stories had begun to fade and the Cullbertson Mansion was reopened for art and music lovers as a charming gallery. But the mansion's dark past could not be ignored or denied; soon employees began mentioning strange occurrences such as mysterious figures wandering
the halls, missing items, electrical problems, and strange sounds at night.

In 1987, the ill-fated house officially opened the carriage quarters as its own haunted attraction, and has been terrifying its visitors ever since. To this day the sounds and sights make for one of Indiana's scariest destinations.
The Cullbertson House is a perfect place for friends to gather for a Halloween scare like no other. Due to the gruesome history and nature of the attraction, it is not recommended for kids under the age of 10. Now known as Literally, a Haunted House, the Cullbertson Mansion is one of Indiana's favorite destinations for a dark October evening.
Note: this mansion is open to the public and guided tours are available.
St. Joe Rd. Cemetery
In the middle of the cemetery there is an old hanging tree in the day the hanging branch at night it is there. And if you go to the very back and look to the front there will be a huge blare of smoke.
Webmaster: I do not know what that is supposed to mean!
The Ghost of JR Hays
JR Hays was leaving an elementary volleyball game at Pine View Elementary; he was on his bike going down a hill and hit a truck on Corydon Pike. He was killed on impact. If you go to the bottom of the hill and sit at 8:47, you will first hear his bike coming, then you will hear squealing
tires, and a truck will appear at the stop sign. Then voices and sirens and then the freaky part comes, you will hear his voice as he says, "why don't you do something. . . .
. . . help me please"

New Carlisle
located in St. Joseph County
Primrose Way
A road the length of a quarter mile long surrounded by woods, it's known to have a ghost truck that changes color and is known to chase visitors out of the area.

New Castle
located in Henry County
Community corrections
Disembodied voices heard.

New Chicago
located in Lake County
Baby's cry
Hobart cemetery located at the intersection of Michigan Ave, E Cleveland and Front Street on Front Street. (New Chicago, IN)
Some people say that if you go to Hobart cemetery and go right by the woods, at midnight you can hear a baby cry. The baby is clearly not alive and is a ghost. Also, if you take pictures you can see orbs all over the place.

New Corydon
located in Jay County
The Laughing Scarecrow
Not much is known about the mystery of the laughing scarecrow but at no particular time mostly during and around the harvest season, it has been reported that a figure or apparition, looking such as a scarecrow, will appear out of the woods, which is located south of 116, off a country road. It will screech and laugh at passersby. Also the whole town of New Corydon, and surrounding area, is known for many unusual phenomena. That includes a Cry Baby Bridge, the creature, and witches of the old abandoned stone quarry. Along with strange lights; many people report a feeling of doom, coldness and/or evil there.
Old School House
It is told to be that if you pass by the school house and look inside you will see shadows of people walking around. it is also told that in the 1960's a group of teenagers went to the school to see if it was really haunted and one of the girls that was there died in the school and it is said you can see her standing in the window if you look in there from afar, but if you look to long at her she will run away from the window and run out the front doors after you.
Webmaster: Does anybody know this exact location? Contact me!

New Haven
located in Allen County
Historical City Hall Building
located one half block west of the intersection of Lincoln Highway & Broadway near the downtown business district of New Haven

The building was originally built in 1913 and served as the city hall, jail, and fire station throughout most of the last century. The building is currently being restored. Many employees have seen and heard many things in the building. When questioned, police officers who used to work there also verified unexplainable events. The remodeling company had psychic Sandi Athey (http://www.psychicsandi.com/) tour the building remotely. She described several events that were confirmed by previous tenants. Fort Wayne Ghost Trackers (http://www.freewebs.com/ftwayneindianaghosttrackers/) were asked to conduct an investigation, which also proved fruitful and confirmed many things posed by Psychic Sandi. The basement has documented cases of different smells and orbs and video of orbs were recorded by the staff of Ellusions (the remodeling company) and FWIGT.org. Rumor has it that the basement was once used as a temporary morgue. Orbs were photographed in many rooms throughout the building.
The Tunnel between New Haven High School and New Haven Middle School
There is a small, cramped tunnel that runs under the highway between New Haven High School and New Haven Middle School. Legend says that back in the early 70s, a homeless man was beaten to death by a group of sixth graders returning from a basketball game. For several days he was passed on by students who, not realizing he was dead as they kicked and prodded the body with sticks. Some accounts even say that "Fat Mikey", one of the most notoriously bad seventh graders, urinated on the man's prone form. Finally, after a weeks time, someone reported the body to authorities. However, when the police arrived, they found nothing but a few scraps of clothes and bone fragments. Some speculate that he had been devoured completely by "The Feral Dogs of Lincoln Highway". Others believe that he now lives beneath the earth and rises from the dead on the nights when basketball games are played, waiting to prey on unsuspecting children. There are many eerie feelings associated with this tunnel, and a few students claim to have heard voices or even feel a rough hand gripping their shoulder. Whatever the case, you can always smell urine there.

New Mount Pleasant
located in Jay County
Cinderella's grave
Directions:
From the Intersection of Route 1 and State Highway 67 on the North edge of Redkey, Indiana. Go North East on Highway 67 to the town of Como, at Como Road go South East on S. Como Rd. to New Mount Pleasant.
Stay on Como Rd. through New Mount Pleasant. At the South edge of New Mount Pleasant go East on County Road 600 South. When you come to County Road 325 West, turn South. Jay County Conservation Club will be on the East side of the Road.
Behind the jay county conservation club down a short lane in the woods is a cemetery dating back to the late 1800's. In this cemetery is a gravestone marked Cinderella, this is supposed to be the name of the boy buried there. Go in at night and when you count the headstones one way there are 13. When you go and count them back the opposite way there are only 11.

New Paris
located in Elkhart County
Jackson Cemetery
between Hwy 33 and Elkhart St/CO RD 44 and along CO RD 31
Many people have gone there and seen ghosts, a light mist that rolls along the ground and other things. Buried there is New Paris` founding father. They now close the gates to the cemetery at night and trees have overgrown the path for the cars. The road that Jackson Cemetery is on is haunted as well.

Noblesville
located in Hamilton County
The Hare House
An historic building on South 8th Street in Noblesville. It was owned by one of the founding families in Noblesville. The house was used for some time as a funeral parlor. It was moved and restored in a new location within the past few years. Hauntings that have been reported include "a creepy feeling when being upstairs," "a white lady with a candle on the staircase," and "a little boy who runs around, pointing and giggling at people."

North Judson
located in Starke County

Dogface Bridge
Supposedly a couple was murdered here, and at midnight you can hear the lady screaming and a dog howling. The car that they supposedly drove still sits there, and the road has been shut down. Rumor is if you go out there alone, your car turns itself around and you can see car headlights coming at you.
Webmaster: Does anybody know this exact location? Contact me!
Highland Cemetery
Bordering Hwy 10/ hwy 39 / W 600 S and S 300 W and West 625 S / Leslie Street
Located on highway 10, if you enter the Cemetery at night, you can feel something grab your leg. People have left with scar marks on their legs that resemble finger nail scrapes.
The old Craven's Factory
This is a listing for North Judson IN, 46366 at the end of Sheridan Ave, well, closer to 502 Sheridan Ave.
James Messer committed suicide in the mechanics garage.
People have been getting hurt by a being that seems to come out past 1:30.
The field across from it has also had a few occurrences.
People walking though the corn and throwing rocks.
Also, when the harvest is cut these beings are also seen.

North Vernon
located in Jennings County

Haunted Bridge
Back in the 1960's, a teenaged girl could not accept the teasing and taunting of the students at Jennings County High School. One evening around midnight, she jumped from one of the local bridges killing herself. Though her body was found, to this day people driving across the bridge at around midnight have reported seeing a young girl jump from the bridge, though after searching no bodies are ever found.
Webmaster: Does anybody know this exact location? Contact me!

North Webster
located in Kosciusko County
North Webster Elementary
5745 N 750 E, North Webster, IN - (574) 834-7644
Some say a young boy wearing khakis and a blue sweater roams the athletic areas playing sports and shutting off the lights.
When someone goes to turn the lights on the light switch is already on. There is also a teacher in high heels on the second floor. People say that they can hear high heel shoes clicking on the floor. Random appliances in the school turn on and off by themselves. The young boy can also be seen in the library trying to check out books.

Oakland City
located in Gibson County
Oakland City College
Oakland City University, Indianapolis
5665 N Post Rd. Suite 200
Indianapolis, IN 46220
(317) 842-6462
1-866-314-6462
Cockram Hall - Oakland City College
located off Oak and Lucretia Street
Where the wife of Colonel William Cochram, the founder of Oakland City University, hung herself in the upstairs of the tower. If you look in the windows at night you will see doors open and shut,
and see a bright orange glow come from some of the windows.

Oakville
located in Delaware County
An-urban railroad
The An-urban railroad used to run through Oakville . Eventually it went out of use and most of its track was taken up. The empty trail where it once laid is said to be haunted by slaves who built it and other unknown apparitions. Many have encountered phantom chains along its path. One of the old an-urban stations still stands in Springport. It is also said to be haunted.
Webmaster: Can not find any information in regards to An-urban railroad in Oakville, Indiana. I did however find a Interurban Railroad, although it did not run through Oakville, Indiana.
Can anybody give me some input on this subject and haunting? Contact Me!


Ogden Dune
located in Porter County

Stagecoach Road
Sightings of UFO's and people who look like they are from the 1800's.

Devils Bridge en route to Michigan City
Mapquest to Devils Bridge

It is said that in the early 1920s, the mob used this area to bury bodies that have never been found. Currently it is a known devil worshipping spot. Orbs, images, and disappearing men have been seen here.
It is located off county line rd, on Porter County side.
No Hauntings Reported

ORANGE COUNTY

Orangeville
in DeKalb County

Bond's Chapel
Chain grave
Image of Chain on Haunted Tombstone
location listed below
The cemetery is the location of two well known haunts.
The first has two versions of a haunted tombstone.
One says that the man in the grave was a slave that had been beaten to death by his master. This seems extremely unlikely for two reasons: Indiana is well north of the Mason-Dixon Line; and the man in the grave died more then 50 years after the end of the Civil War. The story claims a slave owner from the 1800's beat one of his slaves to death with a logging chain. The wife of the slave had a local shaman put a curse on the slave owner. The curse was that he would bear the reminder of his murder for eternity.
The other version of the story says that the man was not killed by a chain; rather he killed his wife with a chain. This may be possible, but considering the man was only in his 20's when he died, we can only assume that he met an untimely end himself.
Regardless of which story, the end result is that shortly after the burial, an image of a chain appeared on his tombstone. Repeated attempts to remove the image from the stone were useless. The image of the chain was -in- the stone. Finally, the family removed the stone and replaced it with a new one. Soon after replacing the stone, the image of the chain appeared again on the new stone. According to the story, on the anniversary of the man's death the number of links on the chain changes. Each year a new link gets added or taken away.

The cemetery is located on the grounds of Bonds Chapel which still holds services. It is a small country chapel located 10 miles West of highway 37 about an hour south of Bloomington. Just outside West Baden, On Co Road 810 S and N Co Road 860 W, near Hoosier National Forest.
Bond's Chapel
The cemetery is the location of another well known haunt. There is a grave of a young man who was killed in WWII. He and his girlfriend wanted to get married before he went off to fight in the war, but her parents forbid it. She vowed to wait for him. He was killed and returned for burial. The young woman watched his funeral from a distance across the street. People have reported seeing the apparition of a young woman dressed in black across the street from his grave-site

Osgood
located in Ripley County
Devils Elbow
There is a road that the locals all call Devils Elbow. Legend has it that it is haunted by evil spirits. It has been reported that things can be seen and heard such as, red glowing eyes, a woman in white, a baby crying, and sometimes when you are driving on this road your car will die or if it doesn't die, your headlights will get dim as if something is feeding off the energy. About 15 years ago a man was brutally murdered on that road. It was haunted way before the murder incident.
Webmaster: Does anybody know this exact location? Contact me!
Does anybody have more information on this haunted road?
UPDATED: 06 23 2012
West Co 200n and north finks road. Its before you get to west Co 200n but its on north finks road.
Sent in by Lori Morano.

Oxford
located in Benton County
Justus Cemetery
Located within Old Academy Park along Hwy 55 / Crown Street / Co Road 350 E
In the tiny town of Oxford, Indiana, not far from Indianapolis, lays one of the most notorious cemeteries in the Hoosier state, known as Justus Cemetery. This ominous burial ground is home to its very own ghost, making it one of the most widely visited haunted places in Indiana.
This spine-tingling tale begins with the Oxford water tower. One dark, stormy evening many years ago a train chugged its normal path along the Chicago and Eastern Illinois Railroad. The pale, fat moon was obscured by full gray clouds, and not a soul dared to venture out on such a windy, wet night.
Crew members reluctantly emerged from the warmth of the train to gather water from the tower. One by one, they stopped, horrified to hear a deep, echoing moan rising from the tower. The train's passengers heard the mournful sound as well, and were frozen in their seats in fear.
The passengers' horror, as well as that of the crew members, reached new heights when the sound was suddenly accompanied by a horrifying sight-that of a glowing white figure. The ghastly apparition appeared through the sheets of rain to drift toward the train and its stunned occupants. Still moaning, the figure was headed straight for them.
Amid panicked screams from their passengers, the crew began working at a frantic pace to finish their task at the water tower. And then, as abruptly as it had appeared, the spirit vanished. It dove into an open grave, to the intense relief of all who watched it go.
That fateful night wasn't the only time the Justus Cemetery ghost made a surprise appearance. Just a few nights later, the same crew-minus a few who refused to return to the water tower ever again-felt the wrath the restless spirit once more. The duties at the water tower had been completed, and the train was ready to head to its next destination. As the engine roared to life and the train should have began to chug along the tracks, the crew made a horrifying realization-the train wasn't going anywhere.
The wheels spun desperately, but the train appeared to be gripped in some sort of deathly hold. Finally, the panicked crew felt the train break free and begin to move along the tracks. However, the men banded together and vowed to never return to the town of Oxford on their nightly trips.
Is it really a ghost, or just a long-running youthful prank?
A detective was hired by the Railroad to investigate the ghost of Justus Cemetery.
The detective observed a group of high-school age boys tiptoeing into the area, carrying a billowing white sheet. Within seconds, their secret was discovered-they had attached the sheet to a wire and dangled it from the water tower, and had even coated the train tracks with soap to make the train stick when it tried to move. However, most of the crew who witnessed the power of the Justus Cemetery ghost swore it wasn't a prank. To this day, many in the town of Oxford believe the water tower is haunted.

Paoli
located in Orange County
Several websites have the haunting of Bond's Chapel listed in Paoli, Indiana,
when it's actually in Orangeville which itself is located in Orange County as Paoli.
Bellmore Diamond Mansfield Montezuma Rockville

Pekin
located in Washington County
East Washington Middle School
1100 N Eastern School Rd # E5, Pekin - (812) 967-5000
The third floor is the most haunted place, mainly in the girl's bathroom where the lights turn on and off. On the second floor in the old gym there is a bloody handprint on the back of a basketball hoop, on some days it moves.
Katie's Lane
Websites out there has a haunting titled "Katie's Lane" listed in Pekin, Indiana
when actually this haunting is located in Salem, Indiana which is also located in Washington County.

Pendleton
located in Madison County

The Pendleton area also has a cry baby bridge.

Cry Baby Bridge
Directions:
(1)Merge onto I-69
(2)Take the IN-38 exit- exit number 19- toward PENDLETON/NOBLESVILLE.
(3)Turn LEFT onto IN-38.
(4)Follow IN-38 outside of Pendleton to County Road 50 West.
(5)Turn RIGHT on County Road 50 West
(6)Turn RIGHT on County Road 675 East
(7)END at Cry Baby Bridge (only bridge on 675)
Legend was that a woman drowned her child off of the bridge. If you park your car there at midnight it will not start back up and you will hear a woman crying or her baby crying.
Some have claimed to have heard what sounds like a very large object being thrown into the water right below them. You know, the deep resounding KERPLUNK that a heavy object makes when it drops into deep water.
"Main Street Cemetery" as the locals would call it is listed in the Hancock County Cemetery registry as "Hays" Cemetery.
Directions:
(1)Merge onto I-69
(2)Take the IN-38 exit- exit number 19- toward PENDLETON/NOBLESVILLE.
(3)Turn LEFT onto IN-38.
(4)Follow IN-38 outside of Pendleton to County Road 50 West.
(5)Turn RIGHT on County Road 50 West
(6)Turn RIGHT on County Road 675 East
At this point, you will see a row of trees proceeding in a straight line towards the west. On the north side of this tree line is a dirt road. The cemetery is located at least a quarter mile off the road, having to drive down a long forsaken dirt path, in the middle of a secluded wooded area, next to a very steep ravine, situated in the middle of nowhere. There are no churches, houses, towns, or anything nearby. To describe this location is to describe the makings of a haunted movie. Entering at night is definitely for the bold hearted. Once entering the yard, the road takes you in a circle around the stones. If you proceed to the right of the fork, you drive down part of the ravine and deep into the woods. This area is a section of the oldest overgrown and abandoned graves and some seem to have slid down into the ravine.
It is where a little girl is suspected to be the devil. On top of her grave there has been a plant growing over many of years. This plant has now begun to shape like the Devil's Pitchfork.
There is also the tale of a man who hung his wife in the back of the cemetery, then shot her in the back of the head with an arrow. Allegedly, she haunts the site today.
There have been numerous reports of experiences as ones of malice, hearing unearthly growls and wild laughter, being shoved, and even that their life was in jeopardy with a severe feeling of oppression. Others have heard voices and laughter and the feeling that they were most unwelcome, even to the point of being pressured to leave by harassment and being followed out until on the main road. Others relay hearing footsteps and whispers.
Because of Hays' remote location, the yard was used by Satanists back in the 70's, and some of the graves were dug up and body parts were used for the cult's activities. Also, over time, some of the graves have fallen down the ravine.
What forces were unleashed by the Satanists' activities? Grave desecration, is this not also a source of ghostly activity? Are the spirits of those who were dug up and used for satanic rituals tortured by that fact and are haunting the location to find vengeance on those who disturbed their restful sleep? Or, is it just the spirit of the woman who was hung and shot with an arrow by her husband out for revenge upon men? (It appears that the most ominous experiences there happen to the men who visit).
The old white iron bridge just down the road from the cemetery's entrance is also said to be haunted, also referred to as Cry Baby Bridge.
This bridge has an iron grating roadbed and you can see right down into the water as you drive across it.
Mount Gilead Church
10010 S 50 W
Pendleton, IN 46064-9349
(765) 778-0757
If you run around this church 10 times
prior to going to Main Street Graveyard and Crybaby Bridge
you will conjure up spirits which will make your evening trip a little more interesting.
Falls Creek Park
In 1945, two lovers, Jon and Rachael, were playfully chasing each other across the bridge early one morning. They just spent the whole night together doing what lovers do. As Jon chased her, Rachael tripped on her skirt and fell tragically into the creek hitting her head on one of the rocks, killing her almost instantly. Witnesses say that after Jon dove in after Rachael, it appeared that he was being held under by Rachael's lifeless corpse. Ever since that day, some claim they can hear the whole tragedy and others say they see it.
Webmaster: Does anybody know this exact location? Contact me!

Casio's Restaurant
6765 W Pendleton Pike
McCordsville, Indiana 46055-9309
Phone: 317-335-2237
It said to be a very haunted restaurant
The Plantation Club, later known as Casio Restaurant was a speakeasy, casino, and possibly another meeting place for Al Capone and Dillinger. The club was built just past the Marion County line on State Road 36. On the other side of the road are railroad tracks.
No Hauntings Reported
Okie Pinoke
This site used to be swampy and marshy and there have been at least 8 decaying bodies found there (reported by Mississinewa staff). This site may be an old burial ground of some sort or battlefield, as to the thousands of spirits hiding within the trees. You will drive down this gravel road, and the trees will begin to swarm and intertwine above you. You will then come to a circle. Getting out the car, it is said that if you whistle, someone will begin whistling with you from deep in the forest. It is also said that a noise like a pig squeal and dogs barking can be heard like it is right next to you. And last but NOT least, you will hear screams like a small child is being tortured; supposedly it is a 7-year-old girl named Stephanie. Also, traveling a long a path you will find a tree that has indents that appear to be much like deer antlers; HOWEVER, these are horizontal instead of vertical and have a place for an opposable thumb.
Warning: DO NOT GO HERE, UNLESS YOU REALLY WANT TO BE TERRIFIED.
(P.S. Do not "Ouija" here for the spirits do not like it.)
Webmaster: Sounds like a mixture of Mississinewa Battle Grounds/Graveyard and Mount Hope Cemetery in Logansport
Directions:
(1)Turn LEFT onto IN-124/W 600 S.
(2)Turn RIGHT onto S 775 W.
(3)Turn LEFT onto W ELLIOTT RD.
(4)Turn RIGHT onto 700 E/800 W.
(5)Turn RIGHT onto CR-40 N/E RIVER RD.
(6) RIVER RD. becomes COOPER RD.
(7) Follow COOPER until you see a NO TRESSPASSING gate on the left.
(8) END at Okie Pinokie (have to walk/gate is locked)
Others claims They searched along River Road for a fork-in-the-road, but no forks were found. After speaking with a few locals it was discovered that Okie Pinokie was actually on the other side of the highway off of Riverside Drive, which is better known as Highway 124.
From Peru, go East on 124 (On the west side of 19, the road is called Riverside Drive)
You'll be on 124 for about 4 or 5 miles
One distinguishing characteristic of 124 before you come up on Okie Pinokie is that there is a large fork in the road where you take the right part of the fork.
The road to Okie Pinokie is about 1 mile from this fork.
On mapquest, the road is called Fire Lane, but everywhere else, including the road sign, calls it 150 S.
There will be 3 pillars signifying the entrance to Okie Pinokie.
You will turn right off of 124 onto 150 S, and travel this dirt road for about 1-2 miles.
You will come to a round-about. This round-about and the surrounding area is called Okie Pinokie.
Paranormal activity seems to be centered around this round-about.
Here is a map from mapquest.com
Kings Courts
Where the old pizza Hut used to be. Near highway 31, and if you take that road all the way back till you see a trailer court, you found it! There have been seen strange creatures and very strange noises back there. There's a cemetery on the side dating back to the 1800s and there been dry lighting hitting it for some time now (worth a look).
Webmaster: Does anybody know this exact location? Contact me!
Dentist Office
Dr. Melody M Richardson, DDS
63 West 6th Street
Peru, Indiana 46970
Located on 6th Street, across from the old "Tigerina" that is believed to be inhabited by a ghost of a woman. The dentist office is in an old house. The staff has said that the upstairs is used only for storage but many times the curtains are opened and things will be moved. People in to play bingo across the street or passing by have also claimed to see the woman in the window.
Hookmans Cemetery
Located off 24 East between Peru and Wabash. Go east on 24, on your right before you get to Wabash is a road called Lover's Lane.
Take this road until you get to the first dirt "road" on your left.
No matter what time of day you go, there is a fog that sits at the top of the hill-there is no breeze, no birds, or insects. If you go there, Hookman is not buried where its marked; you have to walk 1.5 miles back (you'll know when you get there because its like a cold pocket). Urban legend stories say on some cold fall nights you can see Hookman walking old Lover's Lane looking for his next victim.
Lutheran Cemetery
Take Business 31 into Peru. At the stoplight (Kroger's will be directly in front of you) turn left. This is Business 24/Main St. Follow this road until you get to the first right past the Frances Slocum Bank. Turn right. This road takes you to the cemetery.
I would recommend contacting the Peru Police before investigating this cemetery at night. It is visible from the stoplight at Main and Business 31. The Peru Police take vandalism very seriously. If they see lights there late at night I can almost guarantee a visit from them.
On the older side of the Lutheran cemetery there is a very large white cross. It is said that at a certain time of night, midnight I believe, on particular nights a stairway will descend from the middle of the cross.
Old Stone House
Part of the old Underground Railroad near the Wabash river on old stone road, it is said on some foggy nights you can drive by and see strange lights coming from the house, It was burned on the inside years ago and is not safe to enter but it has been bought and is going to be converted into a church.

Petersville
located in Bartholomew County
Petersville once had a haunted house where visitors took photos that showed a woman standing in the house. Unfortunately this haunted house burned down a few years ago.
Before the house burned down a couple years ago a team went to investigate this house. Using a 35mm camera with 400 speed film they report taking about 4 rolls worth of pictures of the site. Out of all those pictures there was 3, maybe 4, of them had several orbs in the picture. Another picture had figure in bright white standing in the broken out window. Further examination of the photo appears that it was a female and she was wearing a dress.
Since the house has burned down there has not been any more orbs/women standing in any other picture.
Blackfoot Cemetery
This old cemetery is located out in the middle of nowhere. It contains gravestones dated from the 1800's, and is a known spot for paranormal activity. Many people visiting the cemetery have reported seeing strange lights and hearing scary noises. There is even a lone gravestone in the cemetery that is separated from all the others. Legend states that a witch is buried here.
Webmaster: Does anybody know this exact location? Contact me!

Plevna
located in Howard County
Ferrell House
Plevna, Indiana once had a disturbing haunted house that still causes problems even though it's long gone. People claimed to see a disembodied ghost swinging in the barn, orbs and several other spirits. There were occasions of flaming faces, a woman hanging from a rafter in the barn (that is how she died) a body on the roof, red orbs, there was a closet upstairs that had no flooring just a bottomless hole (if you were to drop things down it you would never hear it hit.) If you went directly underneath it on the first floor there was no hole.
The farm is now gone, but crops refuse to grow anywhere near the location.
Webmaster: Does anybody know this exact location? Contact me!

Plymouth
located in Marshall County
Muckshaw Rd.
It is said that on nights when there is a full moon you can see the image of an old beat up truck with teenagers hanging off the side of it. It is also said it will chase you. The story is a long time ago these teenagers used to hang off the side for fun until a tragic accident happened. Now, they come back to haunt you on full moons.
Here is a map frpm Mapquest

Hayloft Restaurant / Homer The Ghost
Old U.S. 30, Plymouth, Indiana
PH: (219) 936-6680
This place was originally built in the 1800's. Homer, the ghost of a farmer who once owned the land where the Hayloft Restaurant resides, moves objects about the restaurant; sometimes knocking things over, and sometimes making them disappear altogether.
He is sometimes spotted in the Silo Room, and occasionally in the kitchen. The apparition is almost always seen from the knees up, or the waist up, and his legs are usually not seen. That isn't to say he doesn't have legs, but his spirit seems to manifest without them
Homer might be one of the ghosts haunting the Hayloft Restaurant, but there may be more as well. Some visitors have claimed to see an older Indian man standing in the restaurant. Most explain away the man as Homer, though others, who claim to have seen Homer, have not mentioned him looking at all Native American. When he is around, people often report strange smells in the building, including the smell of burning wood.
The Hayloft Restaurant was one of the original buildings of a working farm built in the 1800s. The building was actually used as a barn until the 1970s. It was only when it became a restaurant. Homer, and his ghostly activities were not noticed, or documented until at least 1989, over 100 years after the barn was first built. The Hayloft caught fire a few years ago, but the owners rebuilt and reopened the restaurant. There are some that claim Homer was merely warning the workers and owners of the fire that would one day destroy the building.
Poland Cemetery
IN 42 near Co. Rd. 56S, Poland
This is where people claim a possessed child was buried. According to the stories, the boy was from a normal quiet family and seemed like the perfect child. One day he began acting out and speaking in strange tones. As he was only five years old, the family was concerned about his behavior.
The family quickly learned that a demonic force possessed their little boy. Some even claim that the boy was possessed by several demons. These demons eventually caused his death, though no one even gives an exact reason why he died.
Following his death the family placed a huge color portrait of the boy on his headstone. Though the headstone is eroded, the picture is still in perfect condition. It is said that if you look closely at the image, you can still see the traces of his horns. Apparently when the demons possessed his body, they did so with a physical manifestation.
Zion Church Cemetery
The Zion United Church Of Christ Cemetery is located next to and across from the Church at 3005 N. Bowling Green Poland Rd. Poland, Indiana 47868.
The oldest recorded marker dates back to 1840.
The cemetery itself is rumored to be haunted, though most of the stories seem very generic. People who have been there claim to have seen strange lights, felt as if someone was watching them, and generally felt spooky. Others claim to hear the sound of someone whispering.
It is said that there is a helpful spirit who haunts the cemetery, yet tries to protect people from entering the cursed ground too. Supposedly the ghost walks out of the cemetery, and stops cars as they get near. Some have even claimed that the ghost told them to turn back.

Portage
located in Porter County
Wolf Mansion
Josephus Wolf House, outside of city limits, with Valparaiso address.
453 West 700 North Road
Wolf Mansion in Portage is probably one of the more famous haunted houses in Indiana. The house was once owned by a slave trader who decided to kill all his slaves (mother's, fathers and children) rather than let them go free. He then killed his family, dismembered the bodies, hid them, and then took his own life. There are stories of ghostly lights, that the light in the bell tower comes on for no reason moreover there is no switch for it. The bell tower does not currently have a bell, but you can hear it ringing at times from inside the house. There have been reports of someone screaming. Other stories say that a group of monks walk the grounds and most people there claim to feel uncomfortable, as if someone's watching them.
One person who did an install at the house claims that when in the basement, they felt breathing down their neck and that something brushed against their hair. When coming back up the stairs, something was passing along their heels. Reports of doors opening and closing by themselves and things missing and showing back up.
Another story is that supposedly, a woman was murdered on the grounds outside the home on her birthday and only on her birthday each year (Believed to be in early April) will you see her ghost roaming the grounds carrying a lantern in her hands.
Webmaster: Haunted or not,
Slavery ended in 1820 not to mention that Indiana was not a slave state and the house was not built until around 1875.
It was said that he owned slaves illegally and had killed them and then his family then he hung himself in the clock tower.
Webmaster: Again, the house was not built until 1875. So your telling me that fifty years later, Mr. Wolf owned slaves illegally
There is also a lot of talk that Mr. Wolf never killed anybody and that he actually died before his wife and that his children died of diseases. Supposedly, the children's bodies were buried in the backyard.
As it is, it is reported by many to be haunted; however the stories of Mr. Wolf appear to be false.
Old Porter Road / Dogs of Old Porter Road
Here is a map from MAPQUEST
Late at night (often during the winter months) shadow-like figures has been seen along the train tracks in between Portage and Burns Harbor that line Old Porter Road. This lonely strip of road has seen many tragic events over its rich history, some resulting in injury or even death, no one can pen down the explanation to the figures. Some describe as dog-like, as if a dog had grown long thin legs and a long thin tail, stretched to twice the size of a medium sized canine and given glowing yellow eyes. A young person who lives on the desolate portion of this road has often been subjected to visions of these spectral beasts, roaming through her yard at night terrorizing the family pet, breathing, scratching, and growling at the windows and doors to the house. Some of the conductors say they can see the hounds running along side the trains as they blow by in the night, yellow eyes glowing bright, baying as they chase the wind.
Devils Bridge en route to Michigan City
Websites out there have this haunting listed in Portage, Indiana
when it is actually located in Ogden Dune, Indiana which itself is located in Porter County.
Crisman School
6161 Old Porter Rd, Portage, IN - (219) 763-8020
People have reported the school to be haunted.
Stagecoach Road
Websites out there have this haunting listed in Portage, Indiana
when it is actually located in Ogden Dune, Indiana which itself is located in Porter County.

Porter
located in Porter County
A haunted house in Porter supposedly has the ghosts of a woman and her grandson. There are stories of the two spirits peering out a window together.
Webmaster: Does anybody know this exact location? Contact me!
Devils Bridge en route to Michigan City
Websites out there have this haunting listed in Portage, Indiana
when it is actually located in Ogden Dune, Indiana which itself is located in Porter County.
Chesterton Hebron Kouts Ogden Dune Portage Porter Valparaiso
Historical Society of Porter County Old Jail Museum
has had paranormal activity recorded and when open for Halloween haunted houses many orbs and strange things have been seen and people have gone missing.

Portland
located in Jay County
Old Portland High School
In the auditorium of the former Portland High School a janitor was fixing a light bulb over the stage on a tall ladder with someone holding it at the bottom. The janitor lost balance and fell, colliding with the man at the bottom. It didn't break his fall though, and was instantly killed from a broken neck. Since then there have been reports of weird cold breezes in the auditorium at night, and sometimes a sighting of the dead janitor. The Portland High school was turned into the junior high when a new high school was built, and then torn down in 2002.
Boundary Pike Road
Boundary Pike Road is haunted by the cemetery on that road where a boy and his mom are buried there. They died because they went out across the road. But they didn't see that a car was coming and they got killed. Now the woman and her child play chicken with some of the cars that go on that road at a certain spot at a certain time.
Webmaster: Where exactly is this certain spot and this cemetery? Boundary Pike Road is a LONG stretch.
Just what time is the certain time? Sounds like bull$&@! to me!

Princeton
located in Gibson County

Bulldog Bridge
This is an old bridge located on back roads heading east out of Princeton, the bridge has been host to many suicides, and the favorite way was hanging. A man was also found there dead in his car, doors locked, windows up. This was in the middle of the summer when temperatures reached well into the upper 90's. When they found him he was already decomposing. The place is supposedly haunted by these people who hung themselves or were found dead, cold spots are often felt and in the summer you can see your breath like you do in the winter.
Growling in the corn fields has also been reported.
Webmaster: Does anybody know this exact location? Contact me!

PUTNAM COUNTY

Cloverdale Greencastle Reelsville

RANDOLPH COUNTY
Bartonia Mississinewa Ridgeville
Shoetree and Crybaby Bridge
First the shoetree has many pairs of sneakers in it all tied together and flung in there. The story goes that a man was killed and then had his shoes thrown up in the tree. He now haunts this place and if you go there at night and get out of your car he will murder you and throw your shoes up there with his.
A half a mile down the road is Crybaby Bridge. Supposedly a school bus full of girl scouts went over and now you can hear them crying down there. If you stop on the bridge and turn off your car it might not start again.

Reedville
located in Hancock County

Reelsville
located in Putnam County

Dick Huffman Bridge
The Dick Huffman Bridge in Reelsville, Putnam County is said to be haunted. If you go to the bridge and flash your headlights you will see someone walking towards you. It looks like an old man. The story says this man got drunk one night and plunged off the bridge.
The Huffman Mill Covered Bridge crosses the Anderson River on County Road 1490 North connecting the counties of Spencer and Perry.
Updated 10/18/2013 Thanks to Marcus Doll

It's been brought to my attention that Dick Huffman Bridge is located in Reelsville which is located in Putnam County and not Reedville located in Hancock County, however, this person also claims it is located at County Road 550 W - while other listings has it located at
* County Road 29 / Huffman Road off of IN 145 S
*on County Road 1490 North
*County Road 1050 southwest of Manhattan in Putnam County
And Google Maps has it located at West county road 1025 S
The Dick Huffman Bridge is 265 feet long over Big Walnut Riverand is the longest Howe Truss bridge in the state.
Four Arches
Four Arches is a train trestle with a tunnel running through it over the four arches. The last arch supposedly contains the body of a murdered woman buried in the cement. People have reported seeing a figure standing at the last arch resembling a woman. There is also a ghost train that comes through here on certain nights.
Webmaster: Does anybody know this exact location? Contact me!
Reners Quarry
There was an explosion in the mine that killed 40 people. Now you can hear the boom and the screaming, moaning in the shaft.
Webmaster: Does anybody know this exact location? Contact me!

Rensselaer
located in Jasper County
Memory Gardens
250 N Mckinley Ave, Rensselaer, IN - (219) 866-5125
This is a cemetery that has a statue of a saint in the back. It is said that if you go there at night and walk by the statue, it will move. It will move as if it was following or staring at you. Its arms move from their original position when you come in. and its head also moves as if it were watching your every move.
DO NOT TRESPASS HERE! You WILL be arrested.
Twin Cemeteries
On a road just out of Rensselaer, there are two cemeteries, on each side of the road. Legend has it, that there was a young couple whose families didn't get along. They decided to kill themselves Romeo and Juliet style. They left in their notes to be buried side by side. Their families didn't honor their wishes and put them in different cemeteries. Late at night, if you drive there and park your car between the two cemeteries, and shut your lights off, you can see a brunette woman in white and a man in black walking across the road to meet each other. Warning: If you shut your car off, it will not start again. Also, the woman was from a religious family, so it is said that if you supposedly cuss, you submit yourself do the danger of being attacked.
Webmaster: Does anybody know this exact location? Contact me!
Moody's Light
Way out in the farm fields a man is said to carry a lantern up and down the road that his family lived on. The light, it changes shape, size, and color throughout the night.
Webmaster: Does anybody know this exact location? Contact me!
St. Joseph's College
U.S. 231, Rensselaer, IN - (219) 866-6000
St. Joseph's College is known to have several hauntings:
Theater Aquinas Hall Drexel Hall Chapel Dwenger Hall Hallas Hall

Theater - St. Joseph's College
There are multiple places on campus that are either haunted or possessed. All in all, this campus may be one of the most haunted in the country. First of all and the most widely acknowledged among the student body is the theater. Legend has it that one of the many priests on campus hung himself there after an exorcism went awry. Others believe it is a student who didn't get a part that killed himself, rather than a priest. People still feel things touching them when they are on the catwalk and doors move without reason.

Aquinas Hall - St. Joseph's College
Supposedly this is the site of an exorcism. When any of the priests are asked about it, they quickly become furious and tell you to mind your own business. However, the place has been closed down for apparently no reason. This dorm had offices on the first floor and had students living there a few years ago. After that it was used mainly for the nursing student offices. In 2002 there are still offices and there are now athletic coaches living in the residence area.

Drexel Hall - St. Joseph's College
Drexel Hall is now restricted and on the list of Indiana's most Endangered Landmarks. Though the rest of the building is in ruins, the chapel is in perfect condition according to sources. Also, people who enter begin hearing voices in their heads.
There is said to be a spirit in the chapel of St. Joseph's College. Sometimes at night, there is a light that is visible at the very top of the chapel. The light is only seen by lovers who are walking on the campus. When you look back at the light, you won't see anything.

Dwenger Hall - St. Joseph's College
Dwenger Hall is supposedly possessed. Students of the dorm next to this shut down building have claimed to see lights coming from inside. Many also claim a force compelling them to look into the windows.
Rumor is that the priest who preformed the exorcism, committed suicide after it failed. (If it was in Dwenger Hall or The Theater is unclear.)

Hallas Hall - St. Joseph's College
Hallas Hall is supposedly haunted by a baby. Legend has it that a young woman gave birth there and the baby died. It has been there ever since and students report hearing it cry at times.
There is also a claim about a girl who woke up in the middle of the night to see a very young boy at the foot of her bed.

Richmond
located in Wayne County
Earlham College BACK CAMPUS
801 National Rd W
Richmond, IN 47374
(765) 983-1310
On Halloween night in 1857 there were 2 students who were walking in the back of campus. There is a big pipe line that goes over the creek. Rumor has it the 2 students were trying to cross the creek on the pipe line and fell off into the creek which is only about 2 foot deep. To this day on Halloween night if you go there you can see fingernail scratches on the pipe where they slipped off and hear screaming from down below.
Goshen Cemetery
The Cemetery is just north of Richmond, Indiana on 227 N.
Numerous signs of ghosts can be detected here. A lady in white stands over one of the graves, and when approached she disappears. Footsteps in the grass can be heard either following, or coming towards you. Shadows and small white lights can be seen in the woods surrounding the cemetery. The most frightening area is definitely the Northwest corner of the cemetery underneath an Oak tree. This section contains the graves of children. It's the darkest section of the cemetery, and if you stand in the path right by these graves. Something will sound like it's falling out of the tree, and will hit the ground with a thud. There is never anything there. Other oddities include a sudden temperature drop over some of the graves.
Star piano building
935 SW 1st St
People say that you can hear the voices of the people buried under the building, from when there was a cemetery once located there.
The main building has been filled with graffiti over the years, and many of them seem to move, not just to watch visitors, but at times to even shift from floor to floor of the five story building. At times a large truck can be heard from the loading area in the basement, and you can also hear footsteps and even see debris shifting beneath the feet of an unseen person. Witnesses have reported phenomena from the common cold chills and sense of a "presence" to actual possession.
Haunted Greenhouses
If your on 40 going into Richmond from Centerville you turn left on 18th. Go straight. You can't miss them because they are on both sides of the road. They are right at the entrance to the state hospital. Now, looking at the state hospital, in the greenhouses on the left side (the newer looking side) there haven't been too many strange things happen. There is a creepy old house/office (btw pickup the phone and listen). Also in the bigger building with the smokestack where you might hear a weird squeaky wheel noise as if someone were pushing a cart. But, the right side . . .
. . . That's another story.
If you find this room that has strange graffiti all over it and you listen you will defiantly hear some messed up stuff. YOU HAVE TO GO AT NIGHT. On that side you can hear moans, screams, all kinds of strange noises. There have also been bloody handprints in various places.

Ridgeville
located in Randolph County
Sleepy Hollow Road
This road is a gravel road and it has trees surrounding it. You can't see the sky because the trees are like a dome over the road. If you turn your lights off you can't see anything. If you drive down the road you will come to another like drive way or a little road like that. Down the road about a half-mile is a school bus if you go back there you will be chased back to your car by the team that was stranded back there.
Webmaster: Does anybody know this exact location? Contact me!
Batesville Osgood Sunman Versailles

Rochester
located in Fulton County
Dead Man's College
Dead Man's College is a one room school that was built before 1876 on top of an abandoned family cemetery. There is a grave under the front step. It is linked to the story of Prill School because supposedly "Sister Sarah's" baby is one of the graves located at this school. At night you can hear children asking you to come and play with them.
Prill School
Prill School is haunted by a woman named Sister Sarah. Some say if you go out there on the night of a full moon and you sit with your rearview mirror facing the tree in the yard, you will see her ghost next to or in the tree. Other people say that on a full moon if you leave a piece of paper with questions on it and come back the next day, there will be answers written on there to the questions that were asked. Sister Sarah was a teacher in the school when it was open. There are many stories to how and why she died.
Earl's Tree Cemetery
This graveyard is off of St Rd 25 on 300 south.
Take a tape recorder out there on any night of the week and just have normal conversations. Nothing eerie happens, until you listen to the tape! You will hear the raspy, whispery voice of what some believe might be a 3-year-old boy named Earl. This is an old graveyard. Some believe that he may be telling us something about the tree next to his grave. Listen VERY CLOSELY to the recording however, you may mistake his voice for one of your own!
Olson Road
There is an old slaughterhouse on Olson Road between Old and New 31. It is off of the river. If you drive by, sometimes you can see it and sometimes you can't. It's huge when you do see it, so you know that when it's gone - it is really gone! If you get out of your car and try to walk to it, you can't get to it.

Rockport
located in Spencer County
Eureka Rd
There have been reports of different residents hearing men having a conversation and a spectral train when there is none on the tracks, while lying in bed. They have also heard a man calling their name and the televisions turn themselves on and off. Children have also complained about toys moving across the floor and seeing horses running through the upstairs.
The Rockport Inn
130 S. Third Street, Rockport, IN 47635
This is a Bed and Breakfast over a hundred years old. One of the owner's wives died in the Inn and is said to haunt it and roam the halls. A ghost of a lady has been seen and heard for many years and by many of the owners and guests.

Rockville
located in Parke County
Crying Baby Cemetery
If you go in there you can hear a mother sobbing over her lost baby. Then, if you wait long enough you will hear a baby's cry. It tells the story in the legend that the mother lost her baby somehow and she is mourning over it where they put the headstone.
Webmaster: Does anybody know this exact location? Contact me!
Although it sounds like a bogus story.

Rolling Prairie
located in LaPorte County
Lambs Chapel
6006 North Fail Road
Laporte, IN 46350
(219) 778-9402
Ghostly sightings and cold spots have been reported here. The legend behind Lambs Chapel is said to have a beautiful young lady running through the cemetery at 12:00 on the dot. It is said that she was driving by Lambs Chapel and her car broke down, so she got out and she saw a man. He chased her through the cemetery. If you drive by, your car just might break down.

St. Anthony
Saint Anthony
located in Dubois County
Big White House
This house is located in St. Anthony right next to a set of railroad tracks. Supposedly In the 1930's, an entire family was killed on the railroad tracks when their car stopped and they were hit by an oncoming train. Owners of the house claimed they saw ghostly apparitions in their house and heard odd noises.
Lakeville Mishawaka New Carlisle South Bend Walkerton

Saint Paul
located in Decatur County

Old Railroad Bridge over Flat Rock River
A man fell from this railroad bridge and was killed when this bridge was first built. A light can be seen from the bridge late at night. It looks like an old lantern light. Moans can be heard from the top of the bridge, but no one is there.
According to resources: The bridge is closed off.
Webmaster: Does anybody know this exact location? Contact me!
Trestle
If you go to the trestle in Saint Paul you will hear a crying sound. Then if you flash your lights at it 3 times you can see three friends who died there. The story goes that all these friends were walking across the trestle and they fell. It was around 3:00 in the morning when they fell.
According to resources:
When you get to saint Paul the tracks run right through town. Just follow them till you get to the trestle. The resource claims that his great grandfather was the undertaker of the town at the time and his grandfather told him about seeing them bring in the bodies.
Webmaster: Does anybody have any other info on this haunting? Contact me!

Salem
located in Washington County
Henderson Cemetery
The Henderson Cemetery in Salem is rumored to be haunted and not just haunted but haunted by the actual Grim Reaper. Supposedly the reaper is there to keep an eye out for future victims. Others claim that they felt someone watching them, and heard weird noises that they couldn't identify. There are also stories of people seeing something moving out of the corner of their eye, only to turn and find no one there.
Story says that a handsome young man lured three young girls to the area. Most likely they were hoping to find a party, but they found horror instead. As they waited in the cemetery, a group of satanic cult members jumped on them. The three girls were sacrificed by the cult, and their spirits supposedly haunt the cemetery.


Katie's Lane / Blue River Church Cemetery
Blue River Church, Salem, Indiana 47167
Directions:
northwest toward Salem on IN- 60.
Turn right on Motsinger Road. Be careful of the curve before the railroad tracks.
Turn left onto Eastern School Road, at the white pillars.
Turn left onto Farabee at Blue River Baptist Church.
Across from Blue River Church a house was built and the Plot is named K's Acres. This used to be the locals place for teenagers to hang out in the cemetery. One night, after a party was winding down, a man by the name Godfree was intoxicated and wandered across the road. The drunken man leaned against a headstone and passed out leaning against it. The man was later on to be found with the stone on top of him. The incident is still unsolved but was not really investigated very thoroughly. They did report that there were no tire tracks of any kind and people could not have pushed it over because the grave stones are set fairly far into the ground and this one weighed approximately 2000 lbs. There have also been rumors of strange noises and unexplained lights in the area before the new home was built.
Updated 2012 06 14
Information provided by Jamie Smith
Your posting regarding Katie's Lane in Pekin/Salem is partially correct. It is actually off Blue River Rd, the opposite direction. Take HW 60 headed north. Left on Shorts Corner (besides Newlons Store). Follow Shorts Corner out (watch the hills!) to Blue River, turn right onto Blue River. A new church sits on the right side atop a hill.
An older cemetery is located there. That ISN'T it. However, that cemetery is interesting also, it's older and many buried there are relatively young. Directly across from the church is a driveway surrounded by woods (easily missed). There is a wooden entrance sign, "K's Acres." This drive leads to "Katie's Lane." The drive curves to the left, and on the right is a fence. Jump the fence and it will lead up to an old house, barn and cemetery. If you take the drive way it will go to the new owners home. I grew up in Pekin, and at one point lived walking distance from there. Story has it, "Katie" was a rumored witch, the town set her house on fire and hung her in the barn. I even heard stories that the noose still is hanging. As a teenager in the county it obviously became a party spot. Hence the story of the man dying from a fallen headstone. I went to high school w/the kids of the owners of the property. They've all confirmed strange activity. Everyone knew it as Katie's Lane, when the new owners bought the land and put up the sign K's acres, the irony was they named it such (not know the Katie name) because their last name starts w/K. They do not allow people on the property, and will contact the police. This is because A) who wants trespassers, B) by owning the land their insurance is liable for things happening (ie headstones falling), C) not only trespassers, it's a bunch of under age intoxicated annoying kids, and, D) it's became almost "part of the deal," of living on the land-Katie lived in the woods cut off from the growing population (I've heard that when the towns people went to burn her house down, the woods made it very hard to reach). Katie supposedly will leave the owners (and ghost seekers/trespassers) alone as long as she is left alone. At the bottom of the hill (right before the church), there is a bridge and the river. The owners won't even allow fishing off their banks. I've heard stories of people fishing, in broad day light, hearing screams and sounds of splashing water as if someone is drowning. If you park on the bridge, car and lights off, you can hear noises. As I said, I lived walking distance. If possible, although the long way home, I would avoid even driving past the property. If you contact the owners, they may allow some sort of visitors, investigators, but it is very private property and they very much do not tolerate trespassers. A friend lived on the opposite side of the river, between our house and the lane. His family for many generations back, were born and raised in the area-obviously have good knowledge of the "local happening." They've told the story of Katie too. I heard that one of the family members knew her. Whether the stories have any truth to them or just your typical camp fire ghost story-I don't know. I've tried doing some research of old newspaper at the Salem library, but not knowing an exact name and considering its supposedly such a dated event, I doubt a barely existent town at the time, would even yield much searchable docs. I know it always gave me a "bad" gut feeling as if something was very wrong.
Hope the long winded story is helpful!

San Pierre
located in Starke County

Dog Face Bridge
Location: On 1100 W just North of 500 S in San Pierre, Indiana
Directions: Take Highway 421 to 500 S and turn West on 500 S. Go a little ways and you will come to a stop sign. That road is 1100 W. Turn North on 1100 W and follow it about 1/2 mile and you will come to the bridge and a dead end.
The story behind the haunting comes from the 1950's and its haunting has become well known. A couple was driving over the bridge when a dog ran out in front of them. Out of reaction, they swerved and went off the side of the bridge where both the couple and dog died. Strangely, both the woman and dog were decapitated in the accident. During the accident recovery everything was cleaned up except the woman's body and the dog's head were never found.
If you walk down a path that leads to the bridge area (the bridge has since collapsed but there is the pilings) that you will see the ghost of the woman's body with the dog's head attached. She reportedly chases you until you leave the area, nipping at your heels all the way.
The San Pierre Cemetery
On San Pierre Road, in the back right hand corner, a ways into the woods there is a small hidden cemetery. When you go there just before dusk you can see apparitions walking around.

Schererville
located in Lake County
Scherwood Lake Apartments
801 Sherwood Lake Dr, Schererville, IN - (219) 322-4142
Many years ago when the apartments were first built, a woman was alone with her son one day near the lake feeding the ducks. The boy threw a temper tantrum as they were getting ready to leave and in an angry rage the woman pushed him into the lake. Not being able to swim, the little boy drowned. Residents say you can hear the little boy's screams for help in the night, and many have seen a little boy drowning but when they jump into save him, there is no one there.

Scottsburg
located in Scott County
Bridgewater Cemetery / Owens Cemetery
This cemetery has also been referred to as: Kenderhook and Owens Cemetery
From Interstate 65 take Henryville exit, and proceed east a few blocks to Highway 31 and turn north (left). Follow to junction Hwy 356 and turn right into Vienna. Follow 356 about eight miles until you come to Slate Ford Road on the right. Follow this road until you come to Bridgewater Road on the Left. Bridgewater Road dead ends into the cemetery.
Isolated from civilization this cemetery sets on top of a hill overlooking the grassy fields. Back in the 1800's there were a lot of civil war soldiers buried there, but no blacks. Some blacks were hung in the cemetery and buried on the outside of the cemetery. People say the cemetery is haunted by something called red eyes that you can see glowing in the back of the cemetery. People have seen hand prints, cars that wouldn't start, and black objects moving around the cars and by an arched shaped thing in the back of the woods, and cold chills. It is always colder in the cemetery than it should be, and some people have said that they got chased out of the cemetery by a white horse. It has also been said that if you go there after midnight you will see a glowing tombstone of the man that awakens at night and guards the front gate.
Scott County Heritage Center and Museum
1050 S Main St
Scottsburg, IN 47170-6663
(812) 752-1050
This building was originally the county poor farm. Many families who lost everything and had no where else to go came here. It is currently being turned it into a county history museum. The building is haunted by former residents who liked living there so much that they refused to leave. There have been reports of a baby crying, footsteps on the second floor when no one is up there; strange odors; and the lights being turned on when the building is closed. This building will be open for tours starting in October. A fee will be charged.

Sellersburg
located in Clark County
Cemetery
About five miles north east of the cement company Essroc on Brick Church road there is a cemetery that is located around an S-curve. Once you go through the S-curve look to your left and in the middle there is a glowing green tombstone. DO not go into the cemetery to investigate there have been sightings of druid like figures that walk around the church and the road late at night.
Old Man Ike's
Murders that happened years ago has made this old house haunted. Screams and loud banging can be heard where a man tortured and hung many members of a family. Located behind an old factory out of Sellersburg where Ike worked at.
Webmaster: Does anybody know this exact location? Contact me!

Seymour
located in Jackson County

Papa John's Pizza
Papa John's #19
600 E TIPTON ST
SEYMOUR, IN 47274-3520
(812)523-3949
A figure in a blue uniform has been seen by many employees, at various times of the day, but it disappears before fully coming into view. It is seen especially late at night and early in the morning. Knocking sounds have also been heard on the walls coming from the empty store next door.

Azalia Bridge

Take Hwy 31 North out of Seymour, turn right at Azalia. It's the first bridge.
This is where a young couple over a hundred years ago got killed going to there prom. People have heard screaming like someone was being killed and have seen shadowy figures walking up towards them.
It has also been said that if you pull onto the bridge and turn off your car and honk your horn three times a young couple will come up to you and ask you for a ride. And when you take them to where they want to go you go knock on the door and the people who answer won't know what the hell you are talking about and when you come back to the car they are gone.
Haunted Tracks
From Seymour you take Hwy 11 South to 100 S Wischmeier. Turn right on to 100 S Wischmeier and take that road all the way till you see a dead end sign. Keep going straight it turns into a gravel road. Keep going then you'll see the rail road tracks. Go over the rail road tracks and you'll come to the dead end. Turn around and come back to the tracks park on the tracks. Turn off your vehicle and flash your lights 3 times and let the freakiness begin. Legend says that there was a car load of people out there and a train hit them and killed everyone inside
It is also rumored that there has been a couple suicides out there. It is freaky and you see a lot of stuff that you can not explain. Like there is a force there that doesn't want you to be there. Turn off all cell phones and radios before you hit the gravel road.

Sharpsville
located in Tipton County
The old Factory
There is an old factory in town and when you go by there at night you can see something in the window but the factory has been closed down for years. If you go up to the building you can hear banging of metal or something like that and you hear people talking like they were working.
Webmaster: Does anybody know this exact location? Contact me!
Morristown Shelbyville Scottsburg
River Road
Apparition of a man has been seen and cries for help are heard.

Shelbyville
located in Shelby County
Haunted House
Directions:
(1)Merge onto I-69
(2)Merge onto US-421 S via exit number 0.
(3)Take the IN-44 exit- exit number 116- toward RUSHVILLE/SHELBYVILLE.
(4)Merge onto IN-44 toward RUSHVILLE.
(5)Left on Ray's Crossing/600 North
(6)Left onto 250 North
(7)Right at Union Road
(8)Follow Union Road for about 5 miles (White house w/ boarded up windows)
(9)END at Haunted House
Coming from I-74 and hwy 44 at Shelbyville go towards Rushville to Rays Crossing. Look for Big Grain Elevator then turn left at 600N. Follow the road until it curves left then right then left to the T that is Union Rd. turn right. Go over bridges (road curves a lot). The house sits on left side all by itself about 5 mi. from first bridge.
Story has it a young girl was accidentally shot in this house. You will definitely know this house when you see it. It is a boarded up mansion and has barb wire fence around the whole thing so no one can get in. There is a bright light shinning on the house at night. The house is pad locked and there are "Keep Out" signs on the front and lots of graffiti. You can still go and stand outside the fence. You can hear scratching on the boarded up windows coming from the inside and on the front doors. Each time it gets louder and louder like something is trying to get out. It sounds like someone pacing hard wood floors on the inside. Moaning can be heard and faint talking. Kids used to go inside and perform rituals but a lot of kids were hurt in the house and bad things happened to them so they made sure no one goes in now.
Another story is that a young girl killed herself in this house and her body was not found until 2 weeks later. They say the floor still has a blood stain from where she lay.
The Twins House
Twin boys once lived in the house with their parents and it was supposedly designed so that it was perfectly alike on either side, just like the twins. Their father killed their mother and the boys killed him in retaliation. The two had an argument on July 4, 1940 and killed each other. Now reports are that you can hear the boy's last fight every year on the anniversary of their deaths.

Werewolf Hollow
Directions:
(1)Merge onto I-69
(2)Merge onto US-421 S via exit number 0.
(3)Take the IN-44 exit- exit number 116- toward RUSHVILLE/SHELBYVILLE.
(4)Merge onto IN-44 toward RUSHVILLE.
(5)Left on Ray's Crossing/600 North
(6)Left onto 250 North
(7)Right at Union Road
(8)Left onto 575 East
(9)Come to intersection of 575 East and 400 North (Left is the creek, Right is the bridge)
(10)END at Werewolf Hollow
It is said that in the early days of the town of Werewolf Hollow, and unknown creature was going around killing all of the farmers animals and was later named a weir wolf who still roams the woods today. There are many haunted stories of the town of Werewolf Hollow and here are a few.
One story of Werewolf Hollow is that there was a boy that was going to check the mail at the mail box across the street and a semi came by and hit and killed him. Now you can park at the bottom of the hill where his house is and you can see him cross the street and get hit by the semi. Today that house still stands and it is the only house in this area that has the mailbox on the side of the road closest to the house.
Also, another story of Werewolf Hollow is the old KKK house. All of the land around here was donated by the "Red Dragon" which is the leader of the KKK, and there are actual signs that say this. But there is an old KKK house that is still haunted. Story says that the KKK members killed many people in this house and their ghosts are still there waiting for revenge. If you enter this house, you will find a large cross symbol burnt into the floor, and if you venture into the basement (if you dare), you will find many nooses still hanging in the rafters. Story says that if you enter the house, the ghosts of the house will haunt you forever.

Electric Bridge
Another story of Werewolf Hollow is the electric bridge. The bridge is very old and has high voltage power lines going over it. Back in the early day, they were just regular power lines but still had a lot of voltage going through them. Legend goes that a car stopped on the bridge with a man and his two small children and lightning hit the power lines and the power lines fell and killed the family. Today you can go to the bridge and stop your car on the bridge and turn it off and you will here sounds coming from under the bridge and if you try to start your car and get away, your car won't start until you put it in neutral and push it off the bridge. Also at this bridge you can hold up a fluorescent light bulb into the air and because of the very powerful power lines, the light bulb will light up in your hand.
Another story is that if you drive down the lane at Werewolf Hollow, there is a stop sign. Look close and you will see blood flowing on it. As you go on, there are cornfields. You can see a male ghost. Be careful not to stop your car because he will scratch your car. He is trying to warn you not to go on. There are some abandoned houses and if you get out of your car (if you dare) and go up to the houses, you can see a ghost in one window. In another window, you hear noises and a hole in it.

Shoals
located in Martin County

Brooks Bridge
possibly this bridge
A suicide victim haunts the Brooks Bridge in Shoals, Indiana. The woman jumped off the bridge there on June 5 at 12:05 exactly. People now claim that if you visit on that day you'll hear someone running across the bridge and feel a cold wind. Another version claims that it was a teenager who jumped off the bridge. On the anniversary of her death, the same date, you can hear her jumping from the bridge and landing in the water below.
Peggy Holler
From dusk until dawn it is said that you can drive to a spot known as Peggy Holler located in the outskirts of Shoals and hear strange noises, displaced fogs, a man's voice crying out "Peggy" and possibly even witness the headless ghost of the spirit many residents have come to know as Peggy. It is said that her husband cut off her head in a maddened rage and in an insane state of existence is still left calling out her name.
The New Gym
The new gym that was built in Shoals is said to be built where there are some bodies buried. They say if you go in there at night you can here the tapping of the people wanting out. Basketballs come bouncing out of some of the doors. Doors slam shut. Sometimes you can even hear popcorn popping in the concession stands.
Webmaster: Does anybody know this exact location? Contact me!

South Bend
located in St. Joseph County
The tale of Primrose Road is a strange and intriguing one. It is apparent that story after story have blanketed the true origin of this urban legend, and that these stories have masked any factual information concerning real events or encounters. Be that as it may, let's take a look at some of the things that are said to occur on Primrose Road.
One of the strangest parts of the legend states that if you drive down Primrose Road at less than twenty miles an hour your tires will be slashed. It is said that if you travel over thirty miles an hour, your vehicle will simply die. In either case, you will have to walk to get help. Cell phones are said to be useless as you will be unable to get any signal whatsoever. It is stated that while you are walking you will hear unearthly sounds and that a ghost will appear telling you to go back to your car because there is danger ahead.
Another part of the legend states that while you are walking down Primrose Road a phantom farmhouse will appear, but that it won't appear long enough for you to investigate.
Another tale to the phantom farmhouse is that the old farmhouse will appear out of no where and if you walk up to it an old lady will answer the door in a white night gown. She is claimed to be the lady of luck. They say if she invites you in that your luck will become better, but if she rejects you, when you go back to your car it won't be there.
It is also rumored that occult rituals have been performed in the area, and that during one of these rituals a woman was sacrificed and her body was deposited in a nearby lake. Witnesses claim to have seen the ghost of the woman reliving the ritual on the anniversary of the night she was sacrificed. It is also reported that near the lake where her body was left that an overpowering sense of sadness can be felt.
Adams Street Graveyard
(also known as Portage Prairie Cemetery)
A Graveyard that has people buried there as far back as 1791 is said to be haunted, and that strange lights and unearthly mists can be seen emanating from the cemetery after nightfall.
It is said that Adam Street Cemetery ties in with Primrose Road, as it is only a few blocks away and is said to have ghostly happenings of its own. Yet that is Adams Road.
There is an Adams Street in South Bend, Indiana, however the location of the cemetery is that on Adams Road at the end of Primrose Road.
Blood Rock at Primrose Road
There is a cleared out section of the woods where a housing development is built. At the entrance there is a pond on the left, there is a huge rock in the middle of the pond. The rock is called "blood rock". This huge rock mysteriously has been moved to different places.
Webmaster: And this is a haunting??????????????
Sycamore Road / Old Roller Coaster Road
Reports of phantom cars chasing people.
Webmaster: Could not find a listing for Sycamore Rd. however did find a Sycamore St in South Bend. Is this the same road? Email me!

Holiday Inn City Center
213 W. Wasgington Street
South Bend, IN 46601
Hotel Front Desk: 1-574-2323941
Some flight attendants and pilots who stay at the hotel have sworn that they have seen a flight attendant sitting on the edge of the bed looking in the mirror at them. Some say that awhile back, her pilot in the room killed a flight attendant.

Juday Bridge
If you go back on the old trail and walk towards the bridge over Juday Creek, you will see an old train engineer standing with his lantern. The ghost supposedly committed suicide.
There's a similar story told about the railroad bridge in St. Paul.
The ghost died during the building of the bridge and manifests himself by waving his lantern and moaning.
N. Michigan / Dreamworld Heights
It is said that a lady walking her dog down the train tracks that used to run by this location was hit and killed by a train. It has been told to this day even though the tracks are not there you can see premonitions of her and her dog. On some nights it is told you can even hear her calling her dog looking for it.
Potato Creek State Park
25601 State Road 4
North Liberty, IN 46554-9011
(574) 656-8186
Over the years many children have drowned here swimming at the beach or when fishing at night. On the fishing pier across from the beach next to the cemetery, you can hear the sounds of a child crying and calling for its mother. When you go over to the beach there is no one there.
University of Notre Dame

112 North Notre Dame Avenue
South Bend, IN 46556
(574) 631-5000
Some restless spirits have stayed on campus. Before the university came to be as we know it today, the Pottawattamie Indians lived their lives along the shores of what is now known as the St. Joseph River. They buried their dead in the area and some of their dead still seem to be around.
Columbus Hall dates to the beginning of the university's infancy. Ghostly Native Americans, and their spectral horses, have been seen riding up and down its stone front steps.
Washington Hall now houses the university dramatic theater, but it once served as a dormitory for the one and only legendary college football player George Gipp, of "Win one for the Gipper" fame. It has been said that this student housing building may have even been responsible for Gipp's untimely death. It was said that he often stayed out after the curfew set by a stern brother who was in charge of the boys in the hall. Gipp was said to have slept on the front steps of the building one night rather than face the brother's wrath at coming in late. He caught cold, which later turned into his fatal case of pneumonia. His ghost is said to haunt the stage and greenrooms.
Also, the third floor of the Administration building is frequently visited by Father Sorin himself. (He being the founder of the University) He has appeared to individuals and to groups. He does not interact, but does in fact wear the garb and hat of his day.
St. Mary's College
The bell tower at Le Mans hall at St. Mary's College
Saint Mary's College, Notre Dame, IN 46556
574-284-4000
There seems to be a girl hanging from a rope. She committed suicide there. Also on the 4th floor infirmary there are blood spots on the floor from a girl who died there.

Tippecanoe Place Restaurant
620 W Washington St
South Bend, IN 46601-1444
(574) 234-9077
This is the old mansion of Clement Studebaker, one of the original brothers who were of the Studebaker Dynasty. It has been many things since being inhabited, a home for deaf children and now a fancy restaurant. There was a fire in the nursery in the early 1900's and a nanny and child were severely burned, and Mr. Studebaker committed suicide after the Studebaker Empire was crumbling (although it's disputed as to whether or not he actually killed himself in this house). According to bartenders, especially late at night, they feel chills; see things move out of the corner of their eyes. One of the workers says, another worker was speaking to patrons about the "legends" and mentioned that he personally did not believe in ghosts. As soon as he said that, an expensive bottle of liquor flew off of a top shelf about 8 ft off the ground and crashed right behind him.
The very top floor is a ballroom and was used for dances when it was lived in, and appears to have the most activity, as well as the floor directly below it, which is where the nursery was, now where the bar is.
Oliver Mansion
The Oliver mansion in South Bend is haunted by the ghost of Katherine Oliver.
Katherine Oliver was the wife of the original owner and many people believe she still haunts her former home. There are stories of a whispering female voice, footsteps and even people who have seen the woman's ghost for themselves.
If you contact the Northern Indiana Center for History in South Bend and talk with the staff, they have several stories about the spirit.
Old Central High School / Central High Apartments
330 West Colfax Avenue
South Bend, IN 46601
Phone: (866)390-7677
Once a Historic Old High School is now an apartment complex. The owners will not open the old auditorium because it is rumored to be haunted.
Lincoln Elementary school
1425 E Calvert St, South Bend, IN - (219) 287-1081
It is said that this school used to be a old hospital for kids. In the restroom when you are in the stall, lights flicker and the sink goes on and off by itself.

Southport
located in Marion County
The Nicholson Mansion
On Mann road just off Southport road there is a yellow house on the right hand side of the road.
David Nicholson was a well known contractor in the Indianapolis area, and had enough money that he wanted to built a luxurious mansion for his family. Construction began in 1870, just as he began work on building the new Courthouse in Marion County. Nicholson finished work on the house in 1876, and his family lived there until 1903 when they sold the property to the Rand family.
The Nicholson Mansion was abandoned during the 1970s, and nearly succumbed to the dangers of urban sprawl. Valley Mills was little more than a ghost town, and the town of Southport was slowly moving south towards the house. It seemed only a matter of time until the house, like many others before it, would be torn down to make way for a new strip mall or parking lot. Instead, Historic Landmarks Foundation of Indiana stepped in, and saved the building. The Historic Landmarks Foundation of Indiana moved the house from its original location, to a safer area near Southport. That was when the first rumors of a haunting appeared.
A photographer on hand to document the move for the Indianapolis Star, spotted a young girl in one of the windows.
The blond girl wore a blue dress, and simply stood in the window of the Nicholson Mansion, watching as the workers prepared.
The little girl also appeared in the finished photographs that later ran in the newspaper.
Nicholson Mansion, US
Taken by an Indianapolis Star reporter, this photograph is of the Nicholson Mansion whilst being moved to another location.
It is believed that a little girl can be seen in the upstairs window but everyone was sure no one was in the house at the time.
It is believed that a little girl once died near or in the house by accident and still haunts the house.
Some say the little girl is a ghost of someone who died in the house, or on the property, but there is no record of that happening.
Some claim Nicholson's daughter was playing on the corner and a car hit her and decapitated her. Since it was considered a historical house, they couldn't tear it down. The people that bought the house did not like the lot because there was a cemetery that was behind it. They had to literally cut the house in half and move it to where it is now. It was a black and white house, recently been painted yellow. It has been said that if you look at the very top window you will see the ghost of a little girl, also if you go into the room it gets very cold and you feel air, but all of the windows are closed.
A former resident of the house was told that the house was once used as a boarding house. During those years, a resident hanged himself in one of the upstairs bedrooms. One again, there is no proof of the event happening, or the Nicholson Mansion used as a boarding house.
Others claim that the Nicholson Mansion was a stop on the Underground Railroad. According to the story, a group of slaves burned to death in the basement after a fire broke out and they were unable to escape. To escape persecution for hiding escaped slaves, the family closed them off in the basement. Their screams are now sometimes heard throughout the house. Some also claim to see blood dripping down the walls, and the smell of decaying flesh. No one has ever verified that the house was once a stop on the Underground Railroad.
The Nicholson Mansion was labeled as one of the top 10 most haunted places in America by Haunted America, and a few investigations have revealed startling things. One group of investigators watched in surprise as a lighting fixture began moving in circles on its own. The same group had their EMF detectors spike uncontrollably in a second floor bedroom.
The Nicholson Mansion is currently located just outside of Indianapolis, Indiana on private property.

South Whitley
located in Whitley County
Old Train Tracks
Apparitions of 3 little girls walking and talking, sometimes witnesses see just 1 little girl with a teddy bear.
Webmaster: Does anybody know this exact location? Contact me!
Whitko High School
1 Big Blue Ave
South Whitley, IN 46787-1499
(260) 723-5146
When Whitko High School was being built, directly behind a cemetery off of SR 14, a construction worker was confronted by an old woman. She told him that every year the school was open at least one student would die. When the construction worker turned around, the old woman disappeared. So far this has held to be true. Rumor is one student has died every year since the school was built.
Webmaster: Wow! Talk about a game of Russian Roulette. Good luck kids of next years to come.

Spencer
located in Owen County

McCormick's Creek State Park Hotel / McCormick's Creek State Park Canyon Inn
W State Road 46
Spencer, IN 47460
(812) 829-4881
Located just east of Spencer, it is said to have been an insane asylum.
People are awakened by screams, people crying & footsteps in the hallway.
St. Anthony See Saint Anthony
Lakeville Mishawaka New Carlisle South Bend Walkerton

STARKE COUNTY
Bass Lake North Judson San Pierre

STEUBEN COUNTY
St. Paul See Saint Paul

Sugar Creek
located in Shelby County
New Market Trestle
Reports of hearing train whistles and grinding metal, then a loud splash. Some have also reported that they have seen eerie blue-lighted figures skim across the top of the water.
Webmaster: Does anybody know this exact location? Contact me!
In Sullivan look for the Free Springs Bridge. Supposedly a drifter fell onto the nearby train tracks and was decapitated when the train ran over him. Some people have seen the ghost of the man wandering on the bridge.

Sunman
located in Ripley County

Guilford Bridge
On a bridge going across the creek to the Guilford Park you can sometimes here a woman screaming and a train. It is said that the woman was hit and knocked into the creek next to the train tracks and the creek carried her down to the bridge where her body was then found. They never found out who the woman was because when the police were investigating the body it started raining and the creek rose and washed the body away.
Webmaster: ???????????????????

Sweetser
located in Grant County
The Witch's House
It's an abandoned house that sits far back from the road. It is said that if you park in front of it, a light will come on and "the witch" will come to the window.
Webmaster: Does anybody know this exact location? Contact me!
No Hauntings Reported
The Locust Grove Cemetery
Locust Grove was a small town (now extinct) in Prairie Township, Warren County, Indiana, located three miles northeast of Tab. A 1913 history describes the town's population as "less than a hundred", but all that remains at the site is the Locust Grove Church, Locust Grove Cemetery and a few homes.
This cemetery is about 2 miles (3.2 km) northeast of the town of Tab. Established in 1830. Earliest readable headstones are from 1833 and belong to Mr J.R. and Mrs. E.A. Shepperd. Though there are unmarked graves and headstones that are unreadable due to decay or vandalism.
Reports of the sound of army cadence. Sounds believed to be Harrison 's troop marching to the Battle of Tippecanoe

Terre Haute
located in Vigo County

Hell's Gates
Some say that if you go under all three bridges under the 3rd bridge you might see the Devil. If the Devil has his back to you then you will have a good life but if he is staring you in the face the rest of your life is doomed. Others say that if you see your name under the bridge the next day you are suppose to die.
Webmaster: C'mon! The bridge is full of graffiti and names . . .
Your name is surely bound to be there!
The Country Club of Terre Haute / Golf Course
57 Allendale
Terre Haute, IN 47802-4751
(812) 299-1558
Apparitions are said to appear but not confirmed. Pictures produce orbs. Every night there is said to be a kid, named Alex, which roams around the 6th hole of the Country Club Golf Course. One night Alex was drinking with his friends and passed out and died. Now people say that every night if you go out there around 12:00 A.M. You might see Alex roaming around but you will definitely hear Alex vomiting and screaming for help.
The Headless Trainman
North of Terre Haute is a stretch of railroad tracks that many say is haunted.
One day, following years of safe travel, a freight train was speeding its way south toward Evansville. Hitting a loose rail the train went careening wildly off the track, killing the train's conductor and its brakeman.
When the twisted wreckage was cleared, the conductor was found whole but the brakeman's body was found badly twisted and missing its head.
Now, if you walk that stretch of track late at night, it's said you will see a figure walking south along those tracks. The figure is said to hold an old railroad lantern, which it moves back and forth across the tracks. People in the area say it is the brakeman, still looking in vain for his missing head.

Indiana State University

Burford Hall at Indiana State University
200 N 7th Street
Updated 10/16/2013
Thanks Robert Slavens for helping me update these entries
There are several legends concerning Burford Hall. One legend tells of the spirit of a young girl said to have died from too much alcohol or from committing suicide in room 217.
Even though it's been remodeled extensively, and they don't have those communal bathrooms anymore, people report they still hear the sound of someone vomiting. When they go to investigate there's nobody there. And that's, of course, Barfing Barb.
The ghost is said to be heard vomiting in the bathrooms or throughout the halls of Burford on the campus of Indiana State University. Some claim to hear spectral screams, toilet flushes with no one around, or evil laughs echoing down the empty halls.
A second legend tells of the spirit of an elderly, stern looking woman who was once dean of the building back in the 1940s. "Old Lady Burford" is said to often haunt the new arrivals into the hall and has the power to make a student's life quite unhappy.
Needless to say, there are many mysterious events that happen around the ISU campus. The campus continues to haunt the students with tales of ghosts and unexplainable events.

Cromwell Hall at Indiana State University
Updated 10/16/2013

There is also a mystery at Cromwell Hall surrounding a large mark in the shape of a cross visible below a top-story window at Cromwell Hall, a residence building at ISU.
The story tells of a freshman who jumped out the window of room 1221 right before finals in Cromwell Hall. Now, it's rumored there is a white cross under the window, and it can't be washed off.
Legend has it that a young student fell to his/her death from that window and, after that, the mysterious cross appeared. Now you can hear footsteps and strange noises in the hallways.
Looking up at the mark under the 12th-floor window, which is visible from North Fourth Street. Some people believe it indicates there was foul play involved in the students death. Nobody knows how it got there.
Some news and other sites claim that the student was a female while others claim it was a male. If anyone has TRUE FACTS of this account I would appreciate it.
Highland Lawn Cemetery
If you should google Highland Lawn Cemetery it will take you to Woodlawn Cemetery. That is because The city of Terre Haute owns two cemeteries. The older of these is Woodlawn, which consists of forty acres and was opened in 1835, is located on North 3rd Street. The other cemetery owned by the city is Highland Lawn.
The first city cemetery was located at what is now known as Sixth Street and Ohio Street. When the growing city realized that the cemetery would not be large enough, they purchased the tract of land where Woodlawn is located. At that time, the bodies from the old cemetery and the Indian Orchard Cemetery (which was located on First Street) were moved to Woodlawn.
Highland Lawn Cemetery is located at 4420 Wabash Ave. It is located on the North side of the road. Do not confuse Highland Lawn with Calvary Cemetery which is across the street on the South side.
The tale began in the early 1900's when John G. Heinl, a prominent businessman in Terre Haute, acquired a bulldog. The two became loyal companions, very seldom seen without the company of one another. In 1921, Mr. Heinl passed away. The dog refused to leave his side, faithful to attend the funeral and on to the mausoleum. He stood guarding the door, snapping and snarling at those who chose to come within range of the mausoleum doors. Many times the family tried to take him away, but he always found his way back.
One day, Mrs. Heinl came to the mausoleum only to find the dog had died. Conscious of the bond between the dog and his master, she decided it was only fitting to have the dog stuffed and entombed with his master.
On occasion it was said that a peek into the mausoleum would reveal the dog moved to a different side of the tomb, but one would always see the glowing green eyes peering at the onlooker. At times, one might see the head tilt or tail wag at the visitors. It was said that in the early hours of the morning you might see the figure of a man and his dog strolling in the area close to the mausoleum.
The dog was removed in 1985 due to vandalism to the mausoleum. It was placed in a replica of the Heinl mausoleum at the Vigo County Historical Society Museum.
Photo of John G. Heinl mausoleum can be found at www.findagrave.com - http://www.findagrave.com/cgi-bin/fg.cgi?page=pv&GRid=3773&PIpi=10030148
Historical Museum
Vigo County Historical Museum
1411 S 6th St
Terre Haute, IN 47802-1114
(812) 235-9717
Witnesses claim to have caught many things on film here, everything from orbs to a small mist. The orbs seem to center around the old front staircase. The building was used as a halfway house for several years by the 3rd owners of the property. It is now used as a historical museum. Supposedly the old crib in one of the upstairs exhibits moves occasionally even though the area is closed off.
Old Mill Dam
In north east Terre Haute sets a small park called Old Mill Dam.
It is named because it was the past site of the Markle Mill. Some of the ruins from the mill still reside there.
Some of the legends for this place are:
"There was supposedly a cave in trapping several slaves who were escaping in an underground tunnel.
"There are also reports of a little girl playing on the train tracks and disappears after a short while. Some say she was hit by the train.
This used to be part of the Underground Railroad. It is very haunted at night. On certain nights, a small girl stands near the creek. They used to have the Underground Tunnels open but they are closed now. If you are in Terre Haute and go to Old Mill be careful. You might get a surprise.
PLEASE TAKE NOTE: This place is monitored by the police at night and there are several weird people who hang out here
The Face in the Wall
On Fruitridge Avenue in Terre Haute south of US 40 sits a house that is surrounded by a rock wall. And in that wall it is said there appears the face of a young man who met his death there.
Years ago, as the story goes, a man named Blumberg built a wall of various stones he had gathered from buildings being demolished in town.
His house was situated along a stretch of road popular with young drag racers. One night, two boys with new cars began bragging as to who had the fastest car and before long, they were roaring down Fruitridge at a high rate of speed.
As they neared the rock wall, one of the cars blew a tire and slammed into the rock wall with such velocity that the driver was thrown head first through the windshield. The impact killed the young driver instantly.
Shortly after the funeral, the face of the young man appeared in the wall, as if the force of the collision had imprinted his face in the very rock it hit. Attempts were made to cover up the image, but it still appeared. Finally, the image was scraped off the rock, but a ghostly face is said to be seen in the same spot from time to time. Some claim that if you place your finger in the eye of the face, you will die soon.
St. Mary of the Woods College / Faceless Nun of St. Mary's
Saint Mary-of-the-Woods College is a Catholic, four-year liberal arts women's college located northwest of Terre Haute, Indiana, between the Wabash River and the Illinois state line on Hwy. There is also a small village of the same name located nearby.
The historic theatre is home to an apparition best described as a floating nun that on occasion can be seen late at night, as well as hearing footsteps of someone running up and down the stairs when there is no one else in the building.
Many years ago, in the mid 1800s, there lived a nun at St. Mary-of-the-Woods College.
The nun was renowned for being a great painter and everyone who sat for a portrait would marvel upon its completion at the detail of the work.
"That really looks like me", was the common retort.
The nun would fill in the background, then, paint the arms, body and hair of the subject before commencing with work upon the face. The face, she felt, was the most important part of the picture and she would spend many hours painting it.
One day the nun decided to paint her own portrait. She labored over it until the time she was to paint her own face onto the canvas. But before a stroke of paint could be added to the face, the nun became ill and soon died.
A short time later, another nun was praying in the chapel in Foley Hall, where the artist's studio was located. Hearing someone weeping in the studio, she entered to find a nun crying. Asking what was wrong, the sobbing nun turned toward the other nun, revealing a head with no face. Terrified and realizing what she was encountering could only be a spirit, the frightened nun fled to tell others. By the time she returned with other sisters, the spirit had vanished.
Over the years, the faceless nun was seen from time to time in Foley Hall and other buildings as well. Students have reported seeing a nun in an odd costume, only to find that it was the style of habit worn more than 100 years ago.
In the spring of 1989, Foley Hall was demolished. It is said that spirits are tied to the ground upon which a building stands and not the building itself. Therefore, it is quite possible the Faceless Nun will continue her haunting ways at the college.
In addition to the theatre, there are tunnels under the campus (sad to say they are closed to the public) where many spirits have been seen or heard. There is also the unusual blood spot located in the main dormitory called O'Shaughnessy Hall. In one of the rooms there is a blood stain that looks like a face in the wall. The stain came from the early days of the school in the 1800's when a nun took her life. Although many attempts to remove the stain have been tried even when it appears to have been cleaned it mysteriously re appears days later to the same form and color which it was before.
Terre Haute Regional Hospital
3901 South 7th Street
Terre Haute, IN 47802
Telephone: (812) 232-0021
A night nurse reported seeing a former deceased cancer patient walking from the hallway to her former room 540 on the West end of the 5th floor. She was reported as a wandering patient, when staff told her that wing had just been closed. When they investigated, the hall and room were empty, the patient disappeared.
The Phone in the Tomb
THE RESURRECTION OF MARTIN SHEETS
The cemetery is located east of town at 4520 Wabash Avenue.
Martin Sheets was a wealthy businessman who lived in Terra Haute, Indiana in the early 1900's. One of his greatest fears was that of a premature burial. He often dreamt of being awake, but unable to move, at the moment the doctor pronounced him dead and then regaining consciousness while trapped in a coffin below the ground. Sheets decided to fight his fears by investing some of his resources in the prevention of his being buried alive.
First of all, he had a casket custom-designed with latches fitted on the inside. In this way, should he be placed inside prematurely, he would be able to open the coffin and escape. He also began construction on a mausoleum so that when he died, or was thought to have died, he would not be imprisoned under six feet of dirt. The mausoleum was well built and attractive but Sheets realized that even if he did manage to escape from his casket, he would still be trapped inside of a stone prison.
He came up with another clever idea. He installed a telephone inside of the tomb with a direct line to the main office of the cemetery. In this way, he could summon help by simply lifting the receiver. The line was fitted with an automatic indicator light so that even if no words were spoken, the light would come on in the office and help would soon be on the way.
Death came for Martin Sheets in 1910 and he was entombed in the mausoleum. I would imagine that for several days afterward, cemetery staff workers kept a close eye on the telephone indicator light in the office. After more time passed though, it was probably forgotten. Years went by and the telephone system in the area changed. Eventually, the direct line to the cemetery office was removed but thanks to very specific instructions in Sheets' will, and the money to pay for it, the telephone in the mausoleum remained connected and active.
A number of years later, Sheets' widow also passed away. She was discovered one day lying on her bed with the telephone clutched in her hand. In fact, she held the receiver so tightly that it had to be pried from her fingers. It was soon learned that she had experienced a severe stroke and family members assumed that she had been trying to call an ambulance when she finally died. A service was held and after a quiet memorial service, she was taken to the family mausoleum, where she would be interred next to her husband.
When cemetery workers entered the mausoleum, they received the shock of their lives. Nothing there was disturbed, they saw, except for one, very chilling item. Martin Sheets' telephone, locked away for all of these years, was hanging from the wall.... its receiver inexplicably off the hook!
The Preston House
The massive stone house was built by George Dewees, a very rich man who had moved to Terre Haute from New Orleans. When he built the house in 1824 it was way out in the country and for people to visit they had to make a special effort.
George Dewees was a nasty man with a violent temper. He did not like people visiting him and made sure people knew it. His wife, Matilda, was different; she liked people and wanted friends. George was possessive and felt his wife should only be interested in his welfare. Matilda finally could not take it anymore and filed for divorce, something that just was not done in the early 1800's. But when it came time for the decree to become final, Matilda disappeared. George Dewees would not say where she had gone.
Stories began that George had murdered his wife and walled her up in a space to the side of the huge fireplace, but no one knew how to prove it. A few years later George Dewees died and another family moved into the home. They could tell that the side of the fireplace where Matilda was buried was different, but they did not want to rip up the walls just because of some old stories. The stories remained unproven. Then people began to swear that Matilda's ghost was still in the old home. Cold spots could be found near the fireplace and unearthly blue lights seeped through the closed and shuttered windows. It was Matilda, lost and alone, in a house where she never knew love.
After Major Dewees' death the home was also supposed to have been a resting stop on the Underground Railroad. Fugitive slaves would hide in an old tunnel that led off the basement. But one part of the tunnel collapsed trapping the slaves. They could not be rescued and they died there in that cold underground tunnel. Some swear on a warm summer night you can still hear spirituals, those songs sung of freedom and better days to be, coming faintly from the ground.
The Preston House, after several fires and years of neglect, collapsed in late 1987 and had to be torn down. Unfortunately the room where the fireplace was located was the portion that collapsed. The structure was too unsafe for a through search, but no body was seen as the home was demolished. There was also no evidence of a tunnel. Much of the stone of the Preston House, and some of the woodwork, was taken to be used in the grist mill at Pioneer Village in Fowler Park. Whether the legend of Matilda follows the stones remains for the future to say.

Tunnelton
located in Lawrence County
The Tunnelton Train Tunnel
A ghost of a man has been reported their many times. He was decapitated during construction and still searches for his head. The tunnel also has a graveyard on top of it and it's been rumored that while building the tunnel, caskets fell through. Also, you can hear the screams of a ghost family that was killed when their horse and buggy crashed into the river down the hill.
The Big Tunnel has fostered local legends and rituals for generations since its construction. Some people reportedly have seen the "ghost of the tunnel" or at least felt his ghostly presence. Long ago a man named Henry Dixon was murdered, and his body was reportedly placed in the tunnel so a passing train would erase any evidence in the crime, which it apparently did, for although almost everyone knew who murdered Dixon at the time, no one could prove it. So for generations now, the ghost has been walking the tunnel or the hillside, carrying a lantern in one hand and his head in the other.

Union Mills
located in LaPorte County
Old U.S. 30 - on the way into Hana
In 1987, a man was coming home from work at approximately 3:00 a.m. when he was hit by a train.
On the railroad tracks located on 600 w. it is said that at around 2:30 to 3:30 a.m, there has been a blue-tinted shadowy figure that looks as if is carrying a lantern, walking on the railroad tracks into Hana.

Upland
located in Grant County

Spook's Corner
Spook's Corner, a term used to describe the area surrounding an iron bridge nearby.
A group of children were killed when their bus veered off the bridge. People claim to feel someone pushing their car and hearing kids crying and screaming.
Some websites out there list this haunting as:
Supposedly a busload of school children was killed when the bus ran off of the road. The bus still sits there in what is now a graveyard. There is a bridge up the road that the bus fell off of and supposedly if you go too slow over the old iron bridge, your engine will die and you will have to push the vehicle off of the bridge to get it started. You will hear children screaming and crying while you are pushing your car.
Webmaster: So authorities just left the bus and the dead bodies of the kids there?
Witches Castle
Located off the Utica Pike and past the rock quarry.
The Witch's Castle is a ruined stone house, also known as Mistletoe Falls, located on an isolated hill overlooking the Ohio River. It is an occasional hangout for local teenagers. Legend has it that the house was once owned by nine witches, and townspeople burned the house to rid the witches
You can here a little girl laughing in the woods and loud thumps. People have seen a white mist moving very fast in what looked like the living room, but only the foundation and a fire place remain of the main house. Up the hill just behind the main house is a small shack surrounded by a ditch and a cliff. In this shack there is a fireplace with one window on each side. You can hear many different voices and see people peeking out of the windows. There was a basement to the main house, but it has been filled in with dirt and rock. You cannot miss where the steps used to be. There's a small door on each side of the room also in the room with the fireplace. A small girl about 7-8 years old has been seen by many people. She was wearing a white dress. She had long black hair, but her hair is covering her face. This is one of the locations where the murder of Shanda Renee Sharer took which involved a young girl who was tortured and burned to death by four teenage girls, in a case which attracted nationwide attention.

Valparaiso
located in Porter County
Alumni Hall at Valparaiso University
Two young children run up and down the halls at about 2:00 in the morning. They talk to some of the residents and say that they are playing tag.
They are 8 or 9 years old and wearing jogging pants.

Stereo Bridge
Two trains on the same track had collided under the bridge so at night on the certain day that you're on the bridge, you can hear a train blow its steam and one other train on the opposite side. They are coming at the same time to collide under the bridge and during the day you can see that the track looks exactly the same from the left side and the right side, like a circle.
Haunted Bridge / Trolls Bridge
A funny bridge story in Indiana is the haunted bridge in Valparaiso. As you head to Duey's Road from town, you cross a small bridge, that bridge is called Trolls Bridge.
Some people claim a troll lives under the bridge and will steal your keys if you stick your hand out of the car window. I think we can file this one under legend!
Duey's House
This is a real haunted house with many a legend behind it, it is off of 50 West, near an old graveyard. If you take 700 N going east, you turn right on 125 W and it's at the end of the road just before the road curves. They story goes; Duey got fired from his job and had family problems. He was also an alcoholic. He killed his family and chopped their heads off and stuck them on the posts of the gates that are right next to the road. He hung himself in the second silo. In the house you can see blood stains and splatters on the wall. Also note that there are plenty of do not trespass signs, and also a lot of dogs guarding the gates of the drive. If you go there at night sometimes you can see red glowing eyes, and orbs in the back of the woods.

Vera Cruz
located in Wells County
Haunted House
Vera Cruz is a very small town and there was a house right outside of town that was built in the late 1800's. A man who lived there shot himself in the kitchen. Later after the house had been empty for a few years, some people bought the farm. The house was old by now. This was in the 1970's. They claimed to see an old man walking up the long lane towards the house but when they went outside to meet him, he wasn't there. One evening when the parents were out for the evening, a babysitter claimed to have seen a man walking up the lane with no head. They sold the house soon after. Another family bought it and they too moved out after a couple months. It burned down later.
There is another house there now and it is uncertain if they have any unwanted visitors or not.
No Hauntings Reported

Versailles
located in Ripley County

Silver Bell Nursing Home
6996 S US Highway 421
Versailles, IN 47042-9390
(812) 689-6222
Call lights go off in empty rooms, the sound of children playing loudly can be heard in a room of the facility, people whistling in the halls at night when all the residents are asleep, several nurses have reported hearing someone in a room at night only to go in and it's empty but they can still feel the presence of someone there. A nurse's aid reported that the doors to the laundry room shut and locked on her and she had to climb out a window to get out and when the nurse went to check, the doors were locked. It used to be a hotel in the 1800's before becoming a nursing home in recent years.