List of Interstate Highways in Indiana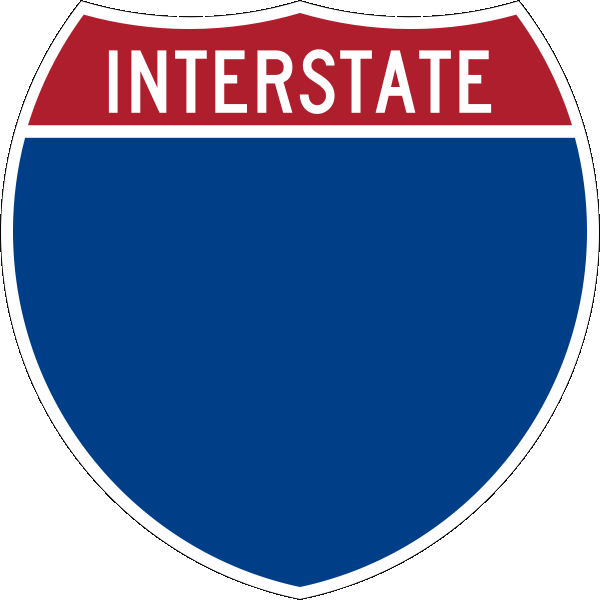 The Indiana Department of Transportation (INDOT) is responsible for the establishment and classification of a state highway network which includes interstate highways, U.S. highways, and state roads. There is no rule preventing the same numbering between state roads, U.S. routes, and Interstate highways, although traditionally, INDOT has avoided state road numbers which are the same as those on U.S. routes within the state.
Indiana has a mileage cap of 12,000 miles for its highway system
Interstate Highways are owned and maintained by INDOT unless it is a toll road.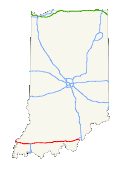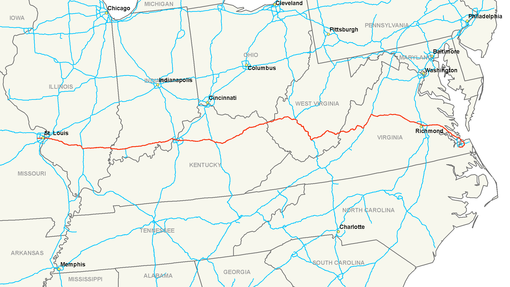 Length: 123.33 mi (198.48 km)
Formed: 1956
In the U.S. state of Indiana, Interstate 64 provides access between Illinois and Kentucky.
Connecting Indiana with Kentucky, the double decked Sherman Minton Bridge (a dual suspended arch bridge) carries Interstate 64 over the Ohio River.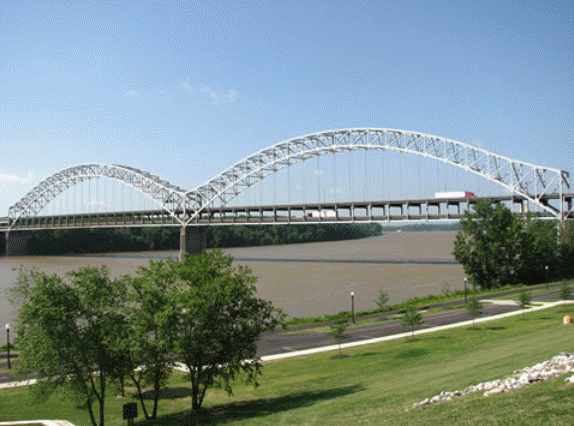 Interstate 64 spans the Ohio River over the Sherman Minton Bridge between New Albany and Louisville, Kentucky. The bridge opened in 1961 at a cost of $14.8 million.1 Photo taken by Justin Cozart (06/05/08).
It was completed and opened to traffic in 1961.
Interstate 64 is the southern most east-west interstate in the state of Indiana. It enters Indiana from Illinois on the west near Griffin. Then I-64 exits the state on the eastside in the Greater-Louisville (KY.) Metro Area. Portions of I-64 pass through the Hoosier National Forest Purchase Area.
The two-lane West Virginia Turnpike opened to traffic on November 8, 1954; it was later added to the mileage of Interstate 77 and a portion of Interstate 64 in West Virginia. The project to upgrade the turnpike from two to four lanes was completed and opened to traffic on September 2, 1987.7
The Hampton Roads Bridge-Tunnel opened to traffic in 1957. On May 10, 2002, the bridge-tunnel saw 107,942 vehicles drive through the facility.9 The bridge-tunnel was originally a toll facility but today operates without tolls. A relief route (Interstate 664) provides an alternative to Interstate 64 via the Monitor-Merrimac Bridge Tunnel.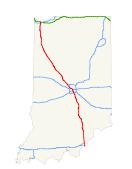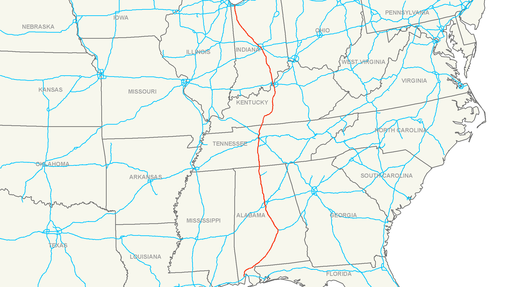 Length: 261.27 mi (420.47 km)
Formed: 1956

Major Cities Along the Route-

Mobile, AL


Montgomery, AL

Birmingham, AL

Nashville, TN

Louisville, KY

Indianapolis, IN

Gary, IN
In the U.S. state of Indiana, Interstate 65 enters the state at Jeffersonville on the John F. Kennedy Memorial Bridge. It passes by the major cities of Jeffersonville, Seymour, Indianapolis, and Lafayette before ending outside Gary.
The section of Interstate 65 in downtown Indianapolis overlaps Interstate 70. The junctions are often referred to as the "North Split" and the "South Split", forming a section of interstate locally known as the "Inner Loop" or "Spaghetti Bowl" due to the visual complexity of the overlapping freeways. In 1999, the 25 mile (40 km) segment of Interstate 65 between the two Interstate 465 interchanges was renamed the Kenneth "Babyface" Edmonds Highway.
Upon crossing into Lake County, Indiana, over the Kankakee River, the highway is known as the Casimir Pulaski Memorial Highway. It is known as this from that point to its northern terminus. The northern terminus of Interstate 65 is only 1/8 mile (0.2 km) north of Interstate 90 (Indiana Toll Road). Prior to 2004, the interchange from Interstate 90 to Interstate 65 required making a physical left turn onto Interstate 65 via a traffic signal; traffic from Interstate 65 to Interstate 90 bypassed the traffic signal via an isolated right-turn lane. It has since been grade-separated.
Throughout its length, it passes near Clark State Forest, Muscatatuck National Wildlife Refuge, Brown County State Park, and Wolf Park.
It junctions with the four parkways. The first two major junctions are within Indianapolis: I-70 and I-74. The other two are near its terminus near Gary: I-80/94 and I-90. Interstate 65 also has interchanges with I-265, and I-465.
The speed limit on rural sections of I-65 is 70 miles per hour (110 km/h).
Interstate 65 serves several major cities along its path, roughly parallel to U.S. 31 throughout. The only exception to this is between Indianapolis and Gary: Interstate 65 parallels U.S. 231 for this distance.
Alabama's main street, Interstate 65 begins in the "Port City" of Mobile while serving the capital of Montgomery and economic hub of the state in Birmingham before entering the Volunteer State. The freeway begins at Interstate 10 and travels north through the Mobile metropolitan area to the Mobile/Tensaw River/Little Lizard Creek/Mifflin Lake bridges. The freeway carries a 65 mph speed limit to Saraland, where it increases to 70 mph. The freeway is very rural with fast speeds between Lower Alabama to the capital city of Montgomery. There Interstate 65 features a low 50 mph speed limit and only four lanes of travel. It is unclear if widening or other construction will be undertaken to upgrade this stretch of freeway. At Birmingham, the largest city in Alabama, Interstate 65 again widens to six lanes. The highway is heavily traveled between Exits 247 and 267 and thus carries six lanes. Outside of the metropolitan areas of the three aforementioned cities, Interstate 65 carries four lanes through gentle hills of pine forest.
North of Huntsville, Alabama and Interstate 565, Interstate 65 passes through 120 miles of Tennessee with a direct line through Nashville. In 2000, the route of Interstate 65 in that city changed with the relocation over former Interstate 265. From there, Interstate 65 shares a short overlap with Interstate 24 in north Nashville before crossing into the Bluegrass State.
At one point, Interstate 65 between Elizabethtown and Louisville consisted of the tolled Kentucky Turnpike. This stretch of highway was decommissioned as a toll highway in the late 1970s with the Kentucky Turnpike name retired as well. Otherwise Interstate 65 serves Kentucky's largest city of Louisville before crossing into Indiana en route to Indianapolis. The northern terminus of the highway is in the eastern Chicago metropolitan area in the city of Gary at the Indiana Toll Road (Interstate 90). A further exit links Interstate 65 to U.S. 12 and 20, and a traffic light sits on the freeway as part of this interchange and intersection.
Planned Improvements for I65
Construction has recently completed widening Interstate 65 to six lanes from the southern terminus at Interstate 10 northward to Exit 13 at Saraland, Alabama. Widening is planned for in the long range for Interstate 65 northward to the Exit 19 interchange with U.S. 43 at Satsuma, Alabama. In the meantime the Exit 1 cloverleaf interchange with U.S. 90 (Government Boulevard) at Mobile is undergoing a reconstruction. The roadwork will result in the removal of the cloverleaf ramps from Interstate 65 in both directions to Highway 90. Upon completion of the project, the weaving traffic pattern that currently exists between the cloverleaf ramps will be eliminated. All traffic to U.S. 90 will then utilize a single multi-lane ramp from Interstate 65. This interchange redesign has also occurred at Exit 3/Airport Boulevard (completed in 1996) and will occur at U.S. 45/Exit 9A/B in Prichard. The Exit 1 project is underway and shall be complete by Spring 2004.
In the Volunteer State, Interstate 65 is set to undergo reconstruction and expansion north of the central business district of Nashville. Constructed in 1968, Interstate 65 will see widening from Trinity Lane north to Vietnam Veterans Boulevard, the installation of sound barriers, and introduction of Intelligent Transportation Systems (ITS) technologies. This project is split into three phases: From Dickerson Pike (U.S. 31W-41 - Exit 89) north to Old Hickory Boulevard (Exit 92), Interstate 65 widening from six to ten lanes with auxiliary lanes between Tennessee 155/Briley Parkway (Exit 90) north to Exit 92. Sound barriers will be installed and the Tennessee 155 interchange rebuilt. Four bridges over Interstate 65 will also be replaced. Construction began early 2001 and will complete by late 2003. The second phase consists of again expanding Interstate 65 from six to ten lanes. Started in early 2002, the Exit 92 to Vietnam Veterans Boulevard expansion is projected to end by late 2004. Construction of the third phase between Trinity Lane (Exit 87) north to Exit 89 is still unfunded with plans yet to be fully complete. The goals of the project are to add increased capacity and to smooth current traffic flows. Traffic counts on the highway are increasing dramatically from 60,000 vpd in 1986 to 117,000 in 2000. Projections are that up to 177,000 vpd will use the freeway in 20 years time.
In Louisville, Kentucky, major improvements and upgrades are planned for the interchange between Interstates 64, 65, and 71 at the "Spaghetti Junction" (Kennedy Interchange) as part of the larger Ohio River Bridge Project. While this project primarily focuses on the construction of a new Interstate 265 bridge ("East End Bridge") and doubling capacity of the Interstate 65 Downtown Bridge by building a parallel span for northbound traffic, the improvements planned for the Interstate 64, 65, and 71 interchange are significant. Improvements cited from the project webpage include:
In December 2006, costs were estimated for the improvements slated for Interstate 64, Interstate 65, and Interstate 265 in Louisville. Reaching over 60% of initial estimates, the cost for two new Ohio River Bridges and the reconstruction of the downtown "Spaghetti Junction" interchange between Interstate 64, 65, and 71 was estimated to be $3.9 billion. The components of this major construction initiative are as follows:
Design of the new bridges and confirmation of this schedule of construction should be completed by early 2007. Funding is a major concern, and lack of funding could push back the construction phase. The high cost of reconstructing the downtown interchange has piqued the interest in some residents to remove Interstate 64 from downtown Louisville (called "86" 64 or Remove 64), since one of the tenants of this plan would include elimination of the freeway west of Interstate 65 along the waterfront, thus negating the much of the required "Spaghetti Junction."
History
The first section of Interstate 65 to open in Tennessee was located at the Tennessee-Alabama line, and it opened to traffic in Tennessee on November 15, 1958. The 1.8-mile stretch cost $1.3 million to construct over an 18-month period (starting in May 1957).
Parallel/Historic U.S. Routes
Interstate 65 parallels U.S. 31 for much of its route, with the exception of the stretch northwest of Indianapolis, where it parallels U.S. 52 (Indianapolis to Lafayette) and U.S. 231 (old U.S. 152 from Lafayette to Crown Point).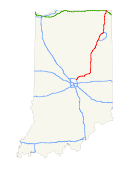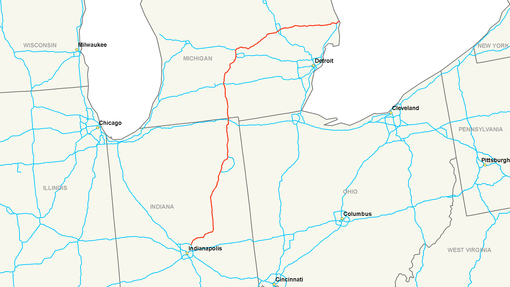 Intersections with other Interstates


Spur Routes-
Fort Wayne, IN- I-469
In the U.S. state of Indiana, Interstate 69 presently runs northeast from Indianapolis and traverses through the city of Fort Wayne. The route carries motorists to the state of Michigan.
In Indiana, I69 runs from the Michigan state line to Fort Wayne, I-69 bypasses the former route of U.S. 27. Before 2001, I-69 shared its alignment with U.S. 27, but U.S. 27 has since been truncated to the I-69/SR-3 interchange on the north side of Fort Wayne. From the I-469 interchange on the north side of Fort Wayne to the Coliseum Boulevard interchange northwest of downtown, I-69 is multiplexed with U.S. 30. U.S. 33 joins I-69 at this interchange and follows I-69 south. U.S. 24 is also signed with I-69 between Jefferson Boulevard and the I-469 interchange near Fort Wayne International Airport. South of Fort Wayne, I-69 continues south, multiplexing with U.S. 35 between Gas City, and Daleville. I-69 then turns west-southwest near Anderson. It enters Indianapolis from the northeast multiplexed with SR-37, terminating at I-465. Upon reaching the I-465 terminus, motorists exit the freeway to use I-465. Continuing straight, one will see the I-69 mainline transition to Binford Boulevard (Old SR-37) beyond the I-465 interchange.
The portion of I-69 between I-465 and the Indiana Toll Road is part of the original Interstate Highway System as it was mapped out in 1956. It was extended north to Lansing in the 1960s. Until recently, all of I-69 in Indiana was 4-lanes, but the Indiana Department of Transportation has been reconstructing and widening I-69 to six lanes through Fort Wayne. Likewise, INDOT has widened parts of I-69 northeast of Indianapolis to either six or eight lanes during the past decade.
Interstate 69 connects the cities of Indianapolis, Fort Wayne, Lansing, Flint, and Port Huron on a northeasterly direction. The freeway begins at the northeast corner of the Indianapolis Beltway (Interstate 465) and serves Northeastern Indiana. At Fort Wayne, Interstate 69 has its only three-digit "child" route, Interstate 469. Here, Interstate 69 follows the former route of U.S. 27 north to Lansing.
Crossing into Michigan, Interstate 69 heads north into Lansing, with business loops serving communities bypassed along old U.S. 27. Interstate 69 meets Interstate 94 once in south-central Michigan; they will join a few miles prior to their northeastern terminus. At Lansing, Interstate 69 changes directions: A sign heralds that Northbound Interstate 69 becomes Eastbound Interstate 69. Heading almost due east, Interstate 69 crosses Interstate 75 at a nearly 90 degree angle, and then meets Interstate 94 a second time. Interstates 69 and 94 merge at Port Huron to enter Ontario, Canada near Sarnia.
On October 3, 2006, the first segment of new Interstate 69 opened to traffic between U.S. 61 north of Tunica and Interstate 55 north of Hernando. Interchanges on this new section of freeway are at U.S. 61, Mississippi 3, Mississippi 301, Fogg Road, Odom Road, and Interstate 55.5 As a result, Interstate 69 now exists in two sections: the main section north of Indianapolis and the short spur off of Interstate 55 south of Memphis. More on Interstate 69 Mississippi including photos of the first new segment are available here. On May 6, 2008, the Interstate 69 designation was extended north on shared alignments with Interstate 55, Interstate 240, and Interstate 40 through Memphis, Tennessee, after approval by AASHTO.
High Priority Corridor
Interstate 69 from Texas northeast to Michigan in its entirety is part of High Priority Corridor 18: NAFTA Superhighway. The section within Texas is also part of High Priority Corridor 20: U.S. 59 from Laredo to Texarkana.
Parallel/Historic U.S. Routes
The existing section of Interstate 69 northeast of Indianapolis largely does not follow any historic U.S. route, with the exception of the stretch between Fort Wayne and Lansing. This stretch was part of former U.S. 27.
History
Interstate 69 was originally planned to extend into downtown Indianapolis, terminating at the northeastern interchange between Interstate 65 and Interstate 70 (known locally as the "spaghetti bowl") near 13th and College Avenue in Indianapolis, Indiana.
In fact, the grading and overpasses for this connection's ramps can still be seen at that location.
Later, the State of Indiana changed its mind and the connection was never constructed, and the route of Interstate 69 between that interchange and Interstate 465 is now known as Binford Boulevard (former Indiana 37).
Later, the State of Indiana changed its mind and sought to designate the freeway connecting the spaghetti bowl to the I-69/I-465 interchange (approximately 11 miles (18 km)) as Interstate 165. Due to a political fight over the inner-city portions of I-70 and I-65, it was decided to scrap I-165. In its place, the state widened I-70 from eight to 10 lanes and reworked its eastside interchange with I-465 to handle the additional traffic loads from the northeastern suburbs.
In Michigan, the last section of Interstate 69 to open was the section from Charlotte to Lansing in 1992, replacing U.S. 27.4
Future Aspirations
Interstate 69 Extension Planning and Construction
I-69 has been divided into a number of sections of independent utility (SIUs).
Planned as a 1,250-mile extension southwest to Laredo, Texas, from Indianapolis southwest through Evansville, Memphis, Shreveport, and Houston, Interstate 69 is part of High Priority Corridors 18 and 20. These High Priority Corridors are in turn subdivided into "segments" for ease of reference in various environmental and planning documents.
For detailed and up-to-date information, check out I-69 Info.com.
Texas
Interstate 69 will have three branches so it can serve the border areas near Laredo and near Brownsville. Somewhere near Corpus Christi, the three branches of Interstate 69 will meet:
Laredo via U.S. 59 (Interstate 69) - Segment 30 (Laredo to George West) and Segment 24 (George West to Victoria)
Rio Grande Valley via U.S. 281 (Interstate 69 Central) - Segment 26 (McAllen to Linn in Hidalgo County) and Segment 25 (Linn to George West)
Rio Grande Valley/Brownsville via U.S. 77 (Interstate 69 East) - Segment 23 (Brownsville to Raymondville), Segment 22 (Raymondville to near Robstown/Interstate 37), and Segment 21 (Robstown to Victoria)
From that point near Corpus Christi to Houston, Interstate 69 will directly overlay U.S. 59 (Segment 20, from Victoria to Texas 99). Interstate 69 may either bypass Houston via Texas 99, the Grand Parkway, or it will pass through the city via U.S. 59 (Segment 19). Interstate 69 would then use U.S. 59 to depart Houston to the northeast (Segment 18 - from Texas 99 to Lufkin). Interstate 69 will intersect U.S. 69, a situation that has already resulted in some confusion around Lufkin (where they will meet). From Lufkin, Interstate 69 will angle northeast to Nacogdoches via Segment 17, then continue northeast to Carthage and Panola via Segment 16. Interstate 69 would depart Texas via Segment 16 and connect to Segment 15 in Stonewall, Louisiana.
A spur freeway is proposed follow U.S. 59 north past Carthage to Texarkana, while Interstate 69 will turn east into Louisiana (via Segment 16 - Nacogdoches to Stonewall, Louisiana). No Interstate designation for this spur route (Segment 29) has yet been determined. The spur route would reach its northern terminus at Future Interstate 49 and Interstate 30 in Texarkana.
Louisiana
Interstate 69 will cross into Louisiana from Texas between U.S. 79 and U.S. 84 near Carthage, Texas, between Logansport and Bethany. Heading northeast, Interstate 69 will head toward Shreveport and Bossier City via Louisiana 525 (approximately), then angle roughly toward Haynesville before entering Arkansas via Arkansas 15. It is likely that Interstate 69 will stay south of Shreveport by avoiding Interstate 20 and crossing Interstate 49 south of Shreveport.
Arkansas
Interstate 69 will enter Arkansas just southwest of El Dorado, parallel to U.S. 63-167. Segment 13 connects El Dorado with McGehee. While the highway will generally parallel U.S. 63 but will follow a new alignment.
Segment 12 connects McGehee with Benoit, Mississippi. Segment 12 includes a new Mississippi River crossing east of McGehee. Through Arkansas, Interstate 69 is likely to pass through Warren, Monticello, and Dumas, roughly paralleling U.S. 82 and U.S. 165. A connection to Interstate 530 is planned near Monticello (since Interstate 530 is considered part of the Interstate 69 corridor, it has been designated as Segment 28), and this will allow for a variation on the "Dickey Split" so that Interstate 69 has a direct freeway connection to Little Rock. Interstate 69 may also follow portions of U.S. 167, U.S. 63 (old Arkansas 15), and U.S. 278 (old Arkansas 4) between El Dorado and McGehee.
Mississippi
The Great River Bridge is the crossing Interstate 69 will take across the Mississippi River. Planned at Rosedale, Mississippi, as a compromise location between Mississippi and Arkansas, the bridge is being designed as a four-lane Interstate-grade bridge, contingent upon Interstate 69 being constructed to the bridge. After crossing the river, Interstate 69 will turn north along U.S. 61 toward Memphis. The section from U.S. 61 near Tunica to Interstate 55 south of Memphis opened on October 3, 2006; it is signed as Interstate 69 Mississippi.
Note
At Lansing, MI, I-69 takes a right hand turn and becomes an east-west route. At the intersection with I-94, both Interstates are numbered wrong, as I-94 is going north-south there.
Tennessee
Before entering Memphis, the route will split into Interstate 69 through midtown Memphis utilizing sections of Interstate 40, Interstate 240, Interstate 55, and Tennessee 300. This was the path recommended by the Memphis Metropolitan Planning Organization and the City of Memphis. Meanwhile, alternate route Interstate 269 would bypass the city to the east via Mississippi 304 in DeSoto County and Tennessee 385 between Millington and Collierville.
Since Interstate 69 would use existing highways to pass through Memphis (Segment 9), many upgrades to Interstate 55 and Interstate 240 are already planned and underway. These improvements, most of which are currently under construction or planned for between now and 2010 will bring the entire corridor from Hernando, Mississippi, to Millington, Tennessee, to upgraded standards, including widening the route to six to eight lanes. Most of this work, including the construction of a new interchange between Interstate 55/Future Interstate 269 (Mississippi 304) interchange in Hernando, are currently underway or are planned for construction within the next five years (as of late 2004).
Interstate 69 will take Tennessee 300 northwest from Interstate 40 to U.S. 51, then follow one of two potential routes: Alignment A-1 or Alignment A-3. Alignment A-1 heads west then north on a new location along a route that is approximately 15.2 miles in length and crosses the Loosahatchie River. Alignment A-3, on the other hand, remains east of U.S. 51 and avoids the river. A-3 is only slightly longer, approximately 15.3 miles in length. A-1 appears to be preferred by citizens in the area; a final decision on the route is expected in November 2004. At Millington, Interstate 69 will again meet Interstate 269, then continue north parallel to U.S. 51. The freeway may follow one of two alternate alignments between Millington and Dyersburg, then take over Interstate 155/U.S. 412 north around Dyersburg. From Dyersburg northeast to Union City and South Fulton, Interstate 69 will follow a new alignment that will connect directly to the Julian M. Carroll Purchase Parkway. In addition, the Tennessee 22 freeway is proposed to extend west to meet Interstate 69 and then become a spur route: Interstate 169.
Kentucky
Interstate 69 will continue along U.S. 51 north to the Julian M. Carroll Purchase Parkway connection at Fulton, Kentucky as part of Segment 6 (Fulton north to Eddyville). Interstate 69 will follow the Purchase Parkway until its end at Interstate 24. Between 1991 and 1999, it appeared as if Interstate 69 would be constructed on a new alignment from the parkway terminus northeast to Henderson, Kentucky. However, in May 1999, the state of Kentucky announced that Interstate 69 would follow the existing Wendell Ford/Western Kentucky Parkway and Breathitt/Pennyrile Parkway (Segment 5, from Eddyville to Nortonville, and Nortonville to Henderson). It will then cross the Ohio River to enter Evansville, Indiana (as part of Segment 4, which carries Interstate 69 through Henderson then north into Evansville).
The U.S. 41 bridges that connect Henderson and Evansville are not adequate, and new Ohio River crossing will be built for Interstate 69. The bridge and connections to Interstate 164 on the north and the Breathitt/Pennyrile Parkway to the south will cost $652 million (assuming totaling four miles with approaches over flood plains and lanes of traffic ultimately).2 The Fiscal Year 2002 Transportation Appropriation Bill specifically designated the Purchase Parkway in Kentucky as Interstate 69, thus ending any confusion about the routing Interstate 69 would take in the Bluegrass State.
Indiana
Once in southwestern Indiana, Interstate 69 would follow (and likely replace) the Interstate 164 spur route out of Evansville to mainline Interstate 64 along Segment 4. Continuing north along new alignment, Interstate 69 would serve the several cities such as Oakland City, Petersburg, Washington, Crane, and Bloomington via controversial Segment 3. Paralleling existing routes, Interstate 69 will follow Indiana 57 from Interstate 64 north to Washington, then turn northeast via a new terrain route to meet Indiana 37 south of Bloomington. After passing through Bloomington, Interstate 69 will follow Indiana 37 north to the Interstate 465 beltway. This routing is known is "Route 3-C." Groundbreaking for the first segment of the Interstate 69 extension to be built in Indiana was held during the week of July 14, 2008, in Gibson County. For more on construction updates, visit Interstate 69 from Indianapolis to Evansville.
The routing of Interstate 69 through southwestern Indiana (Segment 3) was the subject of intense debate. Even though a "final" choice was made in early January 2003, it is likely that the preferred routing will see lawsuits and court challenges that may delay or cancel construction of this route. The chosen route drew the ire of environmentalists who saw such much of the new terrain routing to be detrimental to the forests and farmlands of southwestern Indiana. Prior to the final route selection in January 2003, Interstate 69 was proposed to follow one of the following five possible routes:
If the chosen routing is not constructed due to opposition, it is possible that the route might be reverted to one of the other four options. Much of the information regarding the Interstate 69 extension in Indiana was researched from The Indianapolis Star.
At Indianapolis, the new Interstate 69 will reconnect with existing Interstate 69, most likely via Interstate 465. There are no plans for a new intra-city Interstate 69 through Indianapolis at this time.
Segment 2 refers to Interstate 69/465 cosigned around the southeastern beltway, Segment 1 refers to existing Interstate 69 from Interstate 465 in Indiana northeast to Port Huron, Michigan, and Segment 27 is Interstate 94 from Chicago, Illinois, to Port Huron, Michigan, via Gary, Indiana.
SIU 1
SIU 1 includes the existing I-69 from Port Huron, Michigan, to the I-465 interchange on the northeast side of Indianapolis. It was built in stages between 1956 and 1992, with the most recent segments opening in the vicinity of Lansing, Michigan in 1992. Work in SIU 1 includes mainline upgrades and operational improvements. Work to add a travel lane in each direction, including bridge and pavement reconstruction, and interchange reconfiguration has been ongoing since 2002 in the Fort Wayne, Indiana, vicinity. SIU 1 also includes spot improvements and pavement rehabilitation to the I-469 loop east for Fort Wayne and additional mainline and interchange improvements to I-69 northeast of Indianapolis.
I-69 bypasses Fort Wayne to the west, while I-469 bypasses the city to the east. There have been discussions in recent years of rerouting I-69 through downtown Fort Wayne to improve access to the city and spur economic growth in the city center. The most logical alignment would follow US-27 south through downtown Fort Wayne to Paulding Road, then turn west, following Paulding Road to Airport Expressway, then following Airport Expressway and rejoining the existing alignment near Fort Wayne International Airport. As of August 2007 however, INDOT has no formal plans to reroute I-69 into downtown Fort Wayne, although the issue continues to be hotly discussed among Fort Wayne residents.
SIU 2
This segment includes the existing I-465 loop around Indianapolis. It is most likely that I-69 will be routed using the eastern half of I-465 to the SR-37 interchange south of Indianapolis. This portion of I-465 was reconstructed in 2000.
There's also speculation of a route through the city, along the old SR-37/Binford Blvd corridor. No official route has been determined at this time.
On November 9, 2006, Governor Mitch Daniels announced plans for a 75-mile (121 km) outer loop around Indianapolis known as the Indiana Commerce Corridor. If constructed, the route would have been 100% privately funded, with a portion of the revenues possibly applied to constructing I-69 from Indianapolis to the Crane Naval Surface Warfare Center. The remaining portion of the highway to Evansville, Indiana is already funded with funds from the Major Moves initiative.Strong opposition from local residents and the Democrat-controlled House of Representatives forced Governor Daniels to abandon the ICC plan on March 24, 2007, although House Democrats assured southwest Indiana residents that this decision would not affect construction on I-69 between Indianapolis and the Crane Naval Surface Warfare Center.
On October 24, 2007, INDOT announced a $600 million plan to reconstruct the I-69/I-465 interchange on the northeast side of Indianapolis, that includes widening about 8 miles (13 km) of I-69, I-465, and Binford Boulevard. Environmental studies and design work are currently underway, and construction is expected to begin in 2012
SIU 3
From Indianapolis, Interstate 69 is planned to follow the route of IN State Road 37 south via Martinsville to Bloomington, Indiana, where a new terrain routing to the southwest will serve the Naval Surface Warfare Center Crane Division, Washington, and Oakland City, Indiana. The route will then intersect Interstate 64 (where SIU 3 ends) and encompass existing Interstate 164 through the Evansville, Indiana, area, crossing the Ohio River a few miles upstream of the existing U.S. Route 41 bridges. (SIU 4)
Tier 1 Studies
The Indiana Department of Transportation has been highly methodical in its analysis and mitigation of the potential environmental impacts associated with the planned I-69 extension through southwest Indiana. As such INDOT has taken a two-tier approach to completing the environmental documentation required for construction to proceed. During the Tier 1 studies, 14 route alternatives were analyzed and compared against the "No-Build" option. Of the 14 alternatives, nine alternatives were eliminated from consideration as either having too great of an impact on the natural and human environment, and/or failing to achieve the stated goals established for the I-69 extension. The five alternatives that remained were as follows:
Alternative 1
US-41 to Terre Haute; Interstate 70 from Terre Haute to Indianapolis .
Favored heavily by Terre Haute.
Alternative 2
US-41 to Vincennes; Indiana 67 from Vincennes to Indianapolis.
Favored by Princeton and Vincennes.
Alternative 3
One of the two mostly overland routes along Indiana 57 crossing cross country to Indiana 37 near Bloomington and take Indiana 37 to Indianapolis.
Largely Supported by the Evansville Area with significant support from Bloomington.
A modified version of Alternative 3 is the current path of Interstate 69's Construction.
Alternative 4
Indiana 57 to US 231 near Bloomfield; US 231 from there to Spencer; from there either going cross country to Martinsville;Indiana 37 from Martinsville to Indianapolis, or continuing north to Interstate 70; Interstate 70 to Indianapolis.
Had more support from the "Hoosier Hills Area"
Alternative 5
Indiana 57 to US 50 bypass just south of Washington; Following US 50 Sparingly eastward through Daviess and Martin Counties to Indiana 37 just east of Bedford; Indiana 37 from Bedford to Indianapolis.
Favored mainly by Bedford.
Selected Alternative
In 2003 INDOT presented the Tier 1 EIS to the Federal Highway Administration, which identified Alternative 3C (following SR 37 between Indianapolis and Bloomington, then over new terrain to US-231 north of Crane Naval Surface Warfare Center, then following SR-57 south-southwest to the I-164 interchange northeast of Evansville) as the least environmentally damaging practical alternative. Subsequently in March 2003 the FHWA issued a Record of Decision approving the Tier 1 EIS for SIU 3.
Tier 2 Studies and Lawsuits
During Tier 2 studies, INDOT further divided SIU 3 into six smaller segments, allowing work on each subsegment to proceed at its own pace. On December 21, 2006, INDOT announced completion of the Tier 2 draft EIS for the 13-mile (21 km) section between I-64 and State Road 64 near Oakland City. Officials further noted that they will accelerate the final EIS and construction on the southernmost 2-mile (3 km) section from I-64 to State Road 68 to facilitate access to the Toyota's Princeton plant. On April 30, Governor Daniels signed the state's two-year $26 billion budget, which includes $119 million to fund construction of the southernmost segment of I-69, ensuring that construction begins as scheduled in the summer of 2008. The Final EIS for the southernmost section was issued on October 22, 2007.
On October 3, 2006, environmental groups and six citizens along the I-69 corridor filed a lawsuit in federal court, alleging that state and federal agencies "rigged" environmental studies and violated several federal laws in the selection of a new-terrain route for I-69. They further pressed the court for a summary ruling directing the FHWA and INDOT to route I-69 over I-70 and US-41. Judge David Hamilton disagreed, and on December 10, 2007 he issued a 58-page ruling upholding the selected route for I-69 and the Tier 1 Record of Decision. His ruling did however, leave open the possibility that the FHWA and INDOT may be forced to reconsider some or all of the previously-rejected Tier 1 alternatives if there are new significant findings during the Tier 2 studies that were absent from the Tier 1 EIS. Barring any new major findings in the Tier 2 studies, Judge Hamilton's ruling paved the way for construction to begin on the southernmost segment.
Environmentalists have sworn to do everything possible to stop its construction. Especially active is a group called Roadblock Earth First which has been responsible for a number of incidents in Oakland City and at a Haubstadt asphalt yard given the contract for the first segment.
On February 10, 2008, INDOT and the FHWA issued the Tier 2 Draft EIS for two sections from Oakland City to Crane, totaling 55 miles (90 km). Of the changes to the original alternative, the DEIS extends the bridge over the Patoka River from 500 feet (152 meters) to 4400 feet (1341 meters) to minimize damage to the river and adjacent wetlands. Construction on two rural interchanges would be postponed to free up $30 million for the extended bridge.
Construction Begins
On December 12, 2007, the FHWA issued its Record of Decision giving final federal approval for construction to begin on the section between I-64/I-164 and State Road 64 near Oakland City. INDOT awarded the first SIU 3 construction contract to Gohmann Asphalt and Construction Company of Sellersburg, Indiana on February 6, 2008. This contract, completed on May 31, 2008, included the removal of buildings and vegetation from the I-69 right-of-way between I-64 and State Road 68. Gohmann also won the construction contract for the first two miles (3 km) from I-64 to SR-68 with a $25 million bid. Construction began with a groundbreaking ceremony in Evansville on July 16, 2008. INDOT will build its extension of I-69 using the design-build method, and plans to have the first section from I-64 to SR-68 open to traffic by June 2010. Meanwhile, utility companies have started relocating power lines, water mains, and gas pipelines in preparation for construction. It is possible that this segment may initially be signed as an extension of I-164 until the remainder of SIU 3 is complete.
Construction Progress
Crews have completed most of the earthworks for I-69 between I-164 and SR-68 as of September 6, 2008. The project manager stated that overall construction on the I-164 to SR-68 section is about 33% complete, and this initial segment may be open to traffic in late 2009.
Financing Construction
To fund construction of this extension, Indiana Governor Mitch Daniels introduced a proposal known as "Major Moves" in early 2006. It provided $700 million from the Indiana Toll Road lease to be used to complete nearly 20 years of environmental studies and construct about half of the proposed extension (between the I-64/164 interchange and the Crane Naval Surface Warfare Center). It also allowed for the construction of 117 miles (188 km) of the 142-mile (229 km) I-69 extension to Evansville to be constructed as the Southern Indiana Toll Road. Due to ongoing controversy over making this portion of the extension a toll-road, the governor announced in November 2006 that the entire stretch of the highway would be toll-free, subject to construction of the Indiana Commerce Connector (SIU 2). Officials with the INDOT have since stated that I-69 will be toll-free regardless of whether or not the Indiana Commerce Connector is constructed. Additionally, the U.S. Congress allocated an additional $14 million in the 2005 SAFETEA-LU authorization to construct I-69 Evansville to Indianapolis. When SIU 3 and the Indiana portion of SIU 4 are completed, I-69 will be approximately 335 miles (539 km) in Indiana.
SIU 4
Interstate 69 is planned to follow the existing Interstate 164 south from Interstate 64 to the Ohio River near Green River Road. I-69 will then continue south (instead of turning west with I-164), crossing the Ohio on a new bridge between Evansville and Henderson. I-69 will continue south from the Ohio River to the Audubon Parkway, then turn southwest to join the Pennyrile Parkway in the vicinity of Interchange 63 south of Henderson. The Final EIS is currently being prepared for this segment of I-69, but this portion of the route has not yet been funded. Construction of the new Ohio River crossing and new roadway on the Kentucky side is expected to cost approximately $800 million. Indiana and Kentucky officials have said construction on the new Ohio River Bridge will not begin until at least 2020, after two new crossings near Louisville are completed. As Indiana prepares to break ground on SIU-3 within the next few months, Kentucky officials have indicated that collecting tolls may be the only feasible option for completing the I-69 bridge as traditional federal and state funding for such projects is drying up. To reflect this, Senate Majority Leader David Williams (R-Burkesville) introduced Senate Bill 7 on January 25, 2007. If enacted, the bill would establish public authorities to oversee construction, maintenance and operations, and collect tolls on four new Ohio River crossings: the two Louisville bridges (currently under construction), the I-69 bridge, and the Brent Spence Bridge that carries I-71 and I-75 from Covington to Cincinnati. Senate Bill 7 has bipartisan support in both chambers of the Kentucky Legislature and by Governor Steve Beshear, a Democrat. The bill also provides state and local oversight, each having a seven-member board with four members appointed by the governor and three members from the local area.
SIU 27
SIU 27 is a spur route off the I-69 mainline that encompasses I-94 from Port Huron, Michigan to Chicago via Detroit, Benton Harbor, Michigan, and Gary, Indiana. While this SIU was completed as I-94 during the late 1950s and 1960s, it serves as a critical transportation corridor between Chicago and eastern Canada. Work in association with the I-69 project includes a complete reconstruction of nearly the entire I-94 corridor. As of December 2006, reconstruction of the Borman Expressway between the Indiana East-West Toll Road and the Illinois state line is nearing completion. Work is underway on reconstructing the segment of I-94 in Illinois from the Indiana state line to the I-80/I-294 split south of Chicago. Meanwhile rebuilding of the Dan Ryan Expressway through Downtown Chicago is ongoing. SIU 27 also includes the Illiana Expressway, a proposed toll road planned to start at Interstate 65 in northwest Indiana and head west to Interstate 57 south of Chicago.


Controversy
Particularly controversial has been the routing in Indiana. The planned extension to Evansville has pitted cities, towns, and counties against one another. The greatest support for I-69 is in Indiana's far southwestern counties and Evansville, while the greatest opposition is between Indianapolis and a vocal minority based in Bloomington. Some in Bloomington and Martinsville oppose upgrading IN State Road 37 to Interstate 69, while still several others welcome this improvement. This has led to southwestern Indiana communities accusing highway opponents further north of trying to isolate this region from the rest of the state by blocking construction of a direct highway link to Indianapolis. To the west, communities along US-41 favor the presently selected alignment in lieu of the only other feasible routing: I-70 to Terre Haute, then US-41 south to Evansville. Regardless of the I-69 routing, an Interstate-quality bypass is slated to be built east of Terre Haute, which preferred the I-70/US-41 routing over the selected routing of I-69 for purely local economic reasons.
The Indiana Department of Transportation, current and past governors, and businesses and elected officials in Evansville and adjacent southwest Indiana communities, have favored a direct route via Bloomington that would be built over new terrain from Bloomington to Evansville. Supporters argued that this direct route reduces the travel time to Indianapolis as well as improves access to Bloomington for residents of southwestern Indiana, something a route via Terre Haute would not achieve. State DOT officials have also pointed out that Indiana 37 will eventually be upgraded from a 4-lane arterial route to a freeway, with or without Interstate 69. After extensive review of the alternative routes as well as detailed environmental studies, the state selected the new terrain route via Bloomington.
Environmentalists claimed the construction of I-69 will lead to the destruction of 1,500 acres (6 km²) of forest and more than 300 acres (1.2 km2) of wetlands, further claiming that some of the destroyed land lay within the Hoosier National Forest and the Patoka River National Wildlife Refuge and Management Area. However, official EIS maps illustrate the selected corridor of I-69 (Alternative 3C) passes well to the west of the Hoosier National Forest, and avoids the Patoka National Wildlife Refuge, with no incursions into either area whatsoever. Environmental groups then filed suit in federal court October 2, 2006, to block further study and construction of the route, but this lawsuit was dismissed by U.S. District Judge David F. Hamilton on December 12, 2007, clearing the way for construction to begin in 2008.
Another area of controversy arose in late 2005 when governor Mitch Daniels proposed levying tolls on the highway to finance its construction, either as a state project or a public-private partnership, in order to accelerate the project. As the route would overlay the existing Indiana 37 between Bloomington and Indianapolis, and there currently is no other free alternative route between Bloomington and Martinsville, this proposal has raised concerns among local residents and businesses. In March 2006, Governor Mitch Daniels signed a bill known as "Major Moves" that leased the Indiana East-West Toll Road, but also included a compromise on constructing I-69 in southwest Indiana. As part of the deal, the legislation permitted Governor Daniels to enter a similar public-private partnership for construction of 117 miles (188 km) of I-69 as the Southern Indiana Toll Road from Martinsville to the I-64/I-164 interchange, while the remaining 25 miles (40 km) from Martinsville to the I-465/Indiana 37 interchange in Indianapolis would remain toll-free. On June 20, 2006, the Indiana Supreme Court rejected a legal challenge brought on by I-69 opponents, upholding Major Moves legislation in a 4-0 decision. The toll road option was highly unpopular, even among many who supported the extension via Bloomington. As a result Governor Mitch Daniels announced in December 2006 that I-69 through southwest would be toll-free.
Vandalism
Having exhausted their legal avenues, and with a lack of public support, small protest groups have attemted to intimidate elected officials by conducting a series of random acts of criminal vandalism and arson at various locations along the proposed route. These incidents have ranged from spray-painting the Indiana Statehouse in June, 2005; to attempted arson at the I-69 regional planning office in Bloomington in July 2005; to the breaking-out of windows of a private pro-I-69 business in Evansville in June, 2008. In the case of the Statehouse incident, two-dozen protesters were arrested on charges from disorderly conduct to assault on a police officer. More than half of those arrsted were from out-of-state, underscoring the fundamental lack of public support these protests have in Indiana.
Interstate 70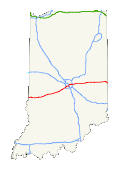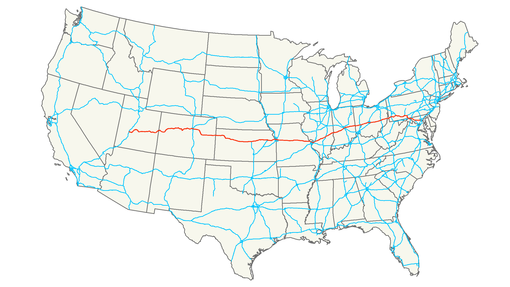 Length: 156.60 mi (252.02 km)
Formed: 1956 (completed in 1992)
Major Cities Along the Route-
Denver, CO


Topeka, KS

Kansas City, MO

St Louis, MO

Indianapolis, IN

Columbus, OH

Wheeling, WV

Baltimore, MD
In the U.S. state of Indiana, Interstate 70 travels east-west across the state passing through Indianapolis. It parallels U.S. Route 40, the old National Road.
The section of Interstate 70 along the east side of downtown Indianapolis overlaps Interstate 65. The junctions are often referred to as the "North Split" and the "South Split", forming the eastern leg of a section of freeways and surface streets locally known as the "Inner Loop" (as opposed to the "Outer Loop" of the I-465 beltway). The north split is also called the "Spaghetti Bowl" due to the visual complexity of the overlapping freeways, ghost ramps and overpasses that were originally intended as a connection to a never-built portion of Interstate 69 .
In mid-March 2007, a six mile (10 km) section of Interstate 70 from the North Split to Interstate 465 east of downtown was restricted to automobiles only for the "Super 70" project, a massive rebuild and expansion of that freeway. Trucks over 13 tons were forced to divert through Interstate 65 if coming from the north and use the circular Interstate 465 to the south to reconnect to Interstate 70 East. The Super 70 project was completed in November 2007.
Beyond Indiana
Interstate 70 bisects the country, serving cities such as Denver, Kansas City, St. Louis, Indianapolis, Columbus, Breezewood, and Baltimore. The freeway begins at Interstate 15 at Cove Fort. There are no plans to extend Interstate 70 west of this point, and most westbound traffic is funneled via Interstate 15 to Southern California and via U.S. 50 to Northern California.
Much of the western section of Interstate 70 passes through scenic high desert and mountain scenery. A two-lane section of Interstate 70 was expanded to four lanes in the 1990s across the central portion of Utah. Interstate 70 through Colorado was also completed later, including the expensive section through Glenwood Canyon. Interstate 70 generally parallels U.S. 50 through Utah and U.S. 6 through western Colorado. Just west of Denver, Interstate 70 picks up U.S. 40, and it generally follows this highway east with some local exceptions.
Through the Great Plains and Midwest, Interstate 70 bisects Eastern Colorado, Kansas, Missouri, Illinois, and Indiana. Several derivative routes from Interstate 70 may be found in the larger cities of Kansas City and St. Louis. Notably, two Interstate 470s (Kansas and Missouri) exist within 60 miles of each other.
Through Ohio, Interstate 70 crosses Dayton and Columbus, then briefly enters West Virginia at Wheeling. Entering Pennsylvania, Interstate 70 merges with the Pennsylvania Turnpike (Interstate 76) and separates at Breezewood. Interstate 70 traffic must follow U.S. 30 through the business district in Breezewood to connect between Interstate 76 (Pennsylvania Turnpike) and the Interstate 70 freeway heading south from Breezewood. There are no plans currently to create a direct connection between Interstates 70 and 76 at this time.
Interstate 70 ends rather ignobly at a Park and Ride less than a mile east of its interchange with Interstate 695 in Baltimore. The continuation of the freeway to Interstate 95 was removed from the city's freeway plan and was never constructed.
History of I-70
Interstate 70 was one of the first Interstate Highways to be built on many different levels, according to the Federal Highway Administration article Three States Claim First Interstate Highway by Richard F. Weingroff that appeared in Public Roads. Three sections of Interstate 70 in Pennsylvania, Missouri, and Kansas could each claim to be the "first" section of Interstate Highway to be built.
The Pennsylvania Turnpike today incorporates portions of both Interstate 70 and Interstate 76. The section between Irwin (Exit 67, near the junction U.S. 30 southeast of Pittsburgh) and Carlisle (Exit 226, near the junction with Interstate 81) opened to traffic on October 1, 1940. Although the Turnpike did not have Interstate 70 shields on it when it opened, this portion of Interstate 70 (and Interstate 76) could be considered the first Interstate highway. However, this toll facility was not built with Interstate Highway Funds. The Interstate designation was added to the Turnpike well after the roadway opened.
The other two instances of "first Interstate highway" claims are directly related to the freeways built with Interstate Highway Funds. In Missouri, the section of Interstate 70 (Mark Twain Expressway) in St. Charles County was the first Interstate Highway project to be awarded and to start construction (contract awarded on August 2, 1956, and construction began on August 13, 1956). In Kansas, a two-lane section of Interstate 70 (U.S. 40) several miles west of Topeka also could claim "first Interstate highway" because it was the first segment to be completed with federal Interstate Highway funds, even though construction had begun prior to that point. This section of Interstate 70 opened on November 14, 1956. Signs along the route at the time stated that this section of Interstate 70 was the "first project in the United States completed under the provisions of the new Federal-Aid Highway Act of 1956."
Interstate 70 begins in sparsely populated central Utah at its junction with Interstate 15 at Cove Fort. Interstate 70 followed former Utah 4 between Interstate 15 and U.S. 89, then parallels old U.S. 89 from Sevier north to Salina via Richfield through the Sevier Valley. Originally, Interstate 70 was programmed to begin in Denver; however, a later addition (made public on October 18, 1957) extended the route west to Cove Fort to allow for greater access to Southern California.10 Some would have preferred that Interstate 70 turn northwest at Green River toward Spanish Fork, thus offering a freeway route to Salt Lake City; however, the federal plan preferred sending the freeway southwest to provide access to Southern California via Interstate 15.
At Salina, Interstate 70 leaves U.S. 89 and gains U.S. 50. Interstate 70 and U.S. 50 cross 110 miles of sparasely populated land between Salina and Green River. U.S. 50 was rerouted onto Interstate 70 in 1976 from its former alignment it used to share with U.S. 6 between Delta and Green River. From Salina, the freeway ascends to Salina Canyon Summit/Emigrant Pass (elevation 7,923 feet) in the Fishlake National Forest, then crosses the Wasatch Plateau. After the Utah 10 interchange, Interstate 70 enters the San Rafael Swell. The freeway through this rural area was mostly built as a two-lane freeway and was the last section of Interstate 70 to see four lanes. Through the swell, freeway construction required removal of 3.5 million yards of excavation at Spotted Wolf Canyon and construction of two steel arch bridges over deep Eagle Canyon (near Milepost 120) in 1965 (eastbound) and 1990 (westbound; constructed by OlsenBeal).
The 70-mile section of two-lane Interstate 70 opened to traffic on November 5, 1970, and it is still the longest section of Interstate Highway to open at one time.10 Four-laning was completed in stages, with the route completely up to Interstate standards with the opening of the second Eagle Canyon bridge on September 28, 1990. The freeway runs through such unpopulated territory that Interstate 70 still has no motorist services between Salina and Green River for 110 miles. The freeway was not preceded by any kind of two-lane highway due to the rugged natures of the scenic San Rafael Swell in Emery County -- neither U.S. 50 nor Utah 4 were routed on the location of today's freeway alignment.10 This segment cost $183.5 million to complete. Interstate 70 through proceeds east over the Green River and passes by the southern end of the Book Cliffs through the Grand Valley before entering Colorado.
In Missouri, much of existing U.S. 40 expressway was upgraded to Interstate 70 in the late 1950s and 1960s as part of the process to construct Interstate 70 across the Show Me State. Urban sections of Interstate 70 were largely constructed through the 1960s and 1970s. The Poplar Street Bridge, which carries Interstate 55, Interstate 64, and Interstate 70 over the Mississippi River between St. Louis, Missouri, and East St. Louis, Illinois, opened on November 9, 1967. It consists of two, 2,165-foot long bridges, one for each direction of traffic. Excluding the bridge approaches, the main bridge cost $13.2 million. This bridge was the first orthotropic bridge, which is a type of plate-girder bridge.
The section of Interstate 70 across Ohio was completed and fully opened to traffic by 1976.
Planned Improvements
Columbus, Ohio
In Columbus, the Ohio DOT studied several options to deal with worsening congestion in downtown in the early 2000s. Some of the options include converting portions of Interstate 70 into a surface boulevard, adding various collector-distributor lanes parallel to the freeway, adding lanes, or doing nothing.
One of the options considered was to reroute Interstate 70 south of its current alignment between Exit 98/U.S. 42 and near Milepost 106. In this plan, Interstate 70 would take a new alignment at Exit 98, connecting to Interstate 71 and Ohio 104 south of downtown and southeast of Cooper Stadium. From there, Interstate 70 would take over Ohio 104, and a new connection would be constructed in the vicinity of U.S. 33 (Exit 105) that would link the new Interstate 70 to the existing Interstate 70. In exchange, the existing route of Interstate 70 between Exits 98 and 105A, including the notorious interchange with Interstate 71, would be replaced with a 35 mph boulevard. For a map, visit Plan takes I-70 out of Downtown (Feb. 07, 2004) by the Columbus Dispatch.
Another option, presented in November 2003, the Ohio DOT proposed separating through traffic on Interstates 70/71 from Downtown-bound traffic possibly through the use of collector-distributor lanes. According to the Columbus Dispatch article, "the plan would eliminate highway lane changes by dedicating three lanes of traffic to I-70, two lanes to I-71 and creating collector-distributor streets above the highway for motorists getting to and from two sets of Downtown ramps."
As the study progressed between 2002 and 2004, various options were considered, eliminated, or adopted for further consideration. According to the I-70/I-71 South Innerbelt Corridor Study (official site), construction of one of three possible alternatives (involving the location and layout of the collector distributor lanes) would begin in 2008 and end in late 2010. Design of the project began in 2005.
Indianapolis, Indiana
On December 29, 2004, a new section of Interstate 70 between Indiana 267 and Interstate 465 was opened south of the Indianapolis International Airport at a cost of $170 million. This realignment pushed the 4.5-mile alignment of Interstate 70 south a bit, which allows for expansion of the airport's runway system and new interchange ramps. Dubbed the I-70 Fast Track Project, maps and aerial photos of this completed project are available at Interstate 70 Fast Track in Indianapolis.
St. Louis and East St. Louis
Meanwhile, in the St. Louis metropolitan area, Interstate 70 is again being considered for a new alignment. This rerouting would allow Interstate 70 to cross the Mississippi River via a new, 12-lane, cable-stayed bridge. Located north of the existing King Bridge (Interstate 55, Interstate 64, and Interstate 70), the new bridge would require Interstate 70 to depart from Interstate 55 in East St. Louis to the north of the current Interstate 55/70 and Interstate 64 interchange. A new freeway would carry Interstate 70 onto the new bridge, and Interstate 70 would meet an extended Interstate 44 just north of the current Interstate 44/55/64/70 interchange in downtown St. Louis. This project is a cooperative venture between Illinois and Missouri, and it is a candidate for funding in the TEA-21 Reauthorization package. A completion date is undetermined pending funding identification. For more (including maps), visit the New Interstate 70 Mississippi River Bridge homepage.
Kansas Turnpike
A 12.69-mile section of Interstate 70/Kansas Turnpike between Topeka and Lawrence is being widened to six lanes. At a cost of $75 million, the project began in Spring 2005 and will also include drainage improvements and a higher median barrier (51 inches). This project will couple with a proposed reconstruction of the 3,000-foot Kansas River bridge near Lawrence, which will cost $130 million and is scheduled to begin in 2009.
Denver
Between May 1987 and December 2003, the Interstate 70/Interstate 25 interchange (locally known as the "Mousetrap") was reconstructed to its current configuration at a cost of $269 million. This project provided for the reconstruction of several segments of Interstate 70 in its approaches to Interstate 25. The last section that was completed was the Interstate 70 viaduct from Brighton Boulevard west to Interstate 25. Built in 1951 when Interstate 70 was known as East 46th Avenue, the Mousetrap grew to connect to Interstate 70 in the mid-1960s and later became a source of traffic delays due to a design that was inadequate to handle traffic volumes in excess of 416,000 vehicles annually through the interchange.
However, the section of Interstate 70 east of Brighton Boulevard (Colorado 265) is a viaduct that is being considered for reconstruction, replacement, or realignment. Several options have been proposed for Interstate 70 between Tower Road and Interstate 25 (reconstructed Mousetrap interchange), including:
Construct more free lanes to existing Interstate 70


Construct four car-pool lanes along existing Interstate 70

Construct a four-lane express toll facility down the center of the free lanes.

Construct new alignment of Interstate 70 between Washington Street and Quebec Street and add more free lanes to existing Interstate 70 from Quebec Street to Tower Road

Construct new alignment of Interstate 70 between Washington Street and Quebec Street with four car-pool lanes; extend the four carpool lanes along existing Interstate 70 from Quebec Street to Tower Road

Construct new alignment of Interstate 70 between Washington Street and Quebec Street with a four-lane express toll facility; extend the toll facility down the center of the free lanes from Quebec Street to Tower Road
In Options 4, 5, and 6, the new path of Interstate 70 would extend from the Denver Coliseum east to Colorado 35/Quebec Street via industrial land in Commerce City. Interstate 70 would depart its existing alignment at Washington Street, follow the Burlington Northern-Santa Fe tracks northeast to the defunct Rock Island Railroad right of way, then curve southeast back to Interstate 70 near Quebec Street. These three options would push the freeway through the home of the National Western Stock Show and find itself nearly a mile north of existing Interstate 70 at its furthest point. Under these scenarios, existing Interstate 70 would become surface street East 46th Avenue once again.
The final selection process for improving Interstate 70 between Brighton Boulevard and Tower Road will be determined as part of an Environmental Impact Statement being jointly prepared by the Colorado Department of Transportation, Regional Transportation District (RTD), and city of Denver. Preliminary estimates seem to indicate that realigning Interstate 70 may be cheaper than reconstructing it on its new alignment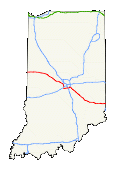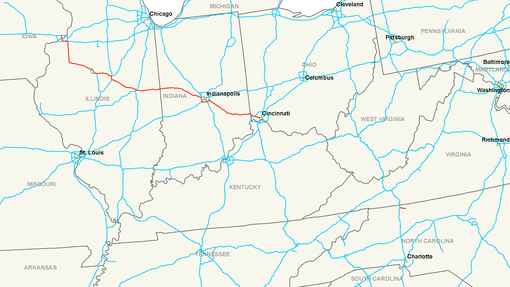 Length: 171.54 mi (276.07 km)
Formed: 1956
In the U.S. state of Indiana, Interstate 74 provides access between Illinois and Ohio.
Routing
Interstate 74, a diagonal (northwest to southeast) freeway, serves the Upper Midwest, Southern Great Lakes, and Ohio River Valley area. Beginning in Iowa at the Interstate 80 interchange in Davenport (Quad Cities area), Interstate 74 crosses the Mississippi River in a southbound direction. From there, the Interstate enters Illinois and meets Interstate 80 again before starting out on its own toward Galesburg. At Galesburg, Interstate 74 turns southeast toward Peoria, Bloomington-Normal, Champaign-Urbana, and Danville in Illinois. At the state line of Indiana and Illinois, Interstate 74 veers toward Indianapolis, before terminating at Cincinnati.
Several extant sections of Interstate 74 also exist in North Carolina, but they do not connect directly with the existing Interstate 74 from the Quad Cities to Cincinnati.
Parallel U.S. Routes
Starting in the Quad Cities area, Interstate 74 follows U.S. 150 southeast to Danville, then follows U.S. 136 the rest of the way into Indianapolis. Southeast of Indianapolis, Interstate 74 at first follows U.S. 421, then U.S. 52 the final distance into Cincinnati.
Planned Improvements
Illinois and Iowa have joined for a Interstate 74 Corridor Study in the Quad Cities area. These improvements would likely include bridge (Mississippi River) and roadway enhancements that would allow for a more efficient configuration for optimal travel times. One of the options is moving Interstate 74 onto a new Mississippi River bridge. Significant funds for this purpose were included in the SAFETEA-LU bill, signed into law in August 2005.
Previously (in the late 1990s), local officials had proposed moving Interstate 74 from its current alignment onto Interstate 280 (existing Interstate 74 would have become Interstate 174); this request was denied in favor of researching methods to reconstruct Interstate 74 through the area.
In addition, Interstate 74 is slated for improvements through Peoria. According to the Upgrade Interstate 74 Project Website, the project began in 2002 and is anticipated for completion in December 2005. When complete, Interstate 74 will feature additional lighting, new overpasses, new pavement, and improved exit/entrance ramps.
High Priority Corridor
North Carolina's section of Interstate 74 is part of High Priority Corridor 5: I-73/74 North-South Corridor. Its designation in North Carolina is written into law.
History
The original layout of the Quad Cities Interstate system planned for Interstate 74 and Interstate 80 overlap from the current west end of Interstate 74 through the Quad Cities into Illinois. Interstate 80 as it is routed today from Interstate 74 to Interstate 280 was to be designated Interstate 274. This was altered to the current configuration before construction began as the Interstate 74/80 overlap seemed redundant.1
In Iowa, Interstate 74 opened on in stages: (1) August 30, 1968 (from Interstate 80 south to U.S. 6), (2) September 2, 1971 (U.S. 6 south to Kimberly Road), and (3) November 26, 1974 (Kimberly Road south to the Mississippi River bridges).
Future Aspirations
Long range plans call for Interstate 74 to continue east and south of Cincinnati through West Virginia and Virginia into North Carolina and South Carolina, with the freeway ending in Myrtle Beach. Already, Interstate 74 shields have been erected along a stretch of U.S. 220 freeway south of Asheboro, North Carolina and in 2000 along a stretch between the Virginia State Line and Mt. Airy, North Carolina. Future Interstate 74 shields are in place along a stretches of freeway near Asheboro and Rockingham, North Carolina as well.
To make the connection between Cincinnati and Huntington, West Virginia, Interstate 74 has been proposed to pass through either Ohio or Kentucky. A feasibility study of routing Northern Kentucky Outer Loop Interstate 74 in Kentucky was completed in March 2003, and it reveals that constructing an east-west bypass around Cincinnati to the south via Kentucky might be needed someday, but it is not necessary today. Another study is underway to consider routing Interstate 74 along the AA Highway rather than Ohio 32. That study is incomplete.
In West Virginia, Interstate 74 is programmed to follow proposed Interstate 73 along U.S. 52; the two routes would split before entering Virginia, with Interstate 74 merging with Interstate 77 south into North Carolina. In South Carolina, a failed state resolution attempted to designate the Carolina Bays Parkway as part of Interstate 74, the Veterans Highway/Conway Bypass as part of Interstate 73, and the North Myrtle Beach Connector from Main Street to the parkway as part of a new route called Interstate 174.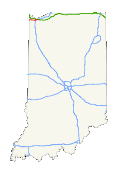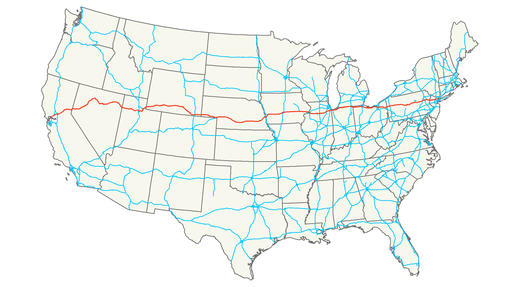 Length: 151.56 mi (243.91 km)
Formed: 1956
In the U.S. state of Indiana, Interstate 80 consists entirely of the following two routes:
The Borman Expressway from the Illinois state line to Lake Station.

The Indiana Toll Road from Lake Station to the Ohio state line.
I-80 also runs concurrent with another Interstate Highway throughout its entire course in Indiana. The western half is cosigned with Interstate 94 in the vicinity of Gary; the rest of the route is cosigned with Interstate 90.
Routing
Interstate 80 is a major transcontinental corridor connecting California and New York City. From the city of San Francisco to a few miles west of the Hudson River in northern New Jersey, Interstate 80 traverses various terrain and states. Its highest point is located at Sherman Hill Summit in Wyoming between Laramie and Cheyenne at an elevation of 8640 feet. The highest point of Interstate 80 east of the Mississippi is near Milepost 111 in Pennsylvania.
Although Interstate 80 begins at U.S. 101 in San Francisco, original plans called for the Interstate to continue west through Golden Gate Park to the Pacific Ocean near the famous Ocean Beach area. This plan was halted due to community opposition. As a result, Interstate 80 is a few miles shorter than originally planned. Since the Central Freeway viaduct was mostly torn down, Interstate 80 now ends at the series of U.S. 101 exits near Van Ness Avenue. This terminus is somewhat in dispute; some say that Interstate 80 actually ends at the Embarcadero exit.
In the east, Interstate 80 ends at its junction with Interstate 95 in Ridgefield Park, New Jersey, as overhead signage shows. However, at Interstate 80's eastern terminus, there is some debate as to whether or not it ends at the Hudson River or at Interstate 95. The exit numbering on Interstate 95 north of Interstate 80 in New Jersey seems to approximate what the Interstate 80 numbering would be if it continued east to the George Washington Bridge. However, that numbering is actually what would be for Interstate 95 if it had been completed as planned in New Jersey. It's a coincidence that the exit numbers are so close numerically.
Heading southbound on Interstate 95 toward Interstate 80 from the George Washington Bridge to Interstate 80's eastern terminus, overhead signs are posted as Interstate 95 to Interstate 80. It should also be noted that while U.S. 46 ends at the George Washington Bridge, Interstate 80 does not, which in turn causes more confusion.
High Priority Corridor
Interstate 80 in New Jersey is part of High Priority Corridor 63: Liberty Corridor.
Parallel and Former U.S. Routes
Interstate 80 largely replaced its companion U.S. routes in the West and parallels them in the East. Between San Francisco and Park City, Interstate 80 replaced U.S. 40. Sections of original U.S. 40 are still in use as local county roads in California, while many segments of U.S. 40 in Nevada were directly replaced by Interstate 80. Today, U.S. 40 begins its easterly journey at its interchange with Interstate 80 in Park City. Between Park City and Echo Junction, Interstate 80 replaced U.S. 189 (and U.S. 530 before it). At Echo Junction, Interstate 80 met its companion for most of its country-country trek: U.S. 30.
U.S. 30 is the Lincoln Highway through Wyoming, Nebraska, Iowa, Illinois, Indiana, and Ohio. It closely parallels Interstate 80 in Wyoming and Nebraska, combining with the freeway in the least populated areas (such as the continuously merged portion of Interstate 80 and U.S. 30 between Granger and Walcott in Wyoming, a distance of 170 miles). At Grand Island, Nebraska, U.S. 30 stays north of Lincoln and Omaha; Interstate 80 instead follows U.S. 34 between Grand Island and Lincoln and U.S. 6 from Lincoln to the Quad Cities via Omaha and Des Moines. U.S. 6 merges with Interstate 80 several times through Iowa, and it closely parallels Interstate 80 through Illinois before joining the freeway again in Lansing.
Meanwhile, Interstate 80 does not intersect U.S. 30 until Joliet. Having avoided Des Moines and the Quad Cities, U.S. 30 heads southeast to avoid downtown Chicago. U.S. 30 continues on this trajectory en route to Fort Wayne, Pittsburgh, and Philadelphia; it does not intersect Interstate 80 again. Interstate 80 instead remains close to U.S. 6 and U.S. 20 as they skirt the southern edge of the Great Lakes. Interstate 80 is tolled through Indiana and Ohio, so the parallel U.S. 6 and U.S. 20 provide free alternate routes.
Bypassing Cleveland to the south, Interstate 80 leaves both U.S. 6 and U.S. 20, as they follow Interstate 90. For the first time, Interstate 80 follows a path that was not previously tread by a U.S. route (it followed the Keystone Shortway). Leaving the Ohio Turnpike at North Jackson, Interstate 80 briefly parallels U.S. 62 through Sharon, then again finds itself without a companion U.S. route. This situation persists for the most part across Pennsylvania, with the exception of U.S. 322 from Clarion to State College and a brief merge with U.S. 220 near State College. Finally entering New Jersey, Interstate 80 picks up U.S. 46, a route which is almost entirely located within New Jersey -- in fact, it never went any farther west than Pennsylvania 611 (former U.S. 611). U.S. 46 follows Interstate 80 all the way to its end in Ridgefield Park; in fact, U.S. 46 officially continues all the way to the midpoint of the George Washington Bridge where Interstate 95 leaves New Jersey and enters New York.
Interstate 80 Split Routes
No other Interstate highway had as many split routes as Interstate 80. No fewer than five suffixed routes split from Interstate 80 at varying intervals prior to 1980; none of these split routes remain today. These routes included (from west to east):
"Interstate 80N from Portland, Oregon, to Echo Junction, Utah (now Western Interstate 84)
"Interstate 80S from Denver, Colorado, to Big Springs, Nebraska (now Western Interstate 76)
"Interstate 80N from Interstate 29 to Interstate 80 north of Council Bluffs, Iowa (now Interstate 680)
"Interstate 80S from Norwalk, Ohio, to Camden, New Jersey (the portion between Norwalk and Westfield Center was not constructed; the rest is now Eastern Interstate 76)
"Interstate 80N from Norwalk, Ohio, to northwest of Youngstown, Ohio (parts of which are now Interstate 480)
Planned Improvements
Nebraska
In Nebraska, Interstate 80 is currently being widened from four to six lanes between Lincoln and Omaha. The 45-mile project extends from just west of Northwest 48th Street in West Lincoln (Exit 395) to the Nebraska 370 interchange in West Omaha (Exit 439). The project began in 2003 and is scheduled to be complete in 2012. This is in addition to previous projects in the late 1990s and early 2000s that widened Interstate 80 to six lanes between Nebraska 370 and Interstate 680, and to ten lanes between Interstate 680 and Interstate 480.1
In early 2006, widening to six lanes was completed from Ruff Road (Milepost 429) to Nebraska 370 (Milepost 439). Widening is now underway between the Nebraska 66/Mahoney State Park Interchange (Exit 326) and Ruff Road (Milepost 429). This includes rebuilding/widening of the long twin I-80 bridges over the Platte River (approx. milepost 427). As of December 2006, the new three-lane westbound bridge over the Platte River was under construction while traffic was maintained on the old twin two-lane bridges just to the south (pictures coming soon). This three-mile section is scheduled for completion in 2009.
Meanwhile, widening to six lanes is also in progress northwest of Lincoln between the U.S. 77 South / Beatrice Interchange (Exit 397) and the Interstate 180/U.S. 34 Interchange (Exit 401). As of December 2006, paving of all new westbound lanes and the outside two eastbound lanes is complete, with only the inside eastbound lane and the jersey barrier down the middle to be completed (this work should be done by early 2007). Just east of here, widening/rebuilding of the mainline is scheduled to begin in early 2007 for the section between Interstate 180 and the U.S. 77 North/56th Street Interchange (Exit 405). However, the actual interchange between Interstate 80 and Interstate 180 will not be rebuilt until late in the overall project (tentatively 2010-2012).12
Long-range plans call for the expansion of Interstate 80 to three lanes from Lincoln west to near Kearney. A project schedule calls for the work to be completed in phases (all dates tentative): Phase 1 - between Omaha and Lincoln complete by 2012; Phase 2 - between Lincoln and York complete by 2022; Phase 3 - between York and Grand Island complete by 2028; and Phase 4 - between Grand Island and Minden interchange (Exit 279, Junction Nebraska 10) near Kearney complete by 2037.13
Illinois
The Tri-State Tollway is being reconstructed between January 2005 and Fall 2006 from the Illinois 394 and Interstate 94 interchange in South Holland northwest to the U.S. 12-20/95th Street interchange in Oak Lawn.3 The project includes the installation of an additional through lane on Interstate 80 and Interstate 294. The Cal-Sag Channel Bridge near Alsip is planned for reconstruction, as are the Lincoln Oasis and the Markham Yard Bridge.
A companion project recently completed is the reconstruction of the Kingery Expressway in Illinois and the Borman Expressway in Indiana. Average daily traffic flow on Interstate 80-94 is approximately 160,000 vehicles daily, with a quarter being large trucks.4 For the Kingery Expressway (Interstate 80-94 and U.S. 6), construction was conducted between 2004 and 2007. Improvements include:
"Revision and reconstruction of the Interstate 80, 94, 294, and Illinois 394 interchange
"Expansion to eight through lanes for through traffic on Interstate 80
"Reduction of weaving through reconfigured interchanges
"Installation of sound walls, replacement lighting, and landscaping
Indiana
In Indiana, the Borman Expressway carries Interstate 80-94 and U.S. 6 through Hammond and Gary. Most of the same improvements considered for the Kingery Expressway are likewise included in the Borman Expressway upgrade. Construction began in 2003. While no construction is programmed in 2006, projects are scheduled in 2007 through 2009, including a revision to the Interstate 65 interchange. Another proposal is to construct a south Chicago bypass that could divert traffic from Interstate 80-94 around the Chicago/Northeast Indiana metro area.
Ohio
Many sections of Interstate 80/Ohio Turnpike are being widened to six lanes, especially east of Toledo and around Cleveland.
History
In San Francisco, the western terminus of Interstate 80 was originally proposed to be at Interstate 280 (which was briefly considered as part of Interstate 480) in Golden Gate Park. The Western Freeway (Interstate 80) would have originated at U.S. 101/Central Freeway and traveled west toward the park, straddling Fell Street and Oak Street along the way. Once at the park, the freeway would have entered into a major interchange with Interstate 280, making an odd case where a parent route would have ended at one of its child routes. However, that situation never came to pass. The freeway was never built as a result of substantial protests, and the western terminus of Interstate 80 was retracted to U.S. 101/Central Freeway.
The first iteration of the Yolo Causeway, which carries Interstate 80 over the Yolo Bypass west of Sacramento and east of Davis, was completed in 1916. This causeway was the first highway project in the state of California to be financed with the sale of highway bonds; it has been expanded since the original facility opened. The San Francisco-Oakland Bay Bridge was dedicated on January 14, 1939.9 The bridge initially carried U.S. 40-50 across the bay; it was later redesignated as part of Interstate 80.
Development of large sections of the U.S. 40 freeway (today's Interstate 80) between San Francisco and Reno occurred by 1947, excepting certain sections (including much of the route in the mountains). The first Interstate in California to open using funds designated by the Federal Highway Act of 1956 was Interstate 80. In the Sierra Nevada northeast of Sacramento, U.S. 40 was converted into Interstate 80 between 1960 and 1964. The first 50 miles were built in 1960, and the ten-mile stretch over Donner Summit and through the Truckee River Canyon to the city of Truckee was constructed in 1964.
The last section of transcontinental Interstate 80 to be completed in any state was the segment west of Salt Lake City, Utah, between Redwood Road and 5600 West. This section was dedicated and opened to traffic on August 22, 1986, and it was the first transcontinental Interstate highway to be completed from coast to coast.
The final link of Interstate 80 in Nebraska to open was the section around Sidney, on October 19, 1974.
In Iowa, Interstate 80 was constructed in stages across the Hawkeye State. From west to east, the segments opened as follows:
"Nebraska State Line east to Interstate 29 North: December 15, 1972
"Interstate 29 North to Iowa 192: November 1, 1970
"Iowa 192 to U.S. 6: January 1, 1969
"U.S. 6 to Interstate 680: December 22, 1969
"Interstate 680 to U.S. 59: December 13, 1966
"U.S. 59 to U.S. 71: December 16, 1965
"U.S. 71 to Exit 75, Adair: September 5, 1960
"Exit 75 to Iowa 25: November 28, 1959
"Iowa 25 to U.S. 6 (Adel): September 5, 1960
"U.S. 6 (Adel) to Interstate 235 East: December 13, 1966
"Interstate 235 East to Douglas Avenue: September 21, 1958
"Douglas Avenue to Iowa 28: November 8, 1958
"Iowa 28 to Interstate 235 South: November 28, 1959
"Interstate 235 South to Exit 159: October 8, 1962
"Exit 159 to Iowa 146: November 16, 1962
"Iowa 146 to Old U.S. 218: October 23, 1964
"Old U.S. 218 to Iowa 1: November 15, 1963
"Iowa 1 to Iowa 38 North: August 24, 1962
"Iowa 38 North to U.S. 61: December 1, 1960
"U.S. 61 to U.S. 67: November 25, 1964
"U.S. 67 to Illinois State Line, including the Mississippi River Bridge: October 27, 1966
Much of Interstate 80 across northern Illinois was constructed in the early 1960s, with the route through south suburban Chicagoland opened to traffic by 1964. The section that Interstate 80 shares with Interstate 294/Tri-State Tollway was constructed between 1956-1958, with the tollway opening in 1958. The original construction of the 83-mile section of the Tri-State Tollway (and the other original tollways) was funded by a bond issuance in the amount of $415 million by the state tollway commission (which was created in 1953).11 The Kingery Expressway section of Interstate 80-94/U.S. 6 is the oldest section of Interstate 80, having opened in 1950.
In Ohio, most of Interstate 80 was constructed as part of the Ohio Turnpike, the origins of which predate the establishment of the Interstate Highway System in 1956. The Ohio state legislature created the Ohio Turnpike Commission in 1949, which was the first step in designing and constructing the east-west freeway. Construction began on October 27, 1952, and the freeway was completed on October 1, 1955 (a total of 38 months).
The Keystone Shortway, which carries Interstate 80 across Pennsylvania, was completed and fully opened to traffic on September 17, 1963. The last segment to be opened to traffic was the section from Stroudsburg to Scotrun.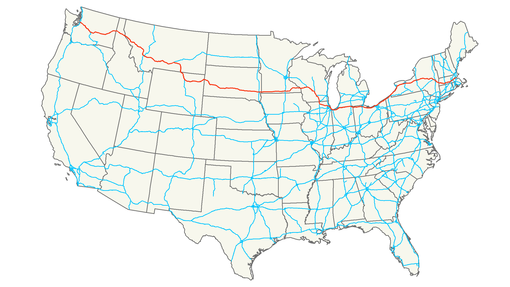 Indiana East-West Toll Road
Length: 156.28 mi (251.51 km)
Formed: August 1956
The Indiana Toll Road, officially the Indiana East-West Toll Road and entirely part of Interstate 90, is a tolled highway running east-west across the northernmost part of Indiana. It is a part of the New York-Chicago Toll Road system, and has been advertised as the "Main Street of the Midwest".
To the west, it leads directly to Chicago, Illinois via the Chicago Skyway; to the east it leads toward Toledo, Ohio via the Ohio Turnpike.
It is owned by the Indiana Finance Authority and operated by the Indiana Toll Road Concession Company, a joint-venture between Spanish Cintra Concesiones de Infraestructuras de Transporte and Australian Macquarie Infrastructure Group.
The entire Indiana Toll Road is part of the U.S. Interstate Highway System. It provides a direct connection to the Chicago Skyway to the west, and the Ohio Turnpike to the east.
The toll road is signed with the following route numbers:
Interstate 80
Interstate 80 joins the toll road at the Lake Station exit, number 21, and continues east to the toll road's eastern terminus at the Ohio state line.
Interstate 90
Interstate 90 runs the entire length of the toll road, joining at the western terminus at the Illinois state line, and continuing east to the Ohio state line.
Tolls
Between the Westpoint barrier toll, near the Illinois state line, and the Portage barrier at mile post 24, tolls are collected by fixed-amount tolls at exit and entrance ramps.
Between the Portage barrier, east to the Eastpoint barrier toll, near the Ohio state line, it is operated as a closed ticket system toll road, where one receives a ticket upon entering and pays a pre-calculated amount based on distance traveled when exiting. Standard passenger cars are charged a toll of $4.15 for i-Zoom users and $6.75 cash along the section from Portage to Eastpoint, with an extra $0.50 for i-Zoom users and $1.25 cash at the Westpoint barrier.
Originally the entire toll road was on a closed ticket system, with Westpoint at current Exit 5, roughly under the East 141st Street overpass. This changed after the INDOT takeover in 1981.
Effective June 25, 2007, the Indiana Toll Road began electronic toll collection with the i-Zoom system. i-Zoom is fully compatible with the E-ZPass and I-Pass electronic toll collection systems. Indiana becomes the 12th state to use the E-ZPass system.
Facts
Similar to the Chicago Skyway transaction in 2004, on June 29 2006 Indiana received $3.8 billion from a consortium made up of the Spanish construction firm Cintra and the Macquarie Infrastructure Group (MIG) of Australia in exchange for the right to maintain, operate and collect tolls for the following 75 years. The two companies formed the Indiana Toll Road Concession Company to operate the road.
Exit points are based on the mile-post system, with exits starting at 0 at the Illinois state line, and increasing to exit 153 at the Eastpoint toll barrier near the Ohio state line (technically, not an exit, as the only access from there is to the Ohio Turnpike, but toll tickets issued at the barrier are marked "Entry 153"). The Toll Road opened in 1956 with sequential exit numbering, which was converted to the current mileage-based scheme in 1981. The original number sequence was amended slightly in 1964 with the opening of the then-Burns Harbor, now Lake Station exit.
The farthest it gets from the Michigan state line or Lake Michigan is about 10 miles (15 km). Although it never enters Michigan, the toll road lies within ten miles (16.1 km) of the Michigan state line between La Porte, Indiana and the Ohio state line. Looking north at exit 121, the State Road 9-Howe/LaGrange, the "Welcome to Michigan" sign is visible in the distance. At one point in northern Indiana, in Greenfield Township in LaGrange County at approximately Mile 129.4, the Toll Road comes within about 200 yards (182.9 m), or 1/10 mile, of the Michigan border.
Control cities on guide signs are Chicago and Toledo. Originally they were "Chicago and West" and "Ohio and East".
In December 2006, ITR Concession Company announced that a South Bend student, Andrea Herbster, will receive $5,000 toward her educational expenses for being selected as the grand prizewinner of the Indiana Toll Road logo design contest. The new ITRCC logo roll out occurred in the spring of 2007.
History
The Indiana Toll Road was publicly financed and constructed during the 1950s. It opened in stages, east to west, between August and November, 1956. The formal dedication ceremony was held on September 17, 1956.
The final course of the Toll Road was the northern of four planned alignments.
In addition to the "east-west" toll road, a "north-south" toll road was planned, roughly along the path of today's Interstate 65, but the plan was dropped after the Federal-Aid Highway Act of 1956 was passed.
Originally the Interstate 94 designation was applied to the highway west of where the current interchange with I-94 was eventually built, with I-90 following I-80 to the west along the Borman Expressway as I-94 does now, the completed portions of the Borman being designated as I-80, 90, and 294. The current arrangement was applied around 1965, to avoid confusion, resulting in a stretch of I-94 actually being farther south than I-90, and I-90 running the entire length of the Indiana Toll Road. I-294 was cut back to the Tri-State Tollway at that time.
Several interchanges on the Toll Road were constructed between 1980 and 1985 as part of a bond sale in October, 1980.
History Outside Indiana
The longest interstate in the country is Interstate 90. It begins in Seattle, Washington, and goes all the way to Boston, Massachusetts. At a length of over 3,000 miles, the highway goes through Washington, Idaho, Montana, Wyoming, South Dakota, Minnesota, Wisconsin, Illinois, Indiana, Ohio, Pennsylvania, New York, and Massachusetts.
Service Areas
Like all other toll highways built in the 1950s, the Indiana Toll Road has had service areas (called travel plazas) since its opening. Originally, there were eight pairs of travel plazas located approximately every 18 miles (29 km). Of these, five featured sit-down restaurants operated by the Host Restaurant chain while the other three had only snack bars. Each travel plaza was named after a prominent Indiana native or resident.[8] Gasoline and other auto services were available at all travel plazas. Originally, various oil companies including Standard Oil, Sinclair, Pure, Gulf, Texaco and Citgo operated each of the travel plazas. Later, Standard Oil, later Amoco and now BP Amoco, assumed operations at all travel plazas. Currently BP Amoco operates the three western travel plazas while Mobil operates the two easternmost pairs. The westernmost snack bar at milepost 37.5 remained open until the mid-70s and is now used as a "Truck Only Parking" rest area with no facilities. The other two at mileposts 72.9 and 108 were closed in 1972, although the one at 108 was also converted into a truck parking area without facilities. All were demolished except for one, the former Benjamin Harrison snack bar on the eastbound side at milepost 72.9. It serves as a state police station and has no public facilities. The restaurant interiors were remodeled into short-order cafeterias in the late 70s when the Gladieux chain took over operations and have since been remodeled once again for fast food service. However, the original buildings remain relatively unchanged from the outside.
Ownership
The Indiana Toll Road Commission operated the toll road from its inception until 1981.
The Indiana Department of Transportation operated the toll road between 1981 and 2006. On April 1, 1983, the state of Indiana established the Indiana Toll Finance Authority[, renamed the Indiana Transportation Finance Authority in April, 1988.
The Cintra-Macquarie joint-venture assumed operation of the Toll Road from INDOT on June 30, 2006, after the Indiana Supreme Court dismissed a legal challenge by opponents attempting to derail the deal following the failure of the opponents to post a bond.
The same partnership already operates and maintains the adjoining Chicago Skyway in Illinois.
Future Activities
Part of the agreement to privatize operations of the Indiana E-W Toll Road is to implement over $770 million in planned upgrades to the Toll Road. Included is adding a lane in each direction from the Illinois State Line to the I-80/I-94 interchange (MP 21), the reconstruction of existing pavement and bridge structures, and implementation of electronic toll collection system at all mainline and interchange toll plazas. The lease agreement also requires the ITRCC to maintain and/or improve the condition of the Toll Road to standards set forth by state and federal law.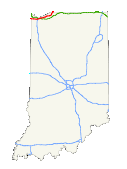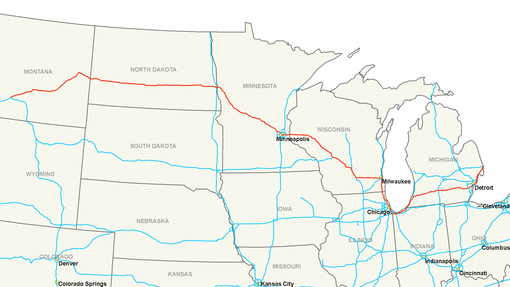 The route between the Illinois border and Lake Station at its junction with the Indiana Toll Road is known as the Borman Expressway and is a heavily traveled route. Northeast of the toll road, I-94 passes through what is commonly known as the Michiana area including Michigan City as it extends to Michigan.
Borman Expressway
There are eleven exits on the Borman Expressway. These interchanges (except for Central Avenue) are full interchanges, but the intersection with Interstate 65 is spread out over the course of a mile and a half
Interstate 94 is a long freeway connecting the Upper Midwest and Great Lakes regions. It replaces U.S. 10 between Billings and Fargo and U.S. 52 from Fargo to St. Paul. East of St. Paul, Interstate 94 generally follows U.S. 12, with the exception of its 90-degree jog into Milwaukee, all the way to Detroit. Northeast of Detroit, Interstate 94 replaces U.S. 25. The section of Interstate 94 between Milwaukee and Chicago is north-south, and there are some signs on the Tri-State Tollway that show Interstate 94 as a north-south freeway.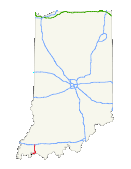 Interstate 164 (I-164) is a spur highway of Interstate 64 in Evansville, Indiana. Interstate 164, also known as the Robert D. Orr Highway, has a total length of 21.24 miles (34.18 km). Requested as an interstate and approved in 1968, the highway was completed in 1991.
The highway is signed north-south as it wraps around the east side of the city and then east-west as it leads to U.S. Route 41. After intersecting with U.S. Route 41, the highway turns into the Veterans Memorial Parkway and provides a direct connection to the downtown business district.
A planned extension of Interstate 69 will utilize much of the existing route of Interstate 164 and eventually create a new international trade corridor from Canada to the Rio Grande Valley. The north end of I-164 will connect with the southern Indiana portion of I-69. The new I-69 will continue across the Ohio River on a new bridge heading southward from the present I-164.
Future Aspirations
Future Interstate 69 is slated to replace Interstate 164 once it is constructed from Indianapolis through Evansville and then into Henderson. What is now Interstate 164 will become Interstate 69 at that time, but the timeline for such a conversion is unclear.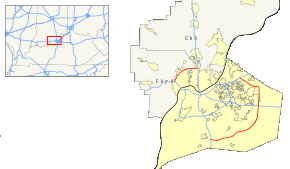 Length: 31.21 mi (50.23 km)
Formed: 1977
Interstate 265 (I-265) is an Interstate Highway ringing the Louisville, Kentucky metropolitan area, which includes southern Indiana, although the Indiana and Kentucky segments remain separate at the present time. In Kentucky it only runs through Jefferson County, from Interstate 71 in northeastern Louisville to Interstate 65 in the southern part of the city. The entire Kentucky stretch of the road is co-signed with KY 841. The highway is named the Gene Snyder Freeway (initially named the "Jefferson Freeway"), after the former congressman, and usually called "the Snyder" by locals. It is considered part of Louisville's "beltline".
In Indiana, I-265 runs from I-64 in western Floyd County to I-65 in Clark County and is known as the Lee H. Hamilton Highway. East of I-65, the freeway continues as State Road 265 (Clark Maritime Highway) until intersecting State Road 62 (Charlestown Pike). This stretch is scheduled to be extended east across the Ohio River, where it will eventually link up with its Kentucky counterpart, creating a bypass around the eastern side of the city. Currently, construction is slated for completion in 2018.
In late 2005 members of Louisville's Metro Council proposed a committee to begin planning a western bridge to link the southwestern end of the highway to Indiana as well.
Interstate 265 was also a bypass linking Interstates 65 and 40 north of downtown Nashville, Tennessee. It was decommissioned in 2000 and became part of a rerouted I-65.
In various discussions for over 30 years, the East End Bridge is part of a new 6.5-mile (10.5 km) highway that will connect Interstate 265 in Indiana to Interstate 265 in Kentucky. The completion of the bridge would connect the two disjointed interstates and form a 3/4 beltway around the Louisville, Kentucky metro area. There is currently no plan to construct a bridge on the west end of Interstate 265.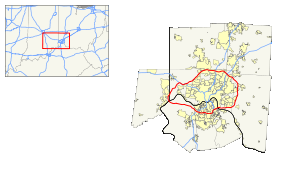 Interstate 275 (I-275) is an 83.71-mile (134.72 km) loop in Ohio, Indiana, and Kentucky that forms a complete beltway around the Cincinnati, Ohio area. It is the only auxiliary interstate that enters three states, including one state that the parent route does not enter (Indiana). For a short distance in northwest Hamilton County it overlaps with I-74 and US 52.
I-275 is signed as the "Cincinnati By-Pass" and officially known as the Donald H. Rolf Circle Freeway in Ohio, after a state senator, but locals rarely use these names, instead simply referring to it as "two-seventy-five."

Length: 53 mi[(85.30 km)
Formed: 1959 (completed 1970)
Interstate 465 (I-465) is the beltway circling Indianapolis, Indiana, United States. It is roughly rectangular in shape and has a perimeter of approximately 53 miles (85 km). It lies almost completely within the boundaries of Marion County, except for two short sections on the north end in Boone and Hamilton Counties. It crosses I-65, I-69, I-70 and I-74, and provides additional access to I-65 via I-865. An $800 million project is underway to refurbish the western edge of the loop, with an estimated completion in 2014.
Route description
Much of I-465 replaced the routing of the defunct parallel State Road 100.
Except for I-65 and I-70, no numbered highways run through downtown Indianapolis. All routes that continue from one side to the other run around the city, concurrent with I-465:
The approximately one-mile section between exits 46 and 47 carries eight routes - I-465, US 31, US 36, US 40, US 52, US 421, SR 37 and SR 67. It may also carry Interstate 69 in the future.
In most cases, markers other than I-74's are not posted along I-465 itself; rather, signs on onramps direct traffic following a particular route to follow I-465 to a particular exit to continue on that route.
History
In 2002, Indianapolis native David Letterman's late-night talk show sidekick and band leader Paul Shaffer was honored by having a street in Thunder Bay, Ontario named for him. This led Letterman to ask (on his program) why he couldn't have his own eponymous road, and he suggested I-465 be named the David Letterman Expressway. His fans took the idea seriously, especially in the Indianapolis area where highway signs promoting the idea were displayed. Advertisers and traffic reports started to refer to I-465 as the "DLX", or later the "David Letterman Bypass", a reference to his quintuple heart bypass surgery in January 2000. Letterman even telephoned the Mayor of Indianapolis, Bart Peterson to make his case, but eventually the idea went nowhere.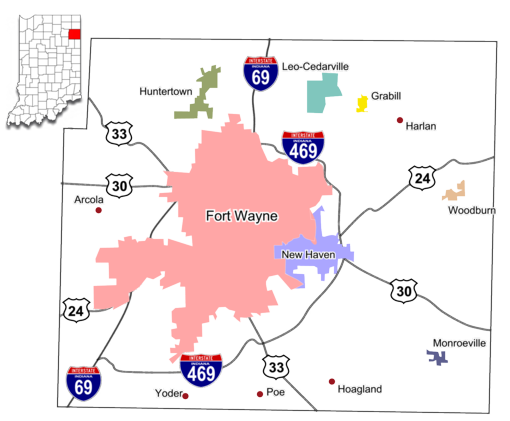 Length: 30.83 mi (49.62 km)
Formed: 1989 (finished in 1995)
Interstate 469 (abbreviated I-469), also known as the Ronald Reagan Expressway, is an Interstate Highway in the midwestern United States. It is a bypass of parent Interstate 69 that includes U.S. Highways 30, 33 and 24 around the urban parts of Fort Wayne, Indiana. In 2004, a successful movement took place to rename all thirty-one miles of the freeway in honor of the late former U.S. president Ronald Reagan.
Route description
I-469 carries four 12-foot (3.7 m) travel lanes (two in each direction) with full left and right shoulders, separated by a concrete Jersey barrier for its entire length. While the highway generally traverses through rural farmland south and east of Fort Wayne, it was designed with more of an urban profile to reduce the road's overall footprint, thereby mitigating environmental impacts.
Coliseum Boulevard and I-69
Several cross-country highways and railroads meet in Fort Wayne, making the city a regional transportation hub. The city has experienced significant growth and urban sprawl since the 1950s, and with this growth comes the influx of commuter traffic intermixing with long-distance travelers. The first attempt at resolving Fort Wayne's congestion problems occurred with the construction of the US-30 (now Indiana 930) bypass (Coliseum Boulevard) around the northern edge of the city in 1952, to divert east-west traffic around the central city. Originally a four-lane highway with at-grade intersections, the western part of the bypass was widened to six lanes. Coliseum Boulevard briefly provided congestion relief to Fort Wayne, but massive commercial and retail development along the bypass brought a resurgence of congestion in the 1960s. Interstate 69 opened in 1961, which provided a bypass to divert north-south traffic to the west of Fort Wayne. While traffic in downtown Fort Wayne improved, congestion along Coliseum Boulevard continued to worsen with the opening of Glenbrook Square Mall in the 1960s, and talk of a bypass to the east of Fort Wayne picked up steam in the late 1970s.
Development and Construction of I-469
In 1978 plans were unveiled for relocating US-24 onto a new freeway alignment that would start at the existing US-24 east of New Haven, then proceed south and west to I-69 near Baer Field (now Fort Wayne International Airport). The intent of the US-24 Bypass was to provide a direct freeway connection from I-69 to the east side of Fort Wayne. In 1981, INDOT and the Federal Highway Administration expanded the scope of the US-24 Bypass, extending the planned freeway north beyond US-24 to I-69 on the north side of Fort Wayne to relieve traffic on State Roads 1, 14, and 37.
Work began at the south end of the US-24 Bypass in 1988; the first 19 miles (31 km) to U.S. 30 opened in 1990. In June 1989 the US-24 Bypass received the I-469 designation. However it was signed as State Road 469 until it was completed to I-69 at SR-1 and Auburn Road in 1995.
Construction was halted in 1991 when crews unearthed a lock that was once used in the Wabash and Erie Canal while constructing the interchange with U.S. 24 east of New Haven.[3] This discovery led to a major effort to preserve the canal, resulting in the stoppage of construction on I-469 while officials wrangled over how to proceed with building the highway without disturbing the canal site. Officials opted to move the old canal lock to the Indiana State Museum, allowing construction to resume in 1992.
In 1993, an additional six miles (10 km) of I-469 opened between U.S. 30 and State Road 37. The $121 million highway project was completed when the remaining six miles (10 km) from Indiana State Road 37 to I-69 north of Fort Wayne opened in 1995.
INDOT had originally wanted to continue I-469 west of I-69 to create a complete beltway around Fort Wayne, but has placed these plans on hold indefinitely due to higher funding priorities, including the reconstruction and widening of I-69 through Fort Wayne as well as reconfiguring and widening for U.S. 24 from I-469 to the Ohio state line.[citation needed]
Alternate Route During I-69 Rebuild
I-469 would become the main alternate route for thru-traffic between points north and south of Fort Wayne during the 2000s as INDOT reconstructed and widened I-69 within the city limits. To mitigate construction-related delays on I-69, INDOT diverted long-distance travelers around the I-69 construction zone by posting signs north and south of Fort Wayne urging such motorists to use I-469.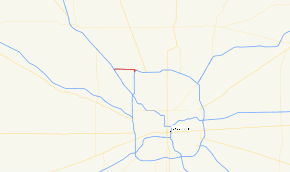 Length: 4.3 mi (6.92 km)
Formed: 2002
Interstate 865 (I-865) is an east-west connector northwest of Indianapolis, Indiana. It was renamed to I-865 in 2002 to prevent I-465 from "intersecting with itself". This section was previously known as the "dog leg", and the mile markers ran from 900 to 905. I-865 is about 5 miles (8 km) in length.
Route description
I-865 carries traffic from southbound I-65 to both directions of I-465, and traffic from both directions of I-465 to northbound I-65. No access is permitted from northbound I-65 to eastbound I-865, or westbound I-865 to southbound I-65. It has two lanes in each direction for its entire length.
History
I-865 was originally part of I-465. When the north-south section between I-65 and current I-865 was renamed from Indiana State Road 100 to I-465, an unusual T intersection of all three branches of I-465 resulted at the current junction of I-865 and I-465. The 2002 renaming of the west branch of I-465 to I-865 fixed this problem.
I-865 would more logically be named I-665, though officials decided against that as it was concluded that 9-1-1 operators might have difficulty determining if a distressed motorist was saying "65" or "665".
Exits
I-865 only has interchanges at its eastern terminus at I-465 and its western terminus at I-65. It is one of the few Interstates in the country that has only interchanges at each of its termini and none in between. Other examples include I-587, I-381, I-189, and I-495.
The entire route is in Boone County.
| | | |
| --- | --- | --- |
| Copyright © 1994, 1995, 1996, 1997, 1998, 1999, 2000, 2001, 2002, 2003, 2004, 2005, 2006, 2007, 2008 | | Jon's Images, Inc. All rights reserved |
This website is an unofficial source of news and information.
This website is the composition of many hours of research. Information contained within this site has come from numerous sources such as websites, newspapers, books, and magazines.
This site is maintained for research purposes only.
Contact us
Please direct website comments
or questions to webmaster